For more than 50 years, an animal hospital at 1434 Irving St. has cared for many of the cats and dogs of the Inner Sunset, offering everything from simple nail trimmings to serious surgical procedures. Sandwiched between a SFFD station and a vitamin store on Irving Street between 15th and 16th avenues, the hospital was opened in 1964 by Dr. Roger Burr, who called his venture the Irving Street Veterinary Hospital.
The facility has changed hands a few times over the years; its current owner, San Francisco native Joe Fong, purchased it in 2007 and renamed it Irving Pet Hospital. Dr. Fong, a graduate of UC Berkeley and UC Davis, serves as the hospital's medical director and general practitioner. Like many veterinarians, he has a passion for animals. "There is an honesty that animals bring to our lives. They accept us for who we are, and don't judge. It is that bond that makes every day a new day," he told us.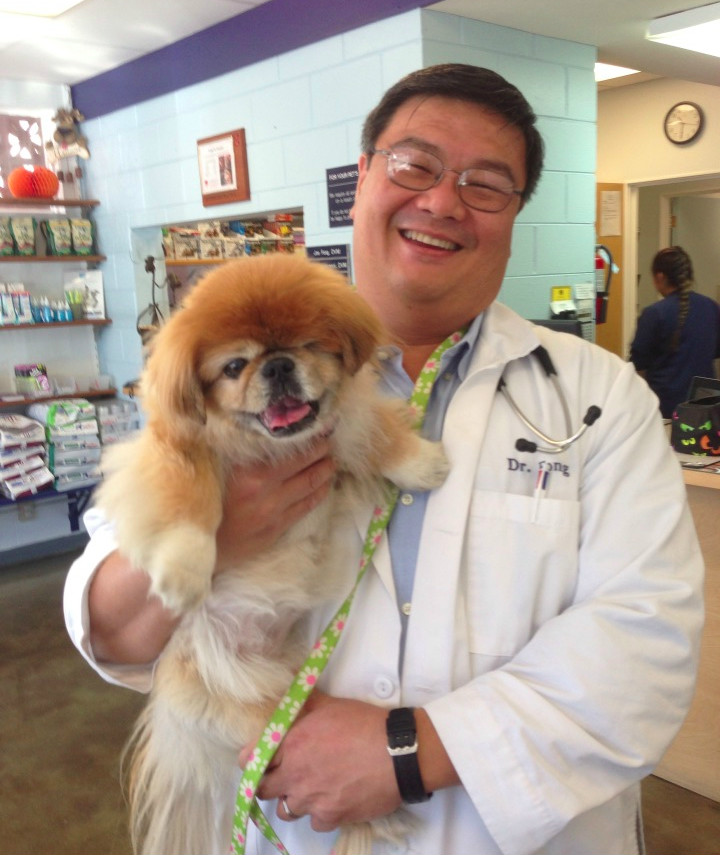 Dr. Fong. (Photo: Irving Pet Hospital/Facebook)
In addition to preventative and emergency care, Irving Pet Hospital also performs radiological and dental procedures on site. The hospital currently has three full-time veterinarians, and is looking to hire a fourth; they're supported by a busy staff of specialists, technicians, and administrators. With their services in high demand, wait times for non-emergency procedures can get long.

"We don't rush our procedures, because we need to do things as safely as possible for the animals, especially when anesthesia is involved. As a result, we can be booked up well in advance for certain procedures," says medical coordinator Jana Carris. "Still, we are always able to accommodate emergencies when they arise. We see a few dozen animals on an average day."
The hospital's community involvement includes collecting donated towels to line clients' pet carriers, as well as colorful bandannas to adorn patients when they're returned to their owners. The hospital participates in and donates raffle prizes and logistical support to local events like Pet Pride in Golden Gate Park and the recent Corgi Con at Ocean Beach.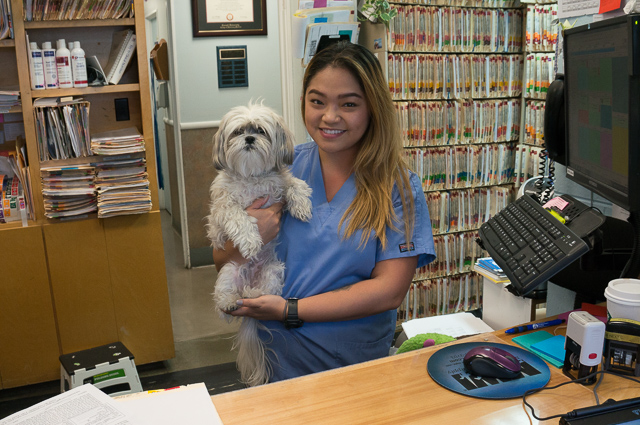 Irving Pet Hospital's Anna Velarde, holding Bubbles.
One of the sad realities of working at a pet hospital is that every pet will, eventually, die. The hospital's staff helps grieving owners by sending personalized sympathy cards, often featuring the departed pet's paw prints. "It was a nice gesture to get a card in the mail, but seeing our cat's paw prints inked inside of the card made it extra special and something that we will hold on to forever," says a client named Melissa, who lost her cat earlier this year.
While caring for animals can often be heart-wrenching, it's also fun: appreciative clients keep the staff well supplied with candy, cookies, and sometimes even dim sum. But for most of the hospital's staff, the animals are the real draw. "One of the best things about working here is the ongoing relationship you have with loyal clients and their pets," says Carris. "They come in with their tiny puppies and kittens, and we watch them grow up into adults. In many cases, we're able to treat them for their whole lives."