This past January, Melonie and Melorra Green decided to shut down the Castro. The twin sisters teamed up with Queer Trans People of Color, a local advocacy group, to disrupt the commercial district's busiest night with a protest and sit-in. It was MLK's birthday weekend, and America was in the thick of the Black Lives Matter movement.
"It was kind of a crazy feeling," said Melonie, the older of the pair by a minute. "Like, 'alright here we go, into a busy intersection and stopping traffic.'" But desperate times call for radical measures, they decided. "At this point there are three percent African-Americans here," she continued. "For a city that boasts art, culture and diversity, that's a state of emergency."
After more than a decade of advocating for Pan-Africanism and LGBT rights, #ShutDownCastro seemed like the natural next step for Melonie and Melorra. Originally from Memphis, the pair have lived (together) in San Francisco for 15 years, with 10 of those years in the Lower Haight. In that time, they've co-executive-produced the San Francisco Black Film Festival, curated for the African American Art and Culture Complex and organized both the Independent Artist Week and the Fillmore Art Walk. Every Tuesday night, the twins host a radio show on KPOO, where they hold interviews, discuss race and LGBT issues or just play their favorite songs. 
When they're not working together on projects (and finishing each other's sentences) the Green sisters are curating full-time at separate galleries—Melorra at SOMArts and Melonie at Omi Gallery in Oakland. Melonie also chooses which pieces will hang in Supervisor Breed's office and AfroSolo's visual arts exhibition at the Public Library.
Melorra is preparing for her second exhibition at SOMArts—Making a Scene—which opens Thursday. The show portrays underrepresented Bay Area social movements of the last 50 years, primarily through the use of alternative spaces. "The city is changing, and it's important to recognize these spaces and the social movements that came before us." Melorra said. "The show allows queer people and people of color to connect, remember and be documented."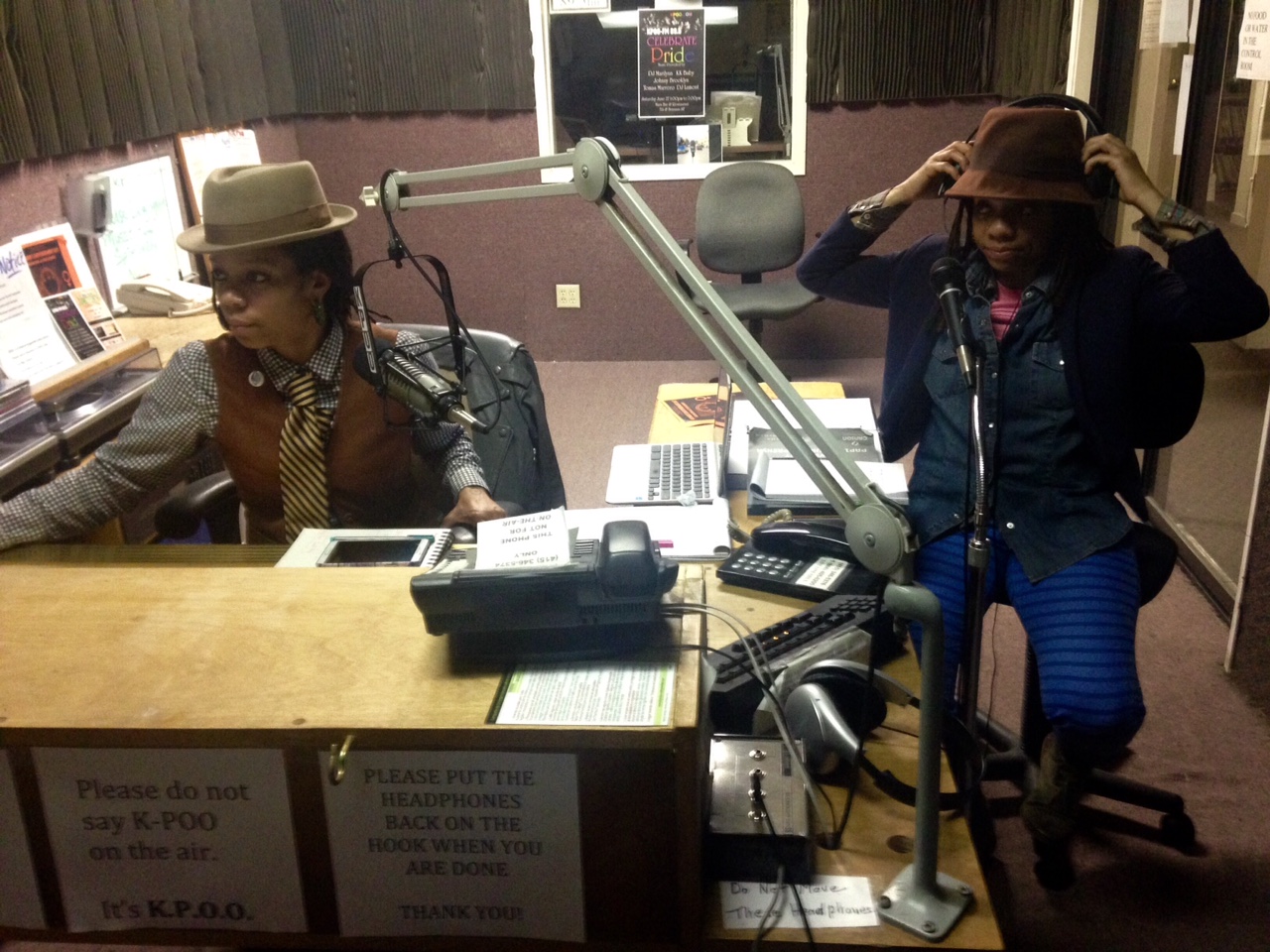 Melorra (left) and Melonie (right) in studio at KPOO.
The twins could be looking for their own alternative space soon, as their apartment building may be changing hands. The change is unwanted, but if they do leave the Lower Haight, Melonie and Melorra agree that it might be the right time. "We're starting to see Teslas and Porsches on our block and people looking at us like we don't belong here," Melorra said. "And I'm like, 'We were here first!'"
A few of those glances, the twins suspect, are due to their offbeat sense of style. On set at KPOO last week, Melorra sported Arabian-style trousers over mismatched tall socks, along with a bow-tie and a fitted men's shirt—her tattooed arms peeking out of the sleeves. Melonie, slightly more restrained than her sister, donned a blazer over a denim blouse. Both wore fedoras atop neatly tied-back dreadlocks.
"It's easy to flair up at 'gentrification' and have this one narrow dialogue about it," Melorra said. "But evolution is inevitable. Something is going to inspire a change and a shift everywhere."
Both sisters agree that today's Lower Haight feels less like a community than it did when they moved in. "Coming from Memphis and having Memphis in us, we were speaking to everyone—and everyone spoke back!" Melorra said. "Store owners were happy to see you, and all the foot traffic was still concentrated in the Upper Haight. You just felt like you knew people. Now I feel like I don't know anyone."
Community can still be found, Melorra said, if you go to some of the older businesses. Take for instance Axum Cafe, the sisters' go-to Ethiopian spot. "The food is so good, and the same family has owned the place for years." Melorra said. "They'll ask you about your day and introduce you to their children. We take everyone there."