Since 2000, North Beach Citizens has been a lifeline for San Francisco's homeless and formerly homeless. Founded by a group of area residents and merchants, including director Francis Ford Coppola, the agency gives homeless people access to resources and opportunities with the end goal of helping them transition to a life of self-sufficiency. It's a place where people can get food, help clean up the neighborhood, seek social services, retrieve their mail, and have a dialogue with others like them.
Last week, the organization made a big move, transitioning from its location at 720 Columbus Ave. to a larger, permanent home at 1034 Kearny St. In addition to protecting the organization from the vagaries of the rental market, the new space will have room for more staff—three new full-time employees recently joined the team—and more services.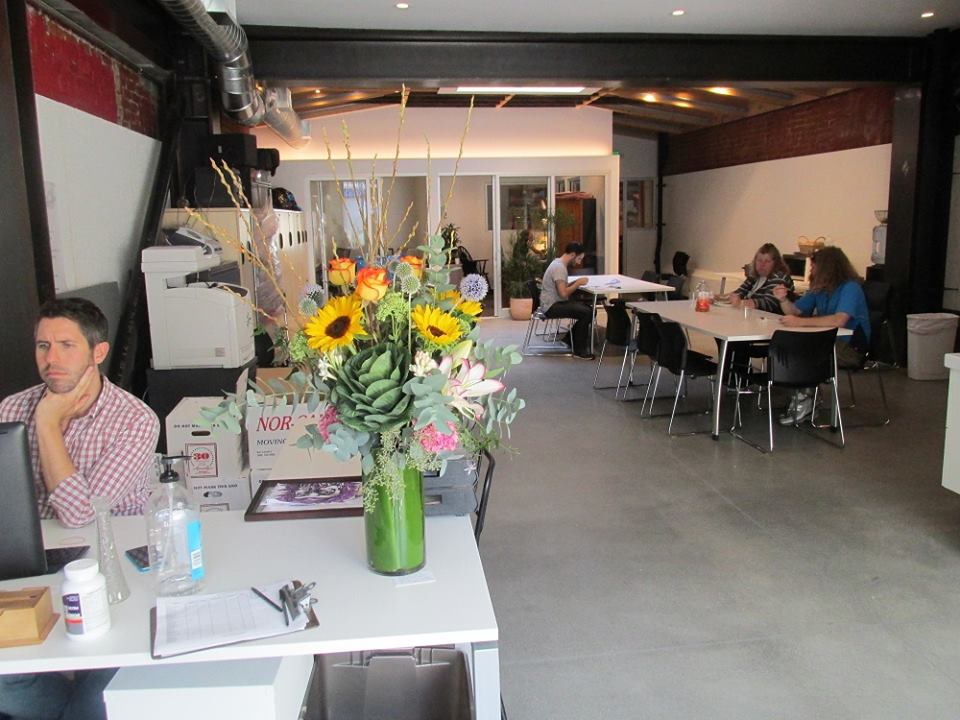 Inside North Beach Citizens' new headquarters. (Photo: NBC/Facebook)
In honor of North Beach Citizens' 15-year anniversary and move, Hoodline spoke to two of the organization's former clients, both of whom have made the transition from homeless to housed. 
"Being outside, you really lose track of time. It's hard to believe it's been eight or nine years that I've been outside," says Adam Loyd, a military veteran afflicted with PTSD and seizures. "I was kind of scared of places like this for quite a while." After a few failed attempts at securing housing and services from another agency, he balked at further help for nearly three years. "I wouldn't ask anyone for any kind of help; I just sat outside, me and my dog."
A friend's recommendation was what made Adam first consider North Beach Citizens (NBC). "I didn't realize this was a really close-knit place that you don't just walk into; you've got to ease your way into it, and so that really spooked me too. But I came down here, and lo and behold, they were receptive. They wanted to know my story and what was going on. Once they heard my story, [executive director Kristie Fairchild] was like, 'I think we can do something with that,' and sure enough, she did."
"[Kristie] saw a really clear path for him to get housed," says an NBC social worker of Adam's case. "She also saw that he had a pressing, presenting medical need, and the combination of those two things were kind of a perfect scenario for getting him housed. She could see the game plan."
Finding a home for Adam wasn't easy, as he didn't want to be parted from Tyrell, his beloved service dog. "According to the American Disability Act (ADA), you can't be denied the right to services based on a service animal," he said. "[But] when you are homeless, you have no backing; you are a piece of shit on the sidewalk. I don't care if the dog is laced with gold, they're not going to let him in."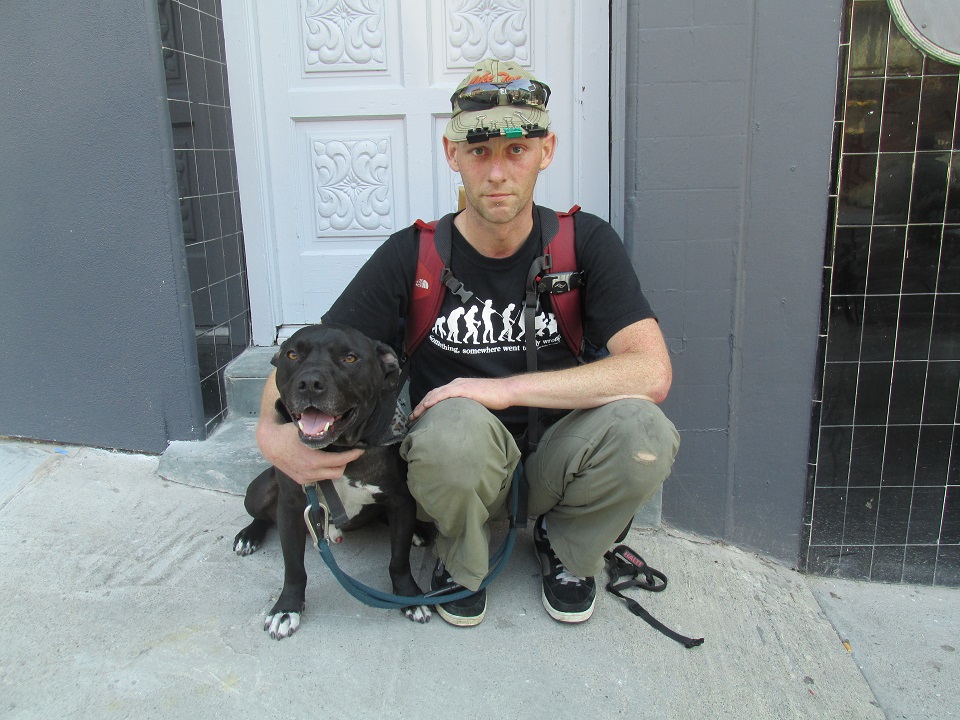 Adam and his dog Tyrell pose for a picture  at NBC's new office. (Photo:  Tiffany Kim/NBC)
NBC helped Adam fight for his right to have Tyrell in his home, and he was recently given the keys to a permanent apartment. "It's quite possibly the biggest and nicest SRO that I have ever seen. I have two amazing windows that look out over South Park. Going from homeless to this ... now I'm living in the freaking mansion neighborhood."
Tyrell likes the new digs as well. "[On the streets], he was staying up all night long staring at the doorway: taking care of me, making sure people wouldn't steal my stuff. Now, he has a park right out front."

Though he's relieved to have a permanent home, Adam still has some reservations. "Honestly, I'm scared to death. After nine years of being on the street, it's not something that is natural. I know I got something, I know it's progress, and I know it's going somewhere ... it's not like you can ever be ready for it, it's just something that is going to have to happen, I'm just going to have to get used to it and adjust."
Now that he has supportive housing, Adam's next goal is to deal with his dental issues, which have been exacerbated by medication. "If [my teeth] are not treated soon, I will lose all of them. Dentures at the age of 33 is unfathomable," he writes on his page on HandUp, a donation platform for the homeless and those in need. He's looking to raise $5,000 to help pay for treatment; as of this writing, he's received $980 in donations from community members.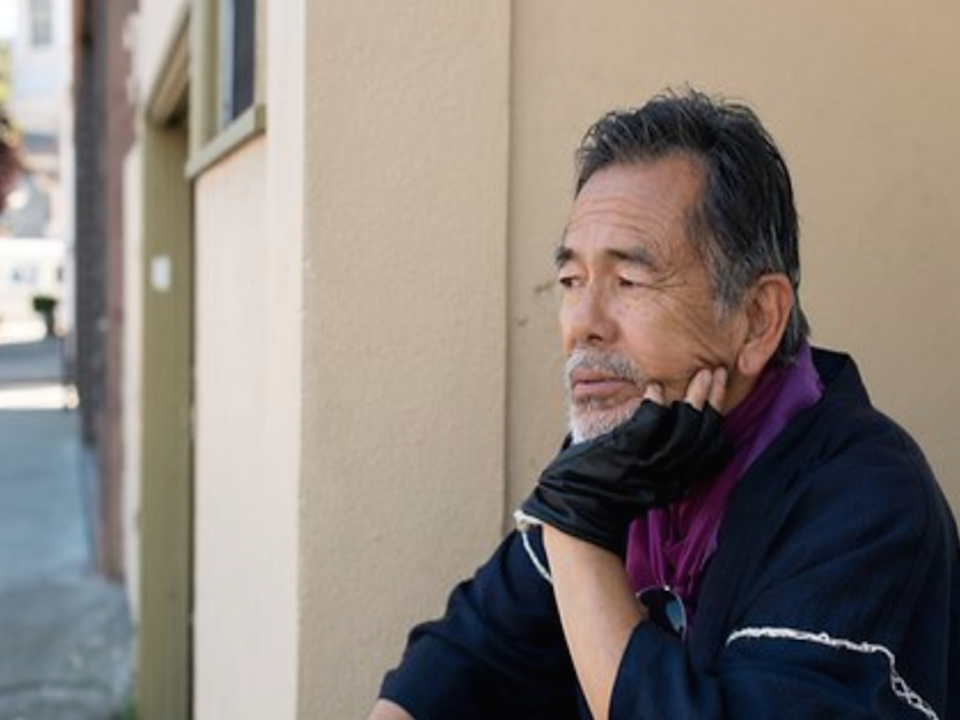 Masa Hirayama (Photo via NBC)
Masa Hirayama, another North Beach Citizens client, says North Beach Citizens' beneficiaries are "a group of homeless elite. We are the cream of the homeless people. We have the best staff; they really inspire and empower us." Hirayama, a former drug addict, first became homeless when he was about 52 years old; he abandoned his family, including his wife and then-teenage daughter.  

"The reason I became homeless is to kick my drug habit," he says. "I thought, 'If I don't have money, I won't buy [drugs],'" and that's how it happened. I was very happy [when I was] homeless; a happy camper. Every day, I could feel my body getting cleaned up."
About 18 months later, he found North Beach Citizens. "Coming up here, I physically felt like my eyes opened up. A veil came down; I saw it. That's when I thought, 'All right, this is it.' Physically, they saved my life. I was about half dead when I was homeless."
North Beach Citizens helped Hirayama apply for low-income housing. "[At the time], I didn't know what Section 8 housing was, but I tried for it and I got it. I was a single male, which is the last category to be picked up." Hirayama calls receiving his home "the beginning of his social comeback." 
"When I became a drug addict, [my daughter] was a teenager, but even though I abandoned her, she did not forget about me," says Hirayama. Now that he's clean, the two have resumed their relationship; he talks fondly of attending her wedding and babysitting for her.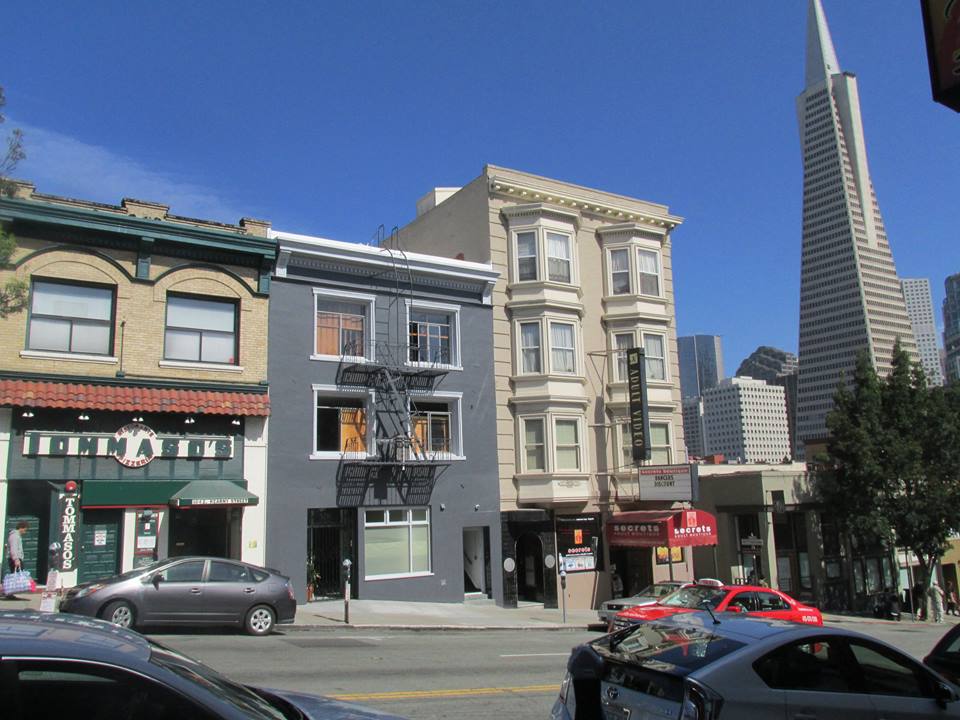 North Beach Citizens' new headquarters. (Photo: NBC/Facebook)
If you're interested in helping North Beach Citizens with its mission of providing stability for the homeless and helping them become self-sufficient, they're always looking for donations and volunteers. You can also visit their HandUp page to donate directly to clients.