Much-needed upgrades to the irrigation, bathrooms and plant life of Alamo Square Park have been under discussion since 2012, when San Francisco Recreation and Parks began reaching out to the community for suggestions. A plan for the renovation was developed last year, but finding money to complete the changes was still an issue. Now, the park's funding has finally come through—but in order to meet its budget, Alamo Square Park may need to shut down entirely for six to eight months while the renovations are completed. 
At a recent Alamo Square Neighborhood Association (ASNA) meeting, SF Rec and Parks project manager Mary Hobson explained the current status of Alamo Square renovations, and why closing the park altogether may be the best plan. 
Under the current allotted budget, the irrigation upgrades and re-seeding or re-sodding of the grass would take the biggest chunk of the cost: $1.9 million. The restroom renovation would cost $800,000, and $100,000 would be spent on new drought-friendly plants to line the perimeter of the park. Earlier this year, SF Rec and Parks put all three parts of the project up for bid, with the caveat that half of the park would be kept open at any given time (similar to the current renovations at Dolores Park). 
The response from contractors was discouraging. Only two made offers (the standard is usually five to seven), and the lowest bid was still $300,000 over Rec and Parks' budget. According to the two contractors who bid, closing only half the park at a time would draw out the project significantly, and create safety and construction headaches. One example: how does one shut down only half of an irrigation system when the whole thing needs to be replaced? If half the park closed down at a time, the contractors estimated the total length of the project at about a year.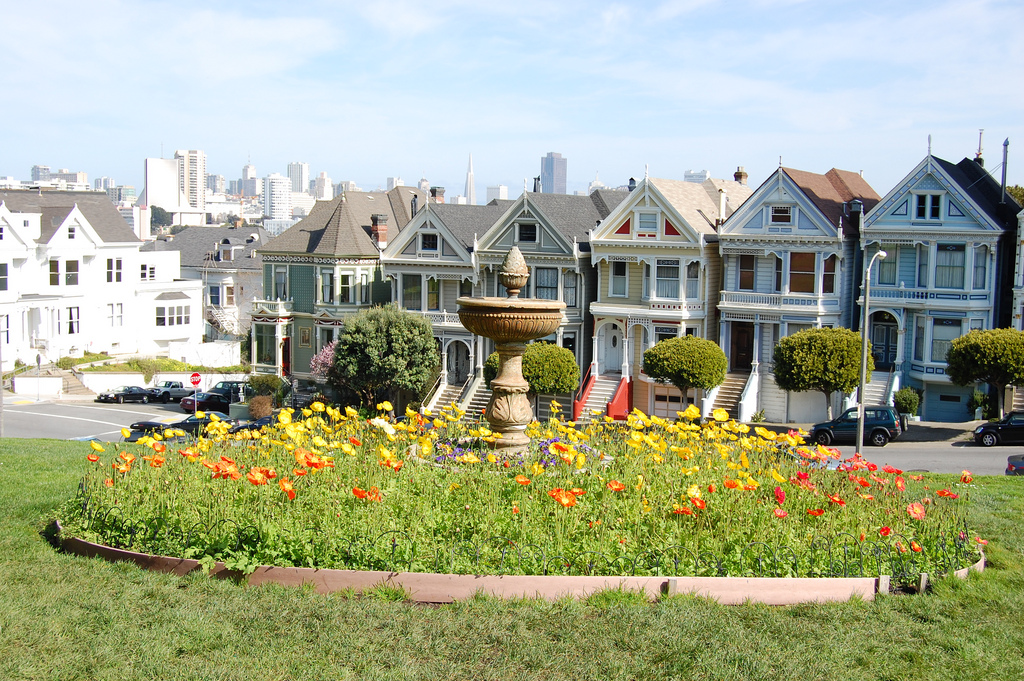 Alamo Square in greener days. (Photo: tracyelaine/Flickr)
Rec and Parks went back to the drawing board. The new plan: shut down Alamo Square in its entirety for six to eight months to get all of the construction done in one fell swoop. Hobson says this would result in both a quicker turnaround and a better final product, in addition to hopefully keeping the project under budget and encouraging more bids from contractors.
At the ASNA meeting, concerns were raised by neighborhood residents with dogs, who rely on the park for off-leash exercise. They asked if a small area could be reserved for dog play while the renovations took place, but according to Hobson, any open area of the park would delay construction. "If you have alternative locations nearby, that's a better option," she said.
The Alamo Square renovation project will go up for bid again in September. Once the contract bid is finalized and approved, construction will begin. Hobson's current estimate is that the closure will occur from December 2015 to July 2016.