Hayes Valley's new portal to the world opened its door to the neighborhood this morning, offering the opportunity to chat live through video with individuals in Cuba, Honduras, Mexico, Afghanistan and Iran.
The portals are a project of interactive arts and technology collective Shared Studios, whose mission is "carving wormholes in the world." This portal is the first of its kind to come to San Francisco, but, as we noted last month, locations have previously been set up in New York, New Haven and Washington D.C. 
The portal is housed in a gold shipping container located between Biergarten and Linden Street. The interior of the shipping container features carpeted walls and floors for soundproofing from the noisy neighborhood outside. Inside are two chairs and a table; on the far wall, a large image is projected of the person you'll be talking with.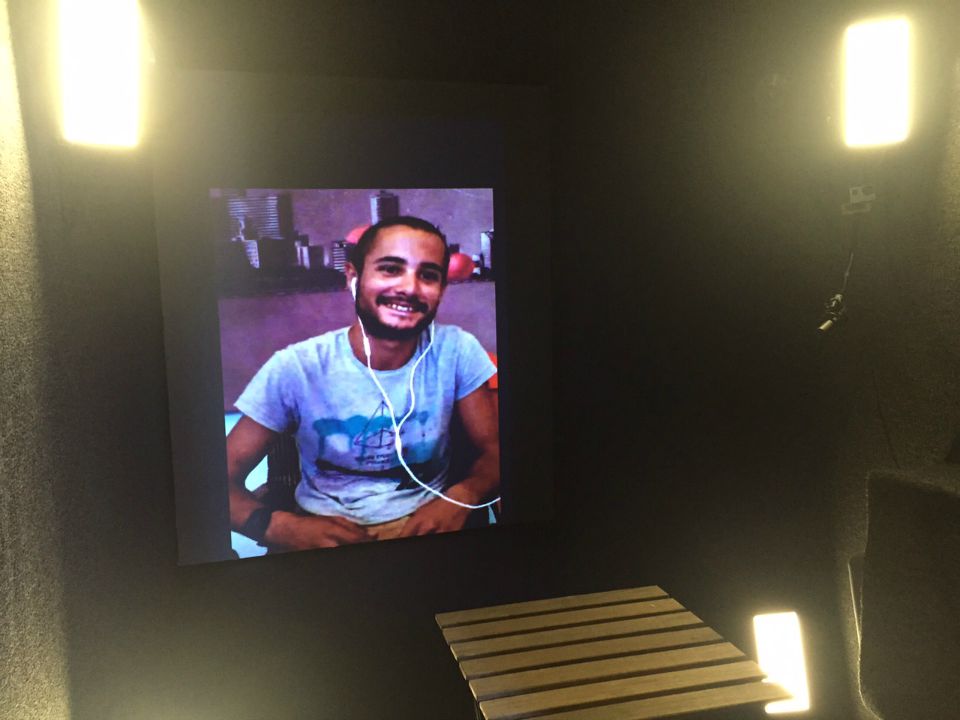 Alejandro from Cuba, appearing inside the Hayes Valley portal.
20-minute appointments can be made on the Shared Studios site: you can connect with Cuba and Honduras from 11am-2pm, and with Afghanistan or Iran from 7:30pm to 10:30pm. Since the launch this morning, it's been a bit slow, but Friday night is already completely booked. However, the portal will be open until November 18th, so there'll be ample time to set up an appointment.
If you'd like to check out the setup, meet the creator and learn more about the project, Shared Studios will be hosting a grand opening event this Friday from 6-7:30pm. They'll hand out tokens for free Smitten ice cream to the first 20 people to arrive, and music will come courtesy of the City of Trees Brass Band. A live Q&A will start at 7pm with creator Amar Bakshi, and at 7:30pm the portal will connect to Afghanistan. More details can be found on the event page.