La Cocina, the small business incubator that's spawned a long list of the city's favorite foods, is opening a cafe and holiday marketplace called El Mercado in the former La Boulange space in the Westfield San Francisco Centre. The pop-up will run from Oct. 1st–Dec. 22nd.
La Cocina spokesperson Jessica Mataka told us in an email that the cafe will be decorated with colorful papel picado (perforated paper) and will serve up Equator coffee, chocolate danishes, cinnamon rolls, cookies, scones and other pastries from Hayes Valley Bakeworks and Pinkie's Bakery. Hayes Valley Bakeworks' mission is closely tied to La Cocina's, Mataka wrote, because they provide employment and training for people with disabilities, or who are homeless or at risk.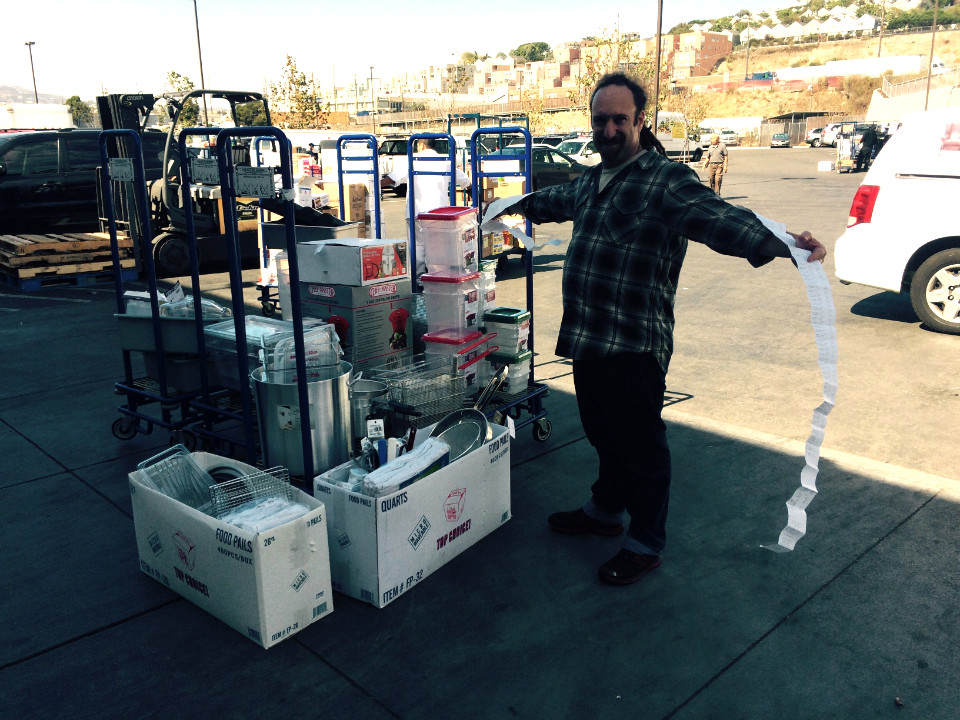 La Cocina kitchen manager Blake Kutner shows off equipment for the new El Mercado. Photo: La Cocina/Facebook
Of course, the cafe will feature food from La Cocina entrepreneurs as well, including: 
Mataka also told us La Cocina will hire Fernay McPherson (Minnie Bell's Soul Movement) and Adriana Lahl of Sal de Vida as the cafe's head chefs. Lahl, whose business focuses on packaged salts, grew up in Mexico, where she learned to cook at as a young girl watching her mother and aunts prepare for family banquets. She's written a cookbook and is La Cocina's resident purveyor of flavor.

More La Cocina entrepreneurs will come on board after the initial soft opening, so look for miso ramen, Nepalese momos, Cambodian street food and more. In November, it'll launch a marketplace with handcrafted goods from other local vendors who'll sell items like bags, mixing bowls, tea towels, cookbooks, candles, soaps and baby onesies.
Mataka wrote to us in an email:
This was a huge project for La Cocina ... and to accomplish it all in three weeks time is a major feat. We hired new staff to operate the cafe, and put in a lot of overtime ... we were just a small staff of 9 after all. We're really excited about this opportunity because there is so much foot traffic throughout Westfield during the holidays and it's a great chance to expose La Cocina and our mission to new people ... It will also be an amazing opportunity for our entrepreneurs to gain valuable experience operating a cafe space, filling orders and perfecting their service skills.