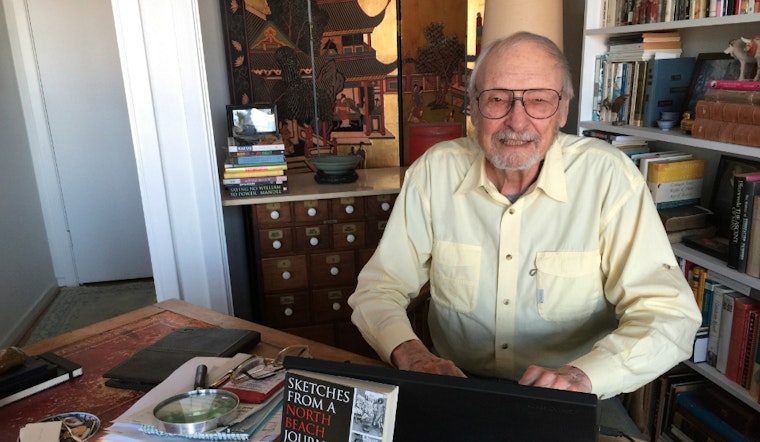 Published on September 15, 2015
In Telegraph Hill resident Ernest "Ernie" Beyl's new book, Sketches from a North Beach Journal, readers can learn about many of the characters who've given San Francisco—and North Beach in particular—its specific blend of culture, color and charisma.
From the madams and madmen of the Gold Rush era to the artists, authors, filmmakers, restaurateurs, chefs, bartenders and topless dancers of the 20th century, Beyl has compiled an intriguing set of profiles, often from a firsthand perspective.
A veteran journalist and public relations professional, Beyl worked as a reporter for the San Francisco Chronicle in the early 1950s and has done considerable freelancing. For the past five years, he has written a column about North Beach for the monthly Marina Times newspaper, also called "Sketches from a North Beach Journal."
Original Joe's is hosting Beyl's book launch party next Wednesday, Sept. 23rd from 5-7pm. No RSVP is required: Just pop in, meet the author and buy a book, if you haven't already picked one up on Amazon (Beyl says pre-orders have been brisk). The event will be somewhat bittersweet, given that one chapter is devoted to legendary bartender Michael McCourt, most recently of Original Joe's, who passed away on Sept. 5th.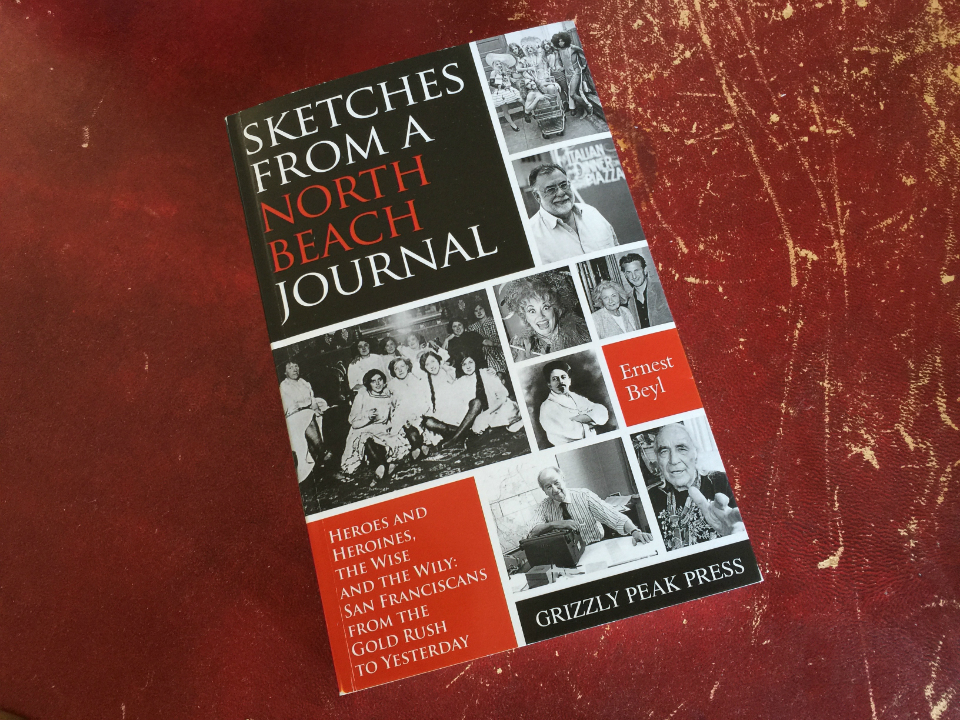 While Sketches is Beyl's first book, he says it won't be his last. "My publishers [Berkeley-based Grizzly Peak Press] have already asked me what my next book is," he said, adding that it might be a second volume of Sketches.
For Beyl, the neighborhood has no shortage of material. "Almost every day when I walk around North Beach and talk to people who know that I've written this book, people say, 'Am I in the book?'" Beyl said. "I respond by saying either, 'Yes, you are, Mr. Ferlinghetti,' or 'No, you're not, but you're going to be in volume two."
Beyl's chapter on Lawrence Ferlinghetti, the legendary poet and City Lights Booksellers and Publishers founder, is one of many where Beyl either appears in the chapter or "I'm there offstage looking in," he said. "A great deal of this book consists of anecdotes about famous people, but I'm involved in some way either as a bystander or as a participant." A chapter on attorney Melvin Belli is especially engaging; Beyl rented space in the Belli Building in the 1960s.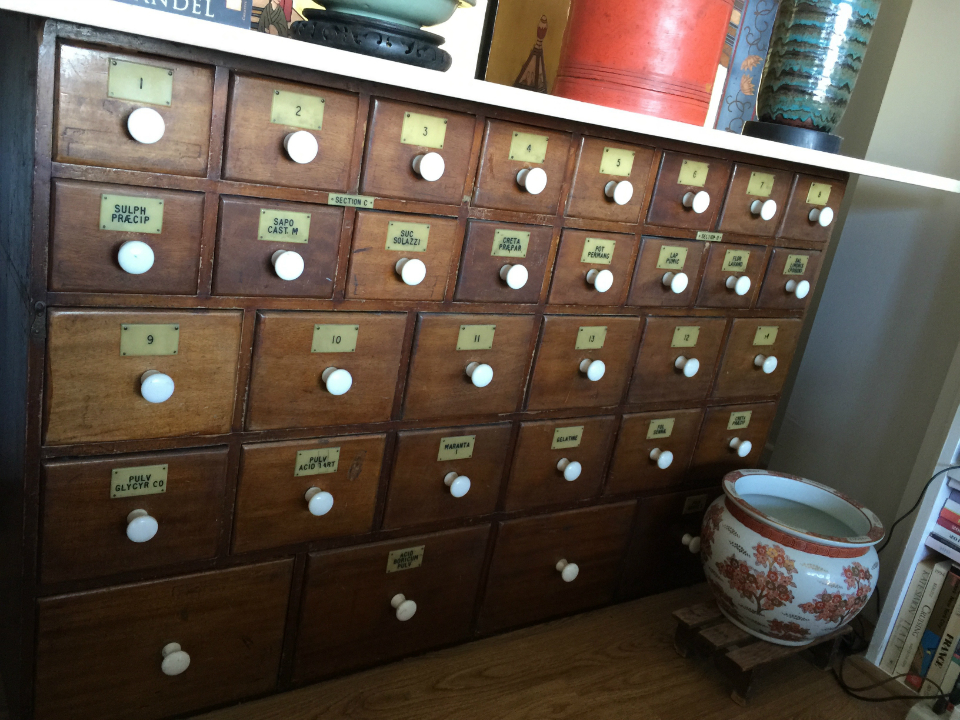 An apothecary chest Beyl has had since his days in the Belli Building.
Many of the personalities chronicled in the book are well-known, including Sam Brannan, Emperor Norton, Little Lotta Crabtree, Allen Ginsberg, Lenny Bruce, Herb Caen, Diego Rivera and Frida Kahlo. Others might not be household names, but are nonetheless influential, including former Chronicle editor Paul C. Smith, Sweet Pam and the Cockettes, Telegraph Hill gardener extraordinaire Grace Marchant, and music journalist and Rolling Stone founding editor Ralph J. Gleason. (Gleason was one of Beyl's mentors; he now has Gleason's box at the Monterey Jazz Festival.)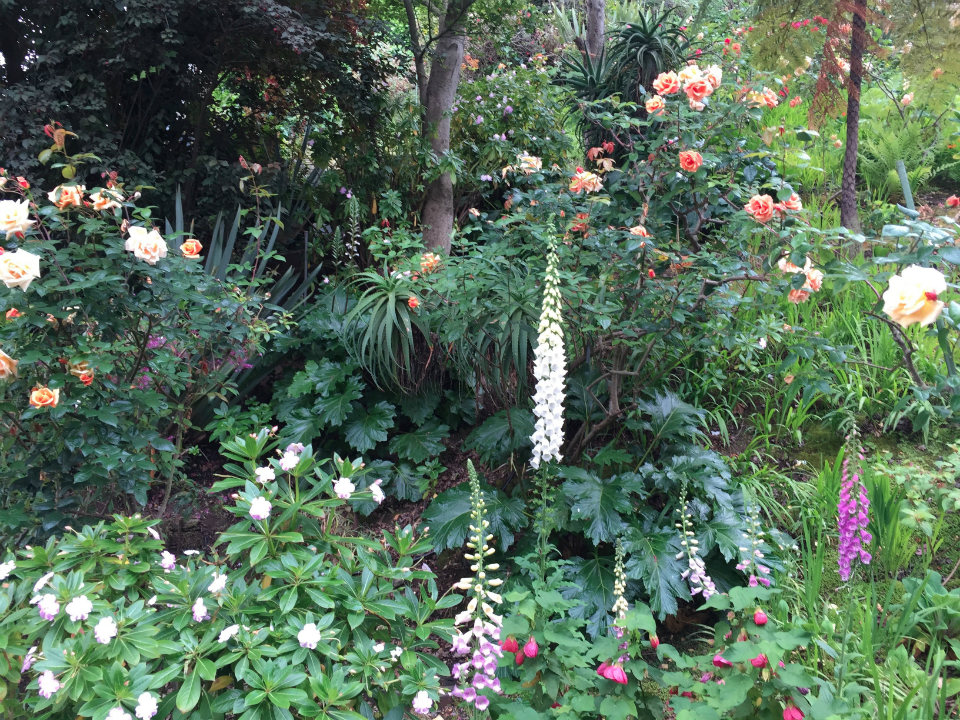 Grace Marchant Gardens, Telegraph Hill.
Beyl's contemporaries, including filmmaker Francis Ford Coppola, Mary Risley of Tante Marie Cooking School, attorney Tony Serra and SFJazz's Randall Kline have chapters, too. His wit and talent for exposing local truths shines through, such as in the chapter on Jeanette Etheredge, former owner of Tosca Cafe, and the celebrities she shuttled to the back room. Beyl points out that in New York, famous names were given tables in the front window "so the rest of us could ogle them," while in San Francisco, "we pretend to hide our A-list celebs like cloistered Trappist monks who murmur only to themselves and to a higher authority."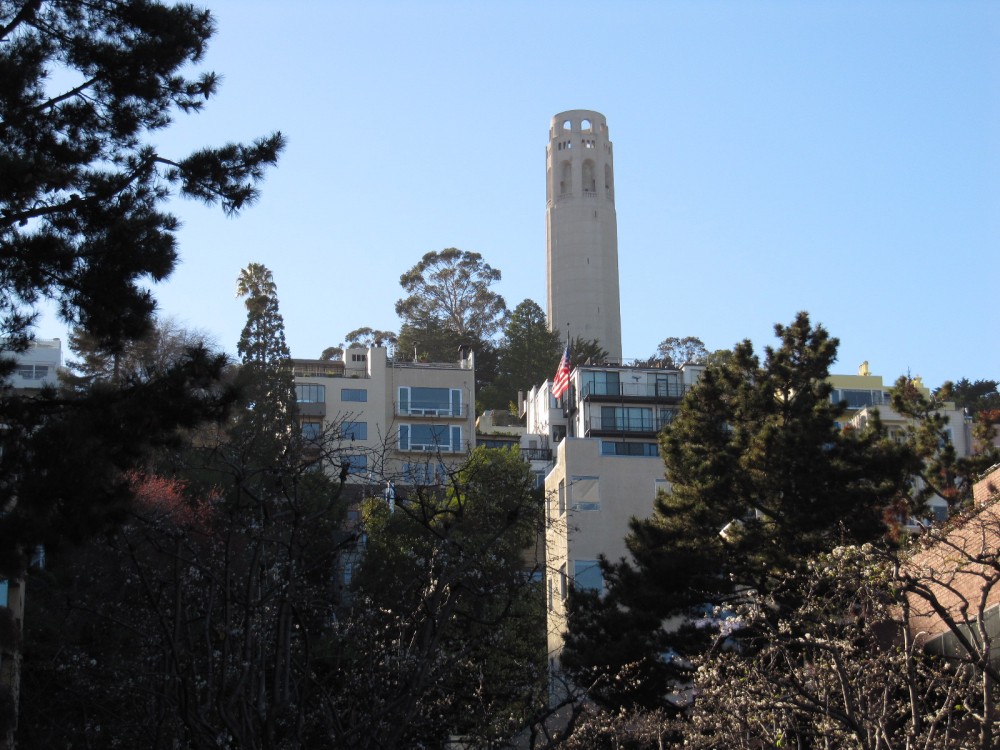 When he started writing Sketches, Beyl "didn't really realize that I had a book. I thought I was writing a bunch of essays that I'd sell here and there." He says "the one that really turned me on the most was the one I wrote about the famous chef Victor Herzler and my father because it gave me a chance to do something I really hadn't done before: write about my father, who was a chef in the San Francisco Bay Area for may many years. Victor Herzler came from Strasbourg, the same town in Alsace that my father came from."
While Beyl knows Sketches will resonate strongly with North Beach residents, he also thinks it's "the perfect book for visitors." The Coit Tower gift shop is planning to stock it, as are Live Worms Gallery and Little City Market, whose proprietors are both profiled in the book. 

"In the book, I profile people who have added so much panache and excitement to our city, even up to the present day. I hope that readers take away a sense of this progression and the interesting fact that San Francisco was an interesting, cosmopolitan city right from the start," Beyl said. "I think a lot of people simply think of San Francisco as a raw-boned Western outpost at that time. I'm not sure that everyone realizes how really sophisticated San Francisco was in 1849, 1850, 1851. But it's still that way."