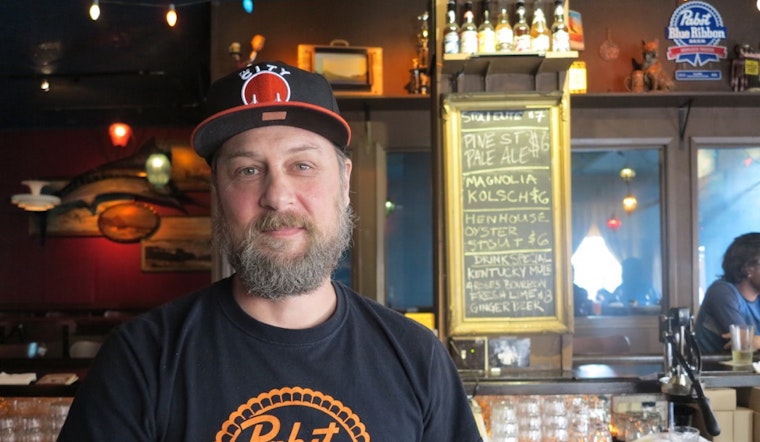 Published on September 08, 2015
The Hemlock Tavern will turn 14 this October, and Pete Spanier has been behind the bar for most of its tenure on Polk Street. Beloved by his regulars, Spanier has a lot to say about the changing landscape of Polk Gulch and the city at large.
Back in February, we reported on the potential demolition of the entire block on which Hemlock is located, an issue on which Spanier declined to comment. Nonetheless, we had the opportunity to shoot the breeze with a knowledgeable fellow who's been peddling booze in one of the neighborhood's most well-known bars for over a decade.
Where are you from, and how did you get here?
"I'm from San Francisco. My mom and dad had unprotected sex and that's how I got here."
How has the Hemlock changed over the years?
"The bar or the neighborhood?"
Let's say the patronage of the bar.
"The neighborhood is gentrifying, so you get fewer artists, fewer musicians, fewer students living in the neighborhood, and more young urban professionals."
How does one survive in San Francisco as a bartender?
[Laughs.] "Work more than one job! It's possible, but definitely nowadays you're going to be stuck in a roommate situation, or you've been in your place so long that it's now considered a decent amount for rent. It's like anybody else in the service industry. It's the same thing that's happening in Manhattan: how many service workers live in Manhattan anymore? Only the people that have been there so long that they still have low rent."
How can that be fixed? Is it possible on the business owner's end, or the professional end, rather than just via a decline in rent?
"It's not necessarily San Francisco's problem at this point, it's the Bay Area. To make this work, you have to look at the same model that's happening in New York City. You have to have improvements in public transportation. That means BART's got to stay open later to cover bartenders and restaurant workers that aren't going to get out of work until after 1am, so that they can go home to their homes, whether that be the East Bay or South Bay. Or you have to have increased bus services to get your service workers in and out of the city.
"It's going to depend on what this whole new generation gets up to. Generations before, this used to be known as a drinking town. It's not so much a drinking town anymore. It used to be that Friday night was Thursday and Wednesday nights, and Friday and Saturday were just part of the weekend. Now, it's like Saturday night is the weekend. Friday nights, people are too tired or whatever from working their tough startup jobs. So you just don't see the same people, ya know? People that are professionals, from my personal point of view, don't drink as much as people that are artists, and they definitely don't tip as much as artists."
Why don't they drink as much?
"They're more content to drink at home or, because they come from that whole dorm mentality. They leave mom's house, they go to college and live in a dorm, and then get hired by a company that pretty much sticks you in a dorm situation. They have a cafeteria, they have a gym, they don't pay for anything. Then, come the end of the evening, they've got refrigerators filled with sodas and beer and candy and other weird little snacks. If you don't have to pay for anything, why would you, at that point?"
Is Polk Street maintaining its 'edge'? If it is, is there anything that might help this persist?
"It's not really maintaining; it won't persist. I mean, this is a city of change. You go back to when this city was first being founded during the Gold Rush, and it'd be $100 for a shovel here, and in the rest of the country it was like a dollar for that same shovel. It's just the way it is. You know, people could bitch about it, you don't have to like it, but that's just a fact of the city.
"Eventually, I could see a backlash happening, where it's the same thing that happened in the '50s, where everybody started moving out of the cities and started moving into the suburbs to have families and stuff like that because they couldn't afford to live here. Now, the opposite is happening, and people are moving back into the cities because they want to have the convenience of bars, and restaurants, and the nightlife. But at the same time, with all the overbuilding, they're losing the workers, they're losing the artists, and they're losing a lot of businesses, because a lot of new businesses can't afford to open here in San Francisco because of how much it costs per month."
Who's your favorite kind of person that still comes into the Hemlock?
"Somebody that's been part of the neighborhood for a long time, or knows how bars used to work in this city, how San Francisco bars work. The knowledge of knowing what you want to drink when you get up to the bar, being patient, waiting for that bartender to get done, if the bartender's actually working.
"You know, I have to keep cutting off this conversation from time to time to help people in a timely fashion, and that's cool. As far as patrons go, it's just about being a good patron. Knowing what you want, being patient about it, and showing your appreciation for that bartender in the form of gratuity. We all make minimum wage, which means we can't afford to live here without tips, and that makes it kind of hard.
"I mean, even strangers can come in if they conduct themselves appropriately. I'm more than willing to buy a stranger a drink after a while. You know, a lot of our bartenders still do what we call buybacks, where if you bought a few drinks, we'll either go into our tip jar, or we have a comp list, or do a combination of the two to buy that patron a drink back as a thank-you for coming in."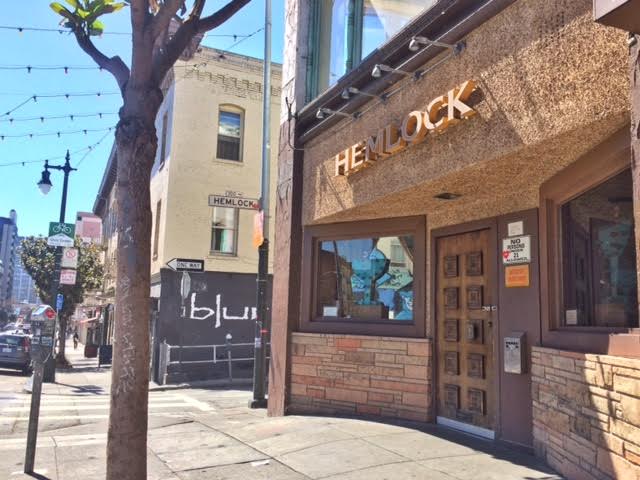 Photo: Bo McGee/Hoodline
For more Tapping In with local bartenders, get to know Patrick Connolly of the Independent, Giday and Nebiat of Waziema, Michael Wieck of Bar 821, Caleb McGehee of Nopa, Chris Libby of Madrone, Racquel of The Page, Remy Nelson of Mojo, Andy Mott of Royal Exchange, Martin Kraenkel of Molotov's, and Brendan Heath of Whiskey Thieves.