What geographic area comprises "the Castro?" As it turns out, that's subject to opinion.
In recent Hoodline comments, we've noticed that some readers have vehement opinions about what is, and is not, part of the Castro. "Can we PLEASE stop referring to Church Street as 'the Castro,'" one wrote. "The Castro does not go all the way to Church Street," said another. 
Others question what these debated areas should be called. One comment about Lucky 13 made it clear that even declaring a space as "non-Castro" still leaves its label to opinion. "It's not in the Castro—it's Duboce Triangle, Church/Market or Lower Haight, depending on your mood."
Others argue that the Castro not only extends as far east as Church, but to Dolores Street as well. Asked to define the location of the Safeway at Church and Market, readers chose a variety of labels, including "Castro," "Duboce Triangle," "Upper Market," and even "Upper Safeway Heights."
When in doubt, our general policy has been to consult Google Maps' boundaries of the Castro. Even then, commenters balked. "Who made Google the deciding factor on our SF neighbourhoods??" one wrote.

So we have to ask: is it possible to define the Castro, or any San Francisco neighborhood for that matter, by its physical boundaries? If so, what are they? To find out, we hit the streets and asked some locals to define the borders for us.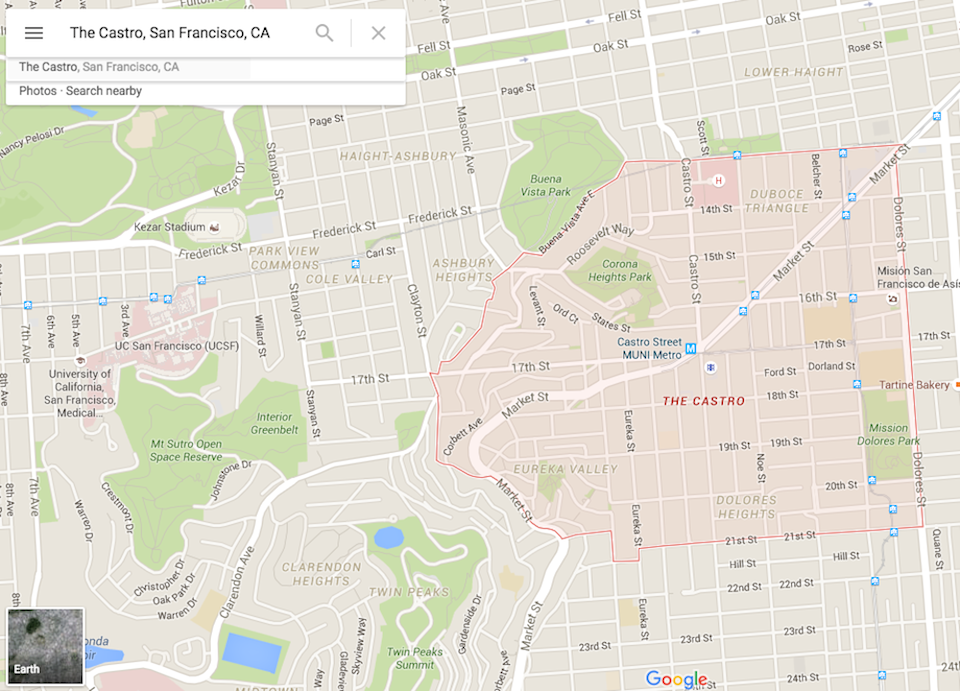 "The Castro" in Google Maps.
"I've lived in San Francisco since the '80s," a Potrero Hill resident told us as he browsed some maps on his smartphone. "The Castro is exactly what's on Google Maps. It's been like this since I moved here, and it hasn't changed."
A "born-and-raised" San Francisco native said that keeping track of the ever-changing names and borders is hard for her. "Many street names have changed over the years, but as far as the Castro goes, Church is the dividing line to the east. It's been that way since as far back as I can remember."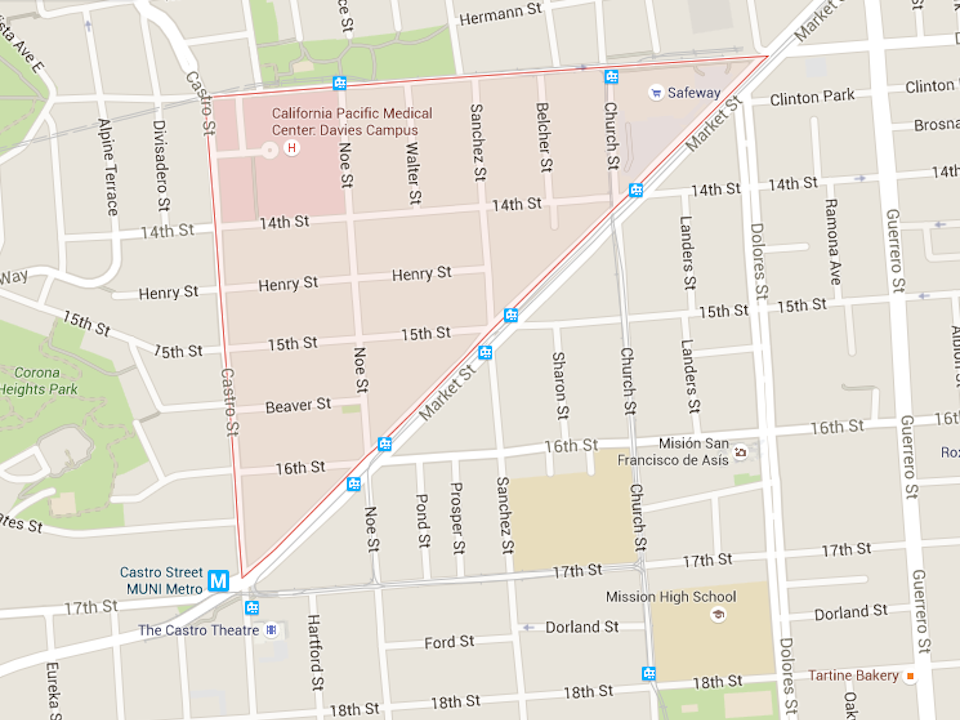 "Duboce Triangle" in Google Maps.
Another resident, who has lived in Duboce Triangle since 1988, said that she didn't originally think of her area as the Castro until more gay bars appeared along Market Street. "It was about 7-8 years ago that this area changed, and why some people now consider Duboce to be the Castro."
Several other people, including a Lyft driver, a cabbie, and two bar patrons, all said that the Castro extends as far as the Church and Market Safeway.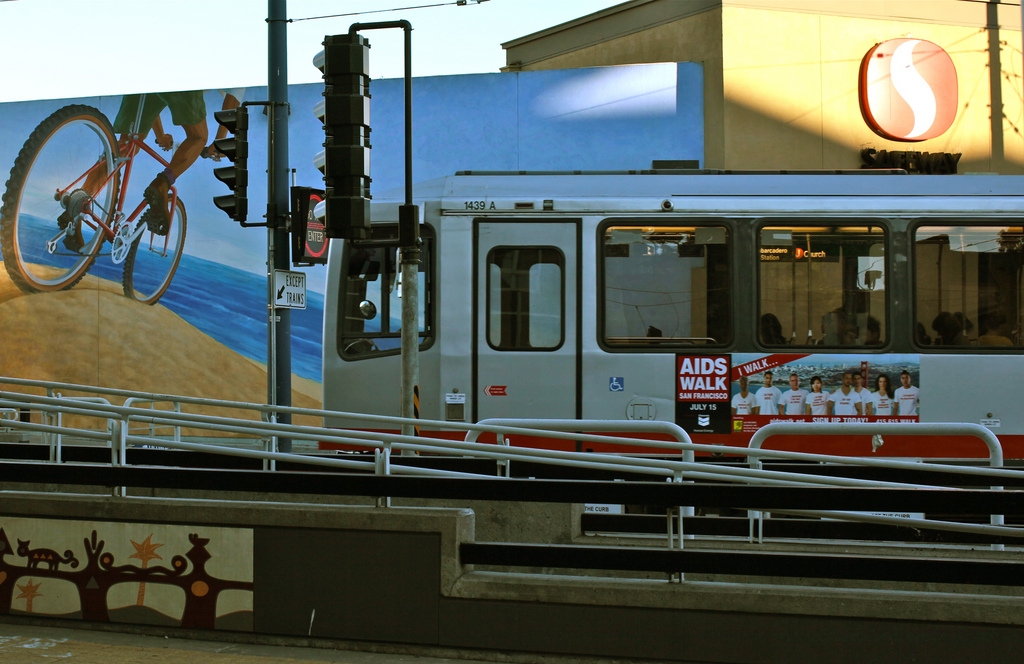 The J-Church outside the Church and Market Safeway. (Photo: torbakhopper/Flickr)
"It's hard it is to define a neighborhood, at least geographically," said Peter Stein, creator of the award-winning documentary The Castro, which aired on KQED/PBS. "There are many cities that have distinctive and interesting neighborhoods, but growing up here, I always felt that it was odd that San Francisco had such tightly-defined geographical and social enclaves. For me, a San Francisco native, moving from neighborhood to neighborhood was a thrilling part of experiencing the city and its diversity."
"The Castro was never defined as a geographical space," Stein explained. "Nobody ever called it 'The Castro' until 1973. It was called Eureka Valley for the longest time by the people who lived there, because that distinguished it from Noe Valley, downtown, and West Portal."
The Castro began to change in the '70s, as Irish, Italian, and Scandanavian families moved out to other neighborhoods or to the suburbs, and the gay community moved in. "Polk Street was the central focus for gay men during the early to mid-'60s to mid-'70s, but it was not particularly residential. As [the Castro] became kind of a decaying neighborhood with cheap housing, young gay folks began to move in and start rehabilitating the old Victorians. The Castro had nightlife and residences in the same space; it wasn't just bars and clubs, it had homes, hardware stores, and the Castro Theatre. It was a '24-hour a day neighborhood.' That's what made the Castro the Castro."
For Stein, Church Street falls within the neighborhood's boundaries. "The ridgeline of Noe Hill up to Twin Peaks would kind of define the south and west edges, and the east would be Dolores. With the north, I would say Market Street, and possibly Duboce Triangle."
But it's not just about geographic borders. "Neighborhoods really are about social cohesion and identification, rather than geographical boundaries."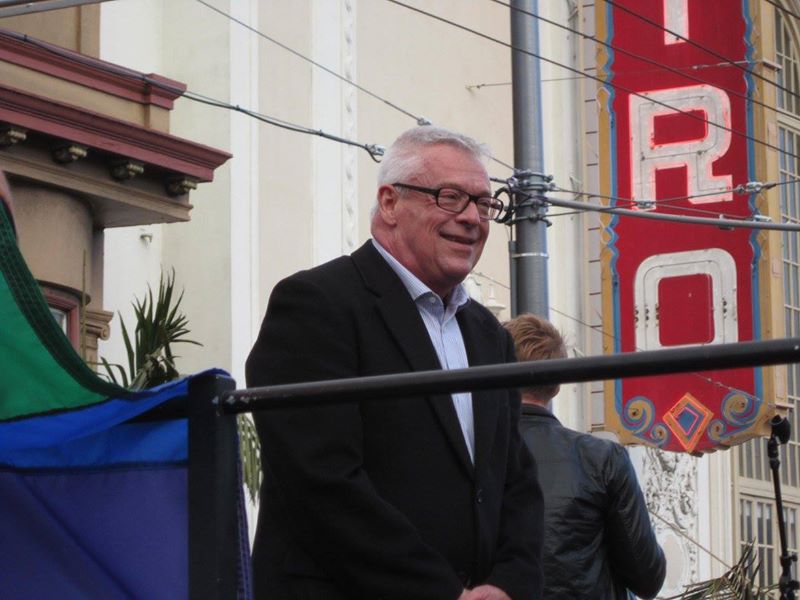 Cleve Jones. (Photo: Norma Diana Rodriguez/Facebook)
Cleve Jones, LGBT activist and creator of the AIDS Memorial Quilt, thinks the boundaries of the neighborhood have grown over time. Jones, who recently created a Castro-centric audio walking tour, first arrived in San Francisco in 1973, when the Castro was still called "Eureka Valley" and was most closely associated with the Most Holy Redeemer Catholic Church. "'Eureka Valley' referred to the small shopping district around 18th and Castro," Jones told us. "As more gay people moved in, the name began to change."
"Today, I think we would say that the eastern border is Church Street," said Jones. "At the beginning, that would have been more like Sanchez. The southern border is the top of the hill, at 22nd or 23rd. The western border is difficult, but probably goes all the way up to 18th and Market. The northern side is controversial—there has to be controversy, of course. People in Duboce Triangle think of that part as Duboce Triangle, but I still think of that as the greater Castro district. The Mind Shaft on Market was one of the bars I could get into when I was underage. That's certainly not Eureka Valley, but it's in the Castro." Either way, geographical borders are "a silly thing to get up in arms about," he said.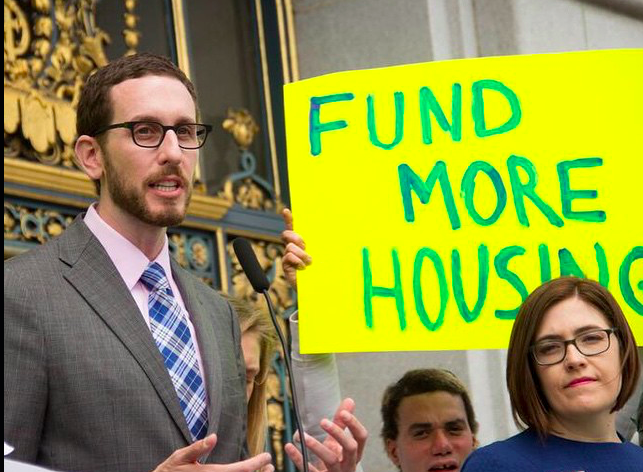 Scott Wiener. (Photo: Facebook)
District 8 Supervisor and state senatorial candidate Scott Wiener thinks the neighborhood's boundaries are vague because the Castro is much more than a neighborhood. "It's a community, an idea, and an international beacon," he explained.
"You have the core of the neighborhood around the commercial area of Castro and Market Street, but in terms of how people identify their neighborhood, it goes much broader than that. I've always viewed the Castro as going east to Church Street, although the Mission and Dolores Neighborhood Association claims that it ends at Sanchez. I know people who live on Dolores Street or east of it who say they live in the Castro. Duboce Triangle to the north and Corona Heights to the west are also their own neighborhoods, but are part of the greater Castro area."
He's even seen the definition of the neighborhood change himself. "Before I was in office, I was the president of my neighborhood association, the Eureka Valley Neighborhood Association. Most people in the neighborhood don't identify with Eureka Valley, so we changed the name to Castro/Eureka Valley Neighborhood Association. We got a lot of support in doing that, but there were also a lot of people who were upset with that name change."
"If you poll people today, they will think the Castro has broader boundaries than it did 20 years ago, because back then, people didn't want to say they lived in the Castro. Now the Castro is more and more popular, and a very hot neighborhood. So that, I think, expands the boundaries. People now want to say they live in the Castro."
Wiener recognizes that the close quarters of each space result in gray areas. "There certainly is a lot of overlap. It becomes very intense, having these conversations, and we are all fierce defenders of our neighborhoods and their names."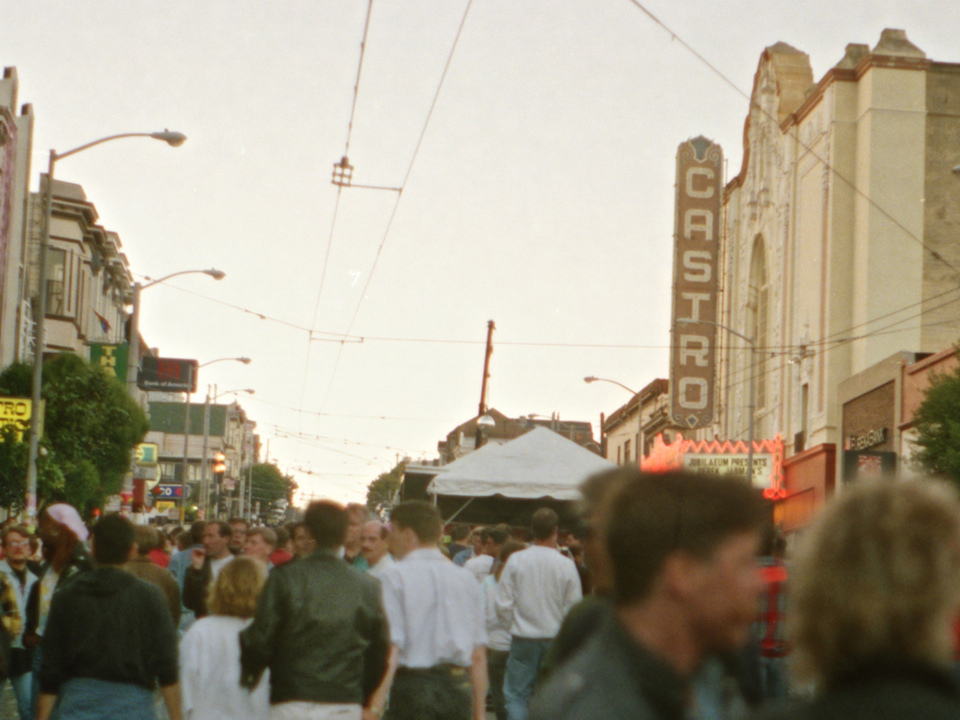 Photo: David Prasad/Flickr
At the end of the day, "our neighborhoods in San Francisco are fluid," said Stein. "It's about where people identify and feel they belong. And only for purposes of zoning do we actually need to draw a line on the street to decipher a neighborhood's boundaries."
What do you consider to be "The Castro?"