New construction is sweeping the city, and District 3 is part of the boom: three new hotel and housing projects are currently on track for Fisherman's Wharf and North Beach.
First, we got an update on the former Pagoda Theater site (1731-41 Powell St.) Last month, we broke the news that the site's owner, Joel Campos, is forging ahead to build the Palace at Washington Square, which will include luxury condos and a 4,700-square-foot restaurant. After a flurry of media attention, District 3 Supervisor Julie Christensen and District 8 Supervisor Scott Wiener announced their plan to push the city to buy the land to house a future North Beach Central Subway station.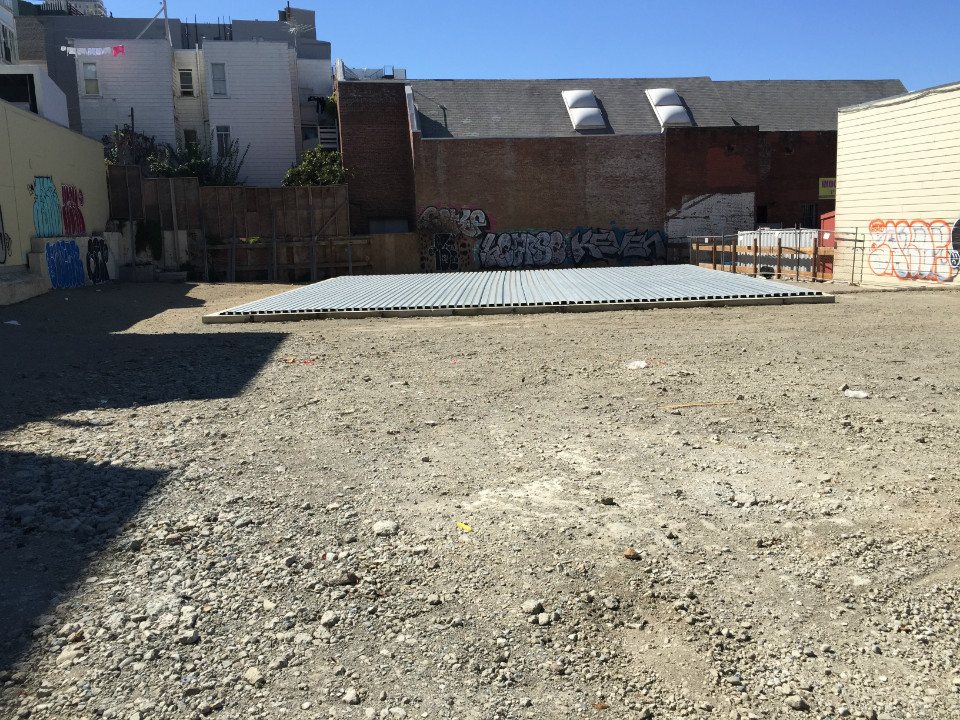 The former Pagoda Theater site. (Photo: Geri Koeppel/Hoodline)
Two weeks on, there's been no mention of a change in plans. We contacted Christensen's office to find out if talks are underway, but were told she has no comment.
"Nobody has outreached to me or Mr. Campos that I'm aware of for any potential purchase or long-term lease of his property," said Campos' real estate broker, Martin Kirkwood. "We're still planning on breaking ground at the end of November."
Kirkwood noted that Campos, owner of La Corneta Taqueria, is a small developer who has dreamed of having a restaurant in North Beach for years. "Mr. Campos came from Mexico," he said. "He's an immigrant that has basically saved up his money out of a couple of registers to pay for this building. He finally has enough money to make his dream happen." He added that Campos is setting aside three of the future condos for family members.
In related news, the San Francisco Building and Construction Trades Council sent a press release late Wednesday announcing that it—along with Christensen, Wiener, SF NexTstop and community members—would hold a rally and community walk at 10am today, in support of extending the Central Subway from Chinatown to the Pagoda site and then to Fisherman's Wharf.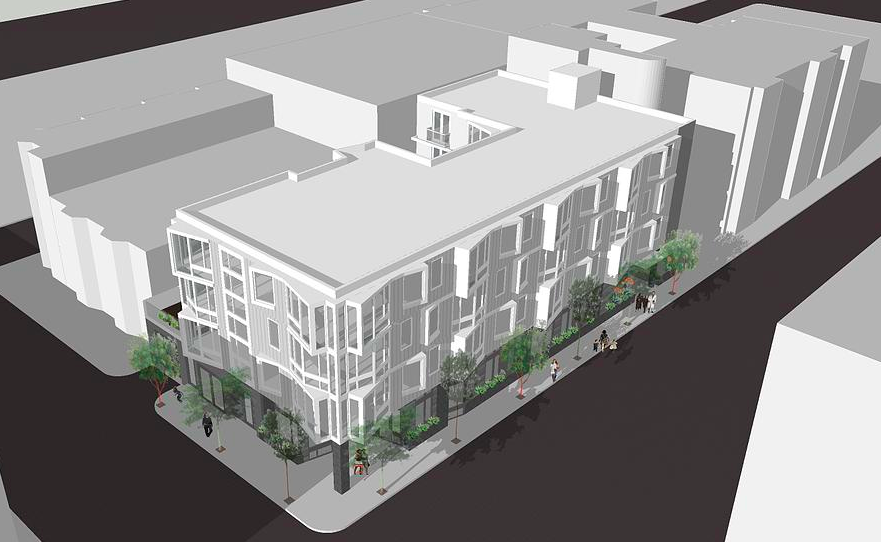 Bay and Powell. (Rendering: Ian Birchall and Associates)
In other development news, there's been an update on the 17 condos planned for the southwest corner of Bay and Powell streets, the former home of Caesar's restaurant. According to Socketsite, the project was "granted a Mitigated Negative Declaration from San Francisco's Environmental Review Officer," so it won't have to undertake a lengthy environmental impact report. 
The website for the project's architect, Ian Birchall and Associates, says the building will be completed in 2015. However, that information may be out of date, as Socketsite's article says it'll break ground in 2016 and be ready to occupy in 2018.
Rainflower Hotel. (Rendering: nc2)
Nearby at 400 Bay St. at Mason, a boutique hotel is planned for the site of the former Ginsberg's. An extensive Planning Department packet online has details about the 13-room project, dubbed the Rainflower Hotel. We reached out several times to nc2 Studio, which is designing the project, and were told they're just getting started on the next phase and can offer no further details beyond what's in the Planning packet.
As currently outlined, the hotel will be 40 feet tall and 15,000 square feet, and include a second-floor deck and 2,000-square-foot roof deck primarily for patrons and special events. No amplified music would be allowed on the roof deck after midnight. There are mixed-use and residential dwellings nearby, on the south side of Bay Street and to the west of the hotel site.