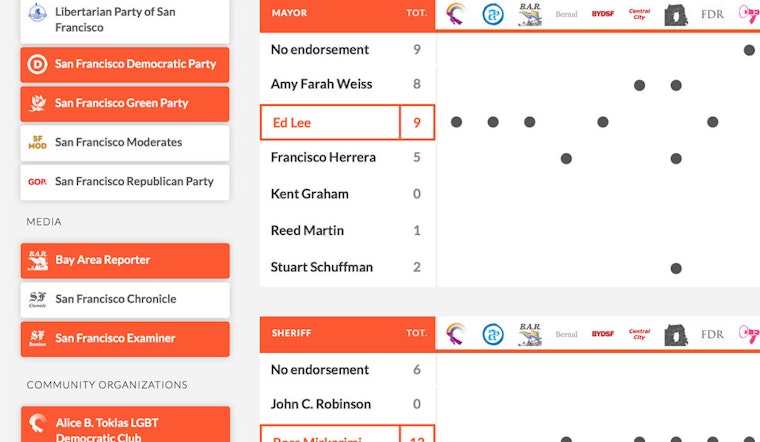 Published on October 16, 2015
With the November election less than three weeks away, and the voter registration deadline just three days away, it's time to start thinking about how you're going to vote.
To help, Hoodline has created this handy 2015 SF Election Guide.
This year, six candidates are running for mayor, eleven propositions are on the ballot, and a bunch of citywide seats are up for grabs (though a few are uncontested).
Issues like affordable housing, short-term rentals, and the protection of long-running businesses — frequent topics here on Hoodline and in the neighborhoods we cover — are up for votes this year. The competition for District 3 supervisor will determine who represents the swath of the city from Fisherman's Wharf to Union Square. And of course there's the mayoral election, with five candidates vying to replace incumbent Ed Lee and set policies that will affect every neighborhood in the city.
We don't make endorsements here at Hoodline, but to help you make up your mind, we've pulled together recommendations from more than 30 sources, including local media like the Examiner and the Bay Area Reporter, political groups, community organizations, and neighborhood associations.
You'll find them all in Hoodline's 2015 SF Election Guide.
Just choose the sources you care about, and we'll show you which candidates and propositions they've endorsed. You'll also find links to more information about each candidate, including relevant stories we've written on Hoodline.
So check it out before you head to the polls on Nov. 3rd, and if there are endorsers we've missed or other details you'd like us to include, let us know in the comments below.