Like many gas and service stations around the neighborhood, a rental car office and historic auto repair shop in western SoMa may soon be razed for development.
JS Sullivan Development plans to replace the Hertz Rent-A-Car at 241 10th St., between Howard and Folsom, with a 55-foot-tall, five-story mixed-use residential building. The complex would have 28 one- and two-bedroom residential units, nearly 1,900 square feet of ground-floor commercial space and 17 off-street parking spaces. Planning documents do not state exactly how the developer will satisfy its affordable housing requirements; the city requires either 12 percent affordable units onsite, 20 percent offsite or a 20 percent fee.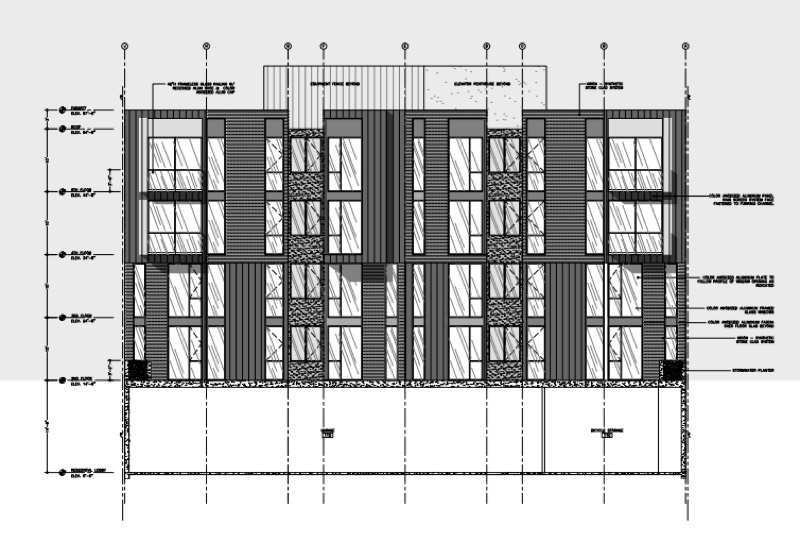 Image: Charles Chan Architectural Studio for JS Sullivan Development via Planning documents
According to the project's environmental review exemption, the existing building was constructed in 1921 as an automotive repair shop. While it is considered a "contributor" to the Western SoMa Light Industrial and Residential Historic District, the assessment found that its demolition "would not materially impair the surrounding historic district." As a mitigation measure, the developer has agreed to prepare a Historic American Buildings Survey for the property.
Given that this project adhered to Planning code and the area plan, it did not require review by the Planning Commission, said Chris Townes, the planner on the project. The department did not receive any requests for discretionary review when neighbors were notified in early October of the developer's building permit application, so the plan will likely move on to the Department of Building Inspection for final approval in the coming days.
A request to JS Sullivan for details on the building's design and renderings went unanswered, but we did find the tiny renderings below in documents submitted to Planning last year.

Renderings: Charles Chan Architectural Studio for JS Sullivan Development via Planning documents
Those initial plans note that the design was inspired by the facades at 8 Octavia, 1028 Natoma and 1234 Howard.