The SF Department of Public Health has suspended the permit for Evergreen Cafe (645 Clay St.) due to "serious or repeated violations, or interference, California Retail Food Code, Section 114411," according to a notice on the door dated October 28th.
We contacted health inspector Adaku Ude, who told us that the restaurant, which serves buffet-style Chinese food, had a cockroach infestation in its food-prep area. "They had outstanding violations that led to immediate closure," she said. "When they are ready to open again, we will revisit the restaurant, and if they clean up, they can reopen."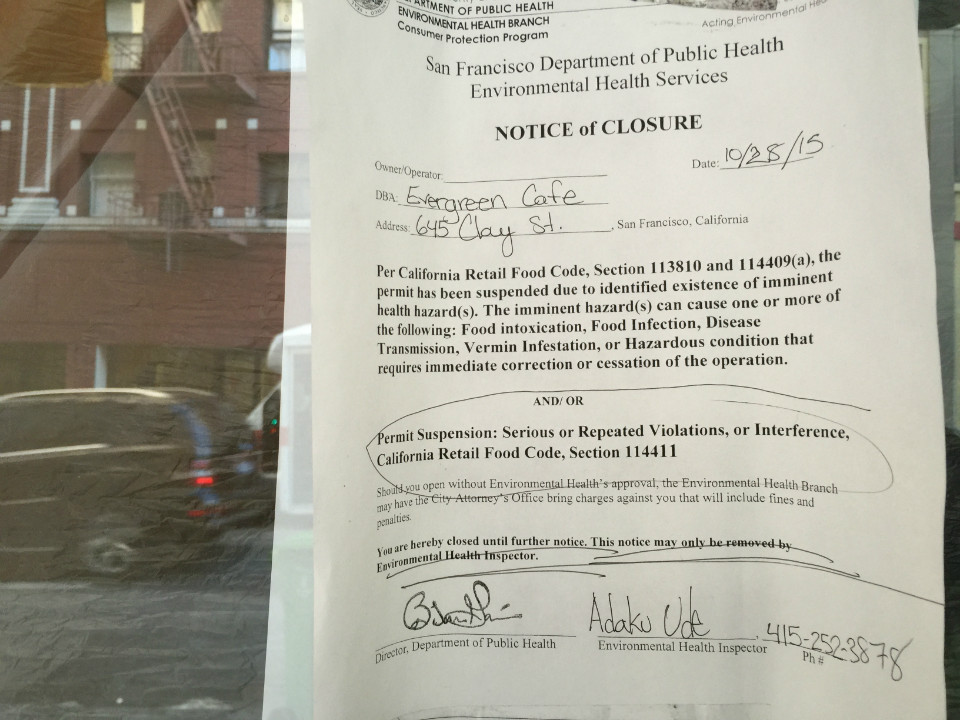 Yelp posted the restaurant's most recent inspection, on October 2nd, which shows a score of 54 out of 100 and 11 violations. Yelp also notes this number puts Evergreen in the bottom five percent of local restaurant scores. Violations included:
Inadequate and inaccessible handwashing facilities
Unclean hands or improper use of gloves
High risk vermin infestation
Unclean or unsanitary food contact surfaces
Contaminated or adulterated food
Improper storage use or identification of toxic substances
Foods not protected from contamination
Wiping cloths not clean or properly stored or inadequate sanitizer
Improper or defective plumbing
Unclean or degraded floors walls or ceilings
Inadequate ventilation or lighting
We'll let you know if (or when) Evergreen returns to business.