In a brazen and somewhat baffling move, a graffiti vandal or vandals recently tagged the dome of the Sentinel Building (also known as Columbus Tower), marring its photogenic facade. The building, owned by famed director Francis Ford Coppola, is beloved by locals and a favorite of camera-happy tourists, who are known to ill-advisedly stand in the intersection of Columbus Avenue and Kearny Street to snap a shot of it.
KPIX reported that the dome was tagged on Saturday night, but the building's office manager, Kalman Muller, said the tagging actually happened last Wednesday, November 25th, sometime in the afternoon. "We're trying to figure out how to get up there and clean it up as soon as possible," he said. The building is working with a painting company that uses a graffiti removal substance, and the tag should hopefully be removed this week. 
Muller said it was unclear how anyone scaled the dome, but it's possible that they could have used a fire escape. "Otherwise, you need a really tall ladder," he said. He didn't know if a police report had been filed, and SFPD didn't immediately respond to an inquiry.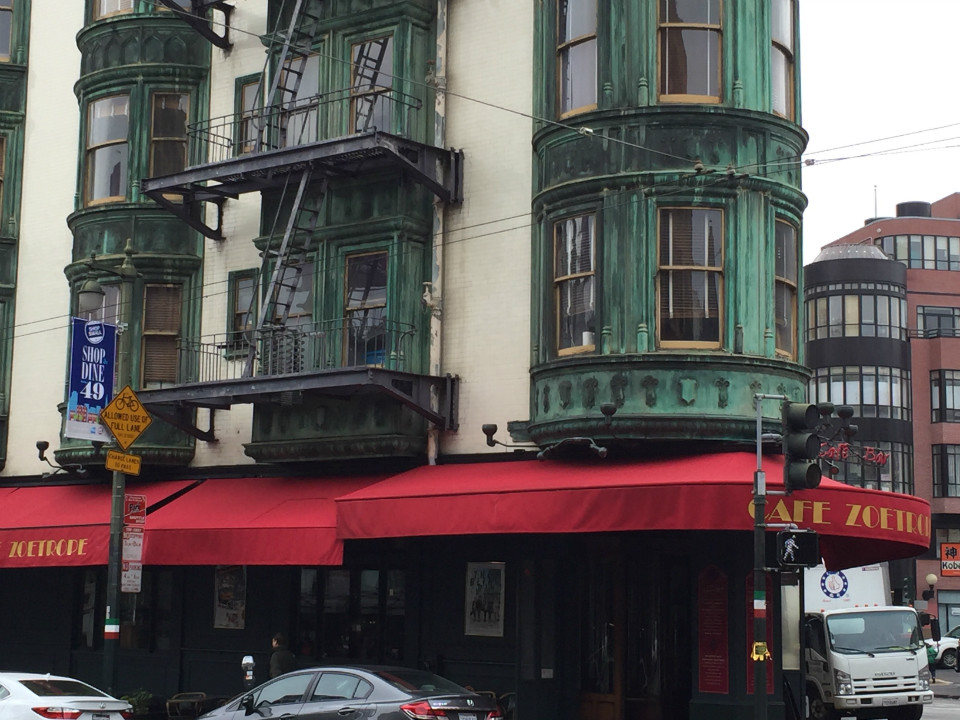 The 1907 flatiron building, which is San Francisco designated landmark 33, is known for its copper green patina. It houses Coppola's offices and his restaurant, Cafe Zoetrope, along with offices for various businesses. As the owner, Coppola is responsible for graffiti removal. "He's a little upset, to put it lightly," Muller said.
Nathan Ruiz, a server at neighboring restaurant Doc Ricketts, was shocked to hear of the graffiti. "I'm really disappointed someone would try to hurt our neighborhood like that," he said. "It's such a pity because it's such a beautiful building. I hope they'll be able to repair it, and that they find who did it."
If you have any information on the vandal, contact SFPD at the Graffiti Abatement Office at (415) 278-9454 or sfpd_graffiti_unit [at] pacbell [dot] net. If you are the victim of vandalism and your property has been defaced, you can file a report online.