There's change in the air around the Lower Haight, as two major infrastructure projects in the neighborhood inch forward. If you've got opinions about everything from sidewalk bulb-outs to rain gardens to a traffic diverter at Scott & Fell, you'll have a chance to get involved in the neighborhood's future with two meetings this week. 
Wiggle Neighborhood Green Corridor Project
On Tuesday, the SFMTA Board of Directors will hold another—possibly final—public meeting on the Wiggle Neighborhood Green Corridor Project, which has been in the works for more than two years. 

A joint effort between the SFMTA and the SF Public Utilities Commission, the Green Corridor Project aims to increase walkability, decrease traffic and reduce storm water waste around the Wiggle. Specifically, that means we could see bulb-outs on several sidewalk corners, a raised sidewalk at Steiner and Hermann, permeable pavement and rain gardens, and traffic restrictions on Scott Street.
The project was nearing approval last spring, but was delayed after community members voiced their concern over the proposed left turn restrictions along Divisadero, specifically at Haight. Since then, the SFMTA has drafted a new plan that keeps the left turn as it currently exists.
The project proposal has undergone several adjustments over the last two years. The final plan going to the Board tomorrow can be found here.
As we discussed last summer, the plan includes a large bulb-out at the troublesome Scott & Fell intersection that would act as a traffic diverter, requiring southbound traffic to turn onto Fell Street but still allowing bicycle riders and pedestrians to continue on Scott. "This will reduce Scott Street's appeal as a cross-town route, making it a more pleasant place to walk, bike, and live," according to the SFMTA.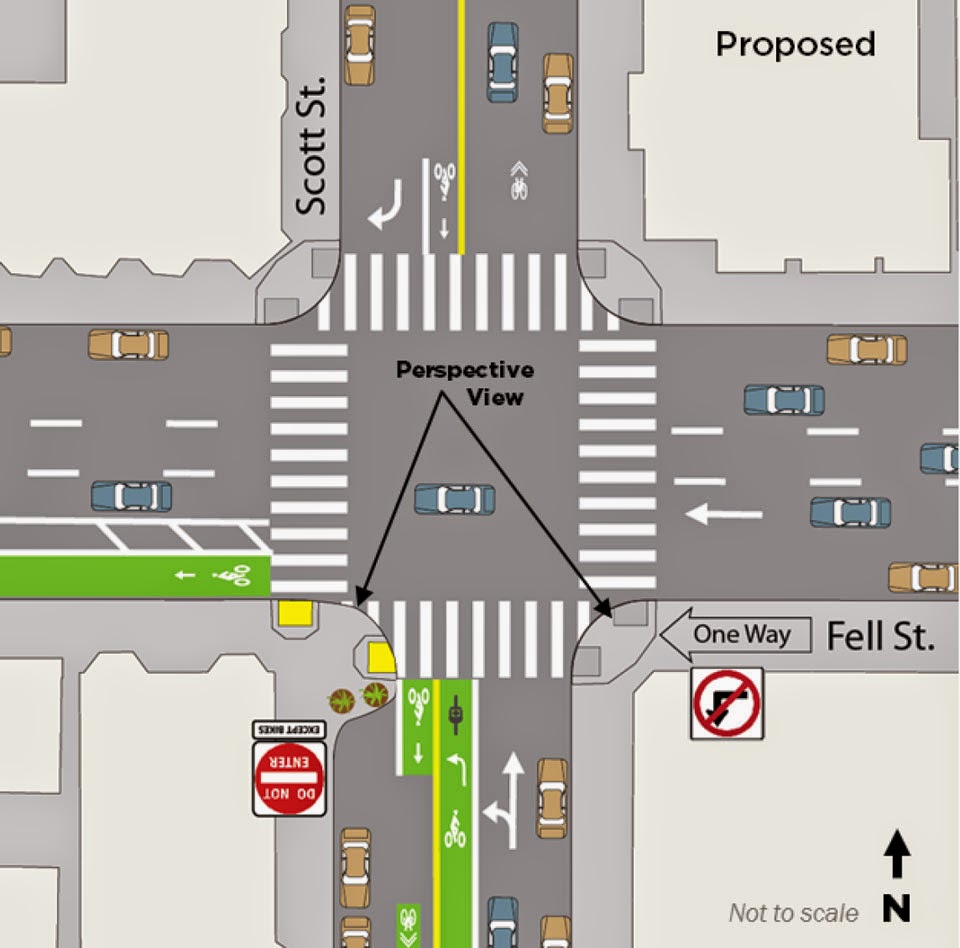 If the SFMTA board approves this plan, the Green Corridor Project will officially move forward. Construction is slated to begin next September and continue through Fall 2017. 
If you'd like to weigh in on the project, you can do so this Tuesday, Nov. 17th at 1pm at SF City Hall, Room 400. Those who cannot attend can still provide input via email at mtaboard[at]sfmta[dot]com. 
Lower Haight Public Realm Plan
If you're still in the community spirit, consider stopping by an open house for the Lower Haight Public Realm Plan on Wednesday evening. 
As we've previously noted, the Public Realm Plan has similar goals as the Green Corridor Project: to increase livability with transit improvements, sidewalk bulb-outs and neighborhood beautification. This project is still in its early stages, however, and Wednesday's meeting is a chance for residents and merchants to learn more and share their ideas.
The meeting will start with a brief overview of the project's goals, as well as opening remarks from London Breed. Attendees will then have a chance to speak directly with the Planning Department, the SFMTA and Public Works. 
Funding for the project comes from a $50,000 grant awarded to the Planning Department from the City. A timeline has yet to be set, but a similar project in Haight Ashbury has been in the works for more than three years and is still being implemented.
Catch the Lower Haight Public Realm Plan open house Wednesday, Nov. 18th from 6:30-8pm at the Electric Workers Union Hall (55 Fillmore St.). Attendees are encouraged to register for the event, however it is not required.