A group of political science students at San Francisco State University has taken to the streets every weekend for the past five months to campaign for a class project that became a proposition.  
You'll have a chance to vote on it in the election this coming Tuesday. 
Prop E, officially The Sunshine And Open Government Act, began early this year when the students were researching how to improve civic participation in local government for a political science class. 
Most of the 120 meetings at City Hall run through the afternoons and evenings and only a portion are live-streamed. Many people are busy working long hours, classes, family care and other commitments, and can't make it down to Civic Center to attend and comment in person so they're not involved at all. 
The campaign's tagline has been "live stream city government" but it has bigger ambitions. It would also allow remote comments in each meeting, and it would provide a way for the public to request times for meetings and for specific agenda items.
However, the storyline about young people ushering in democratic innovation is somewhat complicated by a range of politicians and organizations who oppose the proposition.
They believe the expenses and requirements created by it will disrupt more than help good governance.
Getting more participation
We tagged along with the students on a recent campaign trip in the Richmond District. "Not many people have time to go to the meetings and it's important that government is more open," said Ashley Evans, one of the political science students as she passed out campaign fliers at the corner of Geary and 19th Avenue.
"It would make it much easier for citizens to know what is happening in their city if every meeting is live-streamed." 
Although some passer-bys brushed past them, many stopped to talk to the students. 
"This is a historic initiative," one of the students, Minyan He, told San Francisco resident Lorena López.  "It will help you keep track of how our government is making decisions." 
In return, López said she would support the initiative.
"It's good that you guys are doing this," she said to Minyan. 
The student-led campaign started last January as part of an online political science class that examined attendance at city hall meetings and discussed ways to enhance civic participation.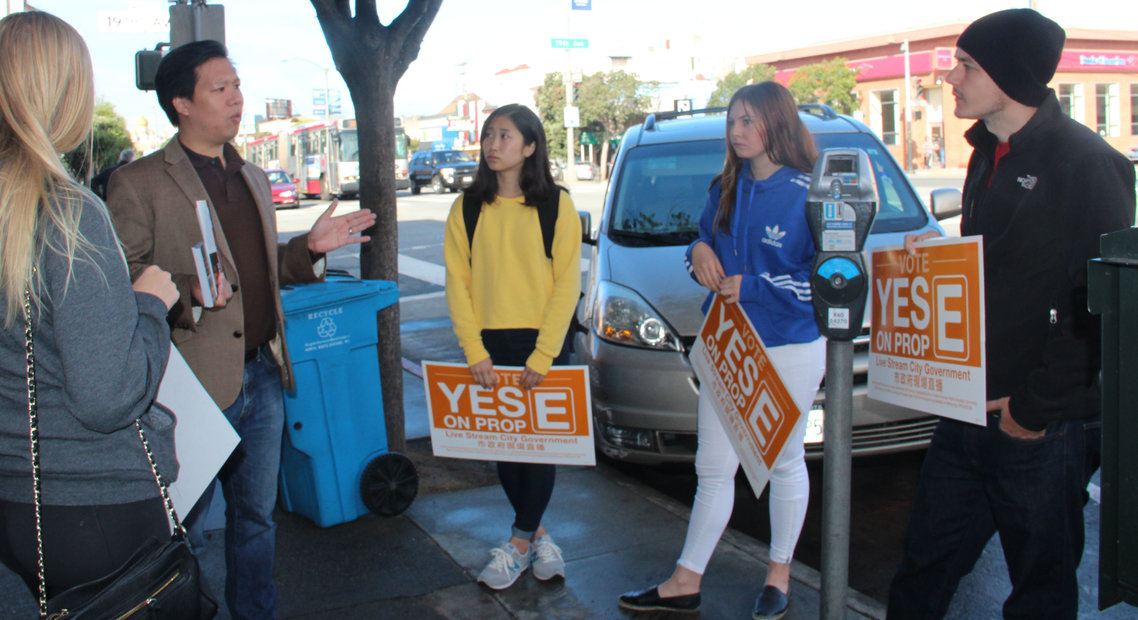 David Lee with the students on the campaign trail 

The instructor, David Lee, said he asked the class as a final project to find new ways to get citizens more involved in the city's decision-making processes.
Three months later the students concluded that improving public access through technology would best solve the problem. 
"The ballot measure is a 100% student idea," he explained. 
Lee is a former recreation and park commissioner and executive director of the Chinese American Voters Education Committee, an organization that promotes Asian student participation in politics, and is supporting the proposition. He told us that he helped them craft the exact terminology, and added that this is the first time the city has seen a proposition introduced by students.  

Early indicators of the proposition's chances are encouraging to its supporters. In the first three weeks after putting the legislation on the ballot in May, the students collected around 16,000 signatures, almost double the 9,500 required. 
The ballot needs a 51 percent approval, or about 219,000 votes to pass. 
"It's a great initiative that is getting a lot of support, so on Election Day we think that it's going to pass," said Bill Tan, one of the students who helped forge the initiative.
The complexities of openness
So what does it say, exactly? And what do a range of opponents have issues with?
Legally designed as an amendment to the city's existing Sunshine Ordinance, which gives San Francisco residents ways to obtain government information, Prop E reads as follows:
Shall the City broadcast all City meetings live on the Internet; allow members of the public to submit electronically during the meeting live, written, video, or audio comments from any location and require those comments be played; require pre-recorded video testimony to be played during a meeting; and allow the public or board, commission, or committee members to request that discussion of a particular agenda item begin at a specific time?
Currently, only 30 of the city's 120 boards, commissions and committees are broadcasted or streamed online, according to the students' research. For the other 80, which they calculate control $6 billion of the city's 8.9 annual budget, you need to show up in person.
In other parts of the country, Los Angeles allows people to testify virtually and Portland enforces meeting start times, while the Washington state legislature and the city of Santa Monica live-stream their meetings. None of them enforce everything included in Prop E. 
The proposition has split the local political class across unusual lines.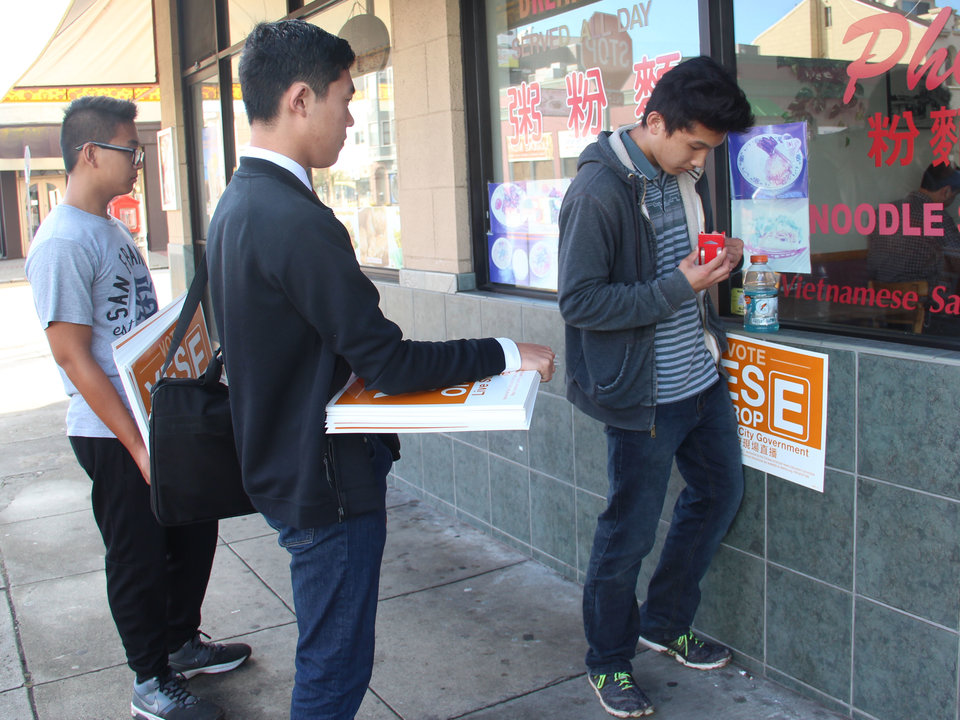 The Electronic Freedom Foundation, a nonprofit organization that promotes digital civil rights, has come out in support of the initiative. 

"This citizen-driven initiative is simultaneously practical and radical, and we hope that if it passes, it will help raises the bar across the country," the organization said in a statement. "As an organization that relies on digital tools to enhance grassroots activism, we see Proposition E as a way to leverage the innovation of Silicon Valley and the Bay Area to pioneer a system that can be exported elsewhere." 
Political leaders like Mayor Ed Lee and recently-elected State Assemblyman David Chiu also support the proposition.
But opposition has rallied, and has an official group formed as Smart Open Government SF.
The site tallies No endorsements from supervisors London Breed, John Avalos and David Campos, along with groups like the development-oriented think tank SPUR, a local SEIU union, and a list of former ethics commissioners and Sunshine Ordinance Task Force members. One of the latter, former SF Bay Guardian publisher Bruce B. Brugmann, was a co-creator of the original Sunshine Ordinance when it was passed then updated in the 1990s. 
Writing in the SF Examiner, Nato Green decries the proposition as an attempt by SF State's Lee to further his own as well as broader conservative political ambitions.
Lee Hepner, an SOTF member, argues that its implementation will be costly and could open the door to outsiders trying influence city's decisions.
"Anytime a hot-button issue like the sanctuary city policy comes up, we risk opening (the discussion) up to anyone, nationally or even worldwide," Hepner told the Chronicle. "Frankly, it's none of their business, since they're not going to be affected."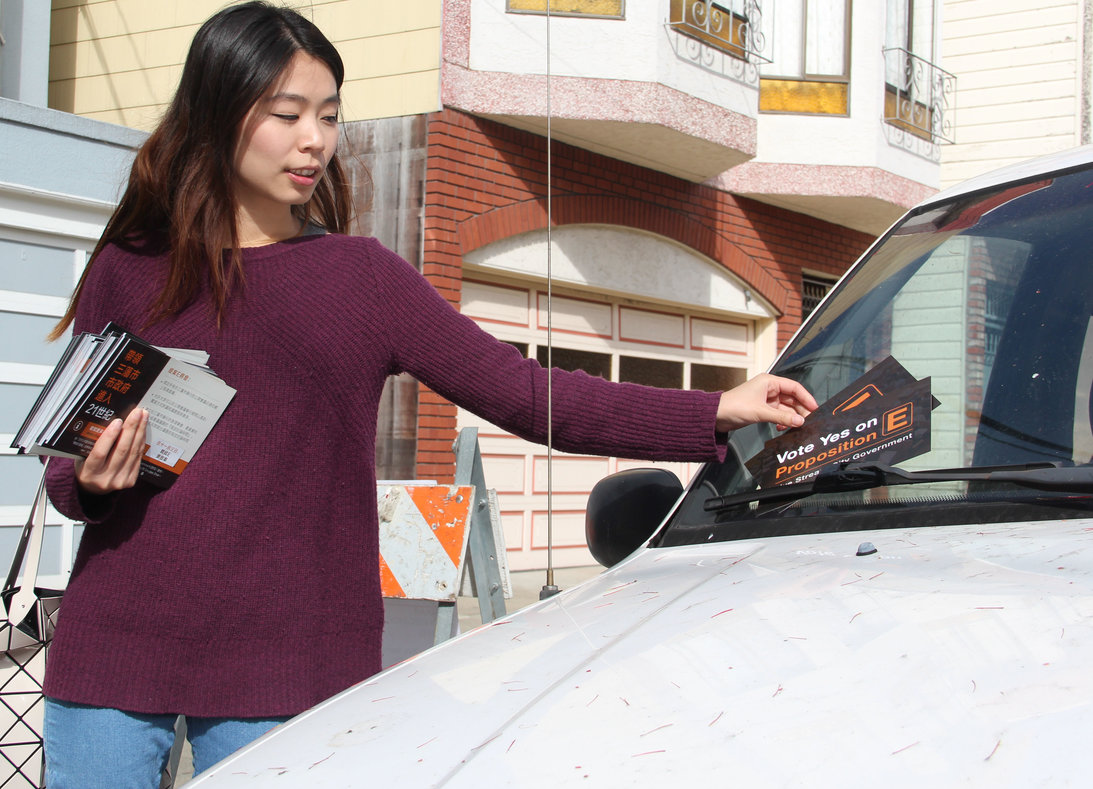 Sanctuary city policies have spurred debate at City Hall because they protect undocumented immigrants from federal laws that ask cities to detain them, possibly including wanted criminals in this country or elsewhere.
The policy became a national debate this summer after a foreign national shot and killed a Walnut Creek woman on the Embarcadero. 

The San Francisco Board of Supervisors unanimously approved a nonbinding resolution on October 20th that supports the city's existing sanctuary city policies, which angered conservatives around the country.
Lee counters that live-streaming but not broadcasting would save money. He estimates that live-streaming every meeting would cost the city between $500,000 and $750,000 annually compared to the $3.2 million it currently spends to broadcast thirty committees. One third-party video tech company, Fora.tv, estimates a range as low as $300,000, according to the Yes on Prop E site.
The city controller pegs the minimum annual staff cost at $750,00 plus unknown other additional expenses. 
Lee also said that to avoid any outsider's intrusions, the initiative includes filters such as requiring users to register for accounts by providing their names, addresses and phone numbers before they can access live-streamed meetings and provide remote testimony, although this language isn't in the official measure. 
"Here in San Francisco we like to think of ourselves as forward-thinking, innovative, and technology centered," Lee added. "This is the future of government, because the technology has been moving so rapidly but the laws have not caught up and now we are trying to do it."