We asked readers to send in sketches by Stuart "Stu" Jackson, and you responded graciously, with drawings by, and stories about, the admired North Beach artist who was brutally assaulted on December 5th and passed away on December 12th.
As a tribute to Jackson's life and to share his talent and the joy he brought to the community, we're running all of the sketches and excerpts that readers sent in. Thank you to everyone who contacted us, and thank you, Stu, for the smiles you brought to everyone you drew.
We also received this email from a reader who wished to remain anonymous: 
I helped a woman Priest who was holding and caring for Stuart Jackson.  She is the one who held up Stuart's head and kept up pressure to keep him from bleeding out.  She is the one who made sure that he took another breath.  She was focused on Stuart but also made sure that the other people at the bus stop were not traumatized.  She is a hero.  I do not remember her name.  I provided a sleeping bag and blanket and held Stewart's hand until the EMT's arrived.  Then I left.  I'm a former Emergency Response Coordinator and my part was done.  Except now, I would like it if Stewart's beloved fans were aware that this angel, whomever the priest is, was there for him.  It was just a look between her eyes and mine when his breath began faltering, but I am sure of this. She is a very strong human and full awareness and kindness.
And now for his enduring artwork.
"Stuart drew this at Caffe Trieste, but we hung it in Millie's corner for several years at Cafe Divine," wrote David Wright, who owned Cafe Divine before it closed in December of 2014.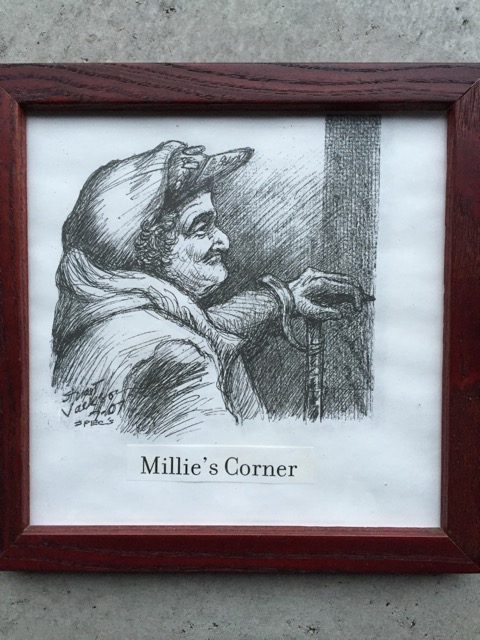 All sketches by Stuart Jackson; this one courtesy of David Wright.
Jackson's friend Libby Staub also sent in a photo of that same sketch, writing, "I hope someone may have gotten a better pic of this, but it's the first thing I saw him draw and it's on the fridge at the end of the bar at Specs. I hunted him down after that and we became friends ...usually talking about drawing/painting mediums (art shit) over a beer."
Tiffany Suen sent this one and wrote, "I was saddened to hear about Stuart.  I was fortunate enough to have crossed paths with him while volunteering last Xmas and have him sketch me while chatting with another diner.  Thank you for keeping his memory alive with this memorial of his sketches. He will be greatly missed."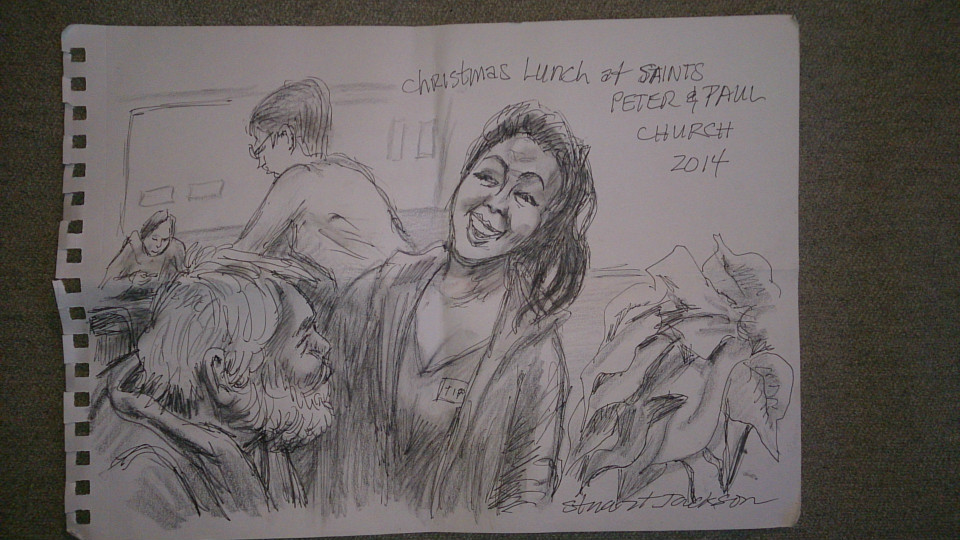 Courtesy of Tiffany Suen.
Stewart Bloom sent us this one below, adding "an interesting anecdote"—although he's a photographer with "thousands of images of North Beach" and talked regularly with Jackson, he has no pictures of him; we asked Stu's brother Bob Jackson, but he didn't have any, either. (Thanks again to Judy On, media manager for Live Worms Gallery, for providing the photo (top) of Jackson at Ernie Beyl's book reading and signing there on October 12th.)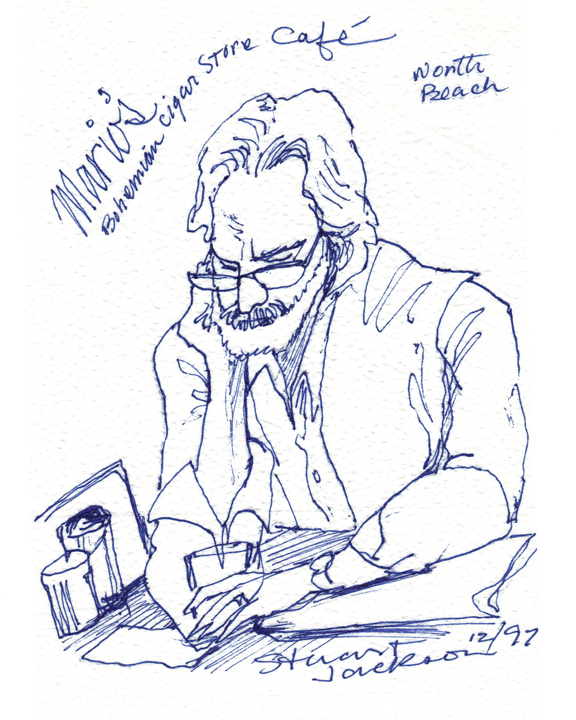 Courtesy of Stewart Bloom.
Benjamin Ring wrote, "I am a high school student and jazz drummer in Oakland. Stu sketched me playing with the Electric Squeezebox Orchestra at Doc's Lab on October 25th of this year, and it is one of the most amazing drawings I've ever seen—he captured the essence of the music simply through his pen strokes. It's such a terrible tragedy that Stu was taken away from us; it's horrifying to think that a man who I was talking to less than two months ago is now gone. He will be forever missed by his community and by artists all around the world."
Courtesy of Benjamin Ring.
Two more sketches of the Electric Squeezebox Orchestra at Doc's Lab come from Richard Lee, who plays bass trombone with the band. He added, "What a loss to the community!"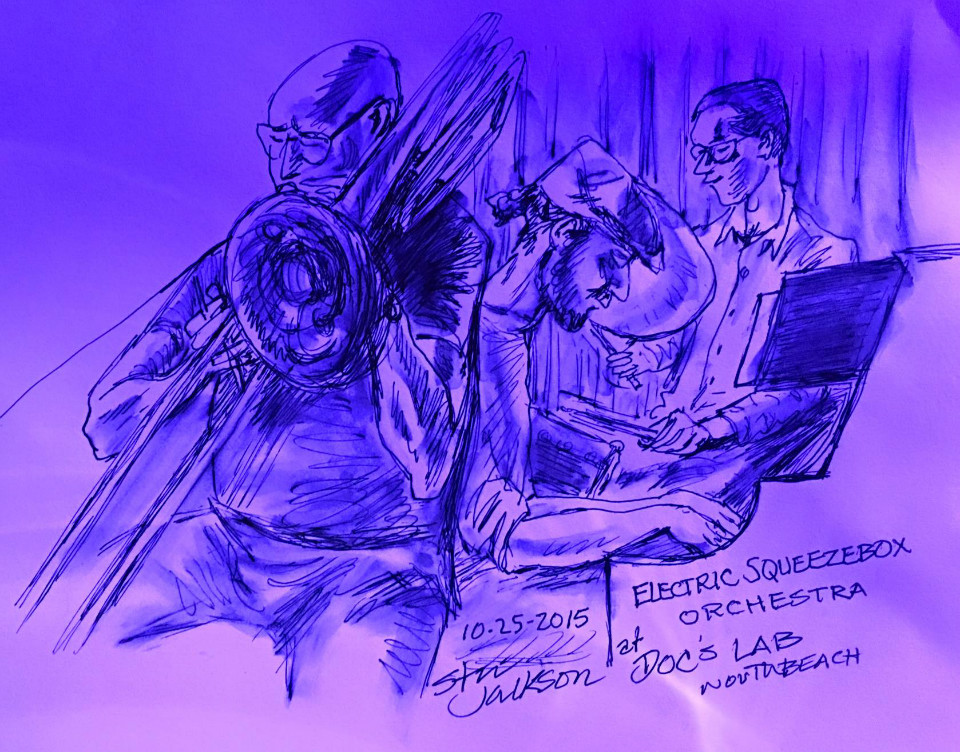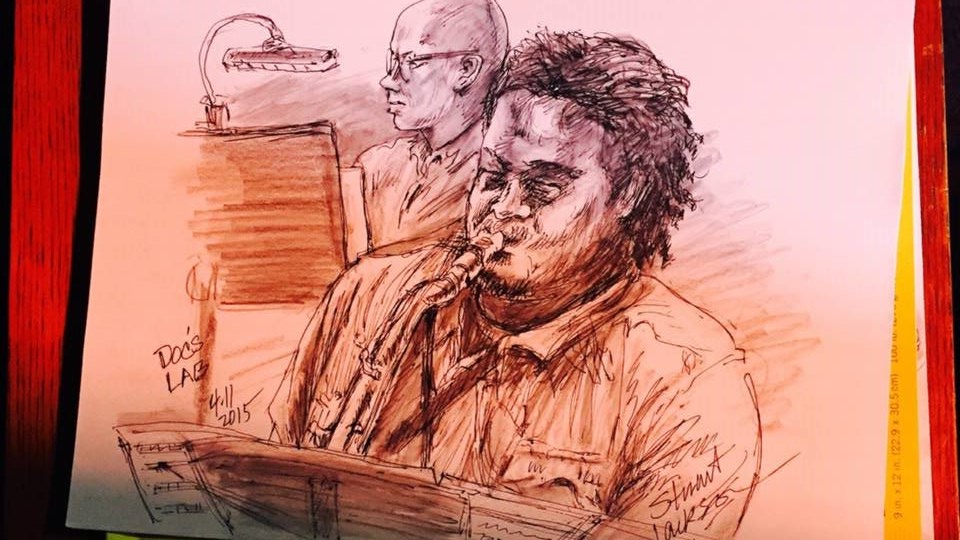 Courtesy of Richard Lee.
Brittany Shoot wrote, "Out at Vesuvio one June night, our posse noticed Stu was sketching us well before we chatted with him and I ended up buying his lovely drawing. His warmth was so evident, even in our brief interaction, and as we walked home, we agreed he was the exact sort of person that makes us feel so fortunate to live in San Francisco."
Courtesy of Brittany Shoot.
Gavin Tucker Colville wrote, "Here is a sketch Stuart did of me, Gavin Colville, Craig Ventresco, and Woobie. It's from about four or five years ago. Rest in peace."
Courtesy of Gavin Tucker Colville.
Christine Welland said Jackson drew this sketch of her kids, Tamu and Lula, at La Coulange on a rainy morning.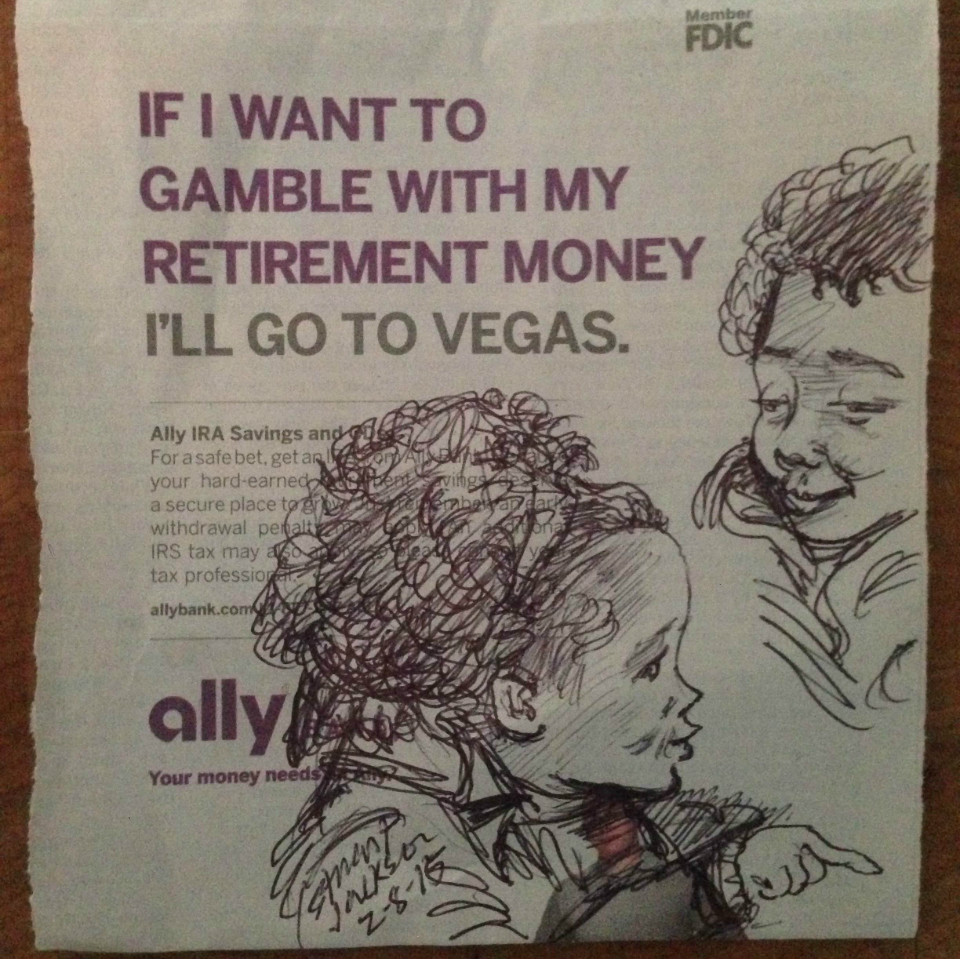 Courtesy of Christine Welland.
Dean Volker told us Jackson did this sketch of him at Specs last year.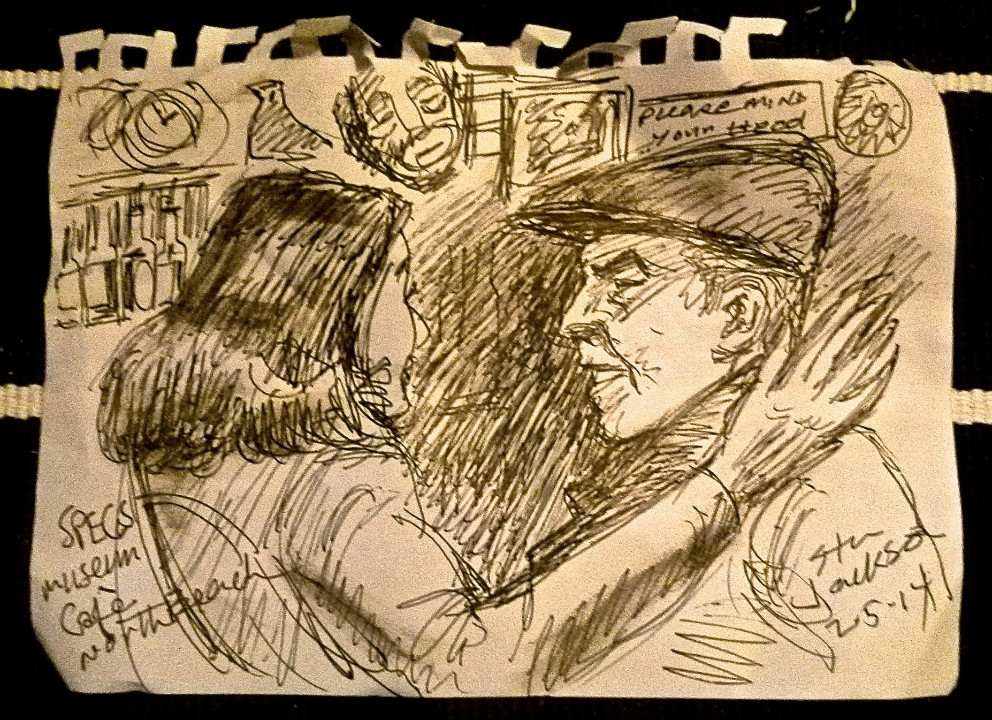 Courtesy of Dean Volker.
Jim Shaw sent this sketch Jackson did of him at the now-closed La Boulange Café on Columbus Avenue in January, 2013, and noted, "I sure hope they catch the bastard soon."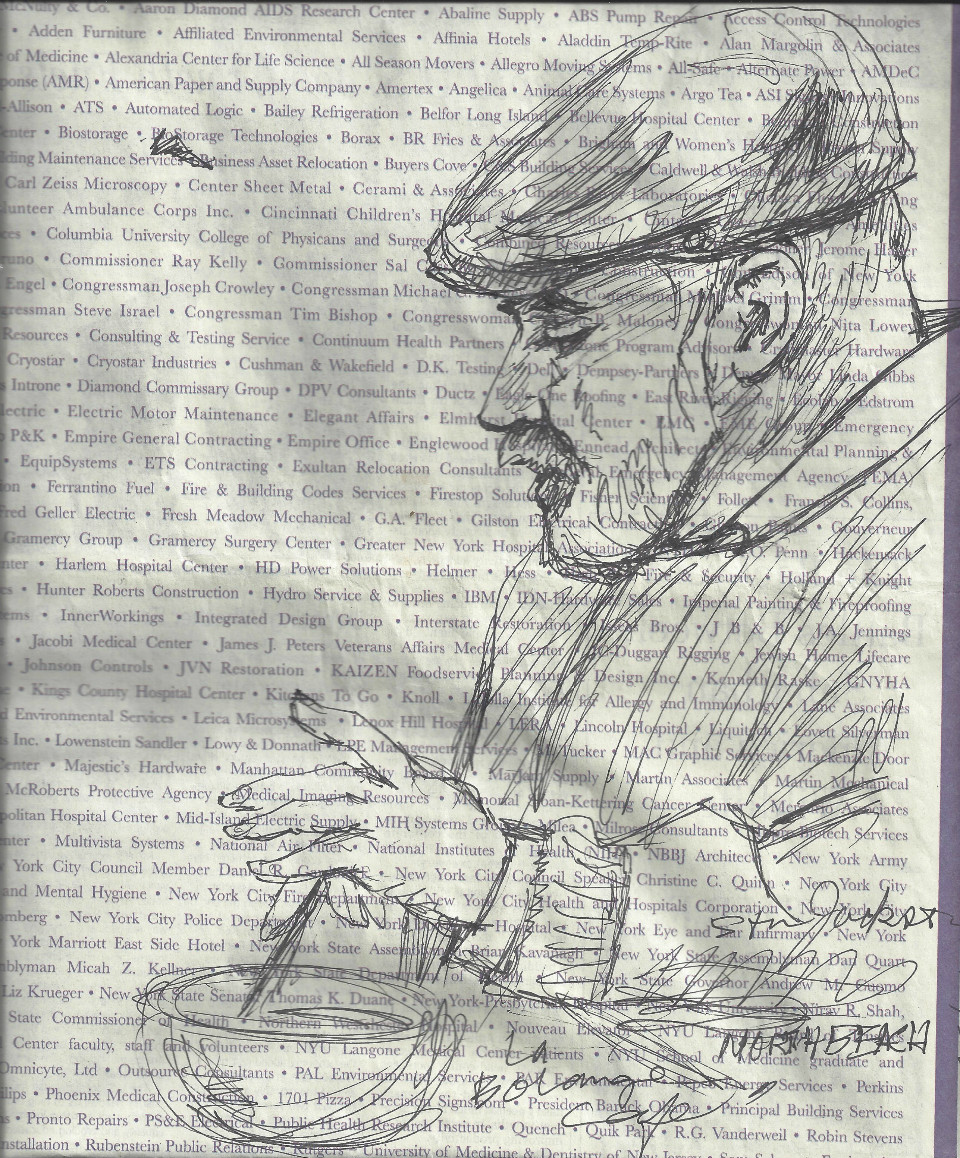 Courtesy of Jim Shaw.
Rich Stone sent in this sketch of himself from 2007, remarking, "Great guy, will sorely miss him!"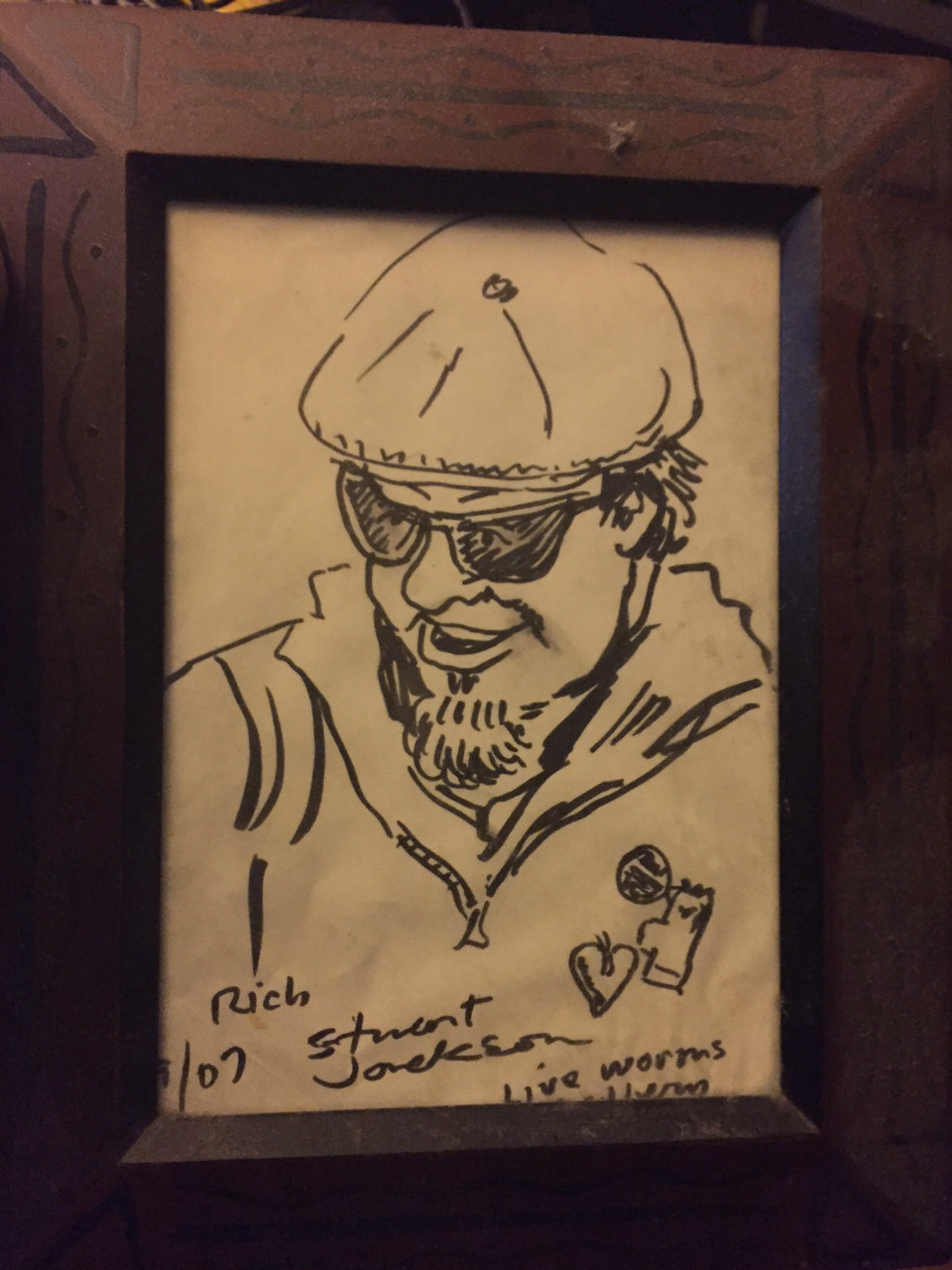 Courtesy of Rick Stone.
We got one sketch twice from two friends of Jack Bohman. John Carr wrote to say, "Stu Jackson did this sketch of Jack Bohman in 2007 at Stella Bakery. Jack passed away just a few months ago and I found this in some of his belongings.  I sent it to Jack's niece, Joanne." And Stewart Bloom sent it, too, saying Bohman was a retired Fairmont Hotel bartender and longtime North Beach resident since 1950.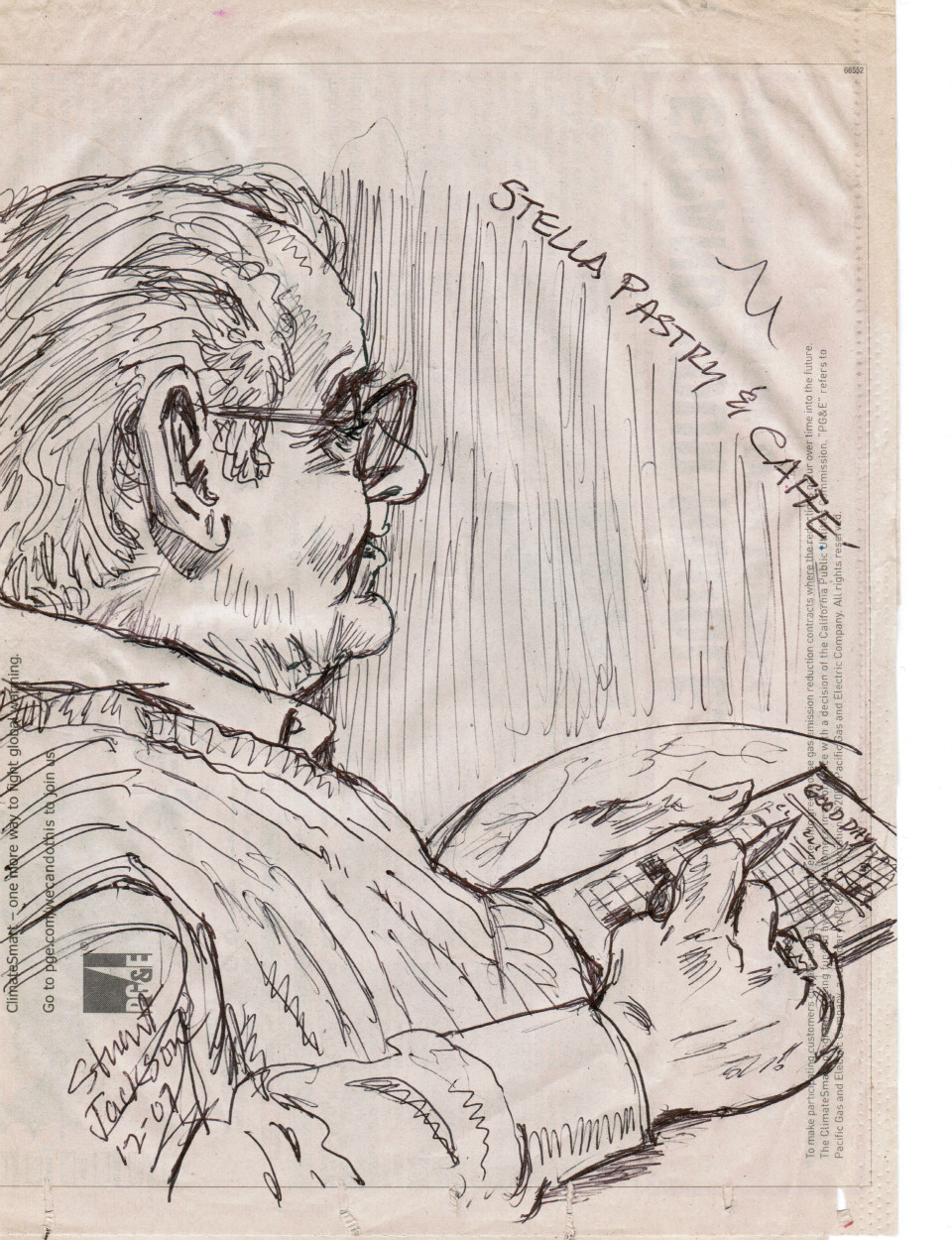 Courtesy of John Carr and Stewart Bloom.
Tim Kelly sent this sketch of his daughters, done on a cold August day five years ago when they were 10 and 7 years old. "He didn't sell it to us," Kelly wrote. "He gave it to my eldest daughter because he said she and her sister were so sweet sitting at the bar of Mario's."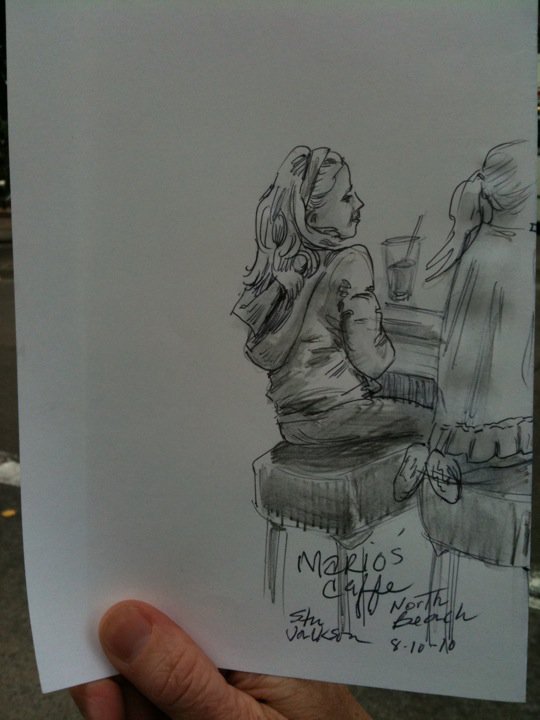 Courtesy of Tim Kelly.
This one's of Tim Miller, sent in with permission by his friend Mike Dougherty.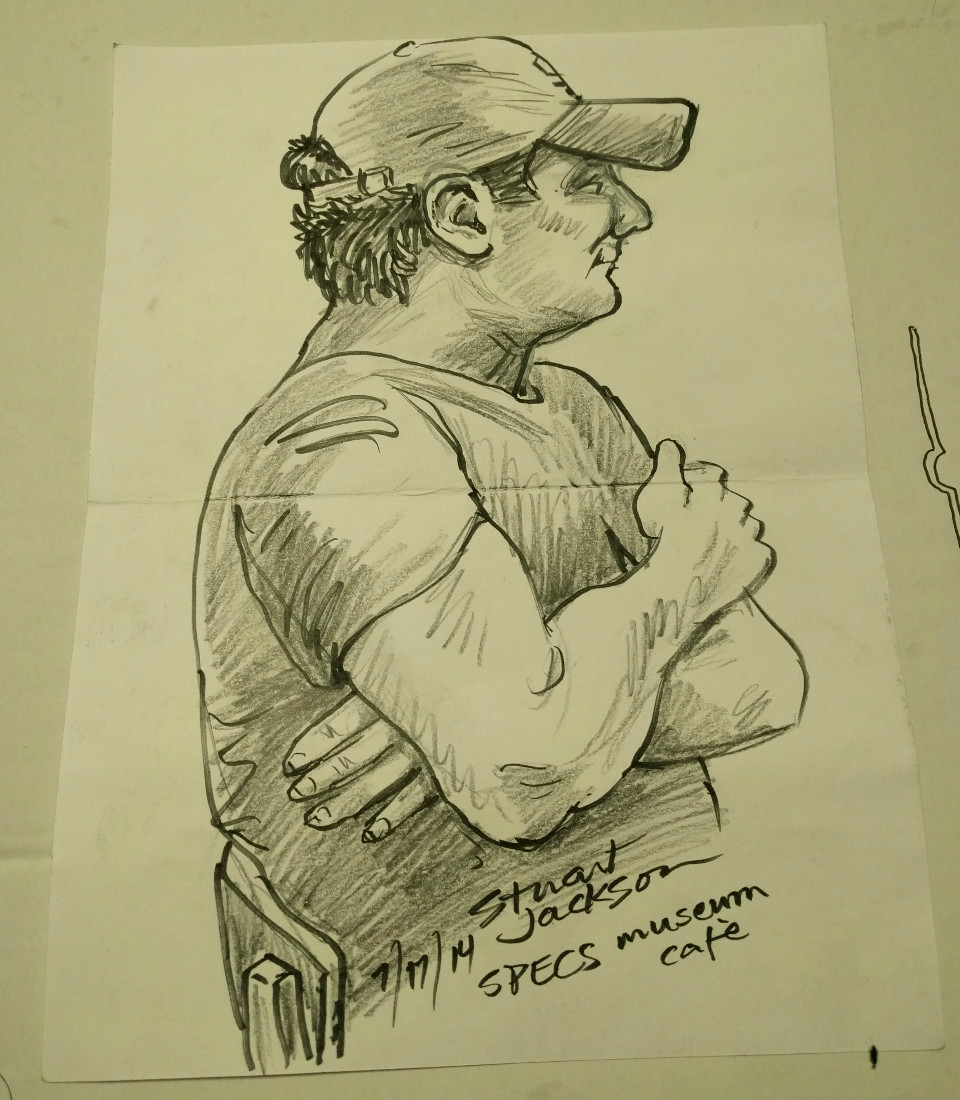 Courtesy of Tim Miller.
Here's one sent by Jenny Renee Roberts of a group at Specs.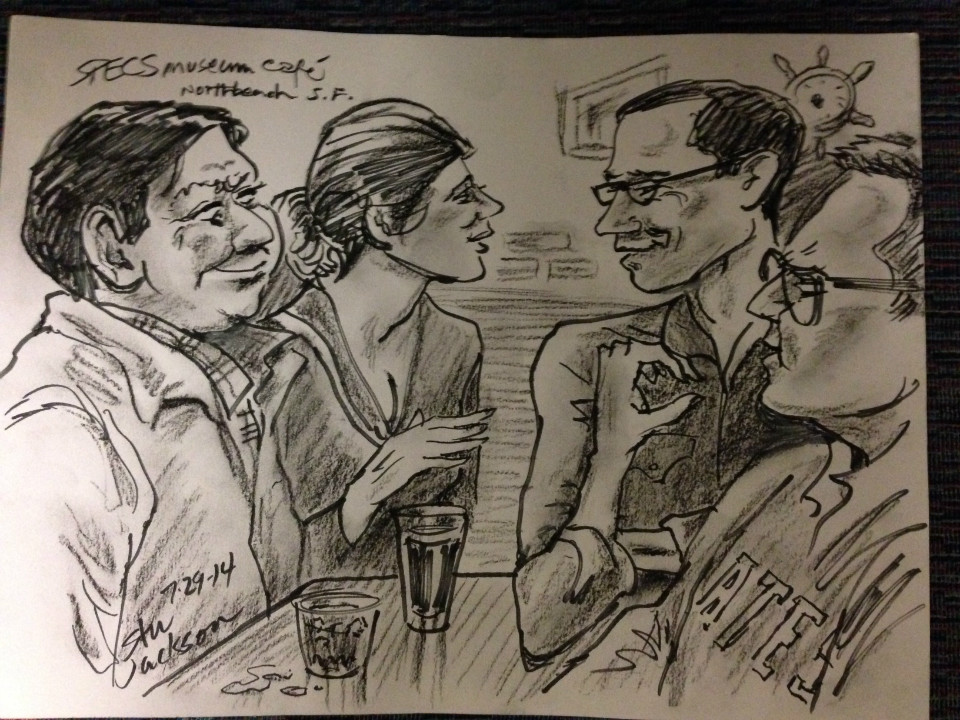 Courtesy of Jenny Renee Roberts.
Erika Weisbrich said Jackson did this portrait at Caffe Trieste in February of 2000.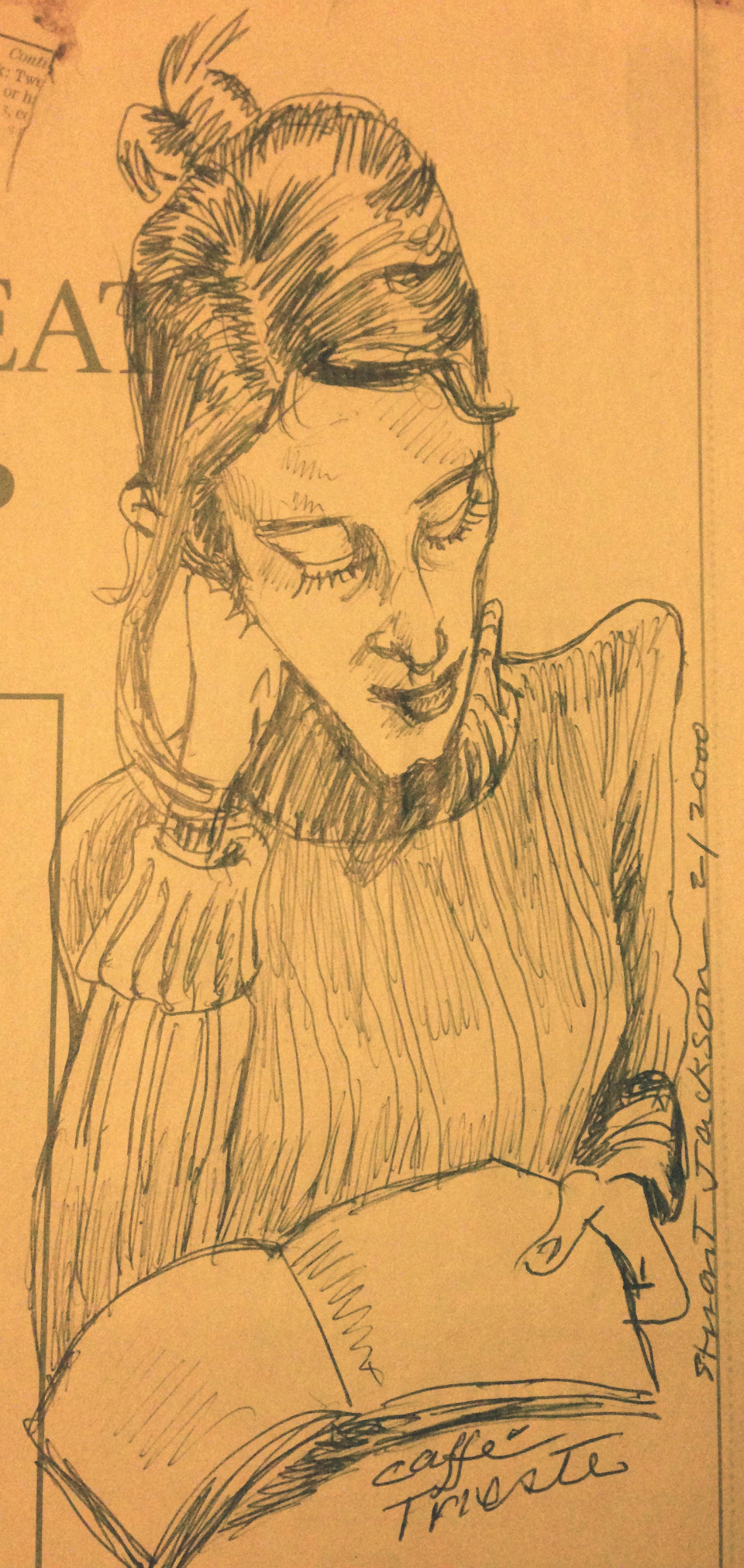 Courtesy of Erika Weisbrich.
And finally, Jackson's rendition of Gregg Martinez at Vesuvio on "one Hell of a Night!"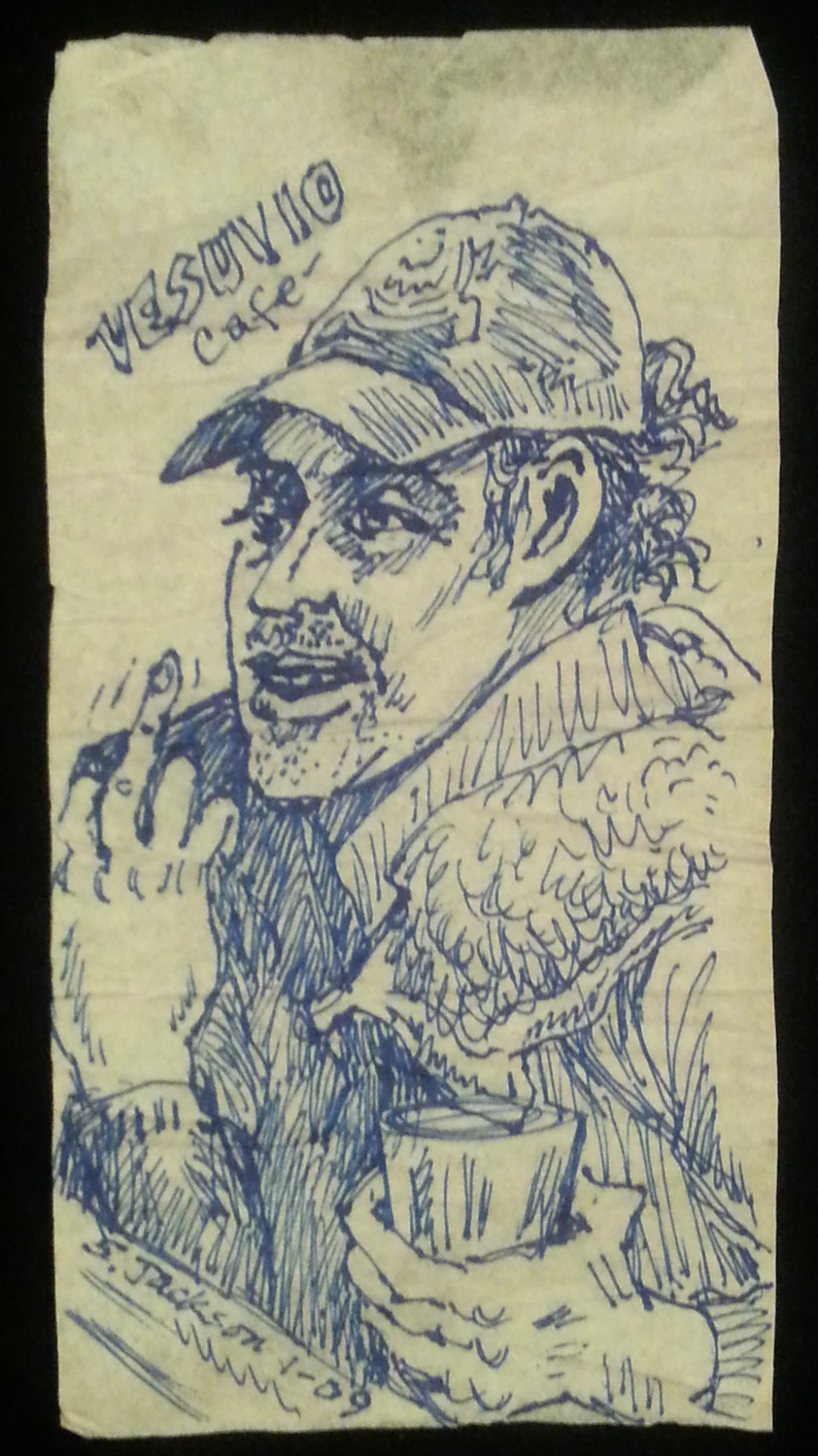 Courtesy of Gregg Martinez.
Update, 12/22: After this story published, we got an additional sketch from Doc Ricketts/Doc's Lab. They wrote, "We would like to send our thoughts and prayers to the family of Stu Jackson. This is a huge loss for our neighborhood. Many wonderful memories of Stu drawing the colorful characters of North Beach and San Francisco. Attached is a drawing of Margaret Cho performing at Doc's Lab."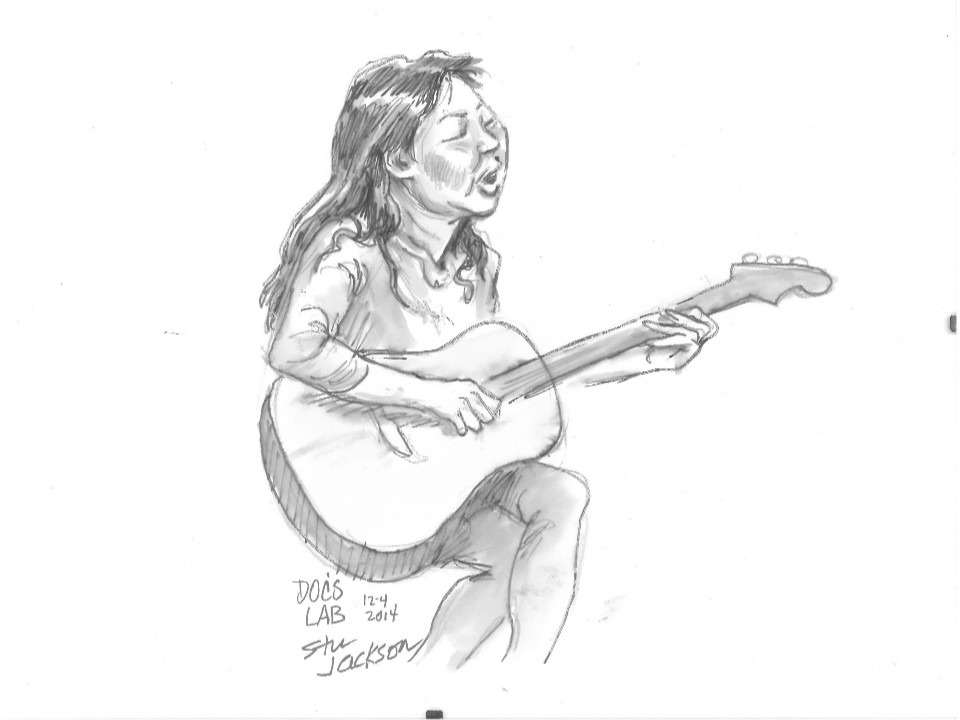 Courtesy of Doc Ricketts and Doc's Lab