It's not just you. There's a lot of new housing being built in Hayes Valley.
In fact, more housing was built in the neighborhood in 2014 than was authorized in some entire Bay Area counties.
Last year alone, the small, historically residential neighborhood built a net total of 189 units. By comparison, a total of 188 units were authorized for construction in all of Marin County in 2014. Napa County authorized only 126.
What's going on? 
The neighborhood's rapidly growing population is a common topic at Hayes Valley Neighborhood Association meetings and among the community at large, but until now, no one seems to have figured out just how many new housing units have been built in the past few years—and how many more are coming.
We did some research, crunched the numbers, and with the help of a newly-released report from the San Francisco Planning Department, this is what we learned.
Why Is So Much Housing Being Built In Hayes Valley?
Available Land
As you may have learned from some of our previous stories, the biggest reason for all the new construction is the relatively large amount of valuable space created by the removal of the spur from the former Central Freeway.
A brief recap: In the middle of the last century, planners tried to build freeways through the city, bulldozing entire blocks to create a dense new car-based urban environment. When the Central Freeway's proposed routes north and west were blocked by neighborhood activists in the '60s, it terminated in Hayes Valley, dropping down onto surface streets like Oak, Fell and Gough.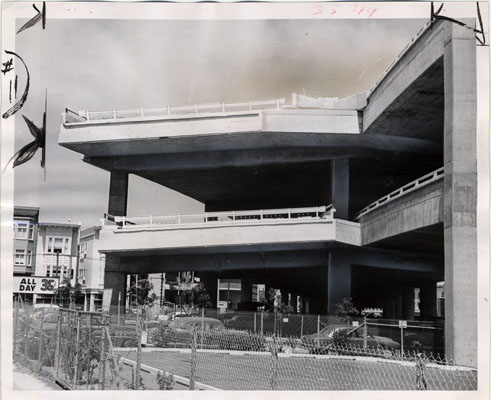 The Central Freeway at Fell and Octavia, 1966. Today, this parcel is home to Patricia's Green and environs. (Photo: San Francisco Public Library via FoundSF)

This spur became a handy route for commuters from the north and west, but locals came to see it as a source of pollution from car exhaust, a destination for crime, and a visual eyesore. When the Loma Prieta earthquake seriously damaged it in 1989, neighborhood activists in Hayes Valley were able to force its removal.  
What followed was a decade of contentious citywide debates over how to redevelop the land. In the end, 22 parcels of former freeway land were put up for sale, spanning a combined seven acres.
Proceeds from the sale of the Central Freeway plots were designated for the Octavia Boulevard Plan, which replaced the spur with a ground-level street, as well as the Patricia's Green park, new sidewalks, and bike lanes. Any leftover funds were designated to support transportation improvements in the adjacent area.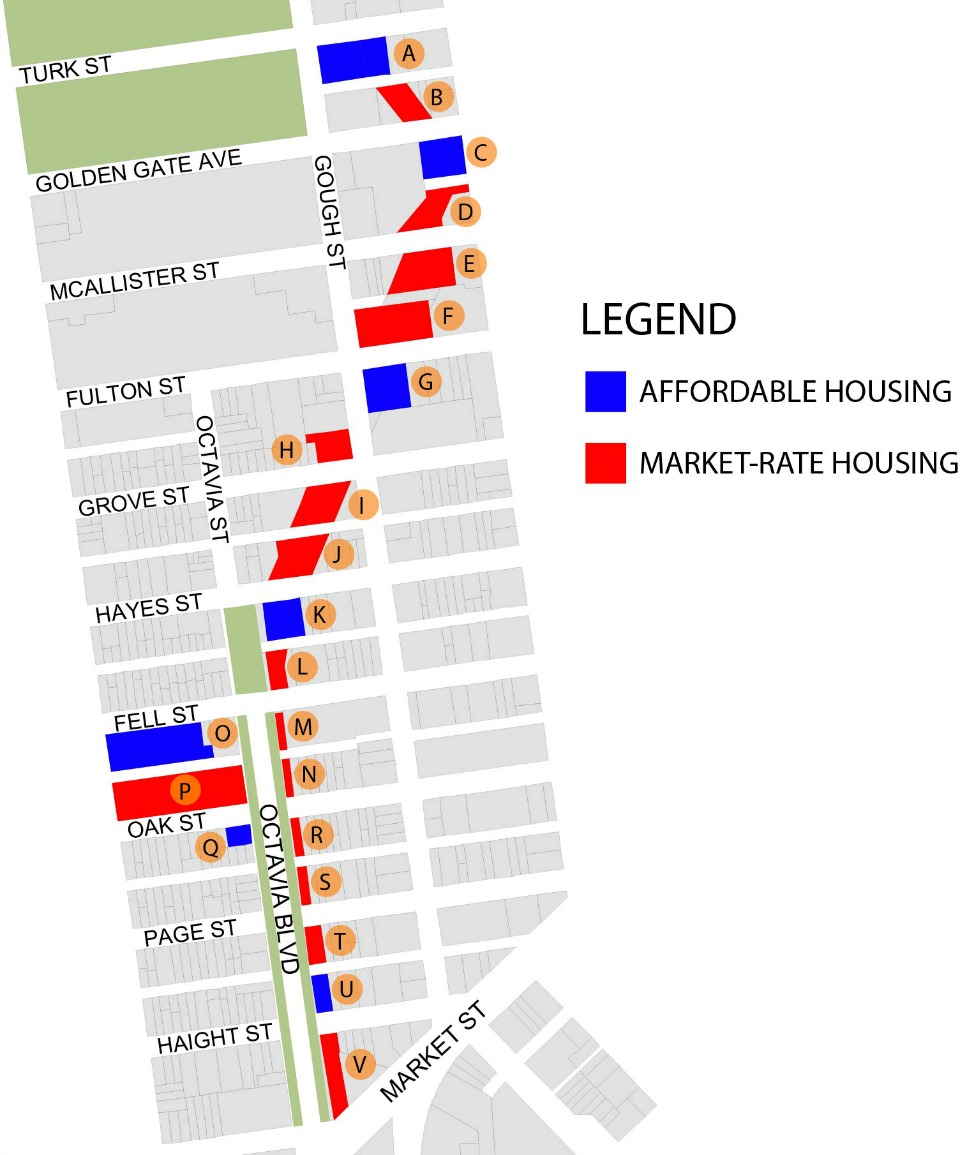 Parcels created by the closure of the Central Freeway. (Image: SF Dept. of Economic & Workforce Development)

Since 2002, the parcels comprising the former freeway have slowly been sold off to developers. The city is putting some of the profits from their back into the neighborhood, including those from parcels that are still being leased, such as Parcel L, home to Biergarten.

Of the 22 parcels of land that the freeway demolition opened up, nine contain recently completed residential dwellings. Six are spoken for but still in progress, leaving seven whose futures remain unknown. 
Prime Location
While demand for housing is high across the Bay Area, Hayes Valley is particularly desirable, thanks to its central location near BART and the (remaining) freeway, as well as offices around mid-Market and in SoMa. It's also packed with restaurants, coffee shops, and stores for local residents who don't want to travel far for a good cappuccino or a designer suit. 
Density Zoning
Those perks are also combined with the fact that the neighborhood is zoned to allow for new multi-story developments, as opposed to the much lower height limitations in most other residential neighborhoods.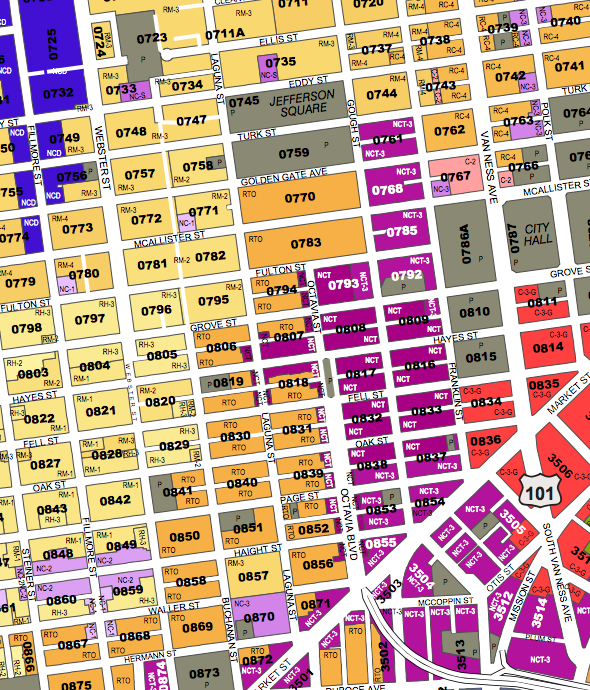 The current city zoning for Hayes Valley. The purple NCT-3 parcels, for example, allow for moderate to high-density developments that encourage housing above the second story. See the map for more details.
That high-density zoning has also attracted developers to plots of land that are not former freeway parcels. The land formerly occupied by the one-story Hayes & Kebab, for example, is being turned into 29 units of market-rate housing. 22-24 Franklin, which used to be a car repair shop, is being demolished to construct eight stories of housing. Even a narrow parking lot on Grove Street has been caught up in the local land rush.
How Many Units Of Housing Are We Talking About?
The answer depends on where you draw neighborhood boundaries. For our purposes, we focused on units being constructed east-west from Buchanan Laguna to Gough, and north-south from Eddy to Market. 
The nine parcels of land that have been developed within those boundaries since 2007 contain 681 units, 359 of which are affordable.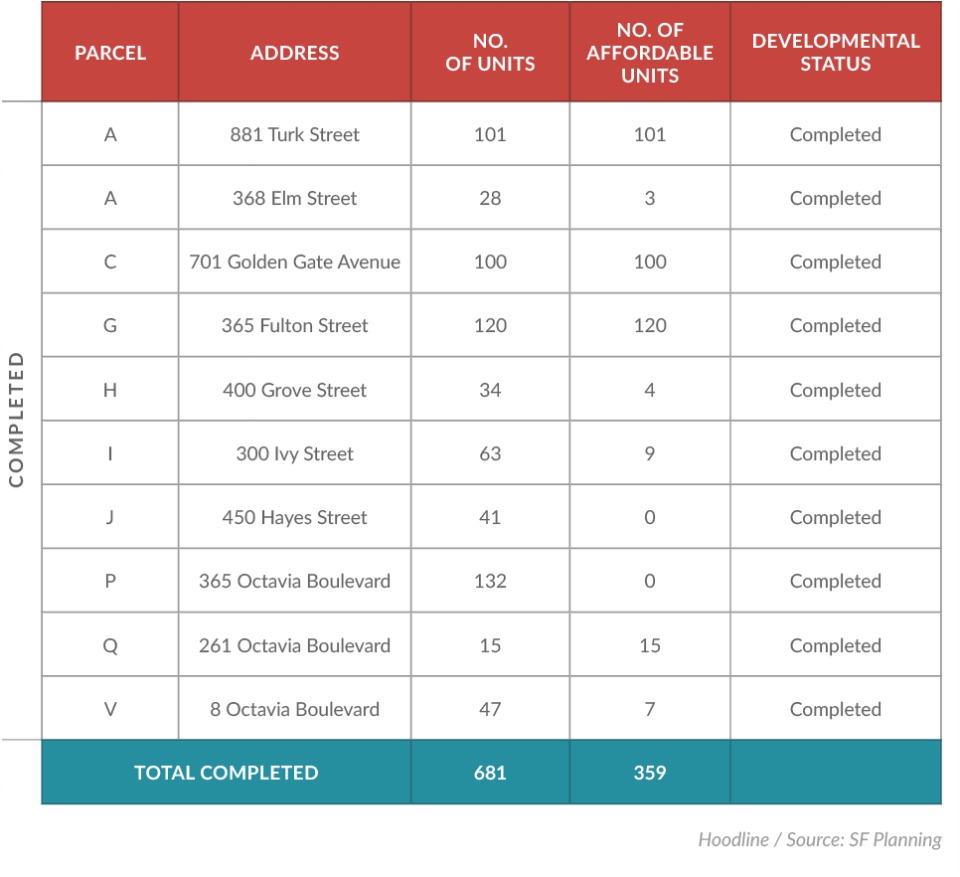 While all of the above units have been completed, it's important to note that a few of them have yet to be inhabited. Units at 400 Grove and 450 Hayes are still being sold, and final touches are still being put on those buildings' structures. 
And even more units are in the pipeline. While not all the projects below are currently under construction, all of them are in process—wending their way through the Planning Department, being presented at community meetings, or undergoing shadow studies. In the end, 482 new units of housing (116 of which will be designated "affordable") should hit the market.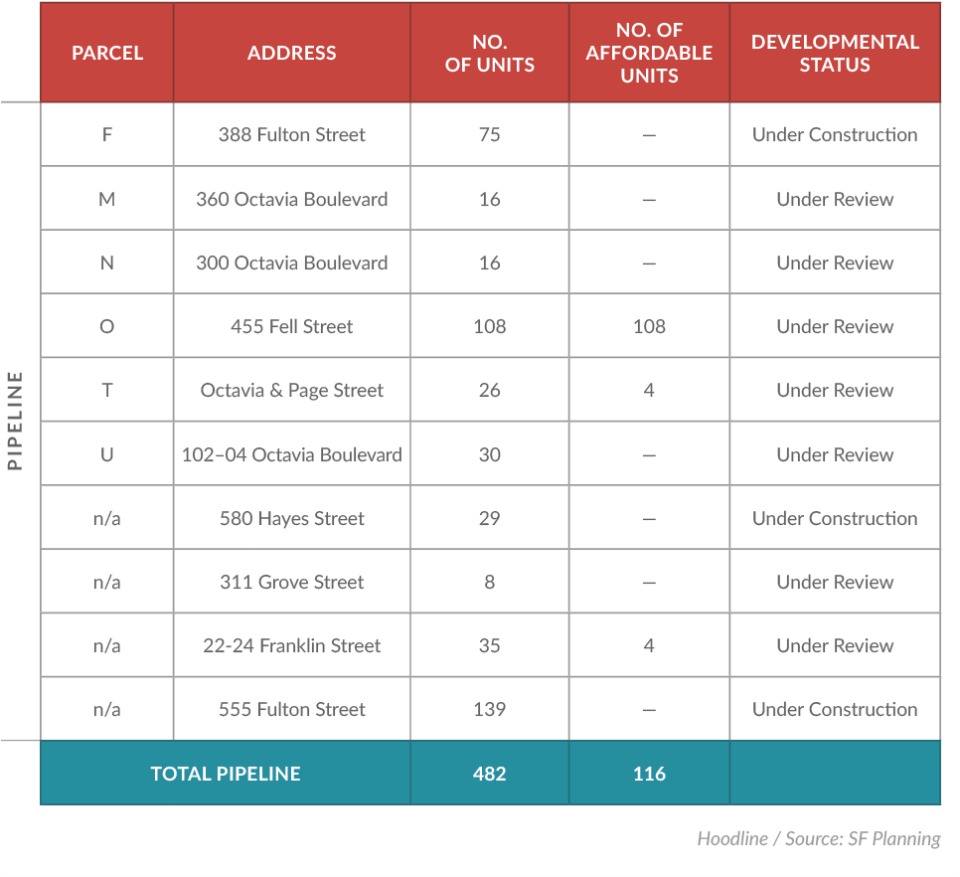 Based on the above charts, a total of 1,163 units have been or will be built in Hayes Valley over the course of just a few years. And with seven parcels of former freeway land still to be developed, more could arrive in the future. 
In addition, Van Ness (which we did not count as "Hayes Valley" in this article, but which is immediately adjacent to the neighborhood) is in a building boom of its own. An enormous building at Market Street with up to 300 units of housing is set to go up, 100 Van Ness was recently transformed from offices to 399 apartments, and 150 Van Ness is set to be demolished, with 420 apartments going up in its place. Those three structures alone will total 1,119 new units of housing—almost as many as Hayes Valley has built or has in the works.
Because it's so nearby, there's little doubt that these residents will eat, shop, and park in Hayes Valley, even if they don't technically live there.
What Kind Of Housing Is Being Built In Hayes Valley?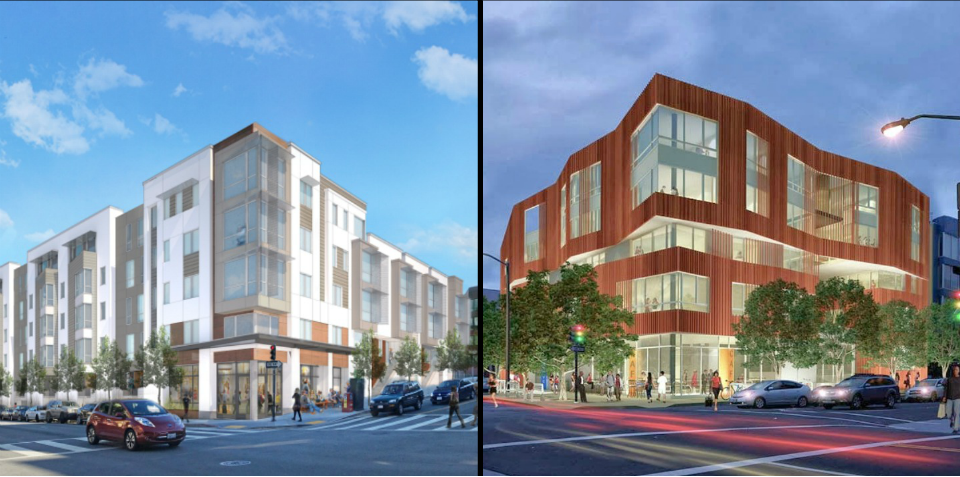 Left: Low-income apartments at 455 Fell. (Rendering: Mercy Housing) Right: Market-rate condos at 400 Grove. (Rendering: DDG and DM Development)
Affordable vs. Market-Rate Housing
According to data collected by the SF Planning Department, 398 units, or 41 percent, of the 977 new housing units built in the Market and Octavia neighborhood between 2010 and 2014 were designated as "affordable." That's above-average by SF standards; the city as a whole averaged only 31 percent affordable units in the same time period. With 108 units being built specifically for low-income families on Parcel O, the percentage may rise even further.

Renting vs. Owning
While "market rate" and "affordable" can apply to both condos and apartments, the distinction between buying and renting is an important one to note when considering an influx of residents to a neighborhood. 
A 2014 census of San Francisco showed that only 37 percent of the county's residents owned their homes; the majority, 63 percent, rent. In a 2010 study that compared neighborhoods around the city, it appeared that the Inner and Outer Sunset, Bernal Heights, and other southern neighborhoods made up 50 percent of San Francisco's total home ownership. Hayes Valley ranked on the lower end of owner-occupied housing, coming in under 18 percent.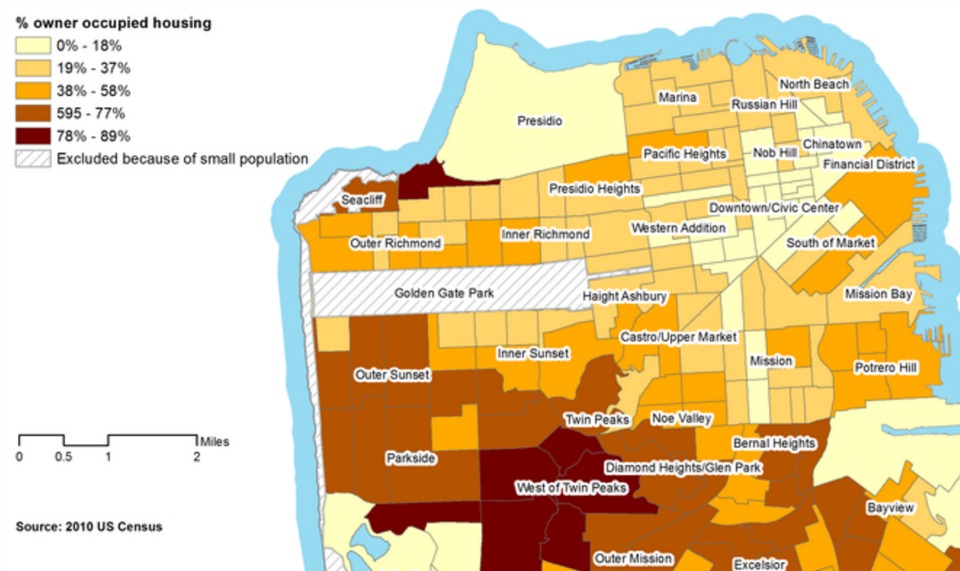 Image: Sustainable Communities
But with a large number of new developments—such as 400 Grove, 388 Fulton, 580 Hayes, 300 Ivy and 450 Hayes—all for sale and not for rent, the rate of homeownership in Hayes Valley might begin to rise.
For the most part, it's a safe bet that these new homeowners will largely be financially well-off. 400 Grove, for example, is selling two-bedroom units that start in the low millions. Only 16 percent of individuals in San Francisco can afford the city's median home price of $1 million, according to a housing report from 2014. Some condo buildings have or will offer a few below-market-rate units for sale, available only to buyers who meet certain income restrictions.
How Hayes Valley's Developments Measure Up
Hayes Valley has seen a lot growth, but that's par for the course in San Francisco these days—the city as a whole saw a 48 percent leap in housing construction from 2013 to 2014. Hayes Valley came in fourth when it came to new units being built; far behind the much vaster industrial and commercial zones to the east, but a strong showing given its smaller size.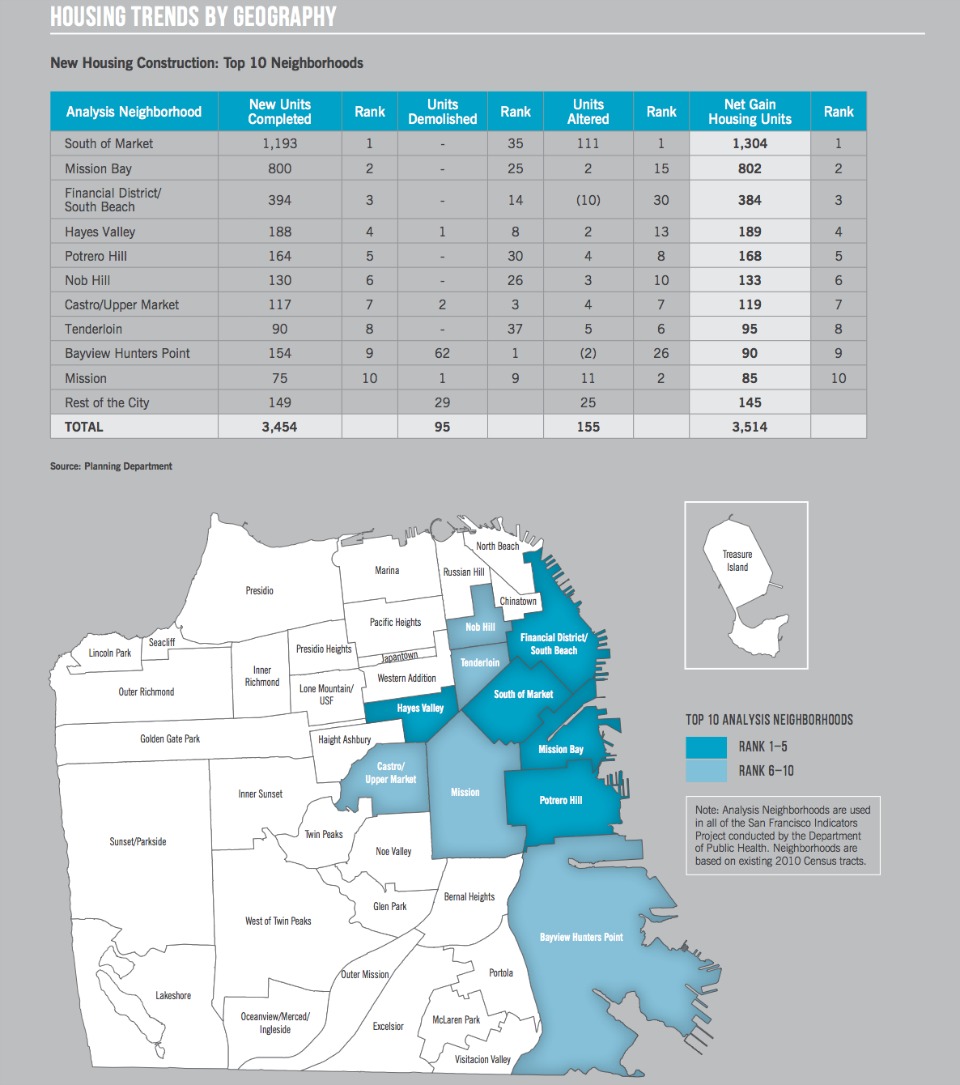 Hayes Valley came in fourth place for most new housing in 2014 by neighborhood. (Image: San Francisco Planning Department)
As any resident of the neighborhood will tell you, there's one key difference: Hayes Valley is small and largely residential, compared to bigger neighborhoods like SoMa or Mission Bay, with their wider roads and sidewalks. Making a coffee run, catching the 21 or walking the dog can become a hassle on the neighborhood's petite streets, where scaffolding and temporary sidewalks cause bigger disruptions.
Are the changes in Hayes Valley a harbinger of how growth might affect other lower-density San Francisco neighborhoods? It's a question on the minds of many, especially as the city proposes new housing solutions like the Affordable Housing Bonus Program. That plan would rezone portions of many neighborhoods to allow for more stories on some buildings, particularly in central business areas.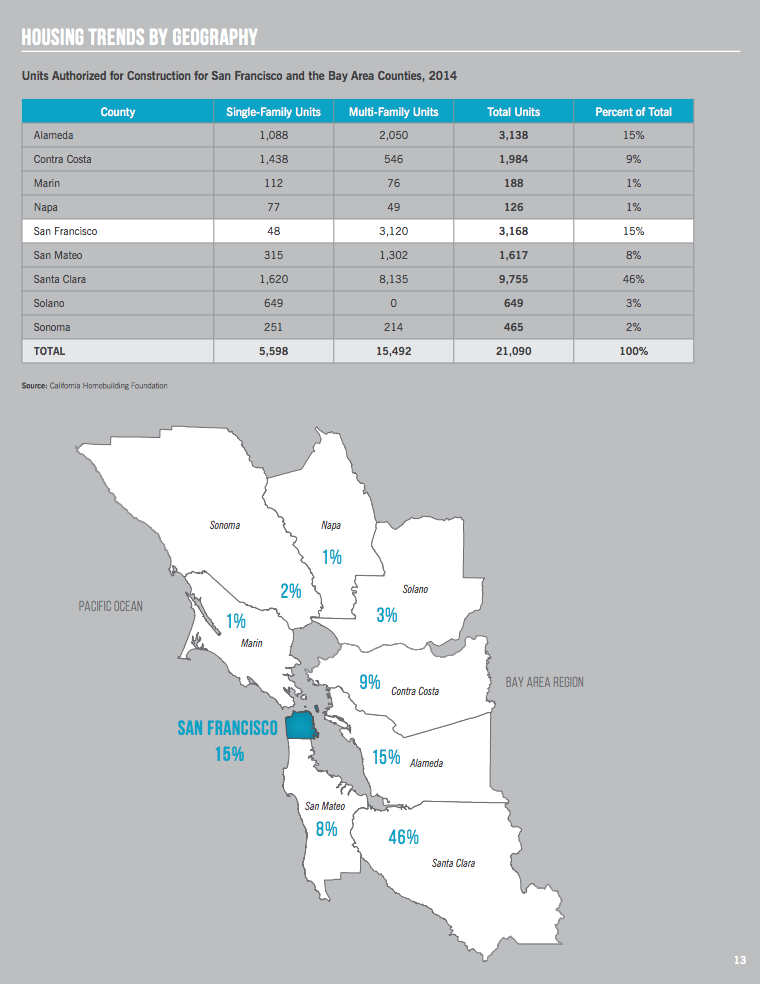 Details showing authorized housing units in 2014 by Bay Area county. (Image: California Homebuilding Foundation)
City economist Ted Egan has estimated that San Francisco needs to build 100,000 new units to impact market-rate rents. Hayes Valley can't do it alone. But the neighborhood's historical circumstances means it has developed more, and faster, than almost anywhere else.  
Which brings up the other perennial, interlinked issue: transportation. 
Walking and bicycling still feel like risky endeavors, car traffic is jammed up on surface streets, parking is becoming even more difficult to find, and buses are crammed with commuters.
What does it look like when thousands of new residents descend upon local portions of the city's convoluted transportation system? Stay tuned for the next installment of our Hayes Valley growth series, which will focus on transportation.