By
Shalaco
- Published on December 19, 2015.
Tuesday, December 22nd marks this year's winter solstice, when the Earth reaches its maximum axial tilt and leave us with the year's shortest days and longest nights.

What better way to brighten up those nights than a tour of holiday lights. Though many displays are so bright that NASA can literally see them from space, San Francisco's displays are on the whole fairly dim, and you can go blocks without seeing a single string of lights.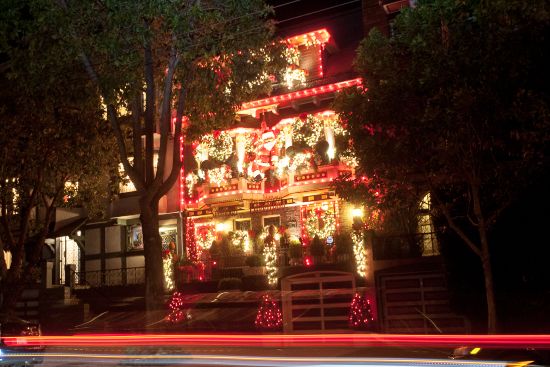 So, we've rounded up some of our favorite holiday displays, updated from our tour around city neighborhoods last year. If you know of any that we missed, we'd love to hear about it in the comments.
Don your favorite holiday sweater, fill a thermos with holiday cheer and join us as we brighten up the longest night of the year exploring San Francisco's best holiday lights displays.
Tips: Winter is San Francisco's rainy season, on top of that El Nino's coming, so check the weather before you go out and dress accordingly. Sunset is just before 5 so you can get an early start. The larger displays like 45 Upper Terrace, Tom & Jerry's and Castro Street tend to turn their lights off around 9-10pm, so if you're off to a late start put those on the top of your list. If you are still playing LDB, godspeed, and be sure to refresh yourself on the rules. As you already know, few places are safe after Thanksgiving— pa rum pum pum pum.
---
1. Southeast Corner of Masonic & Hayes
This brightly lit iconic Edwardian house is decorated all the way up to the eaves and back down to the ground where the garage is all wrapped up and tied in a bow.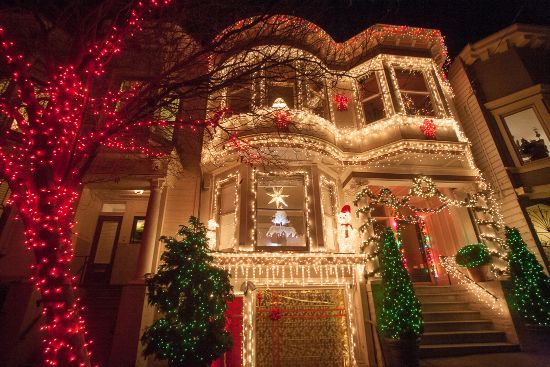 ---
2. Eiffel Tower 1269 McAllister Street
We applaud the great efforts made at 1269 McAllister Street to suspend this towering free-hanging chandelier wreath beneath an illuminating multi-story Eiffel Tower. (Check out the backstory we wrote about the other week.)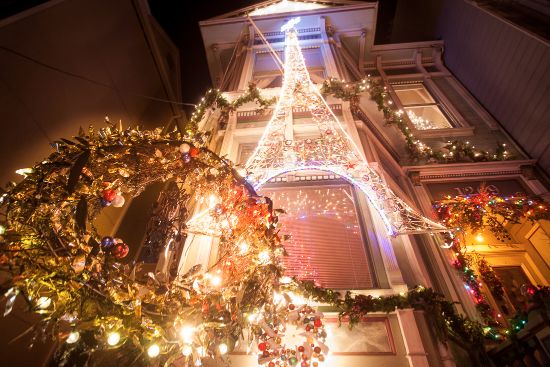 ---
3. The House of Defenestrating Holiday Airblown Inflatables 1332 Van Ness Ave
This holiday display was easily our favorite. Though we'd love to hear the story behind it, we're content for now making up our own about a tenant tossing lights and holiday airblown inflatables out of their apartment window in a Christmas themed conniption fit of seasonal defenestration. A shout of holiday cheer at whomever lives in the apartment above Route 101 Bar.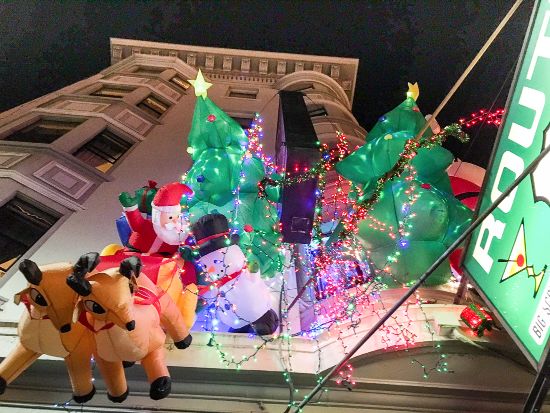 ---
 4. Larry's window, 245 Diamond Street
Larry's window display is simple and charming with a cable car zooming along— faster than a speeding B.A.R.T. train- beneath the Golden Gate Bridge, Sutro Tower and the Casto's oversized rainbow flag.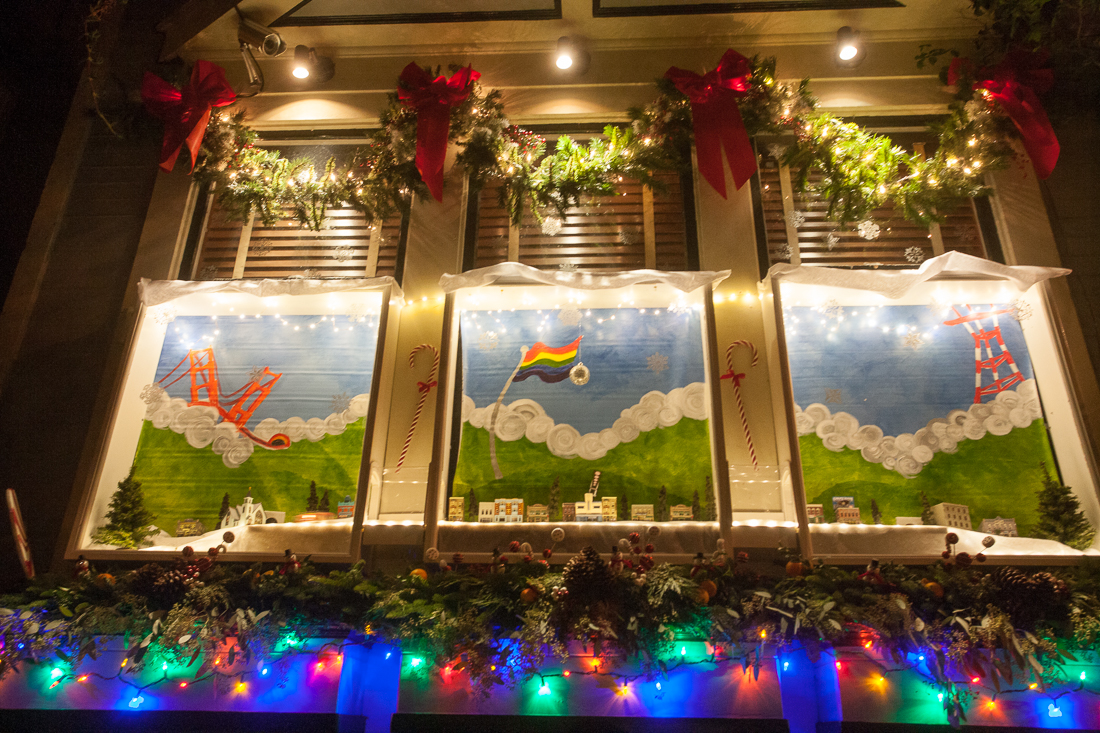 ---
5. The Wishing Tree, Eureka & 22nd Streets 
Okay, so TBH The Wishing Tree isn't a 'holiday display' per se. This collaborative community art installation was inspired by the book "The Wishing Year" to create "a place in the neighborhood for wishes, intentions and gratitude to be made" to "hold a space for unspoken wants, dreams, stories and to spread joy."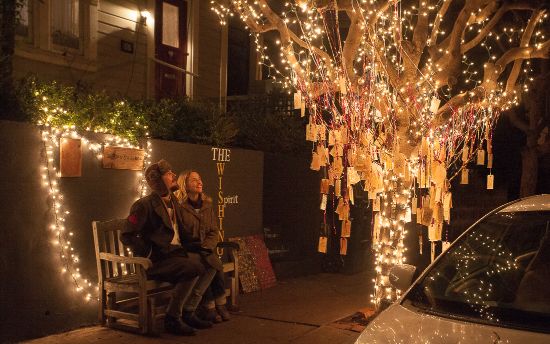 After several dark blocks without a single string of lights it's a luminous addition that is most welcome on our tour this night. One passerby sweetly wished he could find a parking space as he drove past.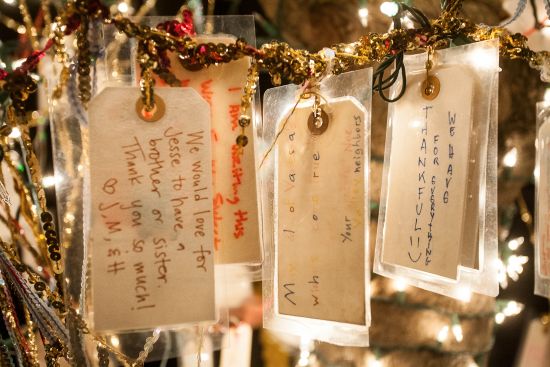 The Wishing Tree is active during the months of November and December.

---
6. Castro Street between 14th and Duboce
Three stories lined with lights, stuffed with stockings and ornately embellished with ornaments, bows, flowers and wreaths of holly. All topped off with a larger than life Santa Clause rappelling from the roof.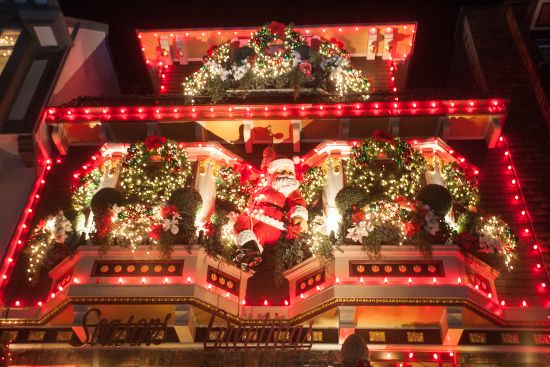 ---
7. The Gingerbread House 45 Upper Terrace 
In Ashbury Heights, this charming gingerbread cottage is a traditional favorite that delivers holiday cheer year after year. An immaculately manicured traditional garden lined with flowering Cyclamen. Oversized Christmas ornaments line the path to the door leading up to animatronic drummer boys.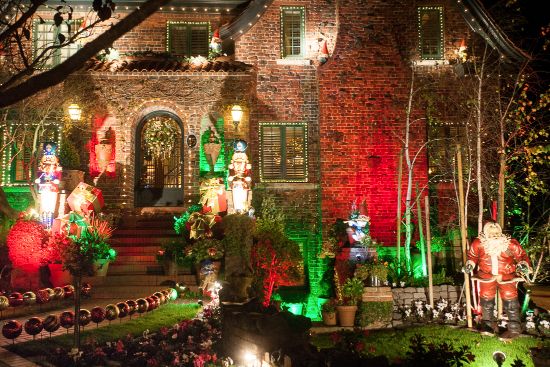 Looking down from various pitches of the roofs are a smattering of gnomes. This well decorated terrace seems almost as if it sprung straight from the pages of a holiday fairy tale.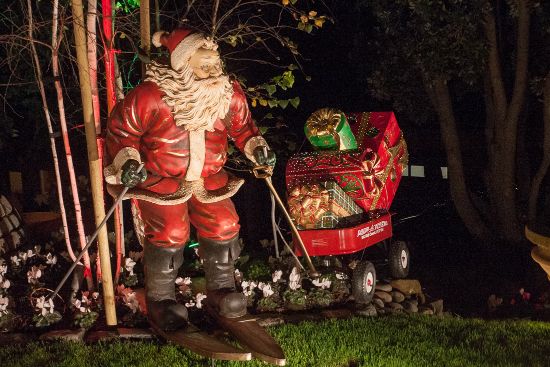 ---
8. Tom & Jerry House, 3650 21st Street between Church & Sanchez
A classic and staple of San Francisco's holiday display. For the last 25 years, Tom Taylor and Jerry Goldstein have been transforming their home into a mesmerizing Christmas village.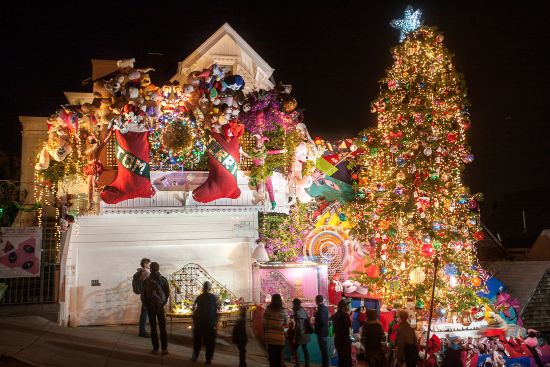 The tree started as a houseplant that outgrew the living room and was replanted in the front yard. As the tree grew larger, so did the size of the giant presents, stockings and stuffed animals to make it appear as if it might only be your average 5-1/2 foot tall Christmas tree.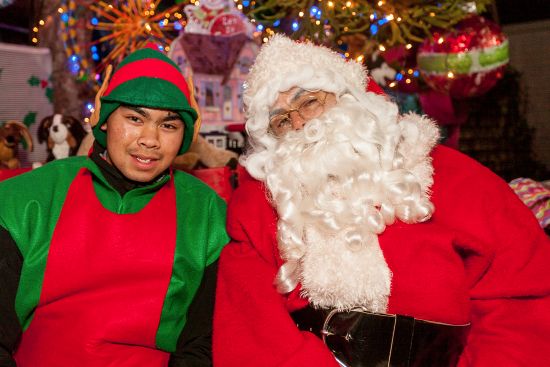 Santa visits every day from 6-10pm until December 24th (unless it's raining). He wants to know what you'd like for Christmas, and is very concerned about your hygiene… especially that you've been brushing your teeth without being asked. The lights go off at 10:30pm, so be sure to visit before then.
---
9. Pier 39 Christmas Tree

A classic and iconic Christmas tree we affectionately nicknamed The Paparazzi Tree for its overzealously flashy lights.
---
10. McLaren Lodge Christmas Tree, 501 Stanyan and Fell
Nicknamed "Uncle John's Tree" after superintendent John McLaren. One of McLaren's final wishes was for the tree to be lit with Christmas lights. It is considered by many the "official Christmas tree of San Francisco." It is indeed the largest decorated tree in San Francisco (that we know of) and is over 130 years old. It can be found at the Golden Gate Park Panhandle entrance.