Got an event you want the neighborhood to know about? To be included in our next North Beach weekly roundup, please fill out the form at this link.
---
It's chilly out, so let's warm up with a quick spin through this week's North Beach news before diving into the weekend.
First and foremost: consider this your official Hoodline warning that Santacon is next weekend. Prepare or flee accordingly. 
Mayor Lee said this week he wouldn't stall a move that allows incoming District 3 Supervisor Aaron Peskin to begin his term on Tuesday, December 8th—conveniently, the same day Peskin returns from his overseas vacation. He'll be just in time to influence Lee's decision on the construction of a new jail at 850 Bryant St. 
The "Hot Cop of the Castro" is facing two hit-and-run felony charges following last weekend's accident at Broadway near Montgomery Street. ABC7 tracked down video, showing Christopher Kohrs allegedly running away from the accident which put two people in the hospital. For what it's worth, Kohrs pled not guilty.
Shinola, the American-made luxury goods store, will open its first full store in San Francisco next month at 722 Montgomery St. in Jackson Square. Shinola is the first major tenant to set up shop in the historic Genella Building, which has been slowly remodeled over the past two years.
Stanton Architecture has filed a Preliminary Project Assessment (PPA) for a 22-story hotel at 439 Washington St., between Battery and Sansome streets. The move would necessitate demolishing the existing building, and send Italian restaurant Il Massimo and Stript Wax Bar in search of new homes.
In holiday news, the Festival of Light and Buon Natale begins today, featuring a 15-day slew of events intended to pull you away fromCandy Crush and enjoy the sights, sounds and shops of North Beach.  

Say "Brezza Emporio and Pizzeria" three times fast, and you now know the name of the new Jonathan Waxman restaurant (900 North Point St.) opening in Ghiradelli Square early next year. You also said 12 z's in that same breath, which may be a personal best. You're welcome.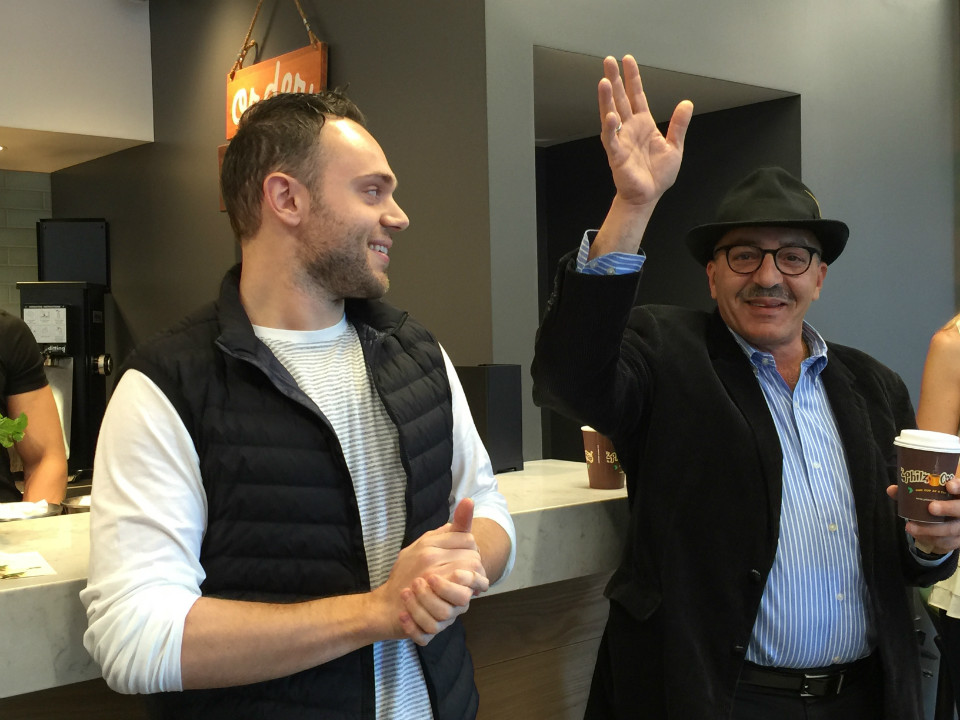 Jacob (left) and Phil Jaber. (Photo: Geri Koeppel/Hoodline)  
Since there are never enough options for a cup of Joe, local coffee chain Philz Coffee opened its largest store this week at 5 Embarcadero Center, around the corner from the lobby of the Hyatt Regency San Francisco. If Philz doesn't provide the java thrills, walk about two blocks east towards the Ferry Building, where a new Blue Bottle kiosk awaits.
We caught up with John Pringle of Doc Ricketts as part of our ongoing Tapping In series with local bartenders. Pringle spoke about taking over the Purple Onion, his favorite type of barfly and what it means to be a member of the North Beach neighborhood. 

Did your to-do list this week included a heated discussion between 100 locals, an architect and a lawyer? Then you were probably at the Poets Plaza community meeting at the San Francisco Italian Athletic Club. The project, which has been in limbo for the better part of 13 years, faced opposition based on concerns about traffic and homeless people moving in. 
SFist was kind enough to write about Open SF History, the online effort by the Western Neighborhood Project to scan an estimated 100,000 photos of old San Francisco and make them available online. You can view them easily by neighborhood, including sections for North Beach, Chinatown, Fisherman's Wharf and Telegraph Hill.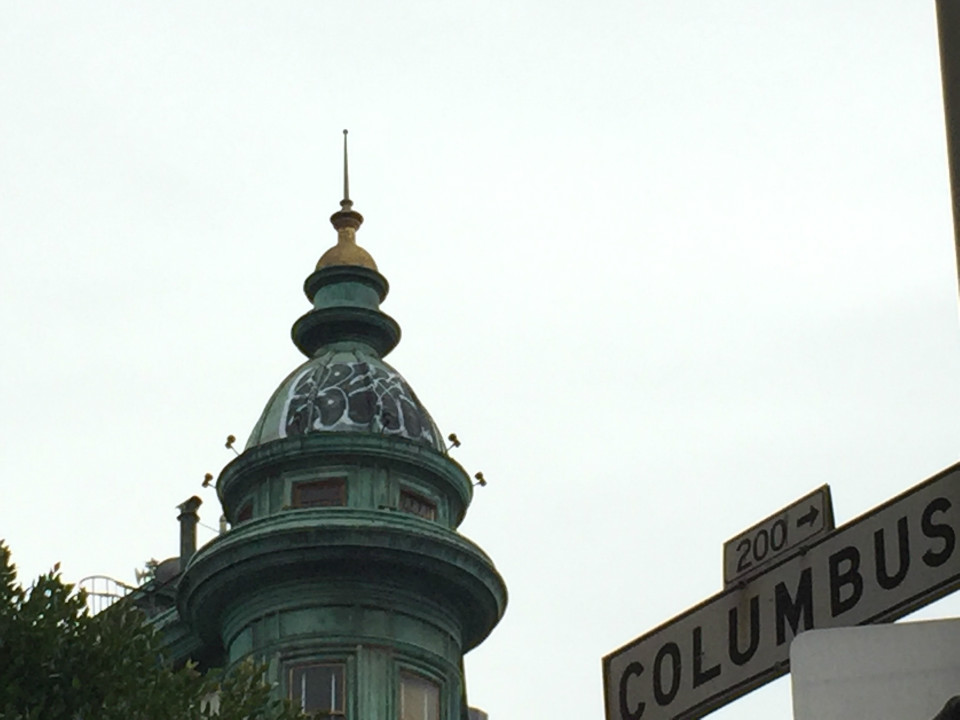 (Photo: Geri Koeppel/Hoodline) 
See that? That is why we can't have nice things.
On to your weekend events:
Friday, December 4th
Saturday, December 5th
Sunday, December 6th
Did we miss anything good? Let us know in the comments, and enjoy your weekend!