Got an event you want the neighborhood to know about? To be included in our next North Beach weekly roundup, please fill out the form at this link.
---
The year may be starting to wind down, but there was still plenty of big news around North Beach this week, starting with Aaron Peskin being officially sworn into the District 3 Supervisor seat on Tuesday. Peskin's influence on the Board is expected to re-energize local progressive politics, so feel free to start placing your bets for his first public scuffle with Mayor Lee.
Speaking of the mayor, he's tasked the city with finding temporary homeless shelters, should the "monster El Niño season" drench those living on the streets. The Port of San Francisco has tabled two locations that could accommodate hundreds of homeless with shelter, heat and food—one is Pier 29 (near The Embarcadero and Sansome Street).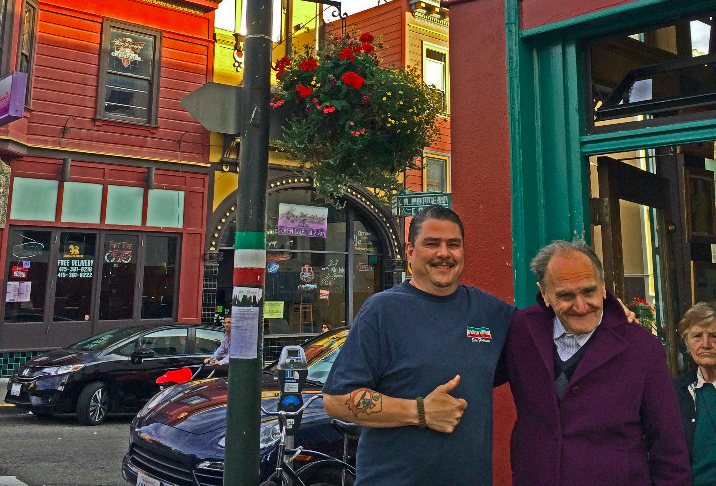 Roy Mottini and Caffe Trieste's Ernesto Evangelista.

"If you've spent any time in North Beach, you know Roy Mottini." We caught up with the North Beach character and chatted about his life growing up in a changing San Francisco, his distinctive wardrobe and the shooting that brought headlines last year.
Your quick history fix this week comes from the ongoing Central Subway construction, where crews have found 19th-century industrial sewing machines eight feet below the sidewalk between Jackson and Washington streets. Archaeologists believe the machines are from the basement of a Chinatown factory destroyed during the 1906 earthquake.
The area's drastic shortage of ramen options may end with Slurp Ramen, opening on 710 Commercial St. near Kearny Street. The restaurant hasn't officially opened yet, but when the doors swing open, we'll be sure to let you know.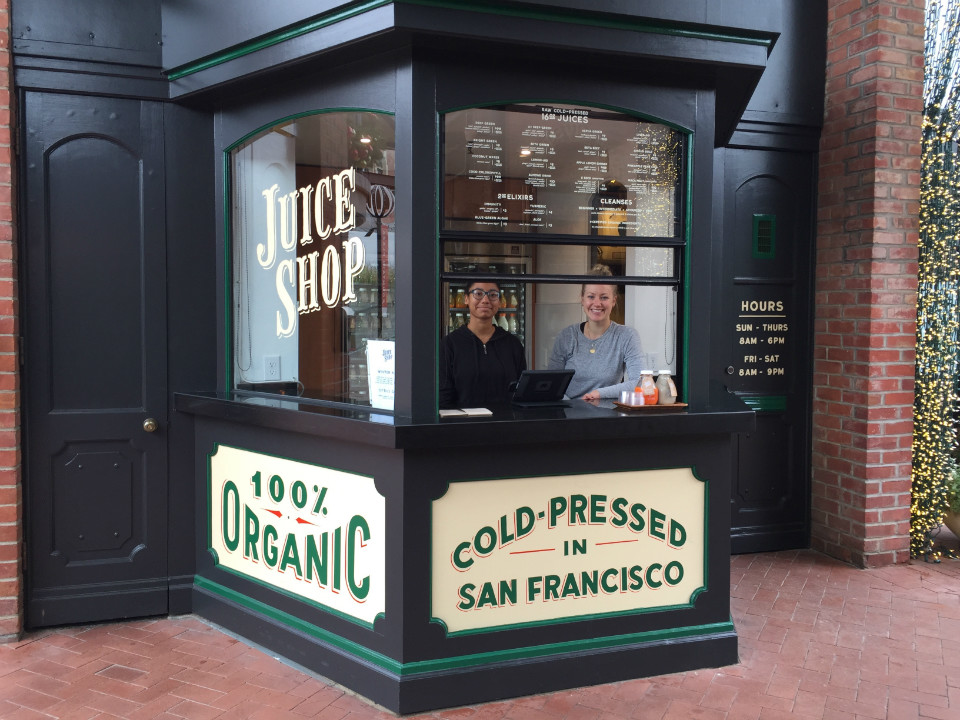 Juice Shop employees Christina Chavez and Claire MacDonald. (Photo: Geri Koeppel/Hoodline)
If you find yourself going into holiday chocolate overload and need a quick cleanse, you're in luck. Juice Shop has opened its seventh location in Ghirardelli Square, with cold-pressed juices, elixirs, and seasonal specials. 
The Chronicle spoke with Kevin Correnti, owner of Trattoria Contadina (1800 Mason St.) about how he's balancing menu innovation with the traditional Italian recipes that have defined the restaurant since it opened in 1984.
Sad news for outdoorsy North Beachers: Douglas Tompkins, the founder of outdoor gear outfit The North Face, passed away this week after a kayaking accident in the Patagonia region of Chile. He started the business on Columbus in 1968 as a backpacking retail and mail-order operation; in true 1960s North Beach fashion, its opening day included a performance by the Grateful Dead and security provided by the Hell's Angels.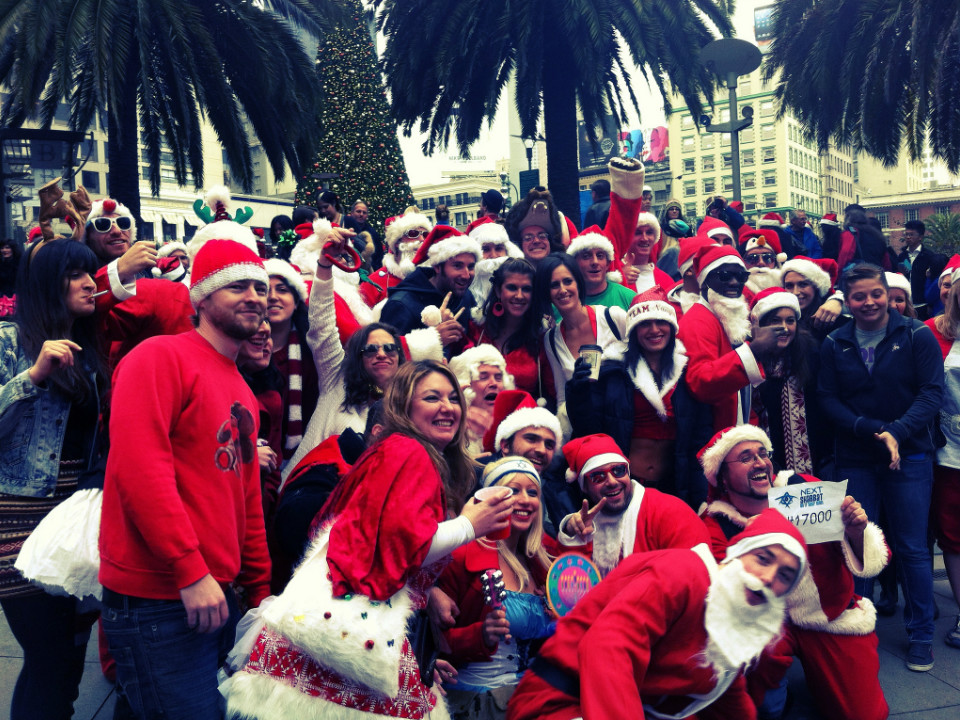 Photo: Antoine Imbert/Flickr 

Amid all the festive events this weekend, the one that will be virtually impossible to ignore is the 21st annual SantaCon. Hordes of red-and-white revelers will meet in in Union Square, before splintering off in different directions throughout the city. Last year's North Beach route went down Grant through Chinatown, eventually Washington Square Park and the park's surrounding pubs and bars.
With the help of SFPD Central Station's Capt. David Lazar, we've compiled a list of important safety tips. Central District is also introducing a "sobering station" this year, for otherwise well-behaved revelers to get their bearings and avoid the drunk tank. We also recommend keeping an eye on the SantaCon Facebook page, which plans to list bars that won't admit any Santas past the front door. After all, nothing is sadder than a sad (inebriated) Santa.
On to your weekend events:
Thursday, December 10th
Friday, December 11th
Saturday, December 12th




Sunday, December 13th


Did we miss anything good? Let us know in the comments, and enjoy your weekend!