In a surprising move, the Planning Commission last week rejected a medical cannabis dispensary (MCD) proposed for Fisherman's Wharf.
It voted 5–2 against letting KRINZE open at 2627 Taylor St. on a stretch heavy with tourist retail shops and sightseeing businesses. The commission rarely says no to dispensaries, and this one was slated for a C-2 zoning district without any conditional use authorization needed. 
However, an outpouring of opposition from neighborhood businesses triggered a mandatory discretionary review. That's a special power of the commission "used only when there are exceptional and extraordinary circumstances associated with a proposed project." All applications to operate an MCD trigger a mandatory discretionary review. After the rejection, KRINZE project sponsor and proprietor Romwald "Ray" Connolly said he will appeal.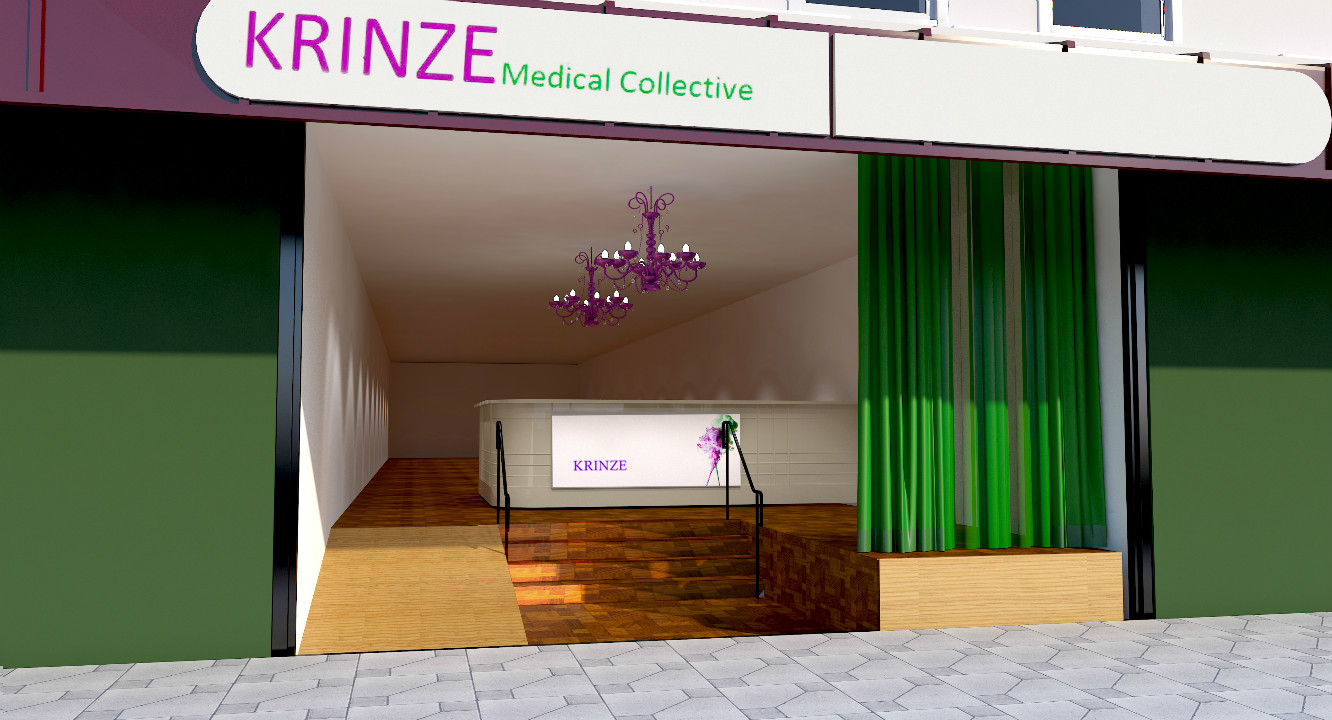 Rendering: Courtesy of KRINZE

The Fisherman's Wharf Community Benefit District even started a Change.org petition that so far has 119 signatures expressing disapproval. KRINZE also started two online petitions—one on The Petition Site and another on iPetitions.com—to show support for the dispensary, though the one on The Petition Site included a startling number of signatures (more than 18,000) from as far away as Brazil and New Zealand.
The major arguments were these: On one hand, Connolly maintains that the northeastern quadrant of the city is underserved by MCDs. The nearest one to this location is more than a mile away. "Every patient needs to feel welcomed and comfortable in every neighborhood," he said during the hearing. (Weedmaps shows both retail and delivery medical cannabis locations.)
On the other hand, Fisherman's Wharf CBD executive director Troy Campbell said an MCD doesn't fit with the retail mix, identity and strategy for the area, and could harm neighboring businesses. He told us the Wharf is saturated with family-friendly attractions such as Ripley's Believe It Or Not, Madame Tussauds, Musée Mécanique, Hyde Street Pier and more.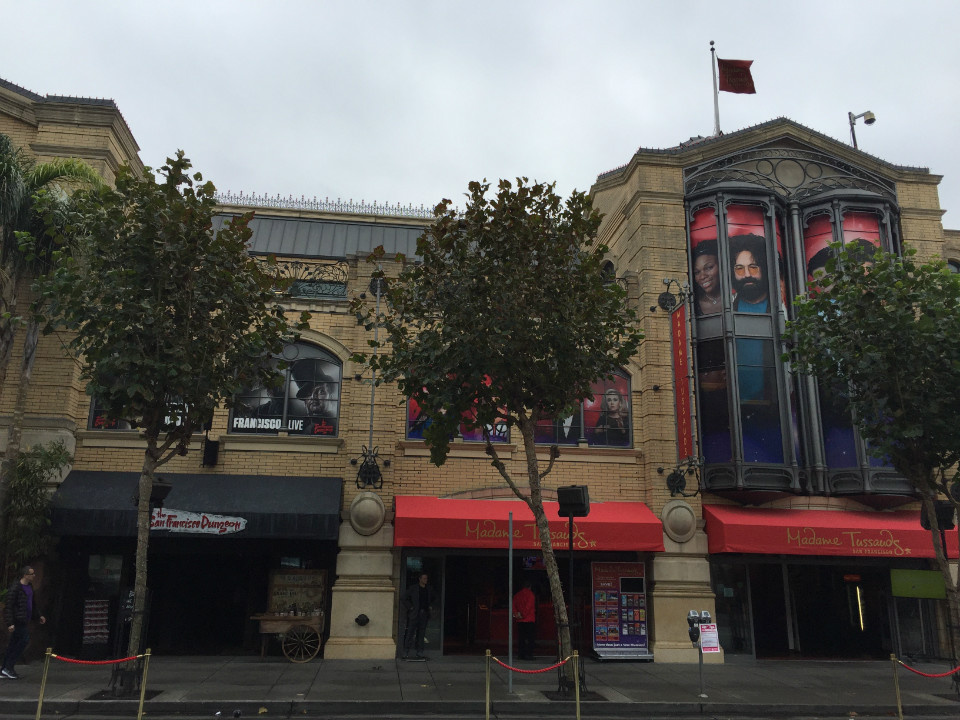 San Francisco Dungeon and Madame Tussauds. (Photo: Geri Koeppel/Hoodline)
Campbell said in the hearing that other neighborhoods fight to keep out businesses they don't believe fit with the character. He noted that the Mission fought a Jack Spade store and the Castro fought an Umpqua Bank, among others. Unlike many districts in the city, he said, the Wharf is not a residential neighborhood; the Walgreens and CVS there don't even have pharmacies. And because MCD patients must be California residents, he said, 60 percent of the 12 million tourists annually who visit the Wharf wouldn't be able to access the business.
But many supporters of KRINZE spoke in favor of having a conveniently located MCD, and said they either work or shop in the area. The storefront is a couple of blocks from the North Point Shopping Center, which does cater to neighbors. Places nearby like Safeway, Trader Joe's, Cost Plus World Market, Ross Dress for Less, Orchard Supply Hardware and more attract a strong local clientele.
And there's the big question of what happens to MCDs if the voters of California legalize recreational marijuana next year, as many predict. Connolly said opponents have told him, "We think you're trying to get a foothold in Fisherman's Wharf because you want to sell pot to the tourists." But, he countered, "It's so many years away. It takes years to build the infrastructure."
Connolly, who lives on Russian Hill, repeatedly has said his intention in opening an MCD at the Wharf is to help people in the area who need medical marijuana for ailments. He said at the hearing that his father and his partner's father died of cancer and that cannabis would have helped them. "I don't understand why there's so much stigma to this," Connolly said.
Campbell told us, "With all of the delivery services in the city, the need for brick-and-mortar isn't really that crucial." When asked why medical cannabis patients don't use delivery services, Connolly said many people don't like them on multiple levels, but didn't elaborate. (Incidentally, the KRINZE website references the "KRINZE Delivery Collective Service.")
Campbell also said that MCDs often drive rents up for other small businesses, much like formula retail does. He added that this is causing the Wharf to take a fresh look at its zoning and to consider asking for a new entertainment district to be created—one that wouldn't include MCDs.
Several people during public comment also suggested MCDs attract the homeless and criminal elements, but the commissioners didn't buy that argument. Two said they live near MCDs and saw none of those kinds of concerns come to fruition. A few of the commissioners also floated the idea of issuing interim controls or a moratorium on MCD approvals, but Commission President Rodney Fong told us, "I think it was purely an idea that was suggested. It's very preliminary."
The five commissioners who didn't approve the location for KRINZE agreed it wasn't a good spot for an MCD. "It became about use, about retail mix and wanting to have an activated street," Campbell told us. But the commissioners also said the city needs to take a closer look at land use issues and zoning surrounding the sale of cannabis to avoid "clustering" in what they call "green zones."
Connolly said he worked with the Planning Department for six months to find this location in the northeast part of the city, and he told us he was "devastated" at the outcome of the hearing. "I didn't even get a fair shake," he said, adding that Commissioner Michael Antonini told him a half an hour prior to the hearing that he'd already lost. "He said, 'Oh I'm sorry; it's down.' He said, 'Oh, you lost. You're not going to win.' I said to him, 'We haven't even had the hearing yet; why would you say that?' He said, 'It's because of public opinion.'" We reached out to Antonini about the allegation, but didn't hear back by deadline.
"I think it's inevitable this is going to be legal, and we're going to have more of these, especially along retail corridors," said Commissioner Rich Hillis. Planning Director John Rahaim said the city recently set up a task force to look at issues concerning the legalization of marijuana. It's slated to meet for the first time in early January.