To commemorate World AIDS Day and Day With(out) Art on December 1st, New York-based arts nonprofit Visual AIDS teamed up with the San Francisco Projection Department to project artwork and statistics onto the facade of the Castro Theatre and The de Young Museum.
The guerrilla-style project, called RADIANT PRESENCE, emphasized ways in which HIV/AIDS is still stigmatized and criminalized, through images of works by artists living with HIV and those who have died from AIDS-related complications.
The images were interspersed with current statistics and statements about HIV/AIDS, conveying the message that we've come a long way, but that AIDS is not over. There are still 36 million people living with HIV worldwide, with new infections occurring every day.
We spoke to Visual AIDS Programs Manager Alex Fialho to find out more about RADIANT PRESENCE and the meaning behind its projection on these public locations.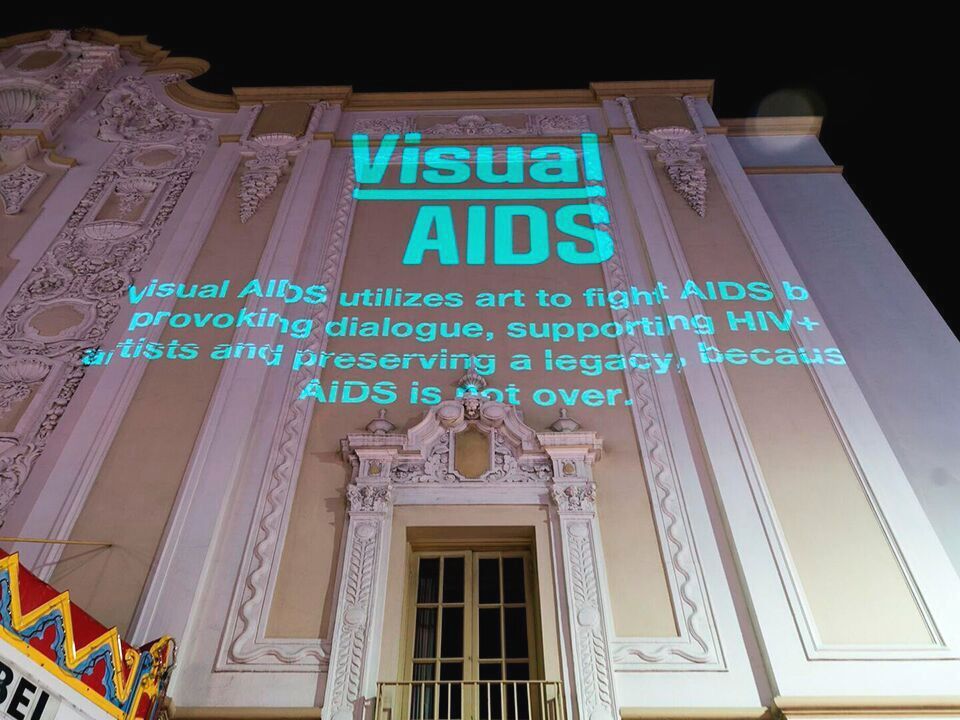 Can you give us a brief history of the project?
RADIANT PRESENCE was coordinated for the 26th anniversary of Day With(out) Art, Visual AIDS' longstanding program for World AIDS Day that is a day of mourning and a call to action around the AIDS crisis. Day With(out) Art was conceived to bring attention to the losses that the AIDS crisis ravaged on artistic communities and beyond. Museums and other art spaces were initially encouraged to shut their doors and to send their staff to volunteer at AIDS treatment organizations on December 1st. These institutions would also cover artworks, such as Keith Haring's works, to mark the loss of his life to AIDS.
After about a decade, the program changed to reflect the needs surrounding HIV. It became Day With(out) Art, with 'out' in parentheses, so in a sense it became a day with art where Visual AIDS coordinates and programs events as a way to provoke these important dialogues in art institutions, AIDS-service organizations, universities, and more.
RADIANT PRESENCE, one of these programs, is a digital slideshow with images from the Visual AIDS' Artist+ Registry, the largest database of works by artists with HIV/AIDS.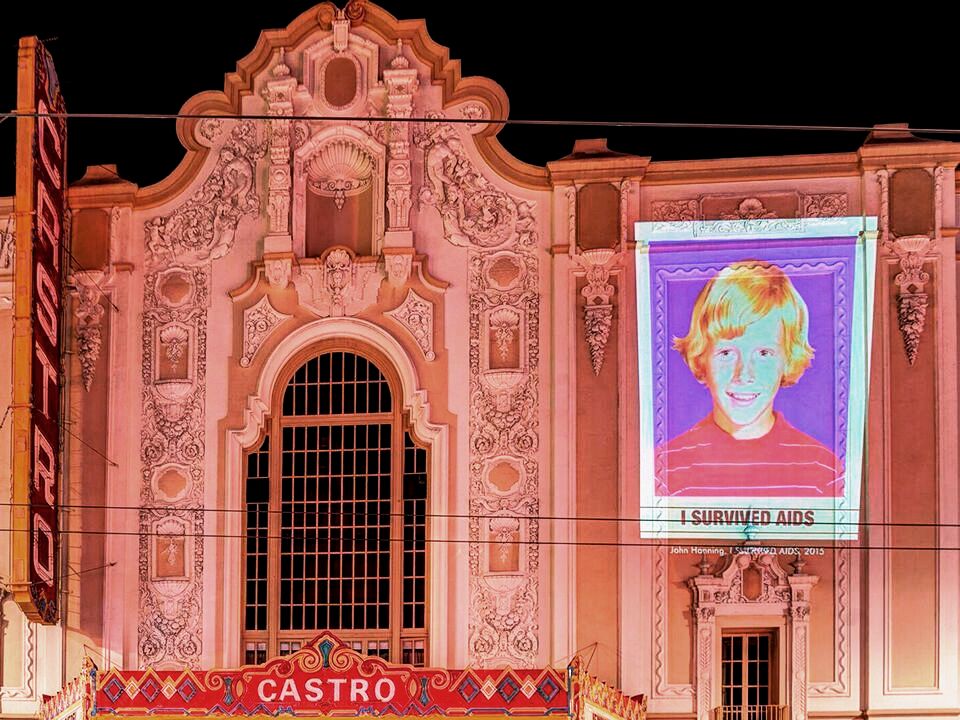 How many works are shown in the slideshow, and how did you decide what to include?
There are nearly 50 artworks in the roughly five-minute digital slideshow. Our aim was to highlight the artworks of Visual AIDS Artist+ Members, many of whom are underknown or passed away too soon, and to bring their works in conversation with each other.
We also wanted to use the artwork as a frame around which we could provoke dialogue about contemporary HIV/AIDS considerations and bring them to the fore. We collaborated with nine influential curators and AIDS activists—Bill Arning, Chris Vargas, Rae Lewis-Thornton, Mark S. King, Allen Frame, Maria Mejia, Jack Mackenroth, and Kimberly Drew—to curate works around a particular theme.
From around 200 images, we culled it down to around 50 images that you see in RADIANT PRESENCE, and added statistics and statements to tell a narrative. I have to thank my Visual AIDS colleagues Nelson Santos (Executive Director) and Esther McGowan (Associate Director), as well as RADIANT PRESENCE project manager Kyle Croft and videographer Mert Azmi Erdem for working collaboratively as we developed the project over many months.
What inspired you to project the work, and where has it been projected?
The second-ever Day With(out) Art was a major project called Electric Blanket, which was a dialogue with the AIDS memorial quilt; it was a slideshow with photographs by over 200 photographers, all coordinated by Nan Goldin, Frank Franca, Allen Frame, and the Visual AIDS Artist Caucus. It was projected on the facade of Cooper Union in 1990. Since then, it has been projected on many institutions. This year marks the 25th anniversary of Electric Blanket, so the idea for the projection and the slideshow itself developed out of this historic Visual AIDS moment.
For RADIANT PRESENCE, we're excited to project on buildings as a way to bring the project to public attention. We've projected it in Miami, will soon project it in New York, and will screen it at over 70 locations including art institutions, nightclubs, universities, and testing centers. Upcoming highlights include the Brooklyn Museum, the Studio Museum in Harlem, the New Museum, Hammer Museum, the Harvard Art Museum, Contemporary Arts Museum Houston, the Andy Warhol Museum, and many others. We are also excited to screen it with LYRIC in San Francisco, in conjunction with teach-in and letter-writing campaigns about HIV criminalization in the US.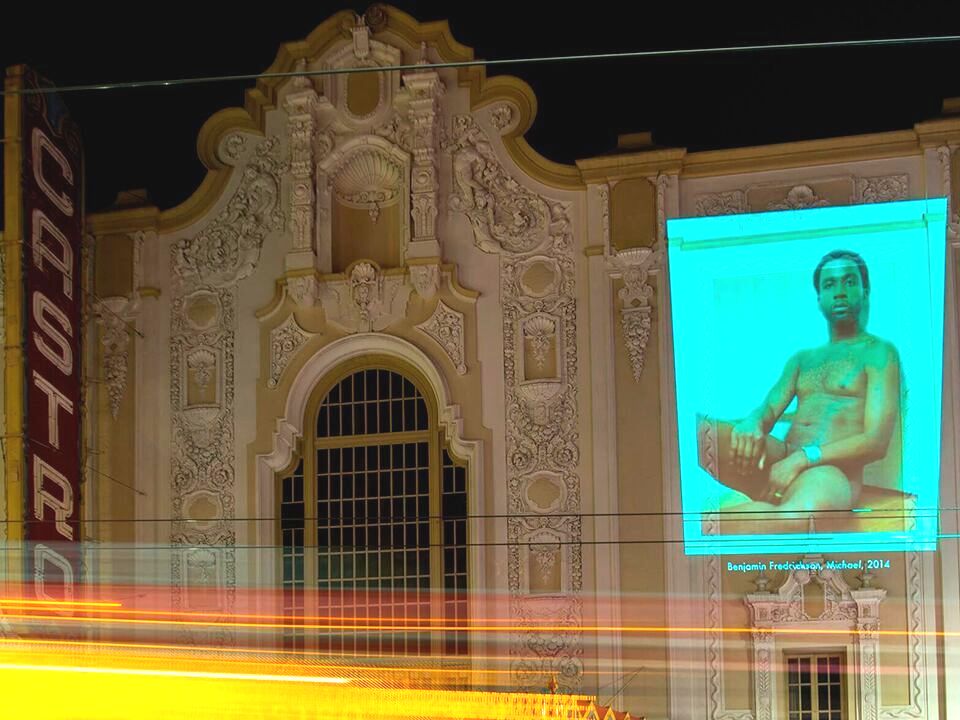 How did you choose the many different locations?
We wanted many of the projection locations to be art institutions, and wanted to continue the legacy of large-scale outdoor projections on buildings that might not be able to contain the very real passion packed into these artworks. One of the works in the slideshow that's really striking is a piece by Shan Kelly called With Curators Like These, Who Needs a Cure, which reads, "MY AIDS WON'T FIT IN YOUR MUSEUM." I dreamed of having that very outspoken, incisive image projected on museums, so we made it a reality!
We also chose locations where there's a very site-specific AIDS history, such as the Castro. When scouting locations to project the slideshow, the glowing neon sign of the Castro Theatre became a visual metaphor for the idea behind RADIANT PRESENCE.

What is the inspiration behind the name of the event?

The idea behind the title of RADIANT PRESENCE is that it highlights and showcases the resilience and vitality of Visual AIDS' Artist Members and their artwork, preserving the radiance of those who have passed while provoking dialogue about the needs and experiences of people living with HIV.
I love the lead photograph of the event, showing artist Keith Haring flexing, shirtless, in front of a mural with the words "artist" on it. Haring's work embodies this idea of radiance. The photograph was taken by Juan Rivera, Haring's lover and a great photographer in his own right.
Was there any care taken in planning and promoting the event due to concerns that it could be shut down?
We tread lightly in terms of who we told about the projections beforehand, and we are working with groups who have done this many times before. In NY we're working with The Illuminator, who did all the Occupy Wall Street projections and many others since then. The San Francisco Projection Department is a sort of sister organization to The Illuminator, and is an exciting platform in the public realm for SF activism.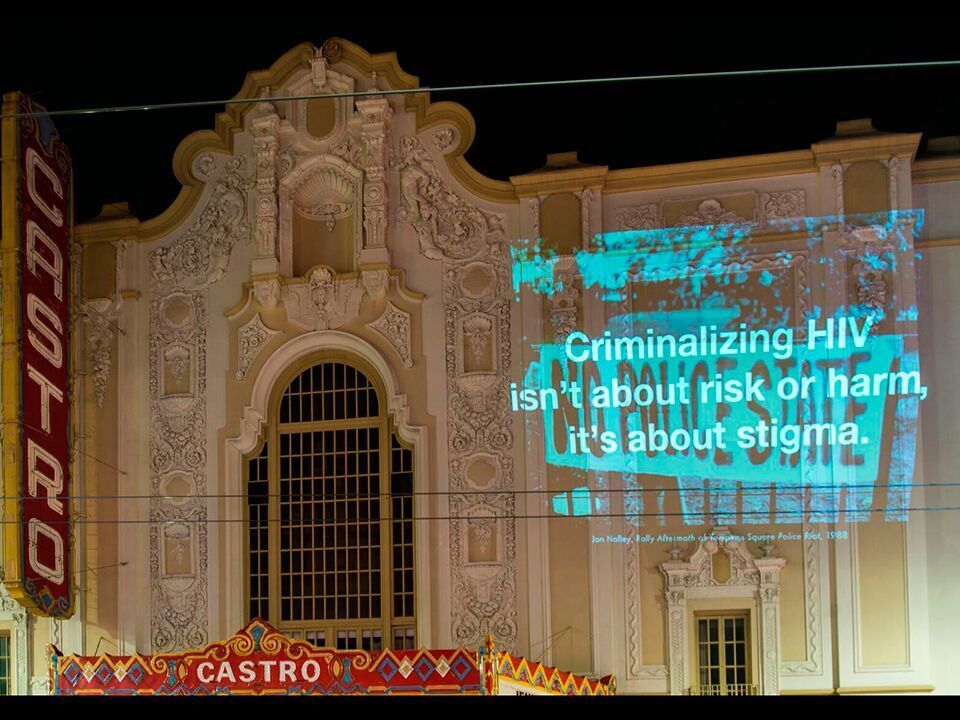 One of the key takeaways from the slideshow is that the criminalization of HIV is more widespread than people think. Can you say a little bit more about that?
The conversation about HIV criminalization isn't as widely discussed as it should be. It's honestly abhorrent and disgraceful that someone like Michael Johnson, who is mentioned in the slideshow, is currently in prison for a 30-year sentence for "criminally exposing" to HIV.
HIV criminalization was a definitely real stake we wanted to make in RADIANT PRESENCE, by bringing visibility to the issue and how widespread it is (36 states have prosecuted HIV-positive people for consensual sex, biting, or spitting), and pointing to the broader stigma that surrounds the issue today.
People speak a lot about the difference between the AIDS crisis then and now; yet so much of the stigma is still there, it is just felt differently. A lot of the really naive and problematic lawmaking is still on the books, with criminalization as a focal point ... It's just wrong.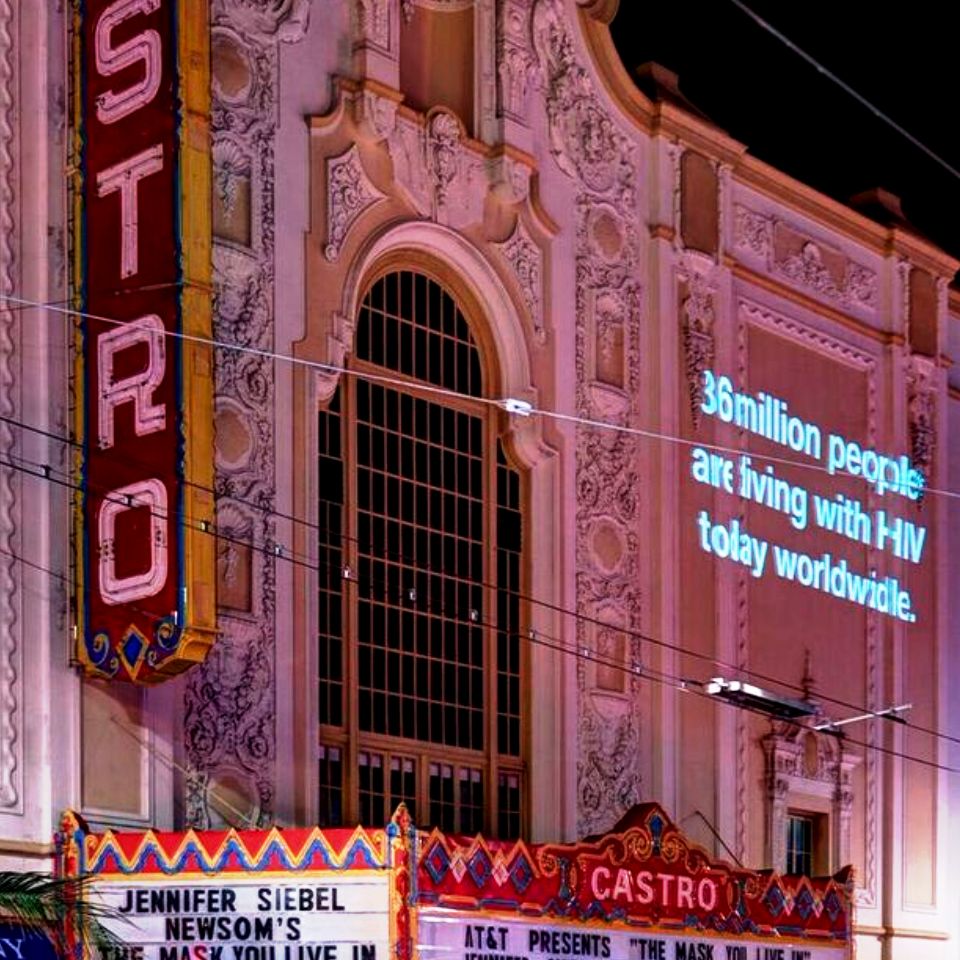 Why is World AIDS Day still important? Does it still carry the same significance?
Simply put, AIDS is every day. It's not like AIDS goes away on any other day other than December 1st for those who are deeply affected. We all are deeply affected by HIV/AIDS, even those who don't feel its widespread reverberations. I think of World AIDS Day as an important, centralized moment for a lot of considerations and interesting conversations.
One of the participating artists in RADIANT PRESENCE said to me, tongue-in-cheek, that it's really great to be popular on World AIDS Day. At Visual AIDS and elsewhere, we try and sustain this platform and programming so that awareness is spread around the year.
Do you ever think that HIV/AIDS will become something other than a 'gay disease' to the broader public?
I think that one implicit goal of this slideshow is to talk about the wider demographics of HIV/AIDS. We're pointing to a variety of issues around gender, age, and race that paint a broad picture of the AIDS epidemic.
It is important to acknowledge the ways HIV/AIDS has impacted the gay community at a rate exponentially larger than other communities, but it's also important to try and divorce the associations that people often make between gay and AIDS.

How can people get involved locally?
Anyone interested in volunteering or sharing their experiences with our programs should reach out to us at [email protected].
Upcoming , we coordinate an annual benefit called Postcards From The Edge where we accept 4'x6' postcard-sized artwork as donations. Submissions must be postmarked by December 7th.
We also have many ways that we support artists living with HIV. We provide material grants, an artist website, opportunities to show their work.
---
View the full RADIANT PRESENCE slideshow here, and see its projection on the Castro Theatre below: