By
Fiona Lee
- Published on December 16, 2015.
On Monday night, the SFMTA's Muni Forward program held a second open house at Grace Lutheran Church (3201 Ulloa) on proposed changes to the L-Taraval line which would include stop removals and new boarding platforms. 
City officials and SFMTA representatives, including District 4 Supervisor Katy Tang, Muni Forward Program Manager Sean Kennedy, and SFMTA Public Outreach Manager Deanna Desedas spoke to a packed room of Parkside and Outer Sunset residents, who reviewed and commented on the proposals.
The meeting kicked off with a presentation from Kennedy on Vision Zero, the city's ambitious program to reduce traffic fatalities to zero by 2024. As the light rail can only be boarded directly from middle of the street, he said, the L-Taraval corridor is one of the city's most accident-prone.
To board and exit the L-Taraval, passengers must cross into direct traffic, and drivers often speed trying to pass the light rail. Over the last five years, Kennedy said the corridor has seen 46 pedestrian injuries, with 22 riders injured getting on and off the L-Taraval.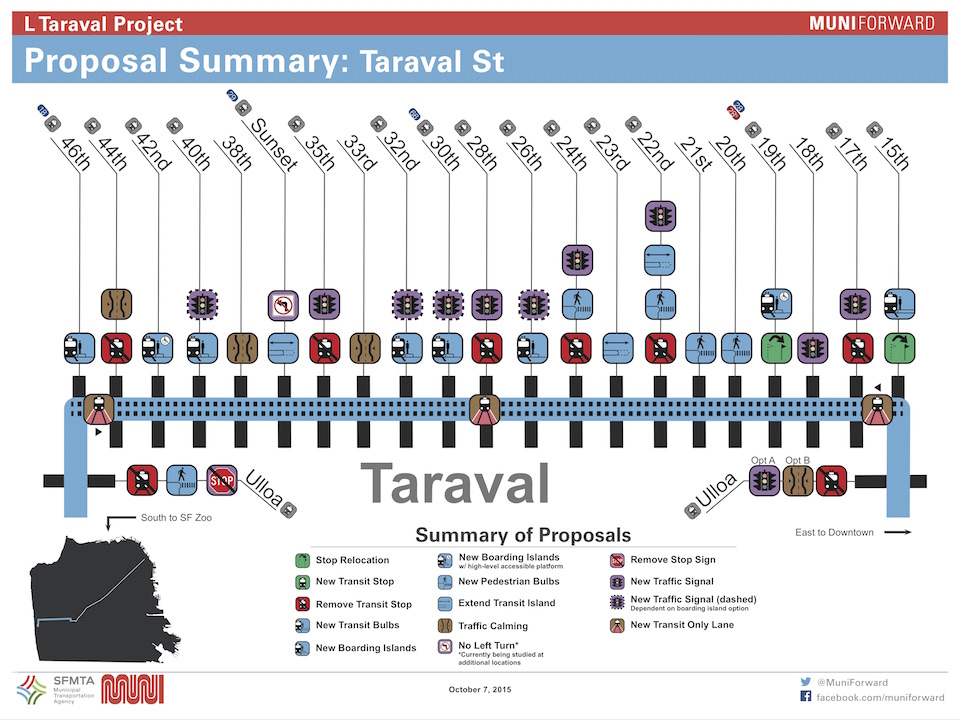 The L-Taraval corridor proposals include:
The removal of eight stops at 15th and Ulloa, 17th and Taraval, 22nd and Taraval, 24th and Taraval, 28th and Taraval, 35th and Taraval, 44th and Taraval, and 44th and Ulloa.

Stop consolidation: the stop at 19th and Taraval, one of the area's busiest intersections, would be consolidated and moved to 18th and Taraval.  

Boarding islands constructed on Taraval at 19th, 26th, 30th, 32nd, 40th, 42nd, and 46th avenues.

New red transit lanes along the corridor, similar to

those on Church Street

.

10 new traffic signals. Currently, there are traffic signals only at 19th and Sunset Blvd.
The proposals deal with both safety and reliability. According to Kennedy, boarding islands would reduce injuries caused by boarding and disembarking into direct traffic. The changes would also reduce the time from West Portal to the San Francisco Zoo by three minutes.
Many of the changes were met with protests from the audience during public comment. Boos greeted the most controversial change: the proposed removal of stops. Some residents along those stops, many of them elderly, vigorously protested the removals.
"I've talked to 300 people who have not heard about the elimination of stops, " said local resident Paula Katz. "Over 95 percent signed our petition to keep our stops. People want to keep their stops. They don't care about the extra three minutes it's going to take if it's going to be detrimental to seniors."
Another controversial proposal was the addition of boarding islands. While studies have shown that boarding islands prevent accidents along the light rail line, they were opposed by both residents and merchants along the L-Taraval corridor, as installing boarding islands would also mean removing 55 parking spaces.
"I think the boarding islands and the transit lanes will have an adverse impact on our businesses", said Albert Chau, the owner of Great Wall Hardware on 28th and Taraval. "I don't see it as money well spent to save three minutes."
However, Cathy DeLuca of pedestrian advocacy group Walk SF believes that boarding islands would make a big difference in safety for all pedestrians, including seniors. "If the city installs boarding islands, people won't get hit. We think it's crucial that boarding islands are part of this project, because it's a matter of life and death," she said.  
Some residents also voiced their concerns on enforcement of existing laws against drivers who pass the L-Taraval when passengers are getting on and off. Although there are signs along the corridor informing drivers of a $250 fine for passing the Muni light rail when it's stopped, the law is rarely enforced.  
The city will now review public comments and hold another public outreach meeting in late January (time and date to come). We'll let you know when the next meeting will be held, but in the meantime, you can:
Contact Supervisor Katy Tang directly at (415) 554-7460 or Katy.Tang {at} sfgov {dot} org

Contact members of the SFMTA Board of Directors directly at MTABoard {at} sfmta {dot} com

Email Muni at muniforward {at} sfmta {dot} com