Terrific Street, a creative space at 1534 Grant Ave. in North Beach that gained attention nationwide in October for its display of "canned parrot" in the storefront window, is open for business—in a sense.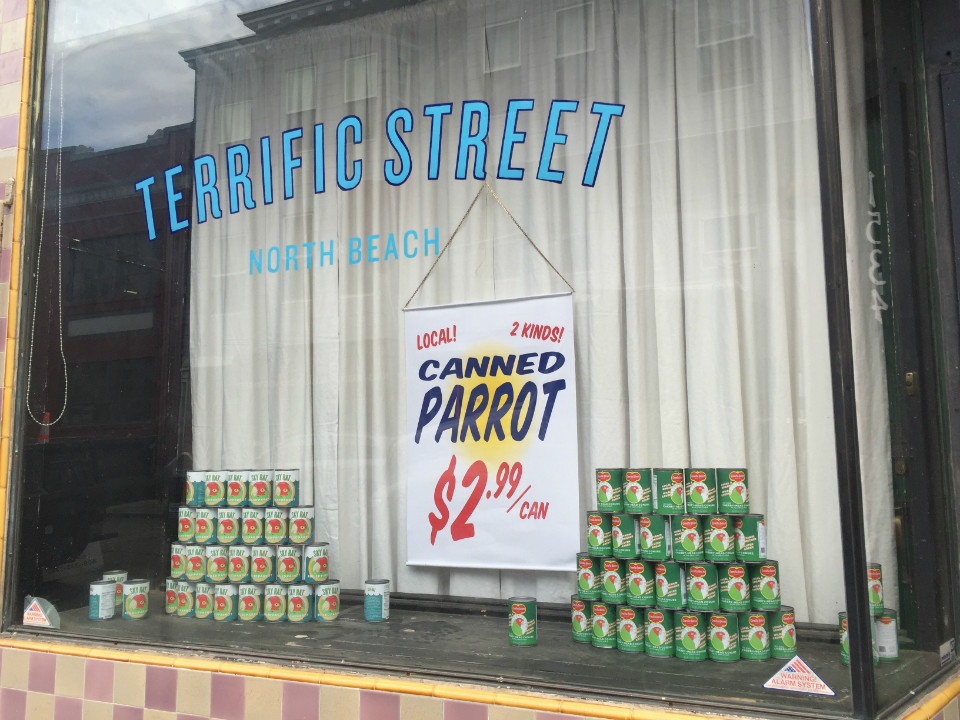 The shop right now has a small selection of magazines and books, from reissues of Little Golden Books to a Found Magazine compendium. And you can get cartons of Stumptown coffee and cold brew. But it's less of a place to buy things and more intended as a "community art clubhouse," as partner Brady Baltezore puts it.
The other partners are his wife, Carrie Baltezore, along with Erick and Jaime Harrelson, and Nicholas Roberto and Colby Thompson. The six "basically started this space as an excuse to spend more time together as friends and creative individuals," Baltezore said.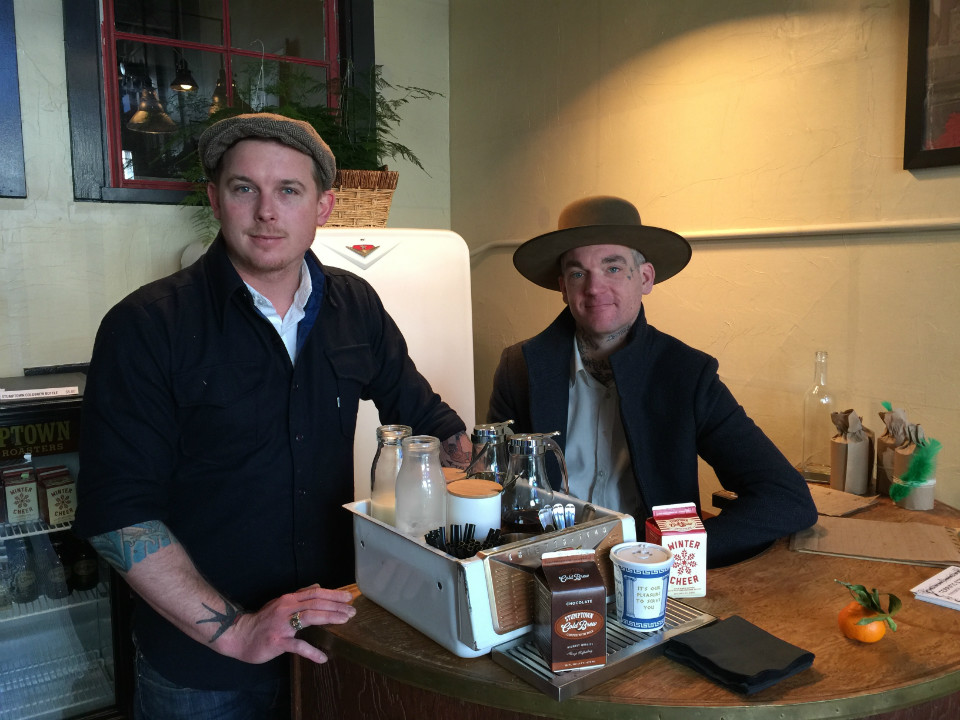 Erick Harrelson and Brady Baltezore.
All six have day jobs, whether as a chef, graphic designer/filmmaker, brand strategist, business owner or interior designer, and wanted a way to unplug and get together with other creatives. "We want to provide a place that's a respite" from screens and technology and social media, Baltezore said. Not that they're Luddites: They simply believe there's a time and place for social media and a time for eye contact with other humans.
They're welcoming other neighbors to stop in and browse their merchandise, but don't expect to pop in and plunk down your laptop for hours on end. And don't look for a website, Twitter account or Facebook page. In order to hear about and sign up for events, you'll need to pop in and put your name on an old-fashioned paper list. (The shop does, however, have an Instagram account.)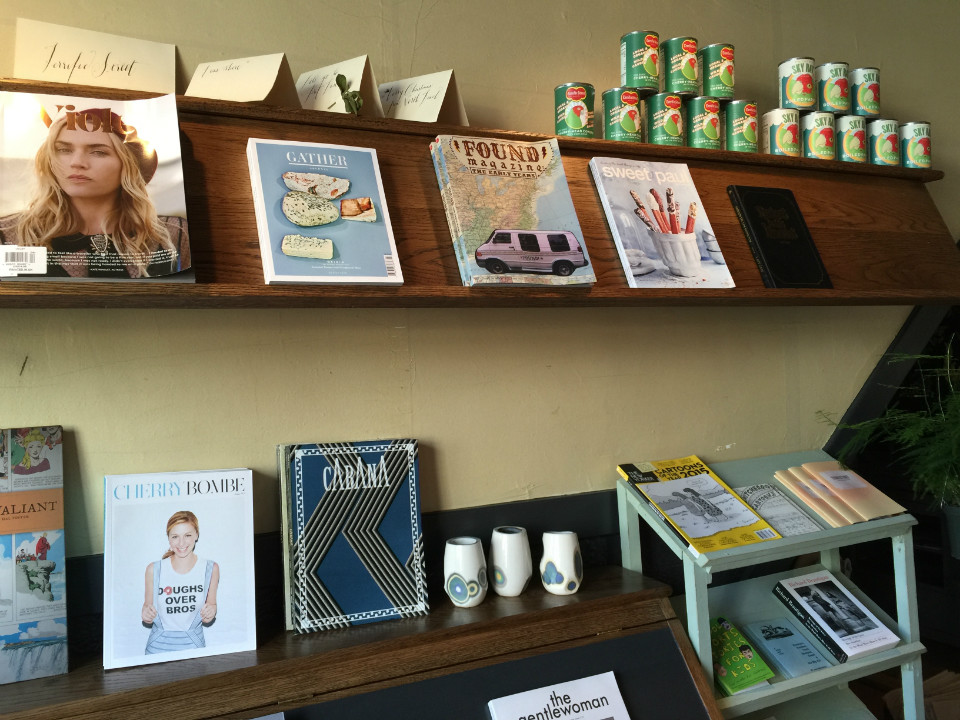 Terrific Street's first event was the shop's participation in the First Friday art walk on December 4th, which was also its first day open. And from 3–4pm Wednesday (tomorrow), chef Erick Harrelson will teach a knife sharpening workshop and all participants will take home a Japanese whetstone. The workshop costs $70; some events, such as film screenings, might be free.
In addition to magazines and books, the store might eventually offer things like stationery, greeting cards and posters made using calligraphy or hand-printed on a Vandercook–4 printing press that's in a corner of the space. "Having something handmade stands out as a little special," Baltezore said.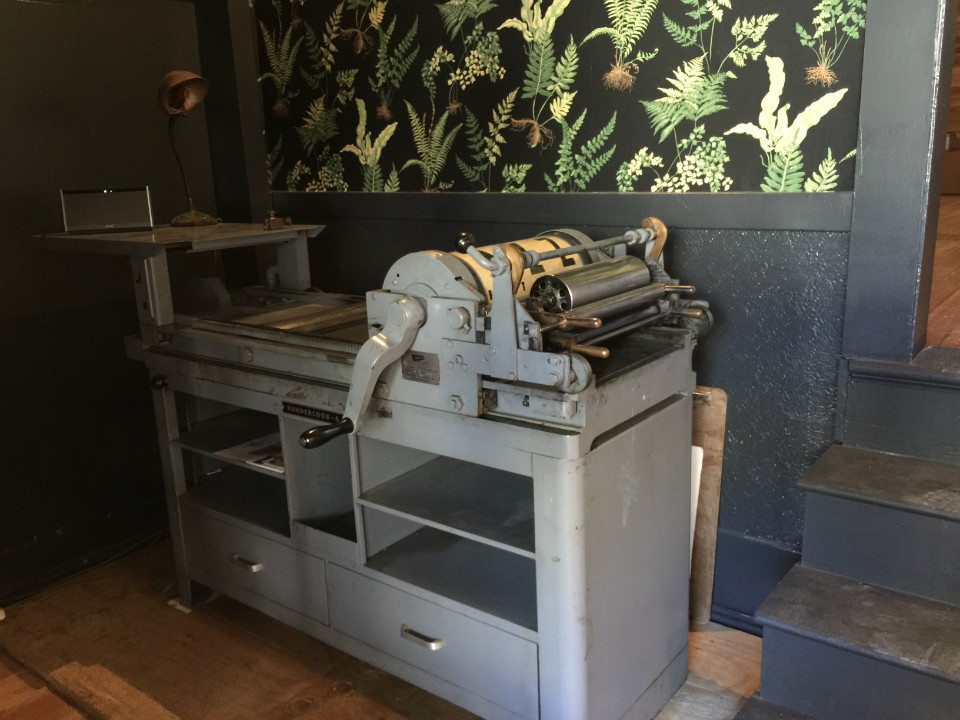 The Vandercook–4.
As for the initial flap over the "canned parrots" display, Baltezore said "99.99 percent of people were super supportive," and they smoothed over some ruffled feathers on First Fridays as people came in and met the partners in person. They haven't yet had a conversation with Julie Herrod, who first tipped us off about the display and left them notes about it, but they're open to meeting with her.
Shop hours for now are 7am–1pm and 3–7pm Monday through Friday and from about 10am–2pm or 4pm Saturday and Sunday.