Over 100 residents of District 8 chose to forgo last night's Republican presidential debate to attend a safety meeting aimed at addressing concerns over crime and quality-of-life issues in the Castro, Duboce Triangle, Mission and Noe Valley.
Organized by D8 Supervisor Scott Wiener, the panel included a trio of police captains: Dan Parea (Mission Station), John Sanford (Park Station), and Joe McFadden (Ingleside Station). Also in attendance were SFPD Chief Greg Suhr, representatives from the DA's office and adult probation, and surprise guest Mayor Ed Lee.
After joking about the height differential between himself and the towering Wiener, Mayor Lee, himself a D8 resident, stated that he was there to hear the community and act on its concerns. "I'm here primarily to listen, but more importantly, I'm going to follow up on everything that you say," he promised. 
Both Suhr and Wiener kicked off the meeting by noting that the SFPD is still operating at a 300-officer staffing deficit—though those numbers are slowly improving. More cops, they said, mean more foot patrols and more local beat officers, for which neighbors repeatedly pleaded over the course of the meeting.
According to Wiener, the meeting was convened to address the fact that there is "too much crime [in the district], particularly auto break-ins and burglaries." (It's an issue with which he's all too familiar, having had his phone stolen by mace-wielding thieves just a few weeks ago.)  
Suhr concurred with Wiener about the recent "significant uptick in auto burglaries," and urged attendees to take preventative measures. "It's important that people are smart about locking cars and keeping things out of view," he said. Garage-door openers should never be left inside vehicles, as criminals often use them to enter garages and make off with bicycles and other property.
Mission Station's Capt. Parea said concerns in his district included mail theft (particularly holiday packages), bicycle chop shops, robberies, and auto theft, as well as neighborhood complaints over syringes and the perception of crime arising from homeless encampments. He encouraged attendees to think of homeless people as they would any other group of people. "Like any group of people, folks that are homeless are not all engaged in criminal activity," he said. "But some are."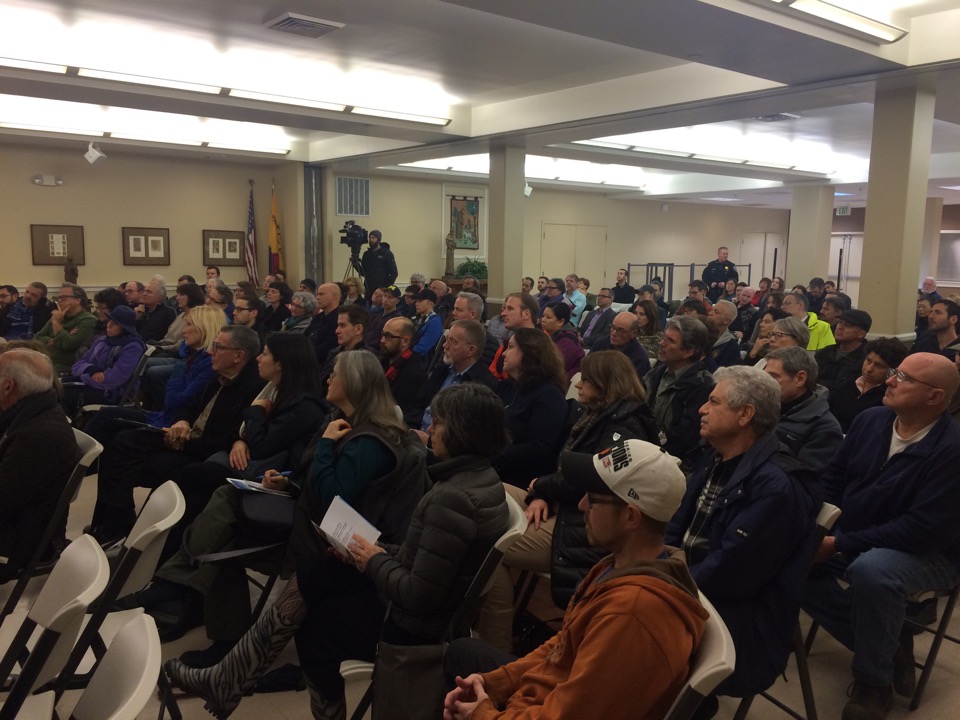 "It's all about how we do things smarter, despite our staffing levels," said Park Station's Capt. Sanford. "One way is to make sure we're deploying officers accordingly." For example, he said the troubled area behind the Market Street Safeway "is now pretty clear," thanks to nighttime patrols, and a new foot patrol officer has cut down on quality-of-life issues in Duboce Park.
Ingleside's Capt. McFadden urged residents to contact the police directly with concerns. "Don't just post to Nextdoor." Capt. Parea agreed: "We at Mission Station do not monitor Nextdoor. We want to be engaged with the community, we want people to talk to us." Not everyone was pleased with that response. "If you don't see the amount of unhappiness, you're going to miss what's going on in the community, to sense how angry people are!" said one man. 
Many attendees asked for more police attention on their streets, highlighting specific blocks. "We have never seen the kinds of things that we're seeing on this block in the 30 years we've lived here," said one woman.
Better lighting was also a concern. "I moved from New York last year," said another woman, "and I was shocked at how dark it is."
"The city does have a budget for putting in new lights," said Wiener, but he urged neighbors to reach a consensus about where they want the lights to go before applying. One person's perfect location could be directly outside another's bedroom.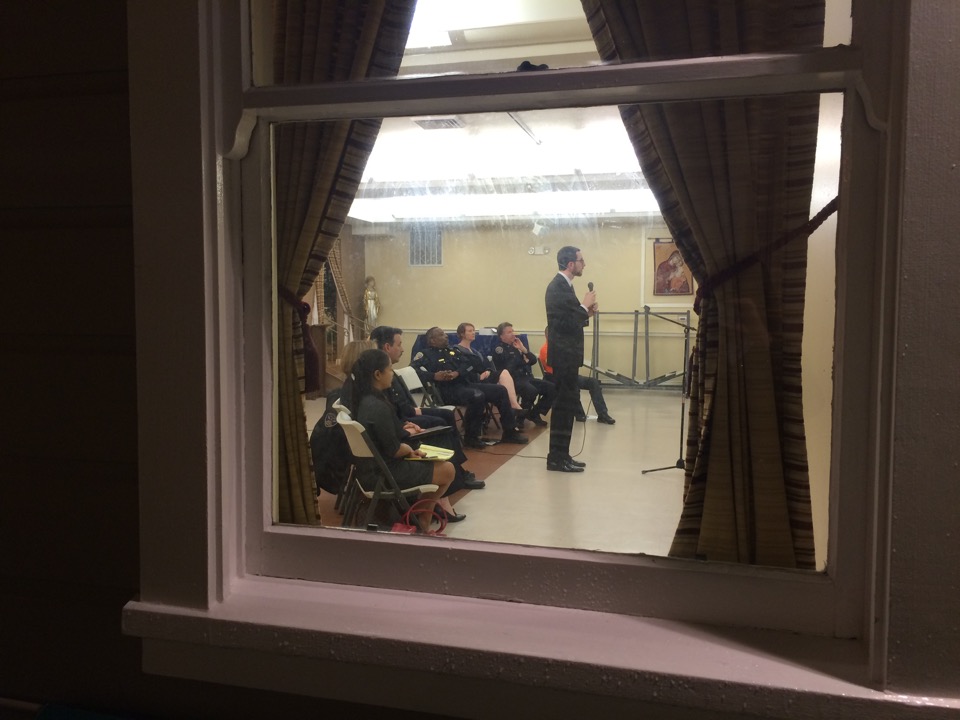 Inevitably, the subject of the neighborhood's homeless presence arose, generating the most outrage of any topic discussed. 16th and Market, Pond and Prosper, and the public library were all mentioned as hotspots, as were the tent encampments under the freeway on Division.
"It seems like there is a big, huge, massive problem in the city, and that is drug addiction," said one man, angrily noting the overflowing tent village under the freeway. "Something has to be done about the encampments and the drug addiction problem!" Another man, who said he was visually impaired, was applauded after describing the early-morning scene at 17th and Hartford. "I'm blind, but I should be able to get through the sidewalk without stumbling over people who are sleeping."
"The sit/lie law applies on sidewalks from 7am-11pm," Wiener said. "If a sidewalk has been totally obstructed, that's never legal." But because Jane Warner Plaza, another hotspot for neighbor concerns, is not a sidewalk, "sit/lie does not apply there," he added. 
As for homeless encampments, Captain Parea described the multi-pronged approach that SFPD takes in clearing tents and connecting homeless individuals with services like the Navigation Center. "We deal with the law," he said. "Are they blocking the sidewalk, are they living in a tent?" If so, a citation can be given, but as Parea noted, "giving someone a citation is not changing the circumstances of why they're living in a tent."
Chief Suhr echoed Parea's sentiment. "I don't think that we're a city where in the pouring rain, that's the time to have your police department use resources to move people," he said, noting that encampments can be cleared when there's a break in the weather.
In the end, "these are all complicated, complex issues," Suhr said. "None of these situations are ones we're going to arrest our way out of."