Many Western SoMa residents and businesses have had it up to here with crime, defecation and homeless encampments on their streets. Now, they say, they're getting ready to take some action with an up-and-coming neighborhood group, Western SoMa Voice.
"It all started from a post on NextDoor," said Ben Woosley, one of the organizers behind the group. "There was quite a lot of frustration in the neighborhood from people dealing with daily quality-of-life issues, and just not seeing efforts to address them."
In time, the chain of grievances turned into a discussion of solutions, and a small group of residents decided to meet face-to-face last November to discuss the problems plaguing their neighborhood, which they're roughly defining as spanning from 6th to 13th streets and Mission to Bryant.
"We ended up having a conversation about all these issues, and really just realizing that we were all seeing the same problems and that we have this common perspective," Woosley said. "There was a lot of energy from people around solving these problems."
From there, the group decided to get organized. Over the next month, small groups held a series of meetings to discuss how to form a bonafide neighborhood organization, including what the group should stand for and what issues it would tackle.
With much of its foundation now in place—including a website, mailing list and NextDoor discussion group — Western SoMa Voice is hosting its first solutions-oriented meeting tomorrow, from 1-3pm, at The Box SF (1069 Howard St.)
Residents and business owners from across Western SoMa are invited to bring their issues and ideas, Woosley said. After a few introductions, they'll talk seriously about the key projects the organization will take on, and assign volunteers to each team.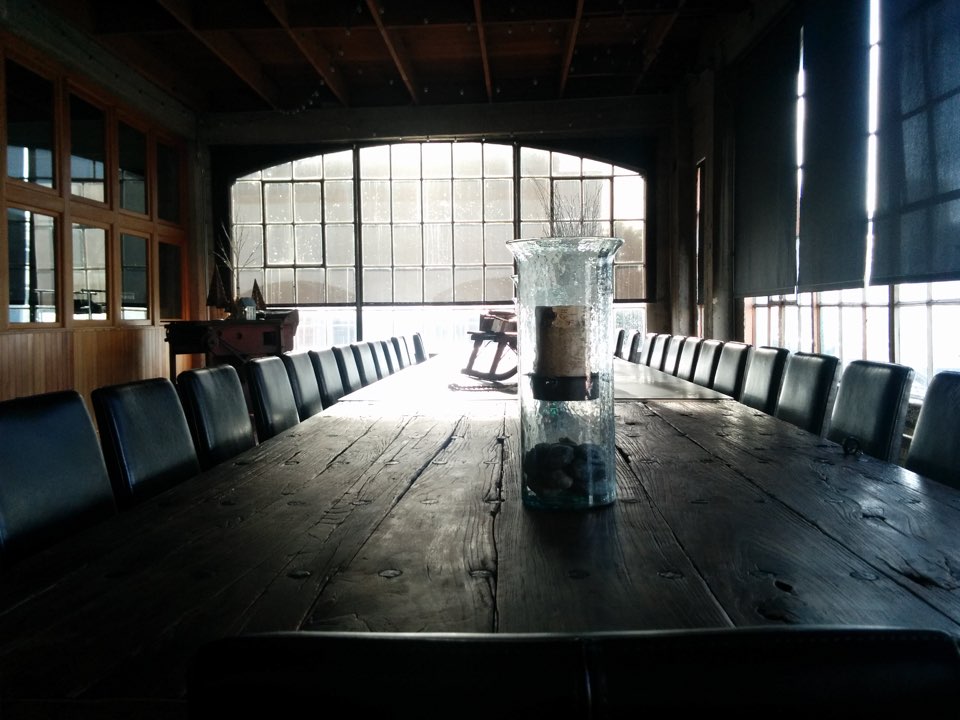 The conference table at The Box SF, where neighbors will convene and begin taking action to solve major problems afflicting Western SoMa. (Photo: Brittany Hopkins/Hoodline)
One major issue that will likely come up is auto break-ins. One Western SoMa neighbor posts photos on NextDoor of her feet with broken glass on the street nearly every day, Woosley said.
He's personally interested in spearheading a campaign to bring more greenery to SoMa. It's an effort he's been working on since the summer, documenting the many empty sidewalk plant beds in the neighborhood through the 311 app.
The Box SF's owner, Mark Sackett, said he hopes mobilizing concerned neighbors will help improve communication with police about the issues they're all facing.
Sackett owns The Box's building at 1069 Howard St., a former William Randolph Hearst printing building that's home to 12 other companies. "As you can imagine, I have a big investment here, in this neighborhood."
Crime has been getting progressively worse over the past three years, Sackett said, a change he attributes the change to city planning. "I thought with all these condos and apartments and all this development South of Market, it would actually be getting better. But the City and County of San Francisco, in their wise, not-do-any-research way, decided that they'd declare this an 'enterprise zone,' and fit all the social services in between Sixth and Eighth streets and Howard and Market."
While Sackett said he has no problem with soup kitchens, shelters and other services being located in the neighborhood, he does take issue with the assumption that cramming all the city's social services in one area would help control crime.
"They have less police, more crime and they're not doing anything about it," he said. "And in my opinion, there's less policing down here," especially in light of the increasing number of homeless encampments that are being allowed to expand in places like 13th and Division and the neighborhood's many alleys.
Sackett said he and his staff are on the phone with the police constantly. Despite their warnings not to approach suspects, he told us he isn't afraid of confronting people who are causing trouble and have no reason to be in the neighborhood—and has been the victim of two recent assaults as a result. 

"If I call the police department on a non-weapon issue—non-life-threatening, non-weapon issues—they won't show up for three or four hours, or they won't show up at all," he said. "Somebody out there shooting up or smoking crack, shitting on my building, pissing on my building, doing drug dealing, police don't come for that. And I'm done."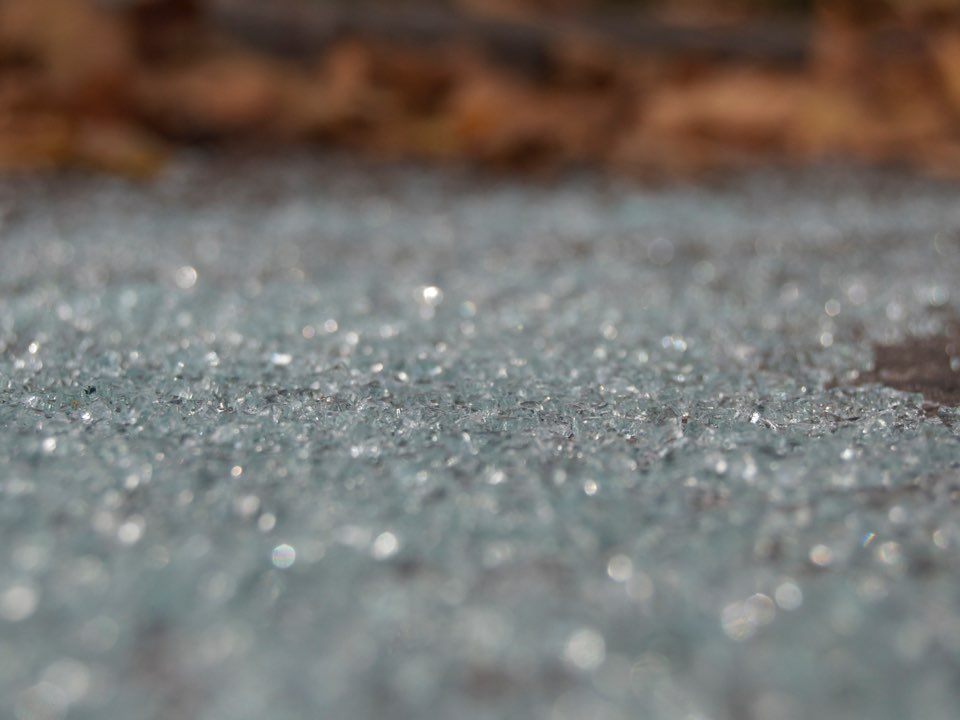 Broken glass on a sidewalk. (Photo: marc falardeau/Flickr)

Sackett's gripes aren't solely with the city. He points to the surrounding buildings, noting how long absent owners have allowed them to sit vacant and how often graffiti appears on their abandoned walls. He says drug dealers are squatting in some of them. He's also well aware that the many renters in western SoMa will be far less invested in helping solve the neighborhood's issues.
With all that said, he's cautiously optimistic about this new effort to organize the many voices demanding change. "I don't know what the solution is. But I do know that if you can activate people..."
Woosley, who lives in western SoMa and works in central SoMa, says his main motivation for getting involved in Western SoMa Voice is simply a drive to make the world a better place. He assured us that it won't be just another NIMBY group. "Western SoMa is a very dynamic place. We have great nightlife. Great businesses, industrial and commercial, retail. And the mission is improving everyone's lives—apart from the people who are preying on the people here."
Western SoMa Voice's next meeting is 1-3pm tomorrow (Saturday, Jan. 9th) at The Box SF, 1069 Howard St. All are welcome to participate, and there's no need to RSVP. Those who can't make it but still want to get involved can sign up for the Voice's mailing and discussion lists, and read meeting minutes on the website.