Fat Angel was never supposed to offer a selection of 200 beers, or serve comfort food like chicken pot pie and mac and cheese. When partners Jason Kirmse and Cyrick Hia took over the 35-seat bar and restaurant at 1740 O'Farrell St., across from the Fillmore Center, their plan was to serve Asian cuisine.
"This was Plan B," Kirmse said on a recent Tuesday afternoon before the restaurant opened, loaves of bread still stacked around him in the middle of the floor.
Plan A was a traditional Chinese hand-pulled noodle shop. Over the course of eight months, Kirmse and Hia made multiple trips to China to find a master noodle maker and secure the perfect recipe. They shot video footage of noodles being made, and studied the mineral composition in the Chinese water to recreate the noodles' stretch, give and taste. Hia even took an apprenticeship with a noodle maker. 
But the chef they eventually recruited had a bad visa interview, and was never admitted into the United States. After $5,000 in travel and research, the noodle plan was scratched, but it did provide one useful item: while in China, Hia saw a giant crane taking down a sign that said "fat angel" in Chinese, which eventually became the name for his and Kirmse's Plan B. 
As it stands today, Fat Angel is really more of a Plan C. When it opened its doors six years ago, it did so as a wine bar, offering over 30 wines by the glass. The owners were so concentrated on libations that they only served food as a requisite for their beer and wine license.  
Fat Angel also offered high-end beers, one of only a handful of SF spots to do so in the early days of the craft beer renaissance. When the beer began to outsell the wine, the bar's focus shifted from grapes to hops.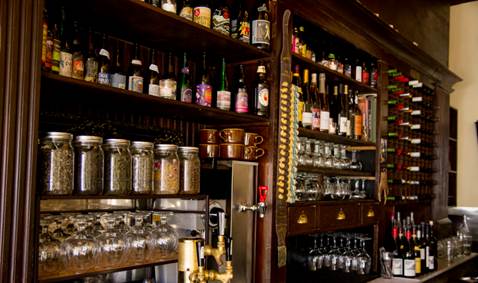 These days, Fat Angel is a mecca for beer geeks. For this week's SF Beer Week, the restaurant is hosting six events, including tap takeovers by Paradox Beer Co. and Dr. Jekyll's, as well as a grand tasting with The Bruery that spans 21 beers.
Before Fat Angel, Hia, a Richmond District native, and Kirmse, a Floridian, lived in the Fillmore and were colleagues at a property management firm, leasing apartments at the Fillmore Center until the market crash in 2008. After the economic meltdown, they liquidated their assets and decided to pursue a restaurant together. Neither Hia nor Kirmse had any background in the food business, but they knew that the Fillmore's 1,114 market-rate apartments were enough to sustain a good business—and that the competition was sparse.  
"The great part about this neighborhood was that there was nothing down here," Kirmse reminisced with a laugh. "The bar was set so low. This was before State Bird [Provisions], and before anybody really knew about Lower Fillmore." 
Hia and Kirmse gutted the space (its prior occupant was a women's clothing store), and constructed the interior by hand with repurposed parts from a Russian Hill church, built in 1909. They made use of both religious and secular components—pews, organ pipes, flooring, curtains, and even the kitchen (which became the back bar). One of the only parts that weren't taken from the church, oddly enough, was the golden angel that sits over the awning, found at a consignment store on Polk Street.
Fat Angel got off to a good start: the first customer that walked through the door became Kirmse's wife. Kirmse says she was a bellwether for the type of low-maintenance people that became Fat Angel's core clientele.   
"Residents here come and go," Hia observed. "But usually the people that live in this neighborhood are really laid back, a bit more down-to-earth."  
Hia and Kirmse have since joined forces with other partners to open up two more restaurants: Stones Throw in Russian Hill and Trestle in North Beach. Their newest addition, a cafe at 100 Van Ness called Corridor, is scheduled to open later this year.  
But even as seasoned restaurateurs, some things are beyond their control. Fat Angel, they said, has become as much a beer haven as a first date spot, and manymore trendy restaurants now dot the Lower Fillmore, challenging the neighborhood's heart and soul.   
"There's something about this area that I don't think will ever change, because of its history," Kirmse said. "There's a lot of hurt people and a lot of politics that I think has prevented it from really being a place that you would typically see in San Francisco. The businesses that have moved in are great additions, but there is always going to be your fried chicken triangle and your Safeway." 
Who knows? There might even be a hand-pulled noodle place in the near future.  
Fat Angel, at 1740 O'Farrell St., is open seven days a week. Hours are 4pm-11pm Sundays and Mondays, 4pm-12am Tuesdays-Thursdays, and 4pm-1am Fridays and Saturdays.