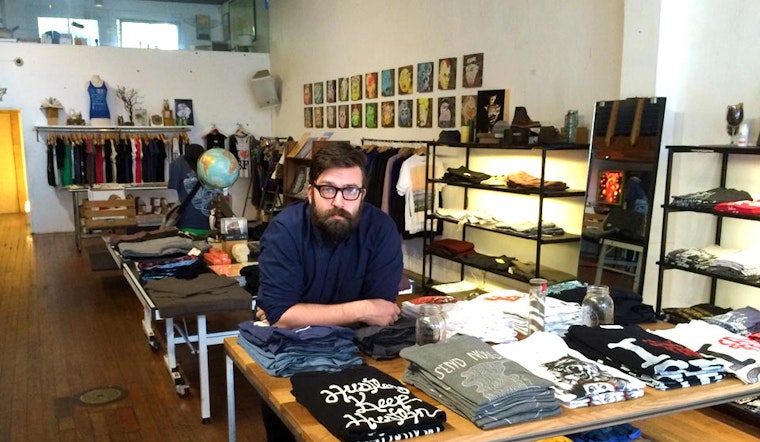 Published on January 18, 2016
After more than nine years in the neighborhood, D-Structure (also known as DSF) plans to close its retail storefront by Feb. 1st. It will continue operating its print shop out of the space until a new tenant is found.

Owner Devon Chulick tells us that the building at 520 Haight St. was purchased by real estate firm Prado Group about a year and a half ago, just as D-Structure was in the process of renegotiating its rent with the previous landlord. Unfortunately, the shop couldn't resolve a lease extension in time, and thus had to sign a new lease with Prado that was "a lot more expensive," Chulick says. D-Structure has been paying the higher rent ever since.
"As much as we want to make it work, the retail environment in this neighborhood hasn't been enough to support [the rent increase]," Chulick says. He attributes the lack of foot traffic at least in part to the neighborhood's changing restaurant landscape.
"We used to have restaurants here that were open for lunch, and they're now closed. When Greenburger's was here, it was great. I have nothing against all the new restaurants, it's just because no one's open for lunch, it slows down the retail walk-ins."
On February 1st, D-Structure will close down the retail operation, although its lease on the space will remain active until Prado can find a new tenant. As soon as one is confirmed, D-Structure will be given 30 days to vacate.
The brick-and-mortar outlet is only part of D-Structure's business, which has expanded in recent years to include online sales, and screen printing for customers ranging from tech companies to non-profits to indie bands. Those ventures will continue.
"We're not super bummed out about this new reality," Chulick says. "We decided to go all-online, and focus on printing for clients, because that's our biggest business." Chulick says he has started to have conversations about a new space to house the printing operation, but won't make any decisions until he receives the 30-day notice from Prado. He has informed the company's four employees—one full-time and three part-time—about the impending transition.
The D-Structure brand's origins date back to an independent ski & skate shop which opened in Montreal in 2000. It expanded with a Quebec City location soon thereafter, and its third outpost—the Lower Haight store—opened in November of 2006. The space at 520 Haight St. had in previous years housed a futon shop, a hardware store, and a dance studio.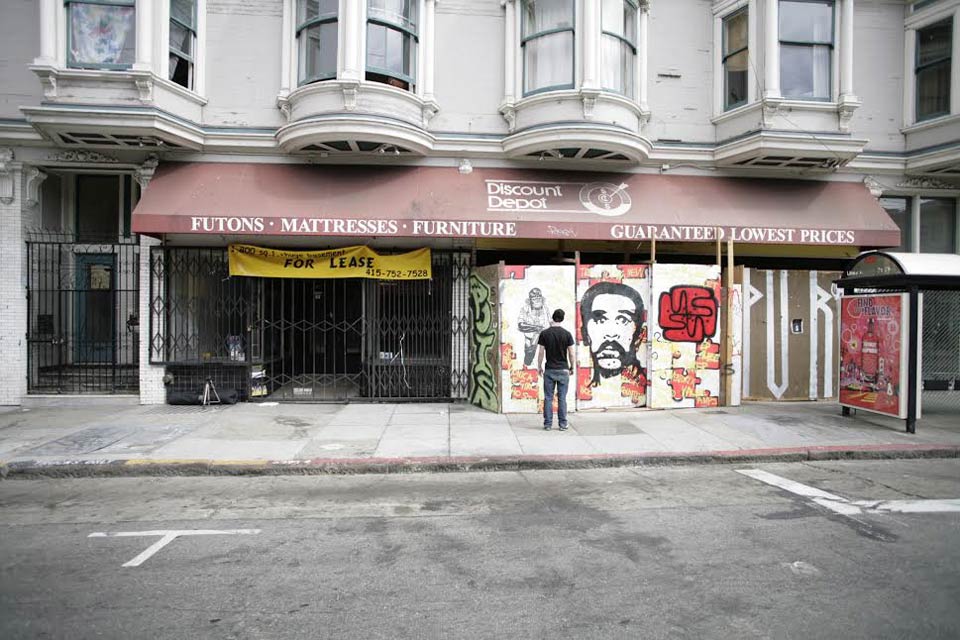 Twitter / @ShopDSF
Chulick got involved with D-Structure in 2008, when he connected with co-owner Azikiwee Anderson, who at the time was looking for a business partner. "We just clicked really well," Chulick recalls. "He realized that I had a vision that was going to be good for the company."
Within a year, Chulick found himself running day-to-day operations at the shop, as Anderson stepped back to spend more time with his family.
"When I took over, my interests primarily were more in apparel and art, and so that's why I drove the focus in that direction. It's one of the reasons I don't carry skateboards—I don't skate, so I'd just be posing in that regard ... There'd be no reason for us to pose as a skate shop since that's not my focus or my background."
Instead of winter sporting goods, D-Structure now offers graphic tees and other apparel and accessories, many designed by local artists and featuring SF- or California-centric themes. The large space has also hosted regular art shows and events over the years, including everything from Berlin-style ping pong nights to free donut days.
"I've been trying to find all kinds of new ways to engage with the community, engage with artists, small independent brands ... We've done all kinds of things, from shows with Threadless to Society Six, to Justin Bua, Aaron Nagel, Alec Huxley, Nick Beery ... all these crazy events we've had, all these awesome artists—it's been amazing."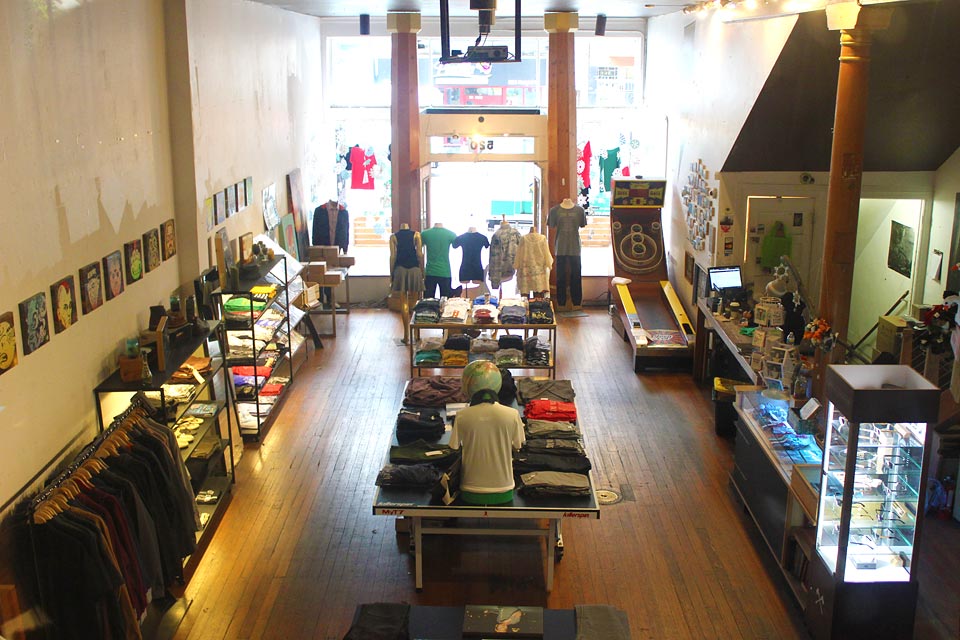 Recently, the shop underwent a name change, from "D-Structure" to "DSF." The original name referenced "Design Structure," Chulick says, "making sure design is a big part of whatever project you're working on." But the name apparently caused rampant confusion among customers.
"It was really funny because so many people had trouble with the word 'D-Structure'... I was looking at some search phrases that people were using to find us online, and people were using 'destructed', 'destroyer', 'destruction'—it was mispronounced in so many ways that I just thought, let's go with the acronym, which seemed more to-the-point."
In 2015, DSF experimented with a couple of new retail outlets outside the Lower Haight. This summer, it popped up at the Innovation Hangar at the Palace of Fine Arts, and more recently it ran a pop-up shop in the Mission leading up to the holiday season. That store was forced to close after suffering a Dec. 12th break-in, in which significant inventory was stolen.

While Chulick, who is a Lower Haight resident himself and president of the Lower Haight Merchants and Neighbors Association, has plenty of neighborhood pride, he has also seen the Lower Haight change in less positive ways over the past few years.
"I've noticed the retail footprint go up and down. Lately it's been down. When a couple of new businesses move in here and that housing development [at 55 Laguna] gets finished, maybe you'll see more activation during the day. I've [also] definitely noticed, now with all the Upper Market construction and redevelopment, it's pushing a lot of the individuals in the Upper Market area here. So I've noticed more individuals that have their own mental health issues, that sometimes turn quite hostile. I don't think crime has upticked that much, but I have noticed that."
Overall, though, Chulick remains optimistic about the Lower Haight.
"I feel like it's moving in a really good direction. I don't feel like it's doing the same kind of gentrification process that you see in the Mission, because it's so small and there are so many businesses that have been here forever... And the things that do change have been good. Maven coming in has been a great asset to the neighborhood. Black Sands, Nara—they've decided to become part of the neighborhood. They want to know their neighbors. I'm a big fan of that."
As for what Chulick would like to see move into the neighborhood, and perhaps into the space at 520 Haight?
"I would love another sandwich shop. I eat at Love & Haight and Estela's at least once a week—I wouldn't mind adding another to that list… And a bakery would be really cool. Like The Mill, but more bakery. I want bagels, croissants, all kinds of bread. I want like a Thorough Bread or a Tartine. A really nice bakery."
It's possible that D-Structure will be resurrected in brick-and-mortar form if the right location (and price) can be found. In the meantime, if you're interested in temporarily leasing the space at 520 Haight St. after Feb. 1st, Chulick encourages you to reply to this Craigslist ad. And stay tuned for details on closing parties and discounts, as D-Structure prepares to celebrate its final days in the Lower Haight.