Two fugitives who escaped from jail in Orange County last week were captured this morning by SFPD officers in the Haight. Hossein Nayeri, 37, and Jonathan Tieu, 20, were identified by a man who recognized Nayeri from media reports.
According to SFPD Public Information Officer Grace Gatpandan, the man flagged down two officers who had just finished responding to a medical call in the area. 
After spotting Nayeri near Waller and Stanyan, Gatpandan said officers chased him around Alvord Lake, down Waller toward Park Station, "right here to Stanyan and Waller Streets, essentially around the station," and into Kezar Stadium, where Nayeri was apprehended quickly "and without further incident."
After tracing a van back to the Whole Foods parking lot at Haight and Stanyan, "officers discovered Jonathan Tieu hiding inside" and took him into custody as well, said Gatpandan. No weapons were found at the scene, but police did retrieve an unknown number of rounds of .380 caliber ammunition.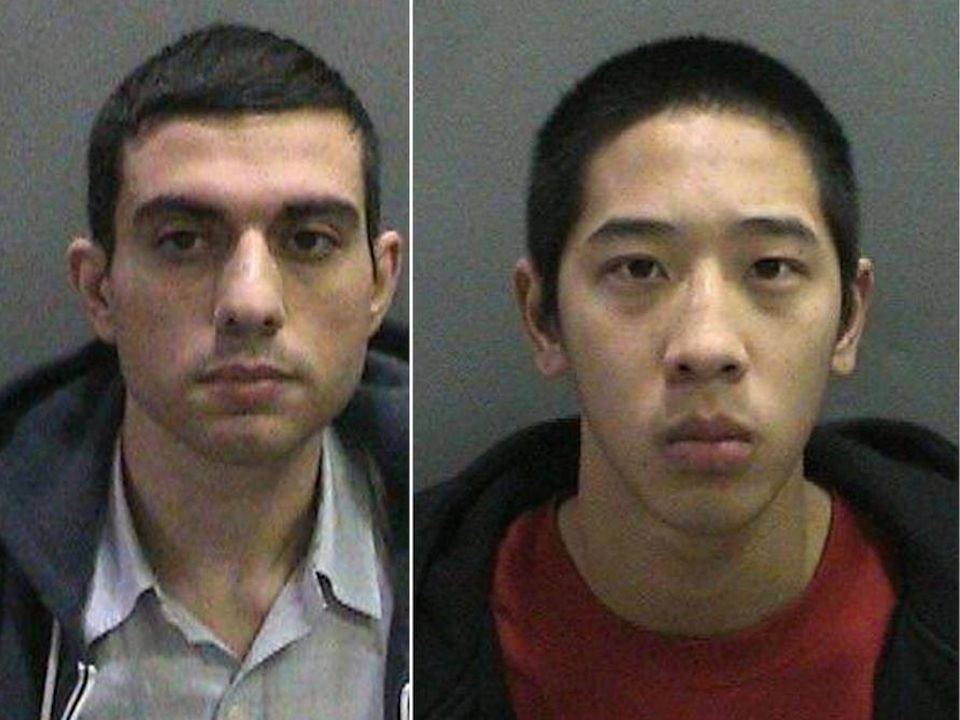 Mugshots of Nayeri (left) and Tieu. (Photos: Courtesy of SFPD)
Nayeri and Tieu are still being held at Park Station, awaiting transport to San Francisco County Jail. Police are still trying to determine whether the pair committed any crimes in the Bay Area, but the white van they were driving is believed to have been stolen in San Jose. "Officers from Santa Ana and Orange County have been here, and we've been working with them ever since receiving notification that [the suspects] have ties to the City," said Gatpandan.
Nayeri and Tieu escaped from the Orange County Men's Central Jail last Friday along with Bac Duong, 43. Duong turned himself in to authorities yesterday in Santa Ana, just 3.5 miles from the facility he'd escaped a week earlier. Authorities learned Nayeri and Tieu were in Northern California after receiving a tip from a San Jose motel manager.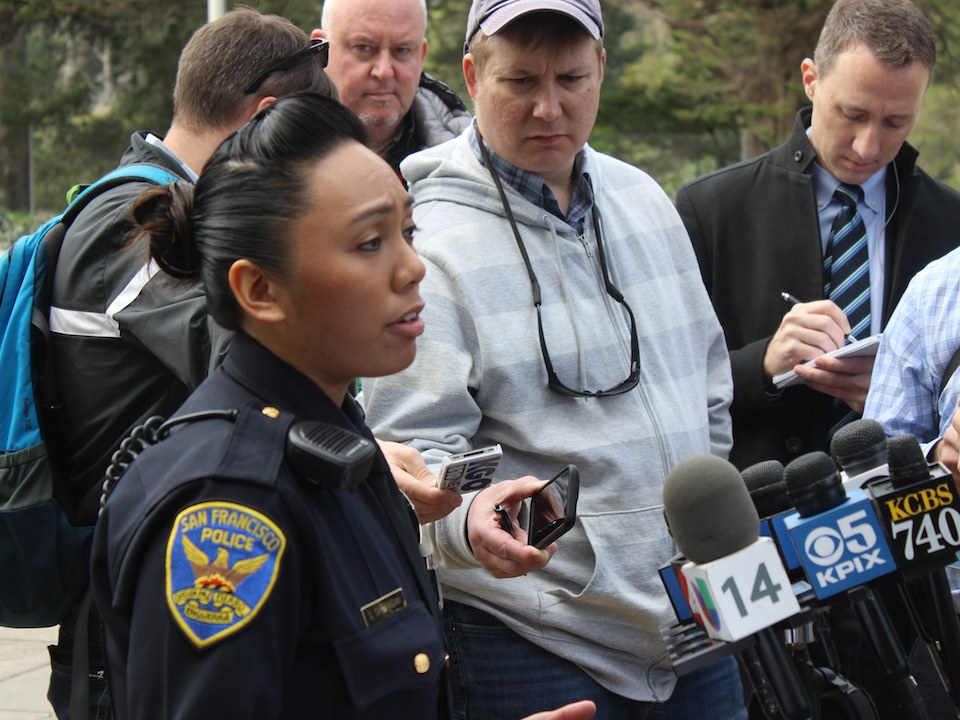 Ofc. Grace Gatpandan held a press conference outside Park Station.
All three men were in jail awaiting trial for charges of violent crimes. Nayeri pleaded not guilty to torture, burglary, kidnapping for ransom and aggravated mayhem after being arrested in 2014. Allegedly, Nayeri and two accomplices cut off a marijuana dispensary owner's penis after abducting him to the Mojave Desert.
Tieu, allegedly a member of the Tiny Rascal Gang, is awaiting trial for a 2011 murder and attempted murder that took place when he was 15. Duong, who's facing deportation, was charged with burglary, assault and attempted murder after a shooting in November.
As of four days ago, officials were offering a $50,000 reward for information leading to Nayeri and Tieu's arrest or capture.
According to SFPD Chief Greg Suhr, every officer in the department was notified to keep their eyes open for Nayeri and Tieu, "and had the information readily available on department-issued smartphones." He praised the arresting officers "for putting themselves in harm's way to take these criminals off the streets."