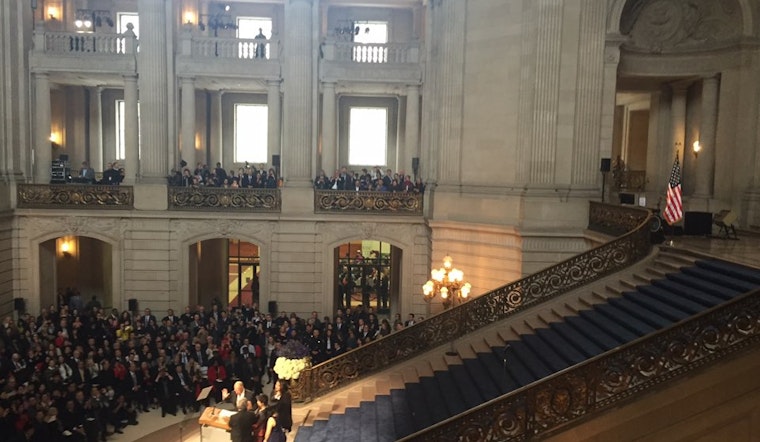 Published on January 08, 2016
Mayor Ed Lee's second inauguration drew thousands of people—including state and federal politicians, city supervisors, heads of city departments and hundreds of angry protesters—to City Hall this morning.
But before the doors officially opened to the public at 11am, protesters were already gathering for a planned demonstration in support of Mario Woods, who was shot and killed by police in the Bayview on Dec. 2nd. Supporters carried posters with messages like "Fire Suhr," "Jail Killer Cops" and "Black Lives Matter," though word trickled through the relatively quiet group that they wouldn't be allowed once inside.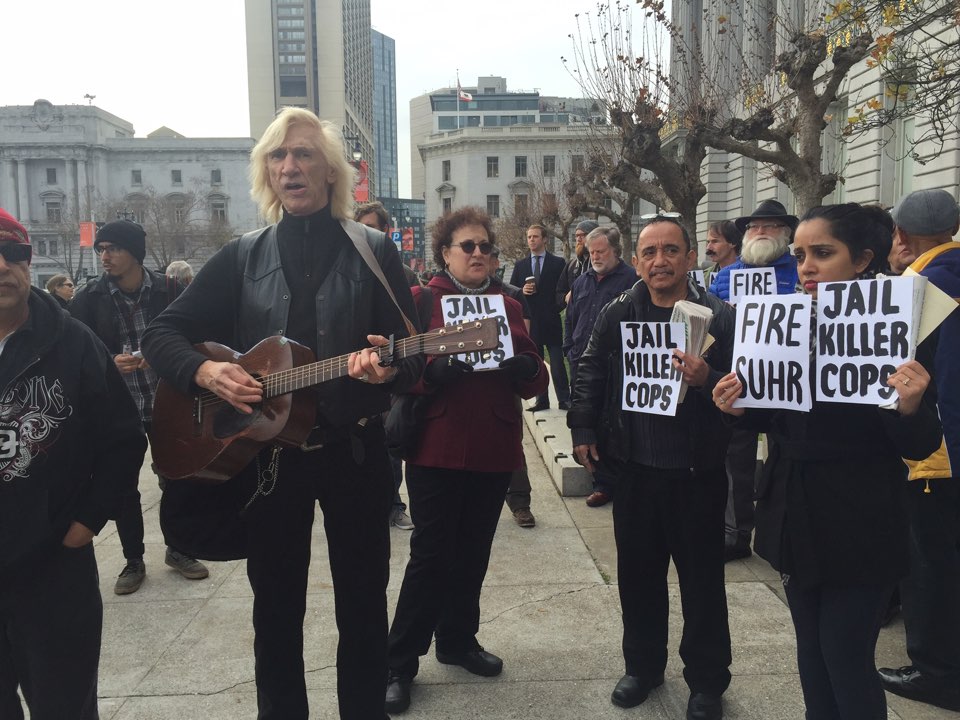 "I'm here because I'm not celebrating the inauguration of Mayor Lee," said one of the protesters, Nob Hill resident Michael Baeher. This is a somber moment, he said, and an opportunity for reflection. "The mayor doesn't represent me. The police chief doesn't represent me. And I hope either will resign or be fired."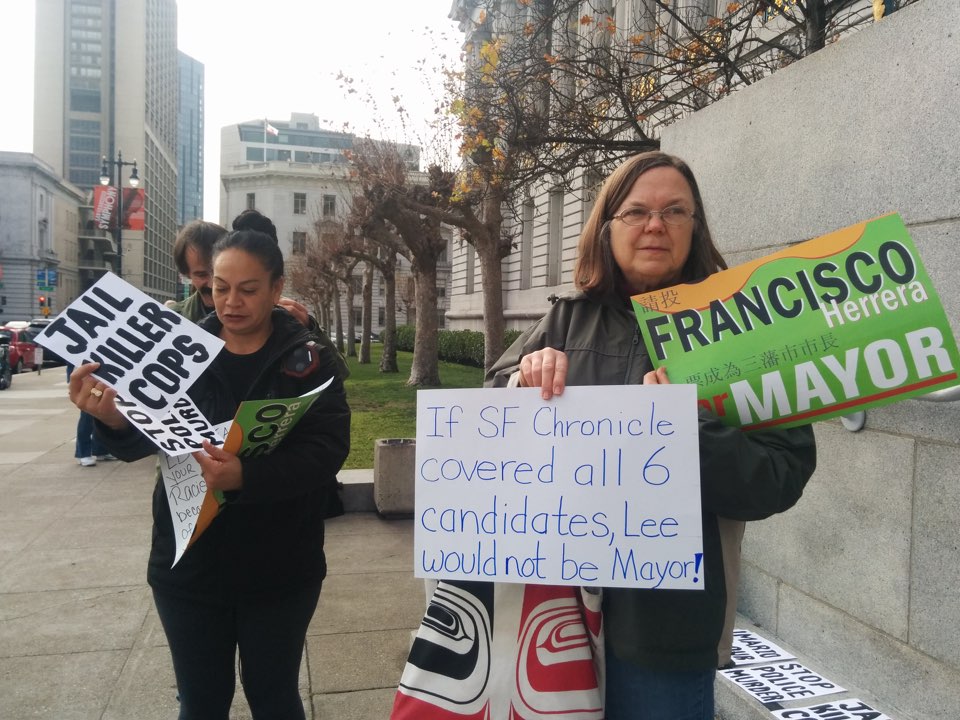 Inside, invited guests were seated in the reserved seating section, at the base of the podium. Rather than sitting in the viewing room set up for the public in the South Light Court, the protesters chose to stand on the second-floor balcony, above the ceremony. 
Jeanine Otter, a San Francisco State student, said she attended to represent students and "everyone who had to be homeless." Otter was evicted from her previous San Francisco residence, and had to live in her car for a time. "I'm here to try to help bring awareness," she said, citing "city planning failure," City Hall's lack of response to the jobs-housing imbalance, and tax breaks to big companies as issues that concerned her. 

Joining the group was former 2015 mayoral candidate Stuart Schuffman (a.k.a. Broke-Ass Stuart), who told us he "came out in protest" of the shooting of Woods.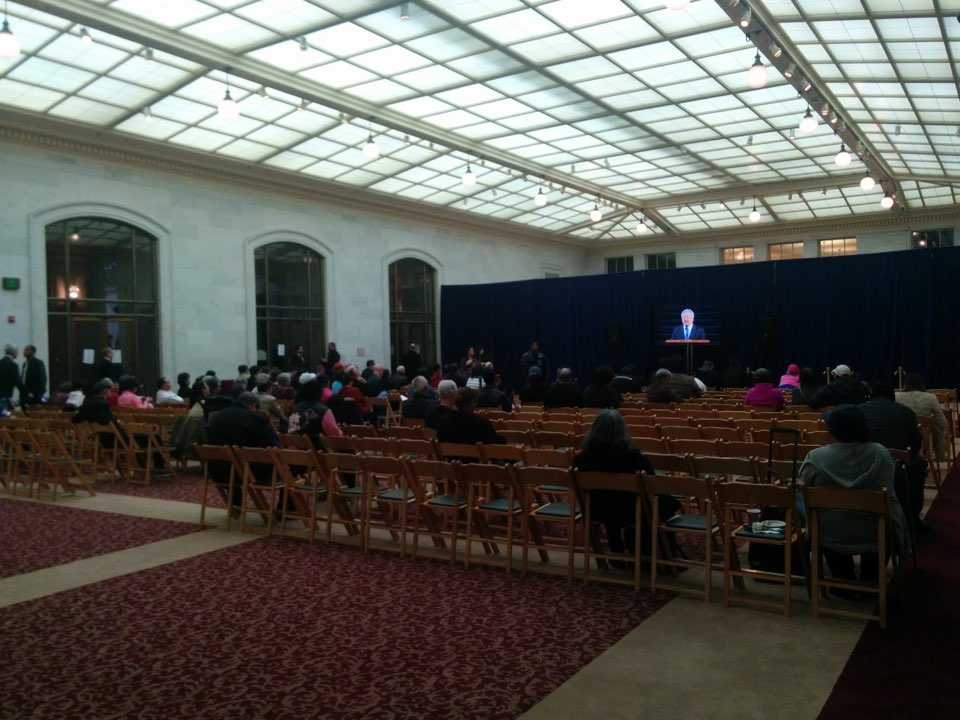 The viewing room where members of the public watched the ceremony in silence.
As the Glide Ensemble and Change Band kicked off the ceremony with a couple of lively numbers, deputy sheriffs clashed with protesters over the noise level and confiscated posters.
As President of the Board of Supervisors, District 5's London Breed served as master of ceremonies. Welcoming the crowd to "The People's Palace." She acknowledged that "emotions are running high," and that City Hall is home to "each and everyone of us." Many protesters standing in the balcony responded with snickers.
During Breed's speech, a few protesters hollered profanities, prompting deputy sheriffs to begin pulling some of the more vocal members of the group out of the room.
Before Mayor Lee took the oath of office, the Boy's Chorus and the St. Mary's Girls Drum and Bell Corps performed, but both groups were hardly audible over the protesters' chants of "Fire Chief Suhr." Some attendees in the reserved seating area responded to the protesters, asking them to quiet down and respect the children.
But tensions continued to run high. Deputy sheriffs warned protesters that arrests would be made, twice calling in SFPD officers in riot gear for backup. Still more protesters were yanked from City Hall, though none were placed in handcuffs.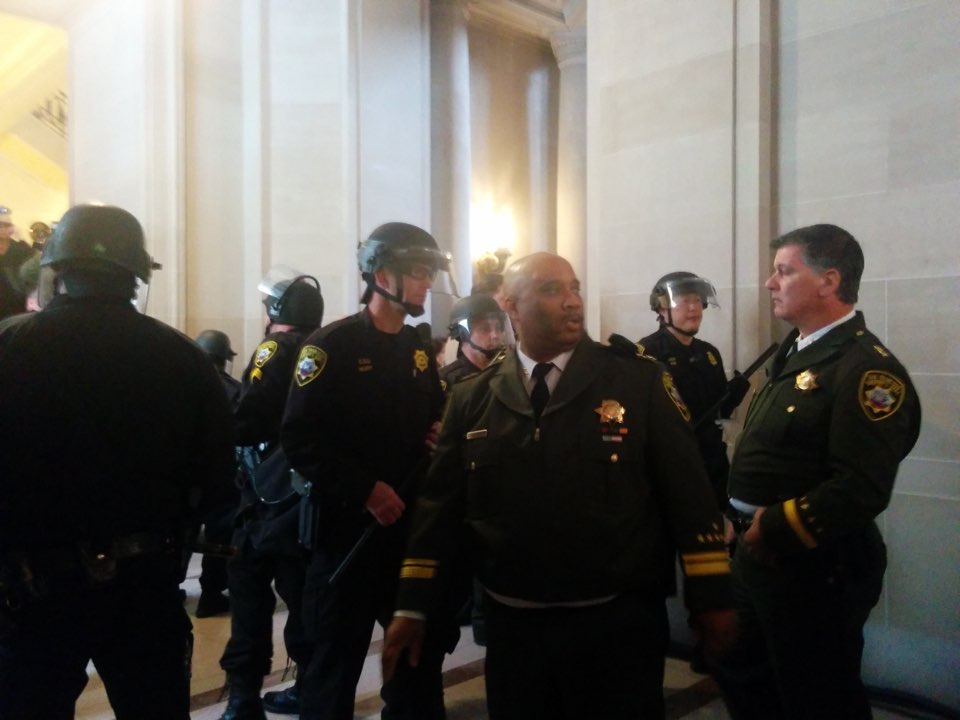 Deputy sheriffs, some in riot gear, discuss their response to activists.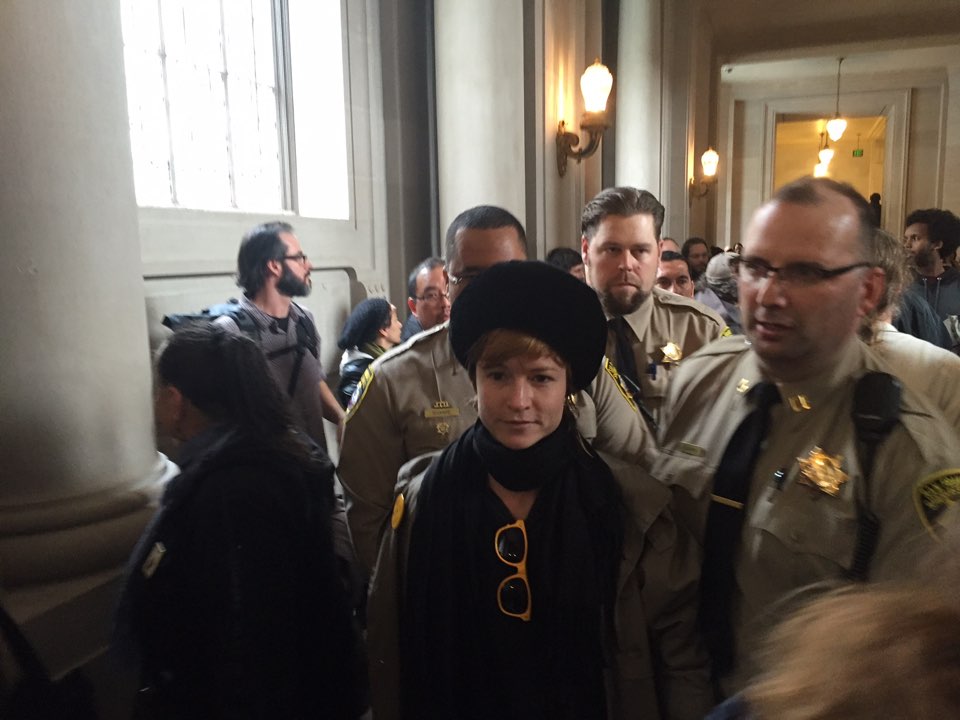 Deputy sheriffs escort a woman from the ceremony.
"I took this oath three times, and each day was filled with anxiety but it's the best day there is," U.S. Senator and former San Francisco mayor Dianne Feinstein told Lee onstage, just before he took the oath of office. "I wish you all the best ... The city is in good financial shape, but it's got problems."
As soon as Lee was announced, the applause and cheers from below were met with cries from above of "Black lives matter," "Fire Chief Suhr" and "Justice for Mario Woods." They rang through the building as Governor Jerry Brown administered the oath of office, and continued throughout Lee's entire speech, which lasted less than 30 minutes.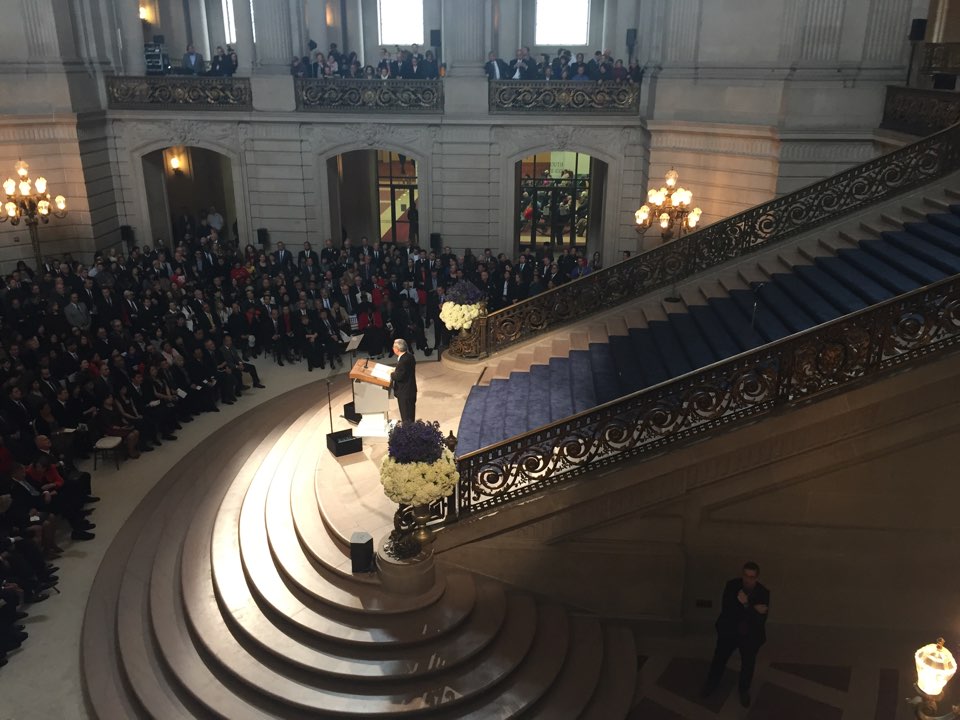 In addition to addressing the housing crisis, Lee, who won reelection with 55 percent of the vote on Nov. 4th, spoke about his humble upbringing in public housing, the "strong, idealistic women" who helped raise him, and his start as an activist. (The full transcript of the speech will be published online in the next few days.) 
"Every person deserves equal opportunity and dignity … No place on earth better represents that ideal than San Francisco," he said. "Our diversity has always been our greatest strength. We will protect San Francisco as a place where everyone belongs."
He addressed the protesters early on in his speech, responding to chants of "Fire Chief Suhr" with "Thank you, we heard you." Later in the speech, he briefly spoke to protesters' concerns: "I won't stop until we build better trust between law enforcement and the communities they're sworn to protect, especially young men of color."
"I think the mayor did an extraordinary job under difficult circumstances," former mayor Gavin Newsom told the Examiner after the event. "Few people can go up there like that and follow through."

Following the ceremony, protesters reconvened to continue their efforts on the front steps of City Hall, as the politicians inside mingled.
This afternoon, Eileen Hirst of the Sheriff's Department confirmed that no arrests had been made at the event. "There were about 75 protesters," she said. "10 of them were detained for a few minutes for disrupting a public meeting, waving signs in front of people so they couldn't see the ceremony, that kind of stuff. But there were no arrests, no citations. Everybody was released very quickly."