'Thoughts Style Cuisine Showroom'—which opened just days ago at the corner of Eighth and—isn't a restaurant, says owner Mu Chanma. It's a showroom. For food.
Chanma graduated from the Academy of Art's advertising school with a focus on finance. She always knew that she wanted to run her own project, but why did she focus on food? "Cooking is my therapy," Chanma explained. "Cooking gets my mind off everything."
Displeased with Thai food options available in San Francisco, Chanma said she made her own whenever she craved the taste of home. And the process of cooking Italian is nothing but relaxing, she said. Soon, she began mixing her two loves, and as friends continued to taste new concoctions, she heard more and more that she had to do something with her talent.
With a background in advertising and financial advising, and funding from family, Chanma didn't jump in to opening the business head first. She spent the first half of 2015 writing the business plan, designing the brand, and tasting as much fine food as she could while traveling between Bangkok and Hong Kong for work—before quitting her job, moving back to San Francisco and turning a former Brazilian restaurant into an Asian fusion "gallery".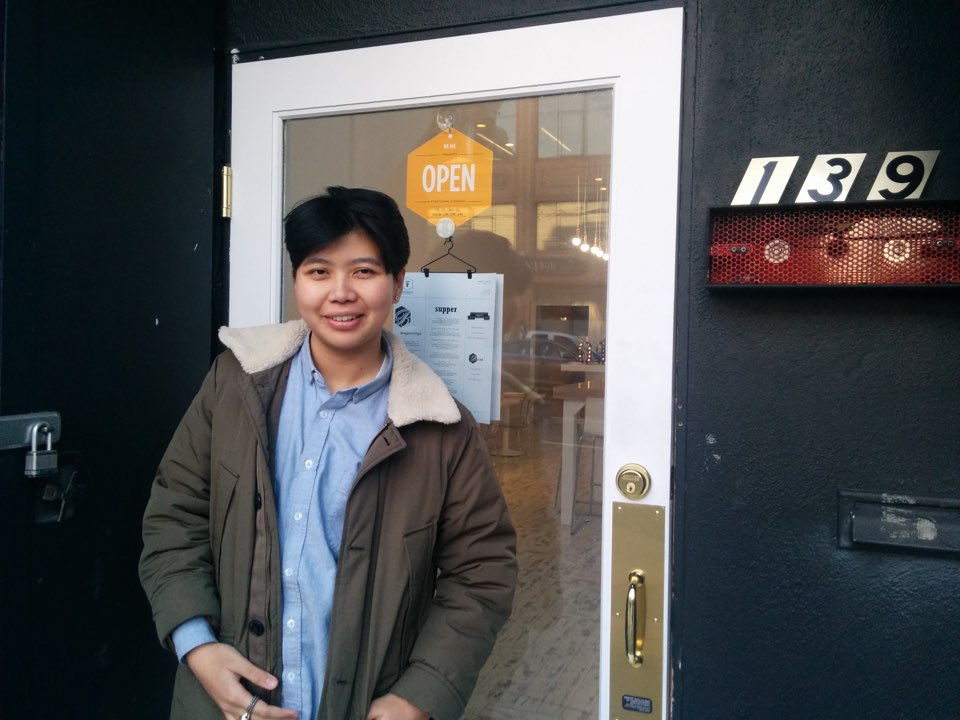 Mu Chanma, outside her newly opened culinary "showroom."
Thoughts serves breakfast and dinner six days a week, and all of the dishes on Chanma's menu feature fashion-focused, potentially intimidating, names. One dish that's just starting to gain popularity, as its industrial title begins to click with patrons, is the Mechanical Noodles ($8)—a do-it-yourself noodle salad that comes with five different toppings you can mix and match, Chanma says. It's also a safe choice for anyone fearing the kick of spice.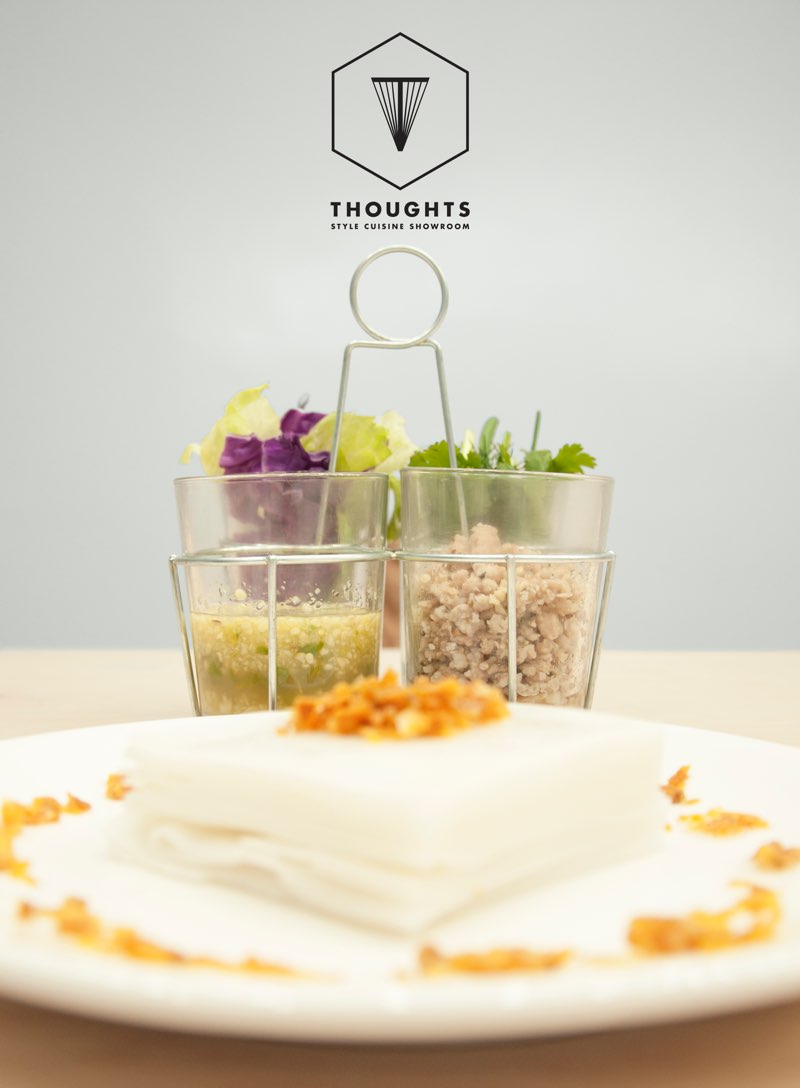 Photos: 'Thoughts Style Cuisine Showroom 
On the other hand, the Tom Yum Kung Risotto ($11)—spicy thai shrimp soup cooked with Italian risotto — has been a hit from the start, she said.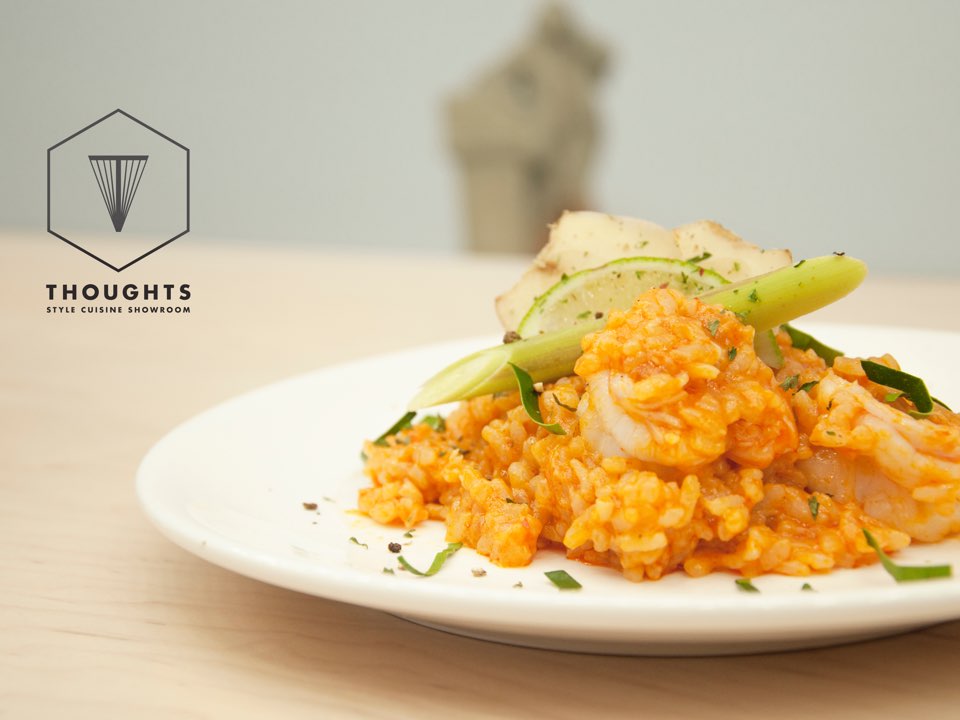 For breakfast, there's Hong Kong Porridge with Twinsie Donuts ($10), a traditional Chinese breakfast that comes with Kobe beef sourced from a Chinatown vendor—or meat-free for vegetarians.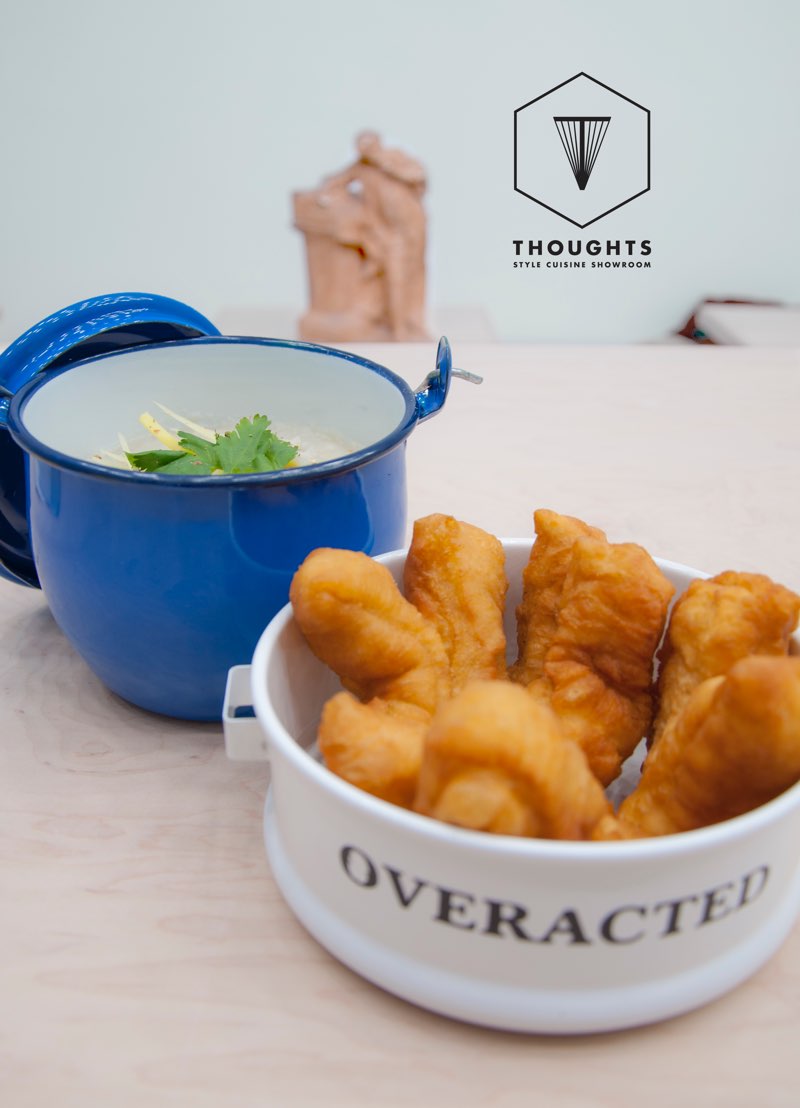 However, below all of these options keen eyes will notice a tiny disclaimer: "Menu subject to surprise. Items are come and go within the moon." And just like a high-fashion designer, Chanma doesn't give a damn about comfort. "Our space is not cozy. I know that," she said. Even her contractor was uncomfortable with her paint choice, called 'Chinese White.'
"It's so white!" Chanma admits. But after spending all of 2015 planning the concept—and designing everything from the branding to the dinnerware—around fashion showrooms, she couldn't be swayed.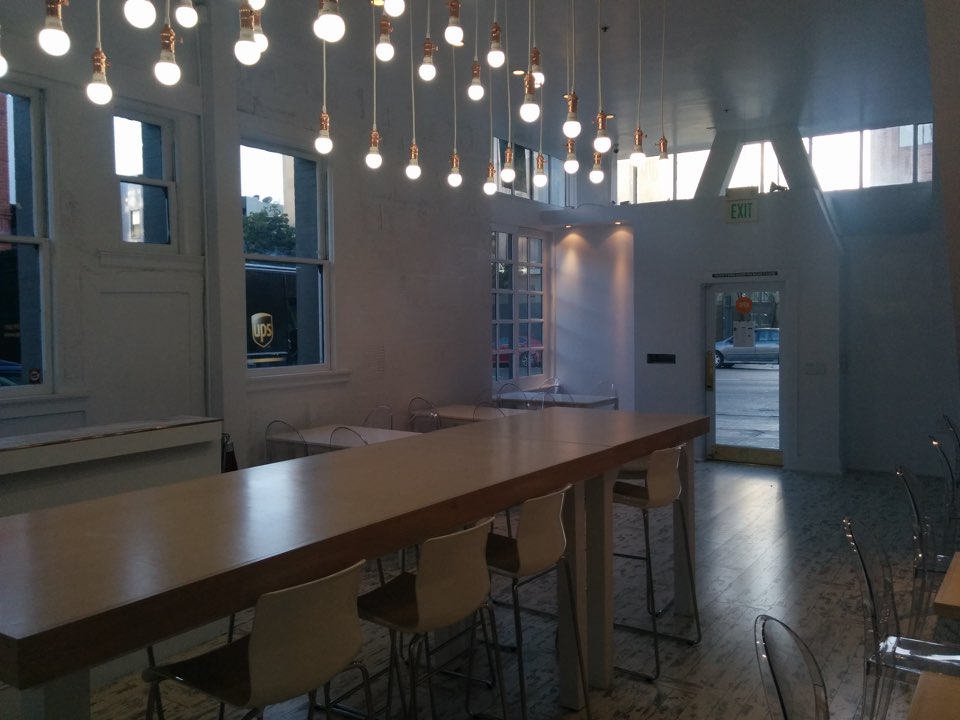 Photo: Brittany Hopkins/Hoodline
With so much focus on glitz and glamour, some may wonder why Chanma chose the grit of SoMa as her backdrop. She admits that she didn't get her first choice of storefronts, located in North Beach, and almost signed a lease in the Mission. But it took just one look inside 139 Eighth St. to feel at home, despite its then-crumbling interior.
And she has no regrets about moving into the neighborhood. "People call it a 'crack hole,' but I don't care!" she said. Neighboring property and business owners have been nothing but nice so far, says Chanma, and residents of both Minna and Natoma alleys as well as Trinity Place on Mission are already trickling in and referring their friends.
Just a few days into her new venture, Chanma is optimistic that it will continue to draw curious neighbors. And local artists will be pleased to hear that she's actively seeking work to grace the stark white walls.
'Thoughts Style Cuisine Showroom' is open for breakfast from 8:30am-3pm and dinner from 5-9pm Mondays, Tuesdays, Thursdays and Fridays. Weekend hours are 11am-10pm.