Super Bowl City is but a memory for most, but if you misbehaved, it'll come back to haunt you in the form of court dates. SFPD arrests at the event broke down as such: eight arrests for public intoxication, two for warrants, one for aggravated assault, one for battery, and one for resisting, delaying or obstructing an officer.
In this week's SFPD Central Station newsletter, Capt. David Lazar also discusses Super Bowl City and published photos of the planning and deployment. Oh, and he wishes everyone a happy Lunar New Year.
The Fisherman's Wharf Community Benefit District in an email newsletter reports that SFPD continues an operation that started in January cracking down on the three-card monte and other sleight-of-hand games. "More sophisticated crews can make upwards of $3,000 a day in Fisherman's Wharf," the newsletter states.
In case you were wondering about the growing encampment (including tents) on the sidewalk on Front Street just south of Sacramento in the FiDi, we saw an officer on Thursday afternoon issuing citations. Some nights, multiple people sleep on the sidewalk on that block.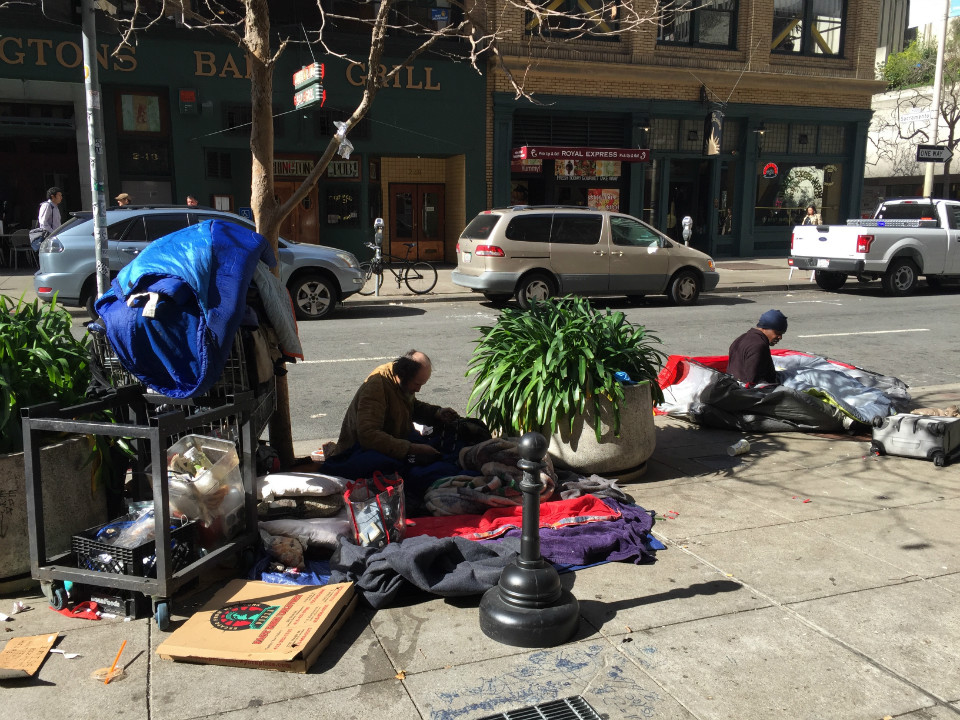 In other news, Telegraph Hill has been on alert after an incident near the Filbert Steps on Feb. 11th. A neighbor says a man asked her for water, and she said she didn't have any and went home. After about five to six minutes, he opened the door to her residence with a spare key she believes he found in the garbage room and asked for water again. She locked herself in the bathroom until police arrived. The suspect already had left when they got there, but police found a bag full of keys and meth pipes left behind.
Neighbors said a man with a similar description broke into another woman's house using a chisel, and was later released and followed her. The suspect is described as about 5 feet, 6 inches tall, with no facial hair and possibly long, slightly curly hair (he was wearing a cap of sort sort in one of the incidents), and he mumbles to himself. One victim said he was about 35 years old.
Now for news of other crimes in and around the northeastern neighborhoods this past week:
Card game suspects know when to hold 'em, when to run
At 5:49pm Feb. 6th, an 18-year-old woman approached two men, age 40–50, playing a card game on Pier 19 on the Embarcadero and watched the game. After the suspects asked her to show her money so she could join, they grabbed the cash and fled the scene. She suffered an injury to her finger, but refused medical treatment.
Woman pushed, robbed at ATM
In another "shoulder surfing" incident, which we've reported about several times, a woman, 60, was in the middle of a transaction at an ATM at 9:30pm on Powell near Market in Union Square when a man of about 23–27 pushed her from behind and withdrew money from her account. He fled on foot.
Two women have spat, then one snatches the other's purse
A call came in at 3:13am Feb. 7th from Geary and Mason streets in Union Square. It was reported that two woman, both age 24, had a verbal altercation, after which one punched the other, took her purse and then fled.
Man kicks woman in head, causing her to pass out
A woman, age 27, and man, age 33, left a restaurant/bar on Post and Powell streets in Union Square at 12:20am Feb. 8th and got into a physical altercation. As the man was walking away, he kicked the victim in the head, causing a bloody nose and loss of consciousness. The woman was transported to the hospital and the suspect was taken into custody.
Thieves use force during pricey heist from high-end shop
In a pricey heist, a group of thieves made off with over $10,000 in merchandise from the Salvatore Ferragamo store at 236 Post St. in Union Square at 6:30pm Feb. 9th. The suspects started to leave the store—which sells expensive leather goods—without paying for merchandise, and an employee attempted to stop them from committing the theft. But the suspects, a group of men and women, used force to complete the theft and fled the scene.
Anyone with information is asked to call the Central Police Station Investigation Team at (415) 315-2400, the Anonymous Tip Line at (415) 575-4444 or Text A Tip to TIP411 and begin the text message with SFPD.