"My parents never ever thought that I would be homeless in San Francisco at age 21, with a college degree," said Audra, a Bay Area native and a former client of the Homeless Youth Alliance.
Audra spent a year on the streets, squatting in San Francisco, shoplifting to support her drug addiction. If it hadn't been for the Homeless Youth Alliance's drop-in center and services, she said, she wouldn't be where she is today.
"I don't know how I would have coped without having that kind of support and without having a safe place to go," she said. "Being able to just go into the [drop-in center], and being in a safe, supportive environment, it's completely different than receiving services on the streets ... It helped me believe that, okay, these people give a shit about me; I should at least give a shit about myself."
After losing the lease for its Haight Street drop-in center on Christmas Day of 2013, the Homeless Youth Alliance has itself become homeless. Undaunted, it's continued to provide counseling and support services for hundreds of at-risk youth on the streets of the Haight.
The organization recently located a space in the Lower Haight to house its administrative offices, which had been housed in a supporter's dining room for the past two years. But the funds to reopen a drop-in center with showers, counseling rooms, and other amenities remain elusive, to say nothing of the challenges of finding a location that neighbors will accept. The group was rejected from over 150 possible locations before finding its administrative space, despite the fact that no clients would be served on-site.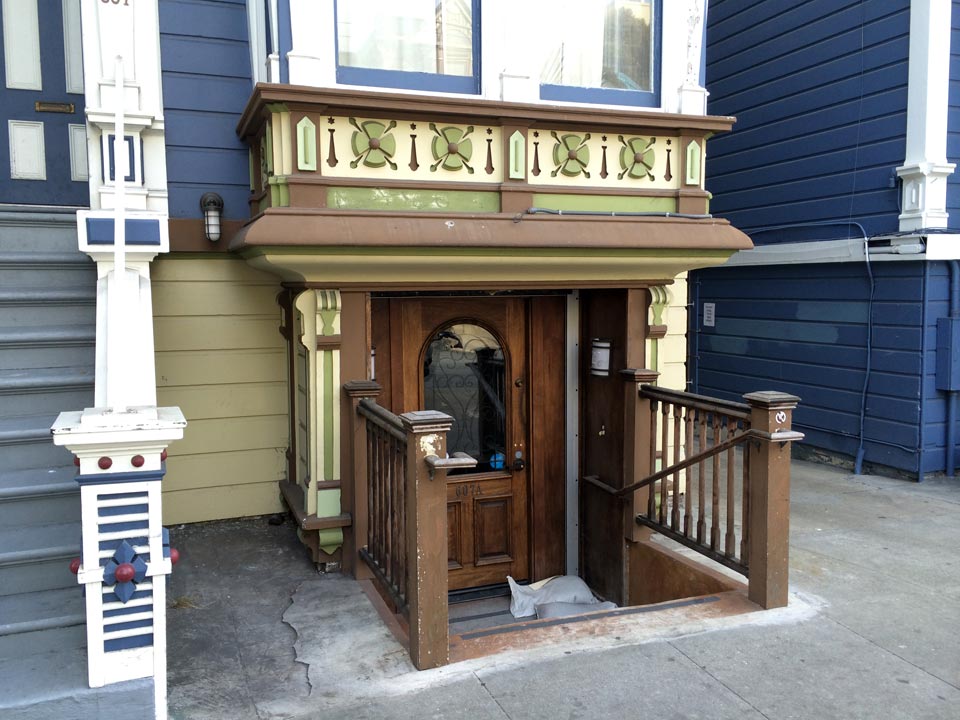 The HYA's future administrative offices at 607A Haight. (Photo: Shane Downing/Hoodline)
The lack of a centralized location offering comprehensive services to homeless youth has many in the neighborhood concerned not just about this marginalized demographic, but about the future well-being of the Haight in general.
"Since the HYA was evicted, I would argue there have been a lot more homeless youth and a lot more homeless on the streets of the Haight Ashbury," said James Sword, president of the Haight Ashbury Neighborhood Council (HANC).
According to the 2015 point-in-time homeless count, 1,441 youth between the ages of 18 and 24 are homeless in San Francisco, comprising 20 percent of the city's homeless population. 25 percent of that youthful demographic were living in Golden Gate Park and District 5, which includes the Haight.
HYA executive director Mary Howe and her team serve as the only harm-reduction coalition oriented towards homeless youth in the Haight, interacting with upwards of 200 at-risk youth on a daily basis. The organization provides accessible outreach, one-on-one counseling, medical and mental health care, educational workshops, needle exchange, and referrals for its clients.

These days, however, the organization is doing all of that work on the streets of the Haight, operating largely out of a van. 
"Their work and their stress level has gotten so much more intense," said Andrea Lopez, a medical anthropologist with RTI International's urban health program and a longtime HYA volunteer. "Much of their time and energy is devoted to figuring out the mechanical issues: how are they going to pack their van, get from one place to another, find the space to hold some of the support groups that they held before."
Since losing the drop-in center, Howe has seen a notable impact on the overall self-esteem and quality of life of homeless youth. She's particularly concerned with the amount of verbal abuse they receive from residents and police, who are frustrated with their presence in the neighborhood.
"We recently did a survey with the youth about neighborhood interactions, asking 'How many times in a month do you get something mean said to you by neighborhood residents?'" Howe said. "95 percent of them said multiple times a day."
HYA's former space at 1696 Haight Street. (Photo: Amy Stephenson/Hoodline)
The Homeless Youth Alliance's previous drop-in center gave the homeless a place to collect mail, use the Internet, eat, shower, and access restrooms. Staffed by counselors and volunteers, it provided basic necessities such as food, phones, and hygiene supplies.

"Everyone in the neighborhood deserves a space to exist and to have reprieve so they can move forward," Howe said. "It's really hard to do that when you live in the park and you have no access to basic needs stuff. That was a lot of what the drop-in provided to people."

"If people don't have their basic needs met, their mental health issues go up, and their quality of life decreases," she continued. "It actually has more of a burden on the neighborhood as a whole than if we still had a drop-in center, and people still had access to water and food and a shower and a bathroom."
According to SF OpenData, there's been a noticeable increase in the number of SFPD incidents along Haight Street over the past four years. This flux is likely related to the city's "sit/lie" ordinance, which was passed by 54 percent of San Francisco voters in 2010 and is heavily deployed by Park Station police. (The legislation has received its share of criticism.)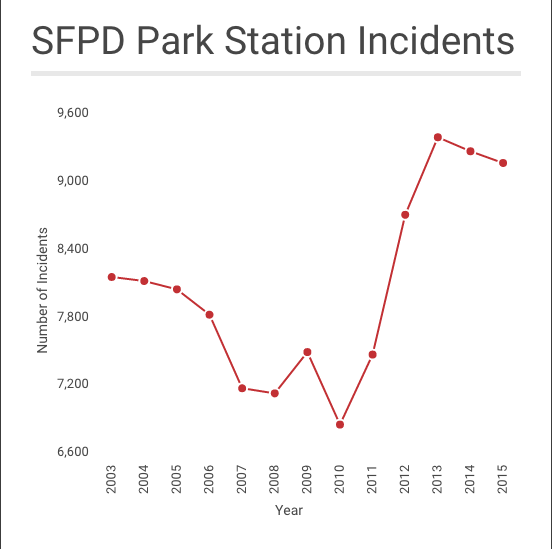 Image: SFOpenData
"No one leaves home for this kind of life because it's their best option," said Howe. "It's a difficult choice people make, and it's a very difficult choice to get out of. Moving off of the street in San Francisco is nearly impossible."
"The park kids are there, they've been there, they're not going anywhere," said Krackamya Welch, a former client of the HYA who's now an audio engineer living in Oakland. He gives credit to the drop-in center for helping him to get off of the streets and to where he is today.
"All the Homeless Youth Alliance is doing is providing services so eventually they can, like myself, transition from being in a place where they have to live on the street to a place where they can become employable and go to school and find housing and change their lives," Welch said. "Those neighbors don't have to look at me any longer because I used the services, and now, I've transitioned from that period of my life."
The lack of private counseling space has been a particular challenge for the HYA. "You're talking to a young person about how they were raped last night, and you're sitting on a sidewalk talking about it," Howe said. "It's that lack of any kind of safety or privacy to get reprieve from the lives that they have ... That's what the drop-in, more than anything, was: a space of theirs where they could just rest. That provides so much to a person."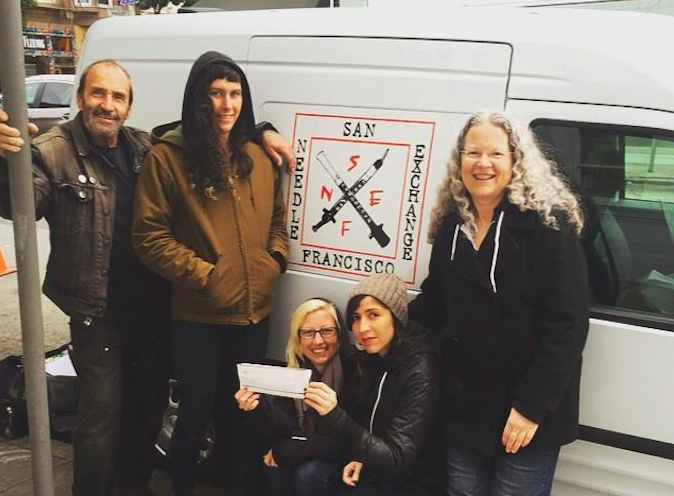 HYA members working out of a van. (Photo: HYA/Facebook)
Given the two years of obstacles the HYA faced in finding a non-client-serving space, Howe doubts she'll be able to find a location that would rent space for the drop-in. Instead, she's hoping to raise $5 million to purchase a building and establish a permanent refuge for homeless youth in the Haight. To date, the organization has raised two percent of that $5 million goal, with the help of existing donors and a fundraising campaign video.
"We just had some life-sentence inmates from San Quentin send us four hundred dollars," Howe said. "The guys who are doing life in prison get it. They were like, 'if we would have known you, we wouldn't be in prison.'"
If it doesn't secure the funding, the HYA has no plans to stop its work; it will just continue to be a struggle for volunteers, as they work exclusively out of the van. "We're still so needed," Howe said. "I'm not gonna walk away just because it got hard."
"There's so many people with money in this city. Someone could come change our future pretty easily," she said. "A couple-million-dollar building, to them, is nothing, but to us, it changes thousands of lives."