By
Fiona Lee
- Published on February 03, 2016.
With its untamed, foggy beauty, Ocean Beach has long called to artists. Local painter Anne Herbst is one of them.
She describes the beach as a sacred ground. "You can just give it all to the ocean," she says. "It clears my mind: the rhythms of the waves, the imprints they leave on the beach, the beautiful wavy lines."
It's a spirit she hopes to capture at her new art space, Far Out Gallery (3004 Taraval St.), which opened in November.

A graduate of the San Francisco Art Institute, Herbst has lived in San Francisco since 1980, and in the Sunset for 25 years. When the owner of one of her favorite neighborhood businesses, the Bike Nook, decided to retire in 2014, she saw the opportunity to create a new gallery near the ocean. "[Bike Nook] was a great loss, but it looked like the perfect size for a gallery."
Herbst says she's met many lifelong friends on Ocean Beach. One of them is Tom Davick, an architect. His firm, Davick + Associates, helped her transform the space into an art gallery. Davick also helped Herbst with navigating the city's byzantine building codes, which were all new to her as an artist.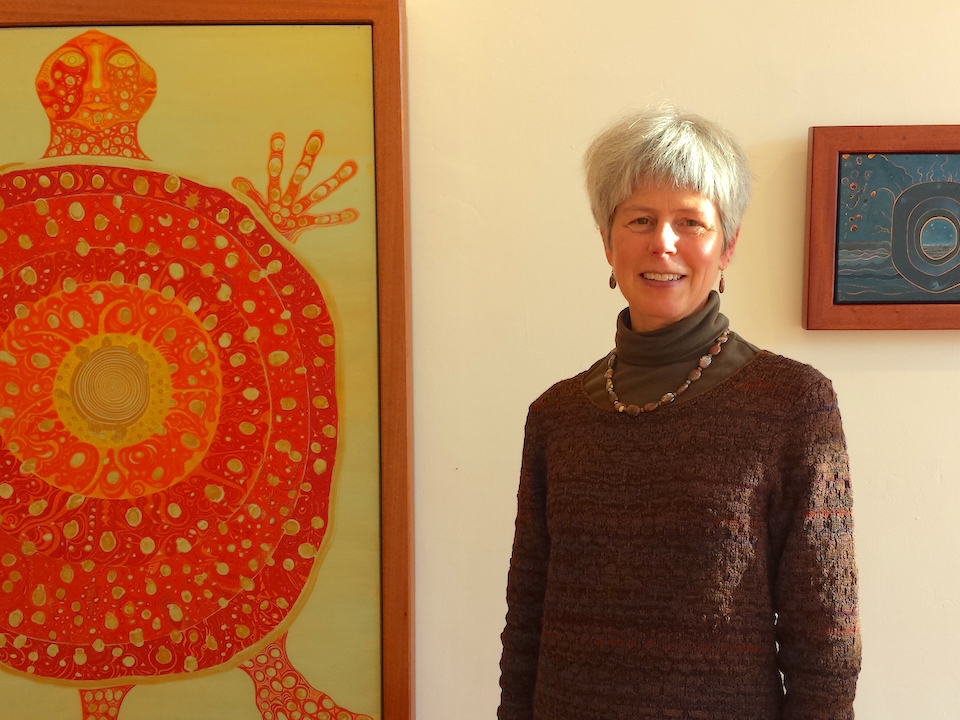 Anne Herbst. 
Herbst's vivid, yet serene work often incorporates hands and fingerprints with rhythmic patterns and vibrant colors, representing how she brings part of herself into each work.

In many ways, Far Out Gallery is a coming-out party for her. In her early years as an artist, she was shy and introverted, and struggled to get her work shown. "I was very introverted, totally serious about my art, but unable to take the 'no's," she said. "I was always the one on the outside of the door."
A week before the gallery was set to open, Herbst's mother died. In the intervening weeks, she says she drew strength from the gallery's positive reception in the local community. "I've just had so many positive things said. I've learned a lot from people as they've told me about their lives, as they look at the work. That kind of experience I just treasure."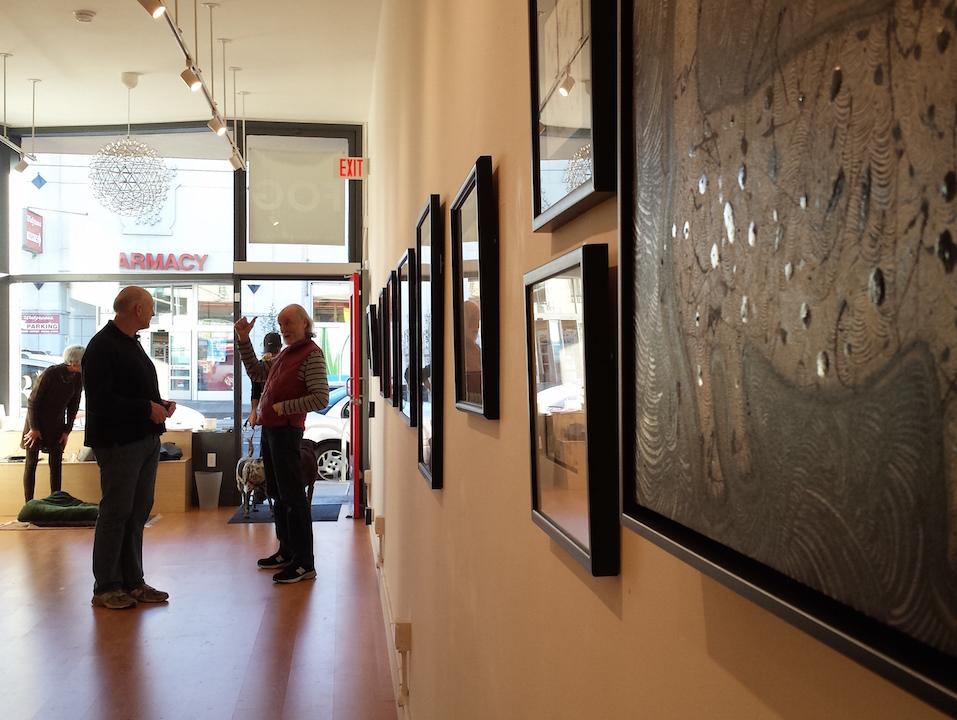 Far Out Gallery welcomes both canine and human visitors.
Far Out Gallery has also participated in SF Open Studios, the art walks around the Bay Area that draw both art lovers and curious daytrippers. During this year's event, she sold five pieces of art. "It's so rewarding when someone is willing to pay for your work," she says. 
Having been on the outside for so long, Herbst is determined to make Far Out Gallery an inclusive and accessible space. She has plans to show other artists' work, and to hold film and music events. 
"This is definitely a renaissance for me, and for others," she says. "That's what the arts do: they inspire."