Pain and skepticism greeted a town hall meeting hosted by the U.S. Department of Justice's Office of Community Oriented Policing, or "COPS Office," in the Bayview yesterday evening.
The voluntary review of the San Francisco Police Department by the Justice Department was requested by Mayor Ed Lee following the fatal Dec. 2nd, 2015 shooting of Mario Woods by five SFPD officers on Keith Street.
Federal officials say they will review the police department and publicly release their findings, but unlike a civil rights investigation, the review board of the COPS Office will not be able to legally enforce their recommendations.
This left many of the attendees of the public meeting openly questioning the usefulness of the review.
"You didn't deny that this was not an investigation," said Daniel Muhammad, a member of the Justice for Mario Woods Coalition. "You're a review board. Tell Loretta Lynch, tell President Obama, that we need an investigation, not a review board."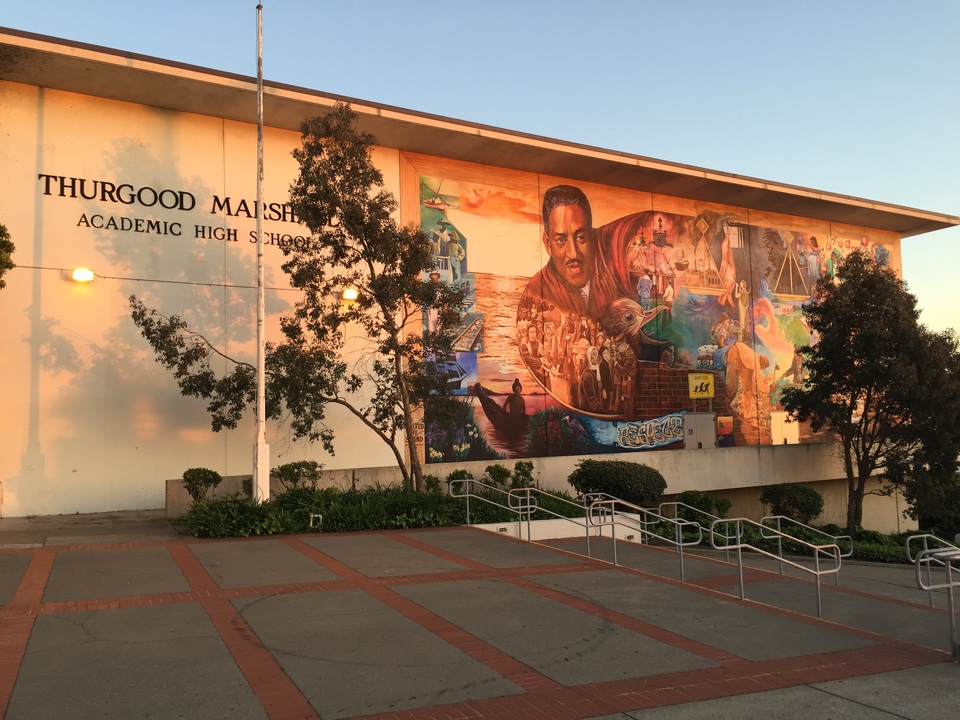 The event got off to a slow start, as a few dozen federal officials, journalists, activists, and residents milled around the mostly empty auditorium of Thurgood Marshall High School at the scheduled start time.
Mary Brandenberger, a spokesperson for the COPS Office, told Hoodline that turnout was lower than expected and that they were waiting until more people arrived to begin.
"It may be because it's in the Bayview," said Brandenberger. "People may be hesitant to come out if it isn't in their immediate area."
Others blamed the choice of venue and lack of notice for the sparse attendance of the event, which eventually attracted around 100 people.
"I only knew about this event because I was walking out of this school and saw it was going on," said one speaker, who identified himself as a teacher at Thurgood Marshall. "Why are young people not here? Why were we not invited?"
Bishop Ernest Jackson, the pastor of Grace Tabernacle Church on Oakdale Avenue, told the board that he was not notified of the meeting, and that he heard about it "from a pastor in Pacific Heights, of all places, the wealthiest neighborhood in San Francisco."
The COPS Office provided informational leaflets outside of the auditorium in English, Spanish, Cantonese, Mandarin, and Tagalog, and sign language interpreters were present for the event.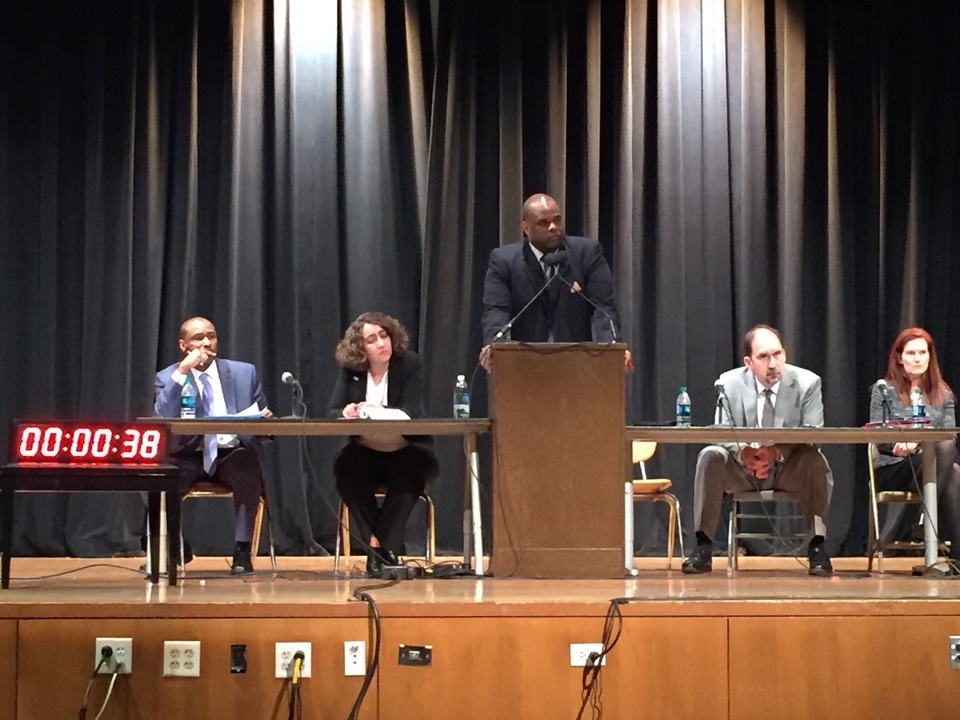 Justice Department officials on stage, with Troy Williams at the podium.

Justice Department official Troy Williams listened quietly on stage for the most part, and members of the review board took notes, as speakers shared stories of police bias, violence, and homicide investigations going cold.
Many speakers referenced the shooting of Mario Woods, as well as the fatal police shootings of Alex Nieto in 2014 and Amilcar Perez-Lopez in 2015.
Williams assured one speaker that the COPS review did not necessarily preclude a civil rights investigation down the line.
Jacquie Flin, the Executive Director of the A. Philip Randolph Institute, spoke about harassment and profiling of youth by police.
"This cycle starts when they're young, as young as 12 or 13," said Flin. "They're repeatedly stopped for suspicion, and not necessarily when a crime is being committed."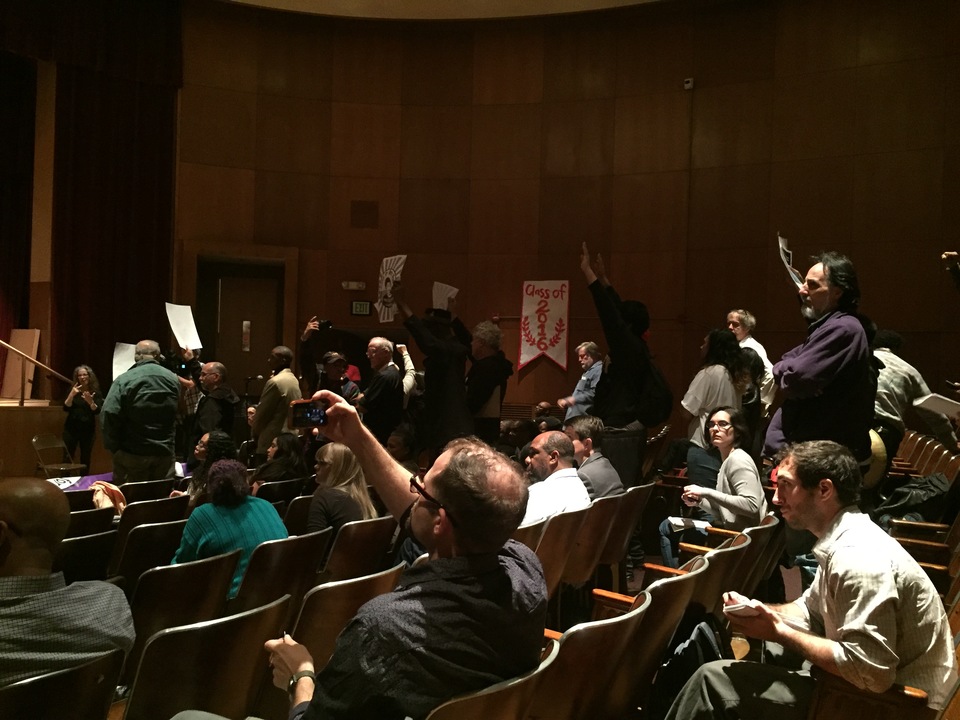 Phelicia Jones, a leader of the Justice for Mario Woods Coalition, demanded the firing of San Francisco Police Chief Greg Suhr, murder charges brought against the officers who shot Mario Woods, and an independent investigation designed by community activists.

Jones decried the COPS review itself, and occasionally clashed with Williams over the two-minute time limit for speakers.
"This is nothing more than putting lipstick on a pig and telling us, the black community, the Latino community, that that pig is Beyonce," said Jones.
The COPS Office's next public meeting is scheduled for 6pm on March 8th, at Mission High School.