Adriel Lively is the owner of Strand Barber & Beauty, a unisex salon that's been open on Larkin Street in the Tenderloin for about a year. Lively moved to San Francisco in the late 2000s, and has called the TL home for the past five years.
She sat down with us recently to talk about her career, the neighborhood and what sets Strand apart from its many competitors in the area.
When did you start cutting hair?
I started doing hair in 2002 in Southern California, around the Long Beach and LA area. And then came here in 2008. I worked at Public Barber right when it opened.
I was the first employee over there and that was kind of the first of its kind; a salon in San Francisco that's a unisex barbershop. I had been working in shops like that in LA, but there just weren't any here. I worked there for about five years, until I had my daughter in 2012. And then I just kind of took a little bit of a hiatus from working at a salon, and figured out how to open this place.
Why did you decide to move to San Francisco?

Growing up down south, we came up here a lot to visit and I always really liked it. I was ready to do something else, and I just didn't have anything holding me down there anymore. I was just like, 'Alright, let's try San Francisco!'
The economy was really bad in 2008 but it panned out well for the hair salon I was at. It was a similar model to this one. There were medium-priced haircuts. People would come check it out and they were getting the same haircuts at the $60 or $80 places, so we filled business really quickly there.
Why did you decide to open your own salon?

My boyfriend also opened up a store; The Loin (at 914 Larkin St.) is his store. He opened that right before our daughter was born. I told myself, 'I'm going to open a salon after I have a kid,' but I didn't have a solid plan. I just knew I was going to do it.
So, his first store was on Eddy Street. It was a tiny little storefront ... probably a third the size of this place, maybe even smaller. But, there was this huge basement under it. So I just started cutting my clients' hair in the basement. I had a station set up and was there for probably almost two years. We live right around the corner from here.

I used to walk past this space every day and it use to be a hair salon. I wasn't really ready to open a place yet, but I kept an eye on it. And sure enough, a sign went up in the window that they were selling all the stuff in here. And within a couple more months it was cleared out. I just went around the corner to the building's front desk and I asked, 'How do I get that spot?' They referred me over to Urban Solutions. We were able to sign a lease within a few months.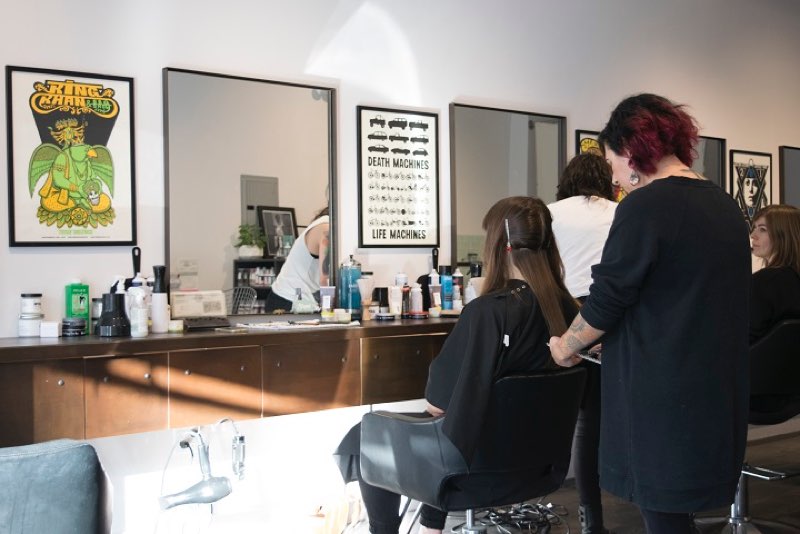 What made you want to cut hair?
Initially it wasn't really something I thought about. My best friend was actually doing it. She's a little bit older than me, and she was doing it out of high school. Some friends of mine were signing up for hair school, so I was like, 'Ah, it's only a year, let me check it out.' But I ended up really liking it and doing pretty well at it. So, it was something I ended up being good at and enjoying.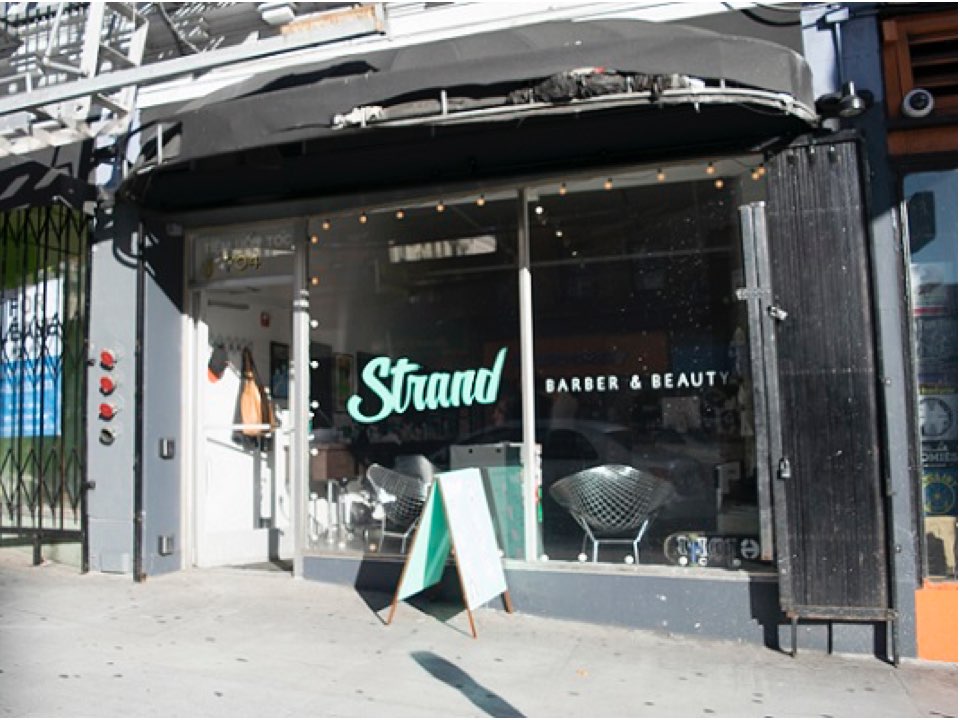 What changes are you noticing in the neighborhood?

A lot of the places that recently opened used to be empty. There were a lot of open spots in this neighborhood two years ago. I think it's cool that a lot of the places opening are not restaurants—I think this neighborhood really needs retail to support the restaurants a little bit.
Are you involved with any neighborhood organizations?

I am on the very new merchant's association. I'm the vice-chair. We're in the midst of surveying businesses that are within the boundaries of the Larkin Street Merchants Association. 
What does the association have planned for the future?

[We're trying to] find out which people are interested in being a member of the association and pass information on to the city. The merchants association also wants to promote and help businesses out ... to be able to hook a business up with 'Hey, you need resources? You need your lease negotiated? Did you know about Urban Solutions? You need an accountant? Here's an accountant we can recommend.' [We're aiming to help] with the things that they have trouble with or no time to research. And on top of that, just having a voice.
Any direct competition in the Tenderloin for Strand?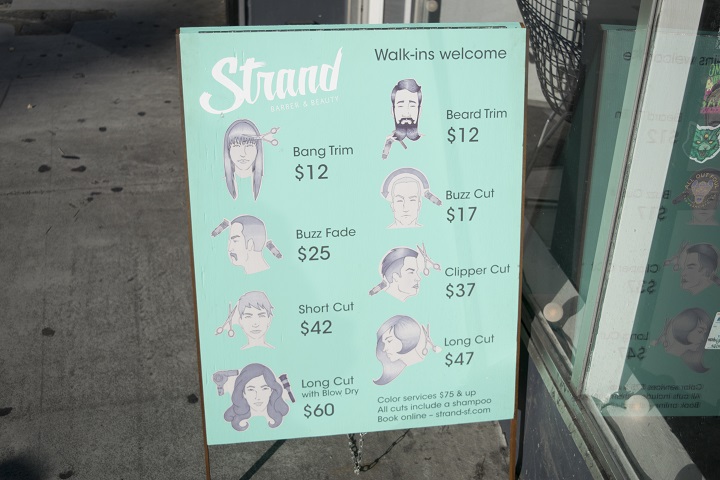 I guess Public, where I use to work, is similar, and there's Peoples up on Polk Street. And there's a new barbershop opening. I think a lot of those barber shops more cater to men. I've wanted this place to not be gender-specific. So we don't really name all our haircuts as a men's cut or women's cut. It's just by length.
We're just trying to make it feel welcome for everybody and not to be gender-identifying. Everybody does men or women. Short or long. Not everyone does color, but we're working on everyone doing color.
We really like to take our time and make sure our clients are walking out with exactly what they want. We spend a lot of time showing pictures and having consultation with clients to make sure everyone is really happy when they leave here. And we get pretty good results. I also think it's a fun place to come if you're looking to do something new or different.
What would you say is the funniest/craziest haircut you've done for someone?
I had this guy, and I still cut his hair, who wanted a haircut called a 'Disco-ball'. It was really weird. You had to cut these half-inch cuts, kind of like shingled or brick-laid. It created this pattern that looked like a disco-ball. The top of the hair was kind of like a fauxhawk, but we did it all the way around the sides of the head. It took a really long time because we were literally going through all the hair and making these half-inch snips. We've done that a couple times on him. It's a very labor intensive haircut.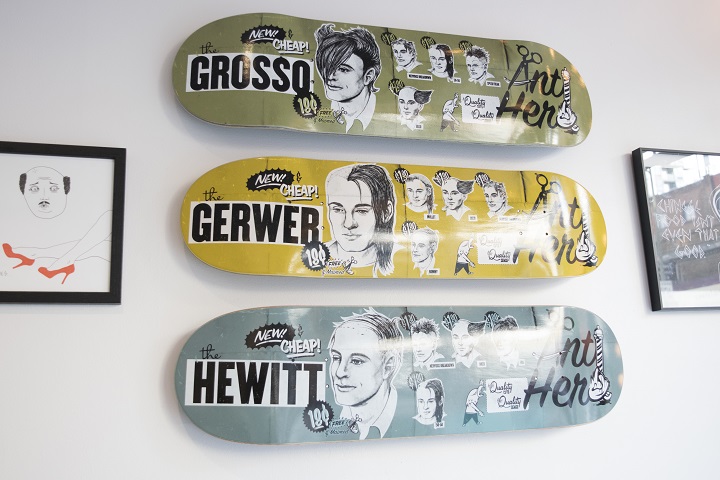 Artwork hanging in the salon.
Are you thinking at all about opening another location?

Maybe next year. It's a lot of work. I had managed salons for a while but had never done the financial end. It's a lot of stuff and I've learned a lot in the last year. I definitely would like to have it fully staffed and busy. Sure, when this place is fully built, I'll be ready to open a second spot.
Strand Barber and Beauty is open Tuesday through Saturday at 704 Larkin St. For more information, give them a call at 415-872-5916 or visit at 704 Larkin St.