By
Hoodline
- Published on February 07, 2016.
San Francisco can already be a crazy place on Saturday nights, but the hundreds of thousands of additional people in town for the Super Bowl and Metallica concert created even more possibilities for chaos. 
We're still tracking down reports of large police presences in Hayes Valley and Upper Haight. And unfortunately we know the gist of what happened with the fatal car crash on 9th and Brannan.
But Polk Street was the scene of perhaps the largest disturbance — it involved a large crowd of people blocking the street, a coordinated police presence, a burnt motorcycle and a clean-up effort today. We think. 
Here's what we have so far:
Riot on Polk St in SF ?

— U hungry?I could eat (@eja003) February 7, 2016
Why people were going dumb on cars at Polk street last night.

— Jessiba Ramirez (@jramirez10_) February 7, 2016
@abc7newsBayArea @NBCNews some sort of riot going on at polk & bish st in San Francisco pic.twitter.com/BNi9y9iunZ

— christine nycz (@christinenycz) February 7, 2016
While witnesses described the scene as a riot, the rather exuberant group of people seen walking into the intersection at Bush and Polk may indicate it was something else? 
Anyway, we got some more details from Polk-area resident Chris S., who also sent in the photo of the fire:
I did not go out and that was just what I could see from my building… I heard this morning that it was a 3 wheeled motorcycle vehicle that was burning and that it was parked in front of Quetzal before being set on fire. The circumstances fit that scenario, but this information is unverified. 

I have no other details and any other comments on what led to last nights disturbance, etc. would be speculation. I will say based on observation though, the Police moved in about 20 minutes after it started. From the siren sounds and the way they responded in force, it appeared they spent some time staging and preparing to confront the crowd. 

I have no knowledge of anyone being injured. The Lower Polk Community Benefit District (I am on the Board) has had a cleaning crew out since 6am pressure washing and sweeping.  There is no visible damage to businesses or other property.  I cannot speak to any potential damage to cars that may have occurred last night. 

PS- was listening to the PD scanner last night.  Sounds like Polk was not the only neighborhood that got somewhat out of control last night.  Busy night.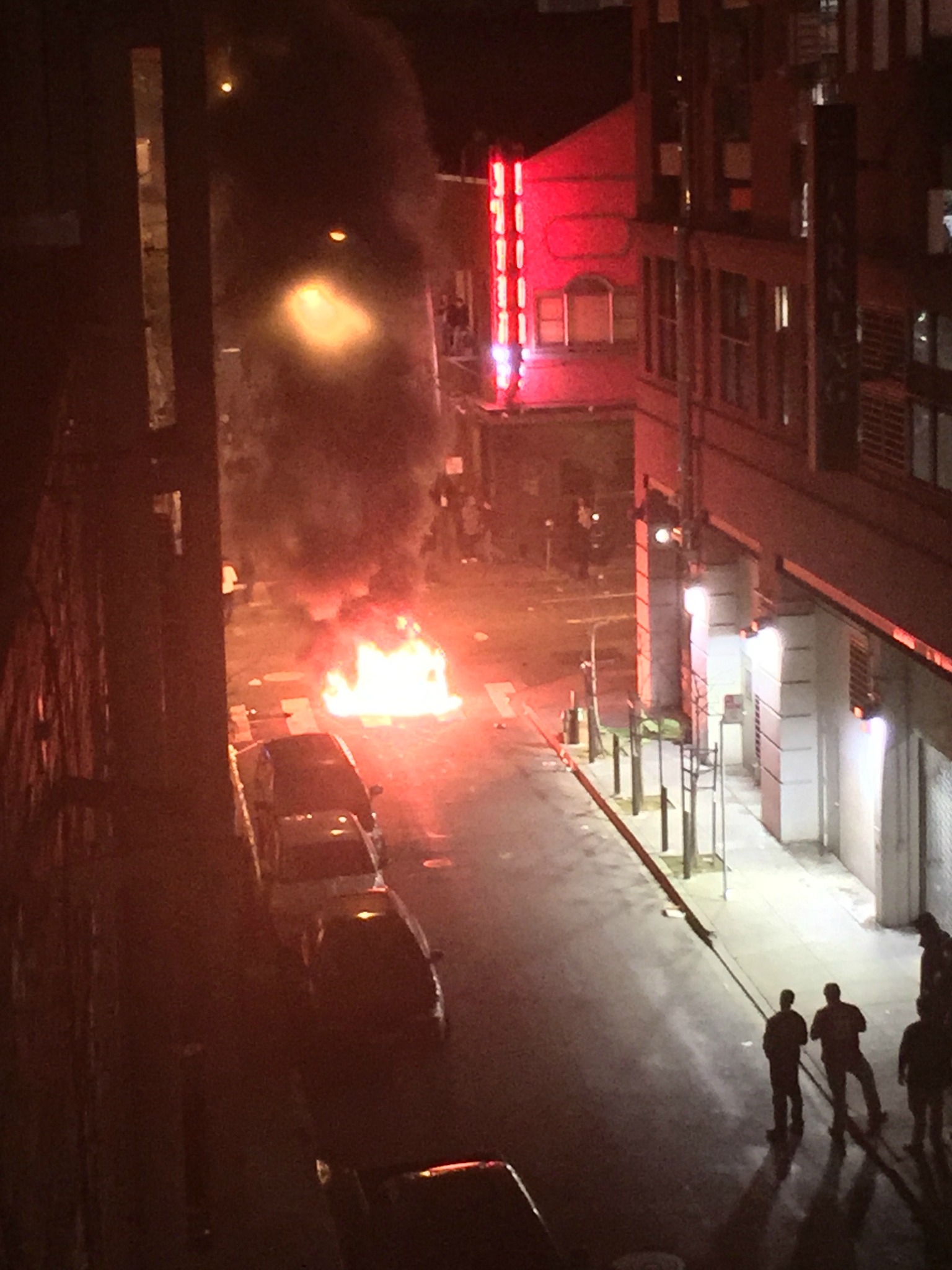 The zoomed-out view of the apparent motorcycle fire on Polk, including spectators. Photo: Chris S.

Let us know if you have more information about what happened at Polk or elsewhere in the city, in the comments or at [email protected]