The concept of pedestrian safety improvements at the intersection of Kearny and Clay streets is not new. But the busy corridor, which is a main thoroughfare between Chinatown and the FiDi, has literally become a matter of life and death.
77-year-old Ai You Zhou was killed in the crosswalk last year, and the intersection has been named as one of the city's high-injury corridors, according to Vision Zero.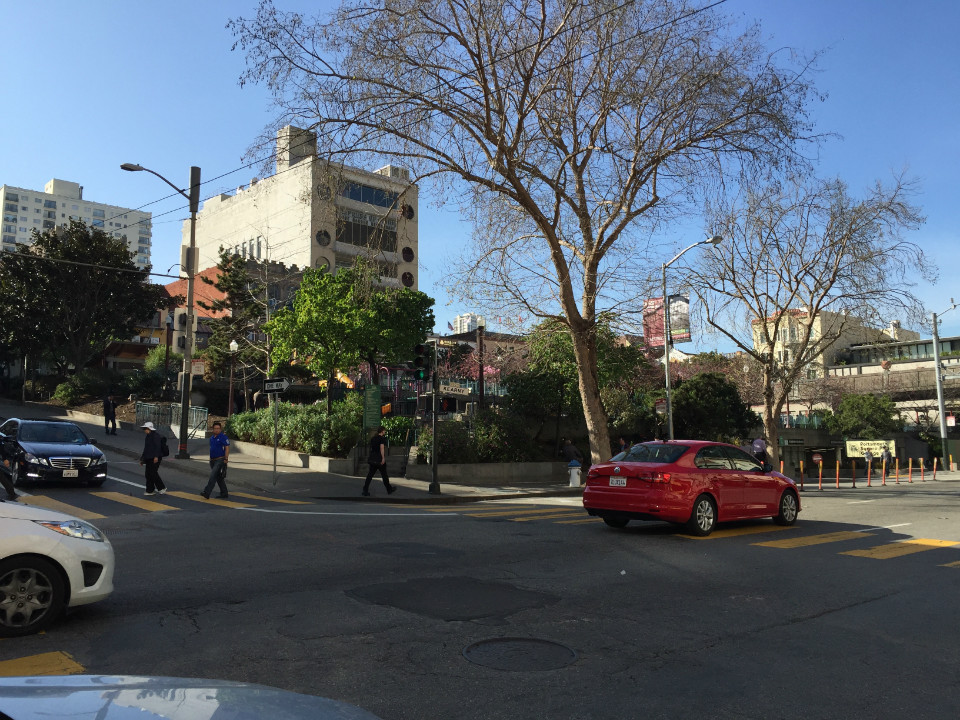 Kearny and Clay streets by Portsmouth Square.
District 3 Supervisor Aaron Peskin, SFMTA and several community groups and stakeholders will gather at the steps of Portsmouth Square today at 4pm to discuss the neighborhood's desire for a full diagonal pedestrian "scramble" signal.
In a scramble, traffic stops in all directions to allow pedestrians to cross the streets without fear of cars turning; pedestrians can even walk diagonally through the intersection. Other nearby streets with scramble lights include Stockton Street (at Sacramento) and Montgomery Street (at Bush, California and Pine).
A "scramble" at Montgomery and Bush streets.
The idea for a scramble at Clay and Kearny was raised as far back as March 2014, at a participatory budgeting meeting held by then-Supervisor David Chiu. At the time, $20,000 was allotted for pedestrian improvements throughout the district, along with six other projects—but the scramble light, which would far exceed that cost, was not in the mix.

"It is urgent for the City to install the diagonal pedestrian scramble at Clay and Kearny Streets, because this is a matter of life and death," Peskin said in a statement this week. "Our community has been patient, but we can no longer wait; it is time for the city to respond and act now."

At a meeting tentatively slated for April 5th, SFMTA is expected to approve a preliminary scramble, utilizing existing infrastructure. If that happens, new signal timing should be in place by late April.
The preliminary scramble will cost an estimated $30,000 to $40,000, and will be funded by SFMTA's operating budget, Peskin's office told us. SFMTA spokesperson Paul Rose explained that the funds are used for proposed parking and traffic changes, and will include expanded hours for the transit-only lanes along Clay and Sacramento streets, along with the creation of a full-time right-turn pocket on Kearny approaching Clay.
However, many in the community still hope to install a fully functional diagonal scramble, like the ones on Stockton and Montgomery. That will require about $350,000, in order to purchase new equipment. 

Kearny and Clay streets, near the entrance to Portsmouth Square Garage.

"We have heard careful input from community members how important it is to increase pedestrian safety efforts at Kearny and Clay," Chinatown Community Development Center (CCDC) youth leader Lisa Yu told us via email. "Many cars make quick, sharp right turns and fail to yield to people crossing. This first step towards a diagonal scramble system will separate turning movements from pedestrians and prioritize safety for all the seniors, elementary school children and residents who cross daily."

SFMTA will hold a public hearing at 10am March 4th (City Hall, Room 416) to review the parking and traffic changes proposed in conjunction with the preliminary pedestrian scramble. The public will be able to provide input before the proposed changes are presented to the SFMTA Board of Directors.