Earlier this month, we broke the news about two high-rise hotels proposed to rise around the corner from each other in the FiDi: One at 439 Washington St. (on the site where Il Massimo restaurant now stands) and another at 447 Battery St. (which houses a Cort Furniture showroom). We recently got an update about the Battery project, which, as proposed, would include 182 hotel rooms, eight residential condos, a lobby, a restaurant and one level of below-grade parking with 20 spaces. 
Jeffrey Heller of Heller Manus Architects, which is working on the project at 447 Battery, invited board members of the Golden Gateway Tenants Association (including this reporter) to his office on March 18th to share more details. Rob Canepa, senior vice president of 447 Partners, which bought the building in 2007, was there as well.
At the meeting, Heller showed early renderings of the proposed building, which will rise to 19 floors and not exceed the zoned height limits. (He declined to provide the renderings for publication, as they're very preliminary.) The building will be sculpted to step back toward the top from Battery Street and also on the north side, and he showed a model of how it'll fit in with existing structures. "We're being very careful about the light and air issues," Heller said.
"We're not asking for any variance" on the zoned height limits, Canepa added.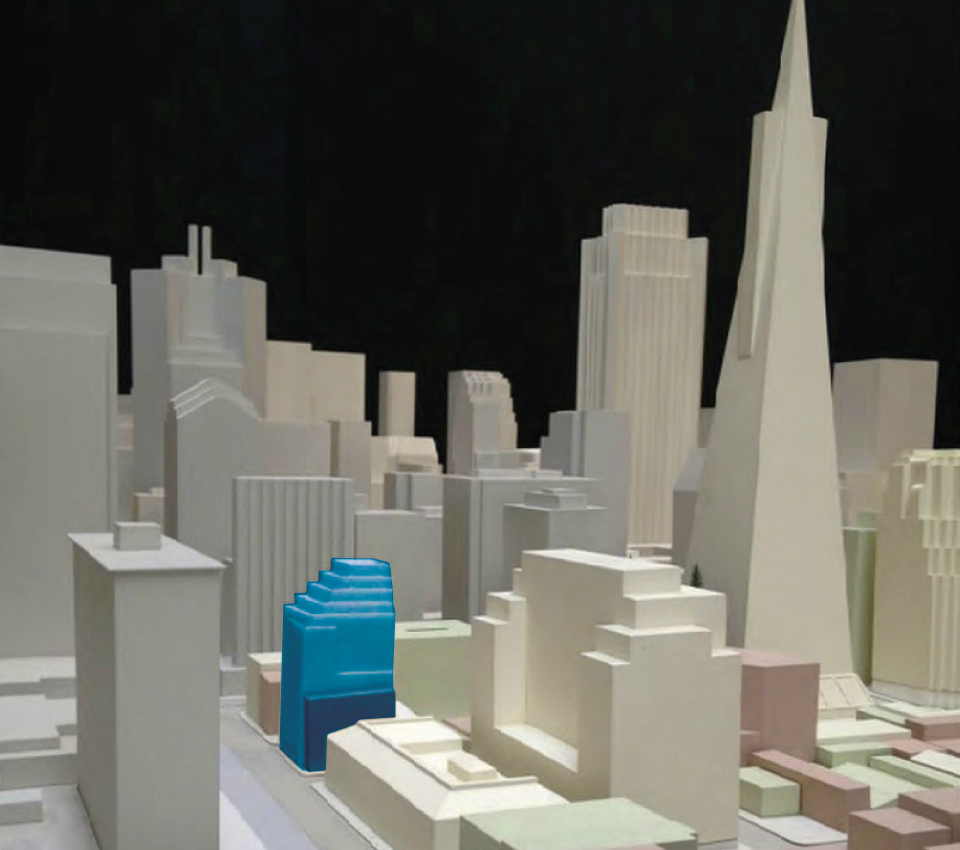 Proposed hotel at 447 Battery. (Graphic of model view courtesy of Heller Manus Architects, highlighted in blue by Robin Peeples/Hoodline)
Heller said said the total area for the condos, which will be on the top four floors, will be 16,000 square feet. Their size will range from about 1,900 square feet to about 3,500 or 4,000 square feet (for the largest one). The project sponsor plans to occupy one of the condos, Heller added.
Canepa said his company spoke to "literally every hotel group in the country" and chose a four-star hotel operator, which he declined to name, to lease the hotel and restaurant space. Heller said neighbors can expect "a really nice restaurant on the corner," and Canepa also said they're planning to clean up adjacent Merchant Street and make it more pedestrian friendly. "We want it to be a community-friendly project," Heller added.
Canepa mentioned that his company researched various ideas for development before proposing a hotel on the site, which is within a block of another high-rise hotel (Le Meridien) and a mid-rise hotel (Club Quarters) and nestled within blocks of several other high-rises in the FiDi, including the Gateway Apartments, Embarcadero Center and Transamerica Building.
"We asked the city and other folks, 'Do you want offices here, do you want housing? You tell us,'" Canepa said. He added that the city told them a hotel would be the best use.