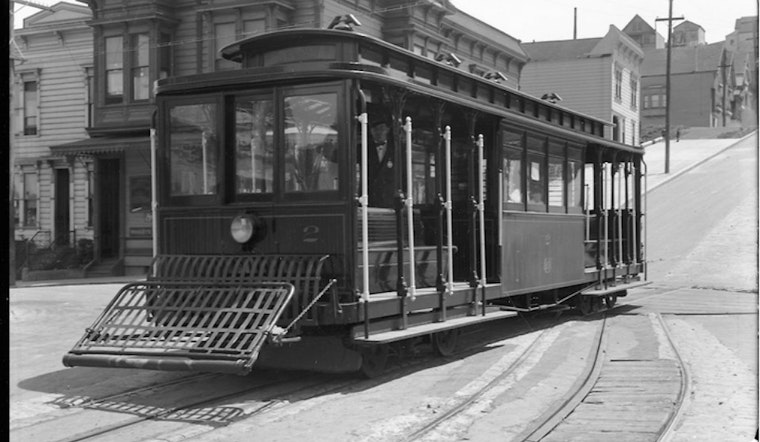 Published on April 05, 2016
"The Castro cable line was the last remnant of one of the world's most ambitious and intricate cable car installations ever," said Rick Laubscher, president of the Market Street Railway. "But the Castro was a much different place in 1941, and the cable line had done its duty."
The Castro undoubtedly is a different place than when the Castro Street cable car was in its heyday. In the early 20th century, Castro Street boasted storefronts and the Victorian buildings that are still visible today, but you'd be more likely to see a horse-drawn buggy than a tree. (See our then-and-now photo story to compare the Castro of 1915 to the modern-day neighborhood.)
The car, which traveled back and forth between 18th and 26th streets along Castro, stopped running on this day (April 5th) in 1941, and was replaced by the 24-Divisadero bus line. But the line's former glory is remembered with the help of the SFMTA Photography Department & Archive, which allowed us use of its photos for this story.
"No question, if that line had somehow survived another decade or two, it would have been preserved and would today be a huge visitor attraction," said Laubscher.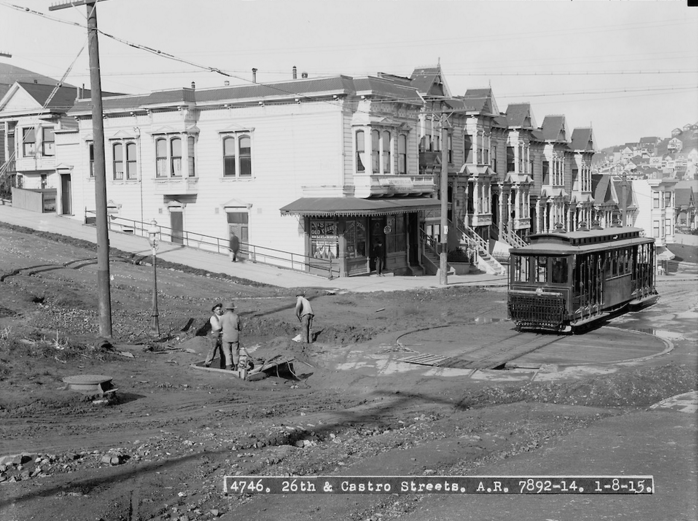 Cable Car on Turntable at 26th Street and Castro (January 8, 1915). 
Imagining the Castro Street cable car as a tourist attraction may have seemed far-fetched to the local residents who rode it. The cable car was always different than the Powell Street and California Street cable car lines that we still have today, which have always received the most attention and carried the most visitors. According to the Market Street Railway, "if you ran into a tourist on the Castro [cable car], you could be pretty sure he or she was just lost."
It's equally difficult to imagine the Castro cable car existing into the '50s or '60s, let alone today; the car was a rarity in San Francisco even in 1941. Besides the few cable car lines that are still around, most of San Francisco's original cable car routes had been replaced in the early part of the 20th century by more efficient electric streetcars.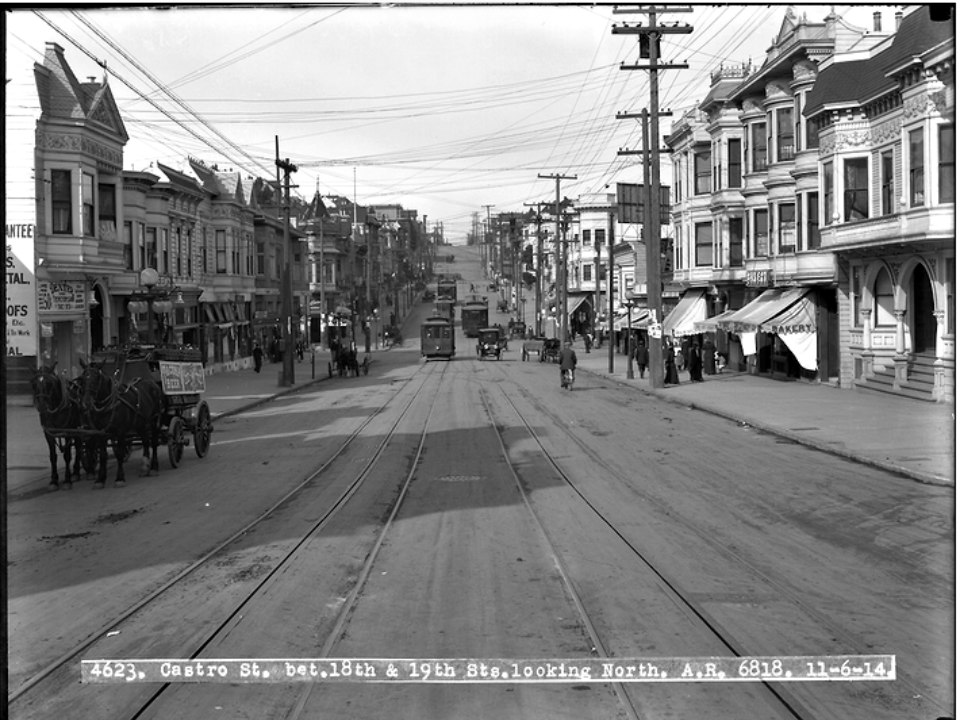 Castro Street and 19th Street, looking North, May 11, 1918. 
To better understand the evolution of streetcars in San Francisco, we reached out to Joe Thompson, creator of the Cable Car Home Page and a self-identified enthusiast of obsolete technology. He first explained to us exactly how cable cars work.
"You have a powerhouse somewhere that has big wheels that drive an endless cable that runs underneath the street. The cable cars have what is called a grip—it's kind of like a big pair of pliers. They reach down and grab the cable and hold onto it and that's what makes the car move."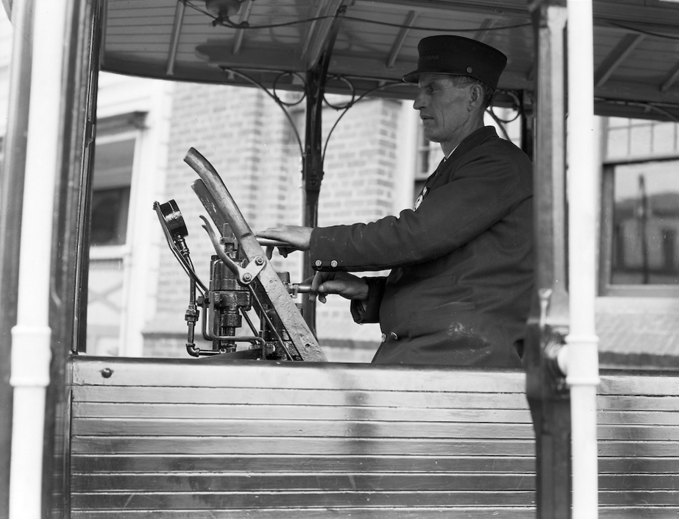 Gripman on Castro Cable Car 2 (July 10, 1925). 
Cable cars have always been inefficient. A significant amount of friction is created while making the cable—sometimes over a mile long—move underneath the street. "There's a lot of wasted energy there," said Thompson, adding that the system was expensive to maintain and labor intensive.
Although cable cars were more efficient than the horse-drawn streetcars that they replaced beginning in the 1870s, and the "primitive" steam motor line—dutifully called the Market Street Extension—that preceded the Castro Street cable car up until 1887, cable cars were not nearly as efficient as electric streetcars.
Cable cars did, however, retain one major competitive edge over new technology: cable cars could climb steep hills, whereas electric streetcars could not.
"[In] the late 1890s, early 1900s, virtually all of the cable cars were replaced by electric streetcars except for on steep hills because electric streetcars couldn't keep the traction necessary to make those steep climbs," said Thompson. "That was the one advantage of cable cars."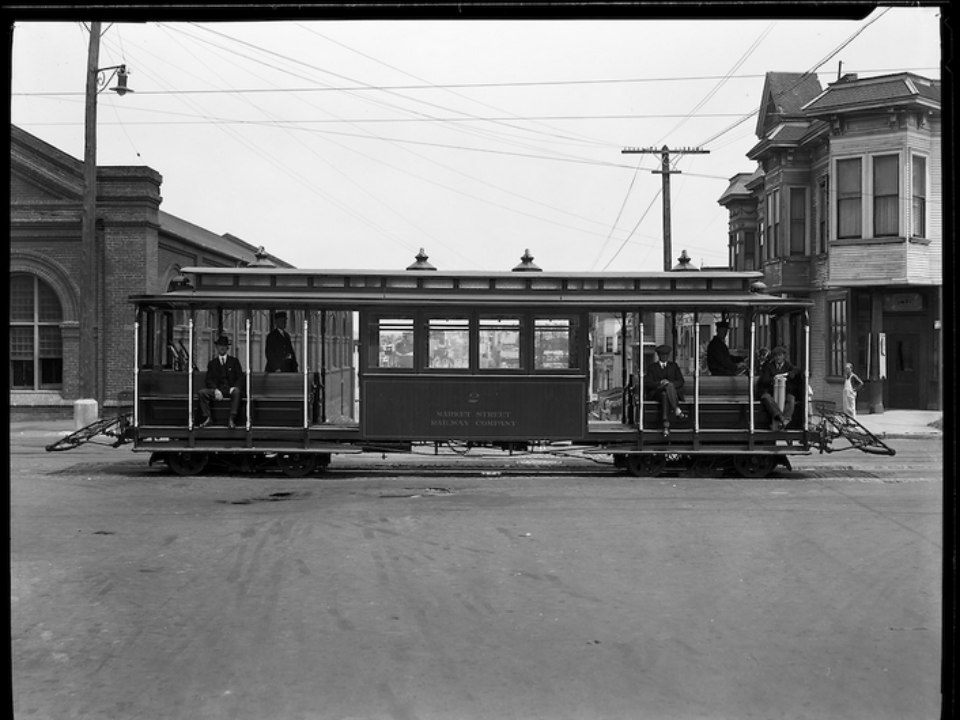 Castro Cable Car 2, equipped with air brakes, at Jersey and Castro streets (July 10, 1925). 
Cable cars were also viewed as more aesthetically pleasing compared to their electric counterparts. At the turn of the 20th century, many San Francisco residents didn't like the idea of criss-crossing their city with unsightly overhead electric wires.
The 1906 earthquake and fire changed everything. With the majority of their infrastructure decimated by the disaster, the company that oversaw the streetcars, called United Railroads, was essentially starting from scratch.
"They took advantage of the 1906 earthquake, and strung up electric wires all along Market Street," said Thompson. The majority of cable car lines were replaced with electric streetcars following the earthquake. One notable exception, Thompson points out, is the cable car line that ran along Pacific Avenue.
"The rich people that lived [in Pacific Heights] didn't want overhead wires on their street," said Thompson. The cable car line was eventually replaced on November 17, 1929 and was met with "little controversy."
Another exception, unrelated to wealth, was the Castro Street cable car. After the quake, electric streetcars took over old Market Street cable car routes except for the portion of the Castro route that ran from 18th to 26th streets.
According to the Market Street Railway, "That isolated stretch of the 'Castro Cable' was too steep for streetcars and carried on as a quiet neighborhood shuttle line that Noe Valley people took to reach the 8-line streetcar near the Castro Theatre to continue their trip downtown."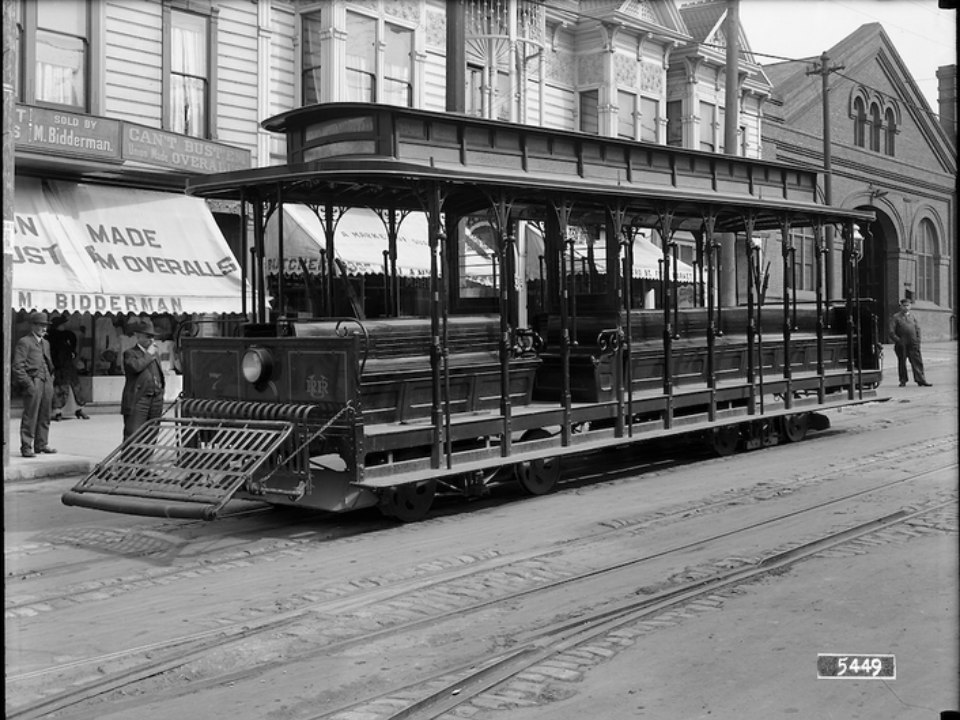 Open Style Breezer Castro Street Cable Car 7 (August 24, 1916).
Back then, cable car lines were painted different colors. Castro Street cars, for example, were painted ivory and had dark red trim, called bright carmine.
Following the earthquake, the Castro cable car continued operating for decades; however, by the late '30s and early '40s, the American economy was recovering from the Great Depression, and with it, San Francisco's Muni ridership was increasing.
According to Thompson's website, as of January 1, 1939, Market Street Railway fares increased to seven cents while electric Muni lines remained a nickel. As a result, the Castro cable car lost ridership to passengers who instead elected to save two pennies and walk to and from Muni's J-Church, K-Market and L-Taraval streetcars.
On April 5th, 1941, the Castro Street cable car made its final climb. The following day, the new No. 24 Divisidaro motorcoach bus line began running, replacing both the Castro cable car and the electric streetcar that ran along Divisadero. At the time, the city agreed to only repave the portion of the street that was occupied by rails, leaving the cable slot in the center of the street.
"From 1906 to 1941," said Laubscher, "the Castro Street cable car reminded San Franciscans of the power of that [1906] earthquake and fire, which wiped out every part of that intricate cable system except that hill between Eureka Valley and Noe Valley."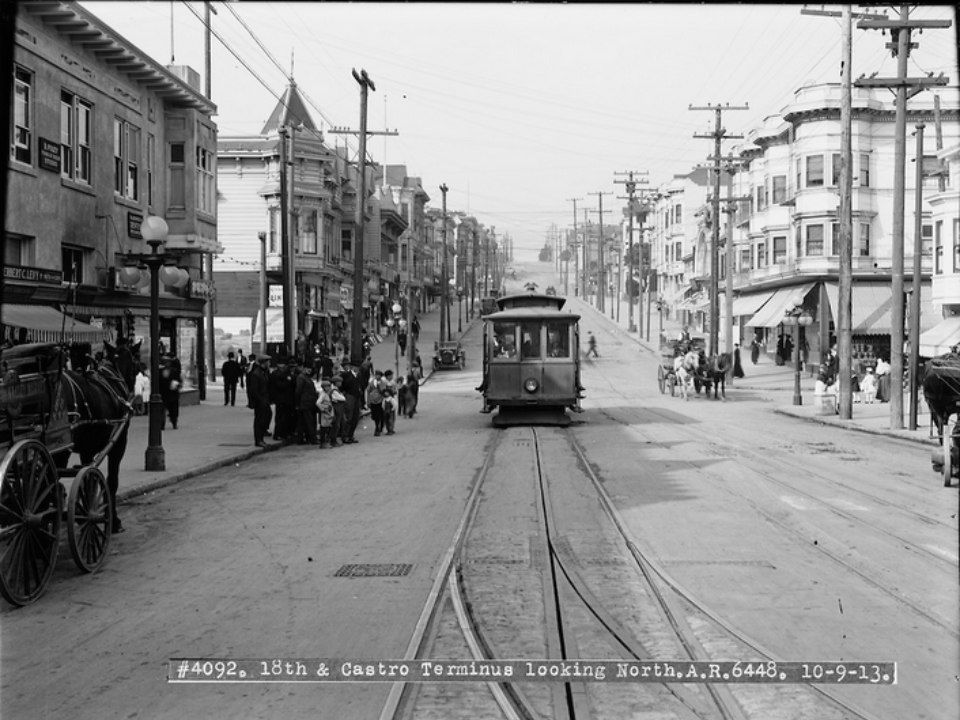 18th Street and Castro Street Terminus looking North (October 9, 1913.) 
Of the cable cars that ran up and down Castro, "all of them were scrapped," Thompson said, rather sadly. "They still had one original condition Market Street cable car that hadn't been touched. It was sitting there at the car barn at Castro and Jersey since 1906."
Thompson pointed out that if you go around San Francisco, a lot of the places where you find supermarkets were formerly cable car barns.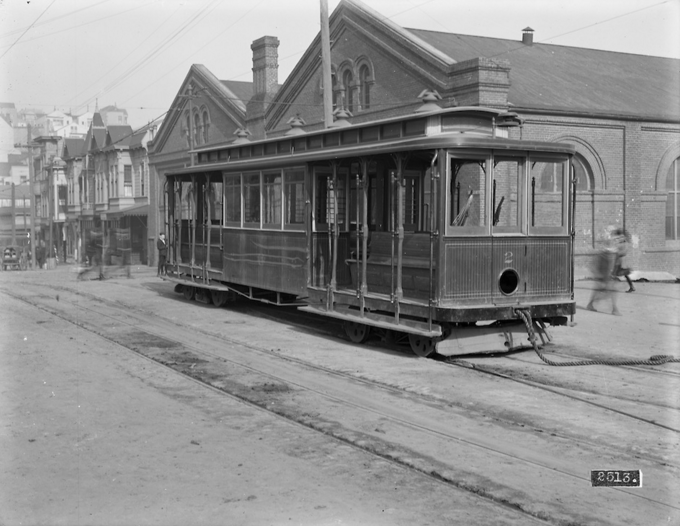 Castro Street Cable Car 2 in front of Castro Car House (January 19, 1910). 
"They closed that building to sell off that property for a supermarket. They just didn't have space and got rid of that one surviving cable car, which is a real shame because that would have been a great historical artifact."
Even though the Castro is no longer graced with a cable car, on a day like today, 75 years after the Castro cable car made its last run to and from Eureka Valley and Noe Valley, we should take a moment to celebrate this piece of our neighborhood's history.
If you are interested in more history about cable cars, check out Thompson's Cable Car Guy website, which he updates frequently.