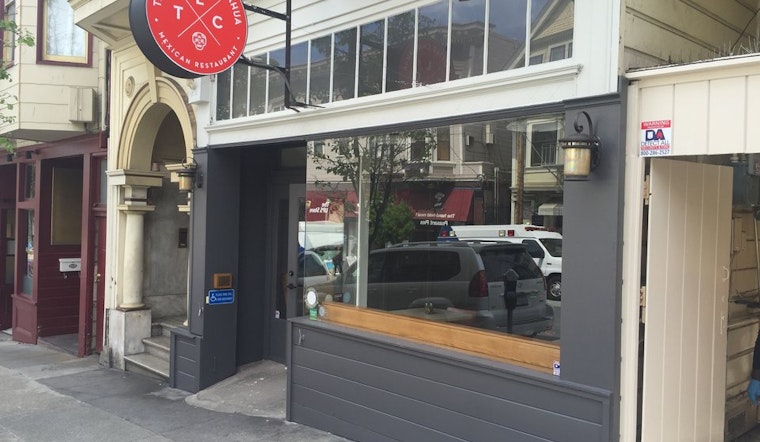 Published on April 19, 2016
After closing on February 27th for a renovation, Noe Valley's location of Little Chihuahua quietly reopened today.
The restaurant, which originally opened in June of 2010, was closed for an interior revamp to make floor repairs and perform a general spruce-up. Fans of Little Chihuahua's plantain burrito and other specialities need not worry, however: the menu will remain the same. 
We stopped by 4123 24th St. this afternoon while they were putting the finishing touches on the restaurant. Manager Crystal Connors told us then that "we'll probably open up some time this afternoon before dinner." The reopening actually ran ahead of schedule, with the revamped space opening back up around 2pm.
After the remodel, which features a new chandelier, the restaurant is "much more modern than the other restaurants," Connors told us. Those other restaurants are the original Divisadero location, which opened in 2007, and a location
 on Valencia in the Mission. 
"Our main goal was to take the taqueria model and use sustainable ingredients—knowing where your chicken and beef comes from—something you didn't really get with Mexican at the time," owner Andrew Johnstone told us of his general philosophy in an interview last year. At the time, he noted that he wanted to create a dining space where people would want to sit and stay a while, but which wasn't too "stuffy."

Stop on to check out the new space and see if they've hit the right balance between comfortable and convenient. The heated patio in the back is still being worked on, and should be ready by the end of the week, according to Connors. Hours have remained the same: Monday- Friday 11am-10pm and Saturday-Sunday 10am-10pm.
Front dining area.
Rear dining area.