In this week's SFPD Central Station newsletter, Capt. David Lazar writes about an outstanding arrest: "On April 30, 2016, Plainclothes Sergeant Jones, with Officers Huang, Reyes and Christensen, while searching for auto burglars, arrested a suspect for possessing a stolen scooter at Powell and North Point." He added that officers recovered heroin, methamphetamine, cocaine, $2,500 in cash and other evidence.
Don't miss the other news from Capt. Lazar, including information about him hosting the 252nd Police Academy for a community day, recent Central Station transfers and more.
Now for some of the more notable crimes of the past week, as reported in SFPD recaps and stories we've reported.
Man beaten in drive-by mugging
A man, 32, was the victim of what could be described as a drive-by mugging at 12:06am April 30th on the 500 block of Bush Street on the border of the FiDi and Chinatown. The man was standing in front of a building when a man hopped out of a white older model four-door sedan. The suspect began hitting the man with his fists and during the attack took his wallet, money, credit cards and phone. then the suspect got back into the car and fled eastbound on Bush Street. The victim suffered a cut and bruise on his face and was taken to the hospital in non-life-threatening condition.
Reports of shots fired at Coit Tower remain a mystery
SFPD Central Station officers responded to calls of shots fired at Coit Tower at 3:48am May 1st. Units were unable to locate a victim, suspect, or damage, but did locate handgun casings.
Bomb threat turns out to be a false alarm
The front desk of a building on the 600 block of Taylor Street in Lower Nob Hill got a call at 4:49am May 1st that there was a bomb on the second floor. The security guard checked and found nothing.
Burglar enters open door to steal laptop, phone
A hot prowl burglar made off with a laptop and smart phone at 5:30am May 2nd after a man, 25, fell asleep with the front door open on the 800 block of Post Street in Lower Nob Hill. The victim awoke when a door slammed shut and found the items missing from his apartment.

Violent teen robber tackled, phone retrieved
Thanks to Good Samaritans, a violent cell phone robber was caught on the border of the FiDi and Union Square at Sutter and Kearny streets at 12:30am May 3rd. A youth of about age 14 approached a 25-year-old woman from behind, threw her to the ground, and stole her cell phone. He fled on foot, and witnesses chased him down and tackled him until officers arrived. The woman suffered scrapes and pain to both knees, but refused medical treatment.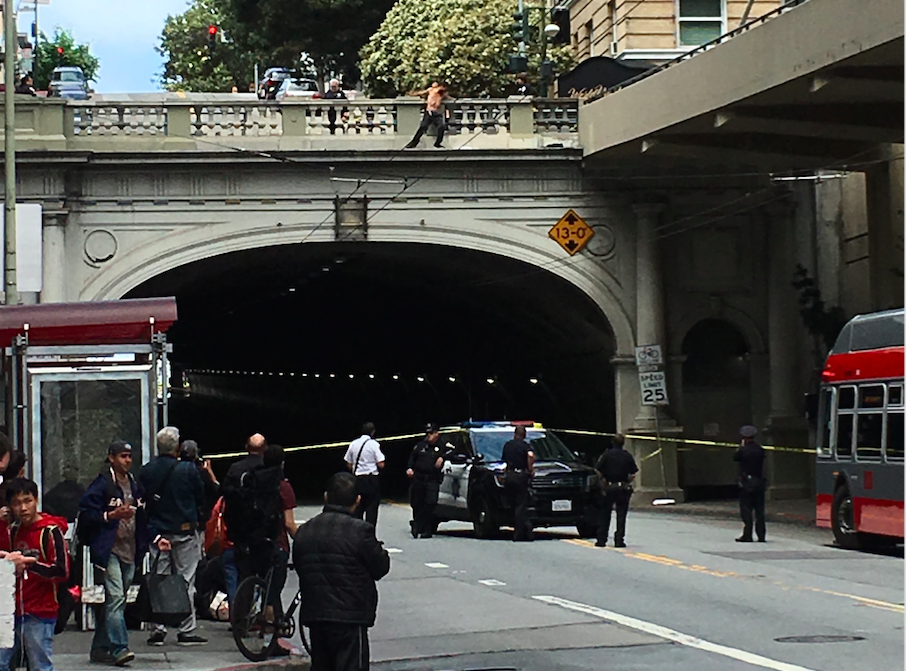 Photo: Beau D./Hoodline

Man threatens to jump from Stockton Tunnel
A man stood on the outside of the railing to the Stockton Tunnel in Chinatown in the early afternoon of May 5th and threatened to jump off, which snarled traffic throughout the area, re-routed some bus lines and caused delays on the Powell cable car line. Read the entire article.
Sexual assault suspect arrested in Portsmouth Square
A suspect in a sexual assault in Hayes Valley on May 5th was detained after officers spotted a man matching his description at Portsmouth Square in Chinatown at 10:50am Friday. The victim was brought in and positively identified Adam Berglund, male, 30 as the suspect. He was taken to Central Police Station and later booked into San Francisco County Jail on two felonies: assault with intent to commit rape and sexual battery. Read the entire article.