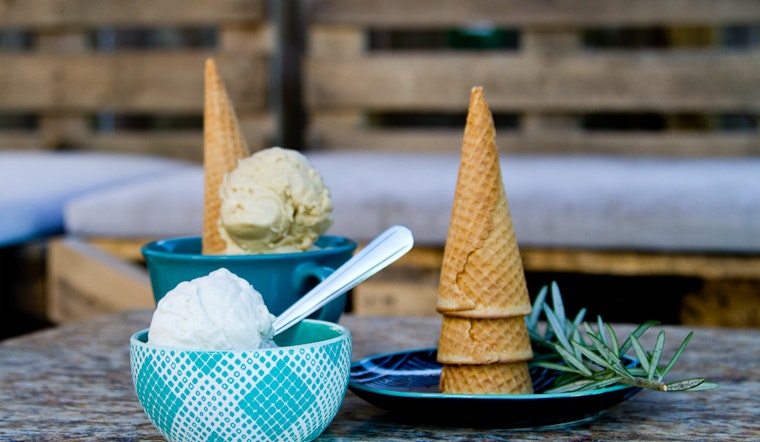 Published on May 11, 2016
"It's always the right time for ice cream," explains Rica Kwan, owner of Churn Urban Creamery, when asked if the foggy weather in the Outer Sunset affects sales at her new small batch ice cream pop-up. "People can't resist good-quality ice cream, regardless of whether the sun is shining."
She may be right—despite being one of the chillier parts of town, the Sunset is home to a surprisingly high number of ice cream parlors. The Inner Sunset has been particularly active, with one newcomer, Honey Creme, that just arrived this week.
For now, Churn Urban Creamery is one of the smaller players in the Sunset ice cream scene—most of its business takes place at weekend pop-ups. "My dream is to have my own storefront someday," explains Kwan. "But for now, we are starting off small and focusing on the quality of the product, introducing it to ice cream lovers at our pop-ups."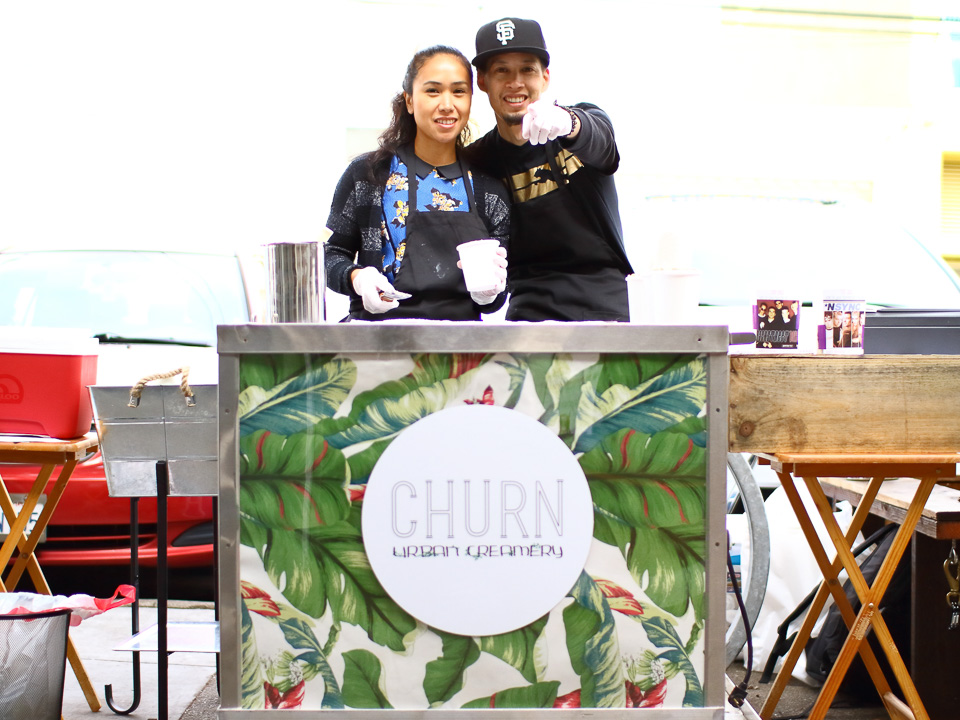 Kwan started selling ice cream this spring, after a year of developing recipes and holding underground pop-ups to try out new flavors. She often pops up at Lawton Trading Post, a location that's special to Kwan because she grew up, went to school, and now lives with her husband, Chris, in the Outer Sunset.
Rica and Chris pack five flavors at a time into Churn's special freezer cart, each made in two-gallon batches at a commissary kitchen in Daly City. Rica talks to customers and helps them decide on a flavor, while Chris is the muscle of the operation. "He's my scooper," says Rica.
The most popular flavors are Creme Brulee and Roasted Banana Puddin', with Lemon Thyme and Mint N' Chips close behind. Rosemary Olive Oil, made with coconut milk and coconut cream, is designed for vegans and the lactose-averse.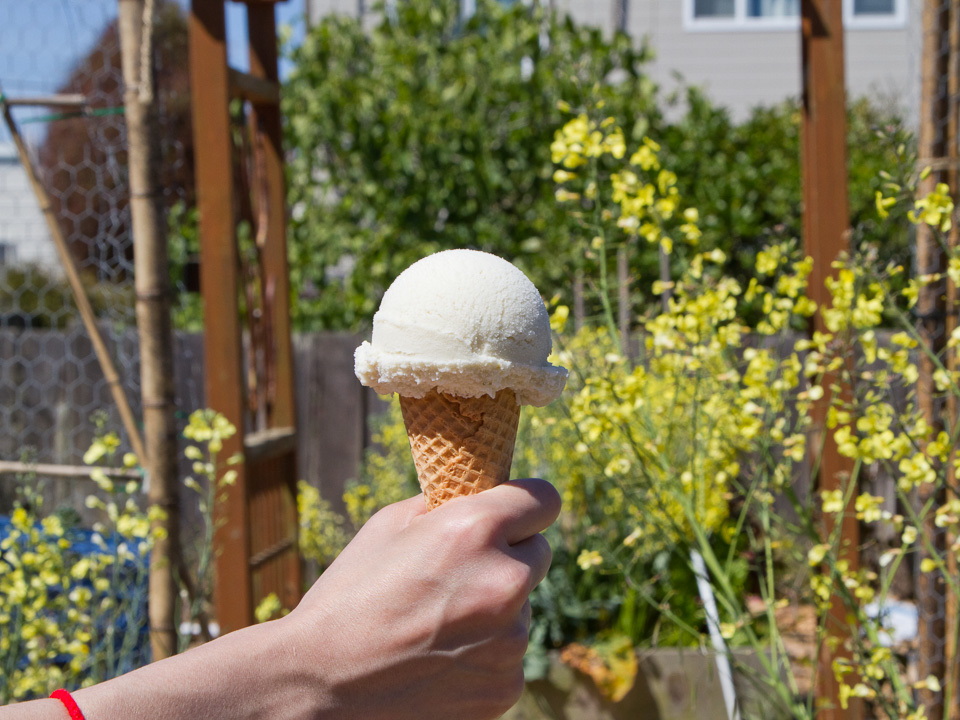 In addition to enjoying the flavors, customers connect with Churn's story. As a teen, Kwan had a job at Polly Ann Ice Cream on Noriega Street. After a stint in the fashion industry in New York City, she realized that she missed working on something tangible and positive. So she returned to the Outer Sunset to try something different.
That "something different" turned out to be urban farming. She and Chris have a 1,500-square-foot backyard farm, for which she honed her skills by volunteering at other farms and gardens in the city. She recently helped with the garden at the new Playland at 43rd Avenue.
Her garden produces many of the ingredients that end up in Churn's ice creams, such as figs, strawberries, thyme, and rosemary—and many that hopefully won't, including broccoli and brussels sprouts. Once Kwan got the idea to use the ingredients that she grew as part of her ice cream, she was able to combine her farming and cooking skills with some of the aesthetic skills she picked up in her fashion career. "I design the menus, the logo, and all of our flyers myself," she told us.
Kwan's next plan is to launch a Churn delivery service and hold more pop-ups, perhaps eventually leading to a permanent location. "I'd love to have a store one day in the Outer Sunset," she said. "This neighborhood means a lot to me, and it has been such a great experience being welcomed and supported by the other businesses. We've got a great community out here."