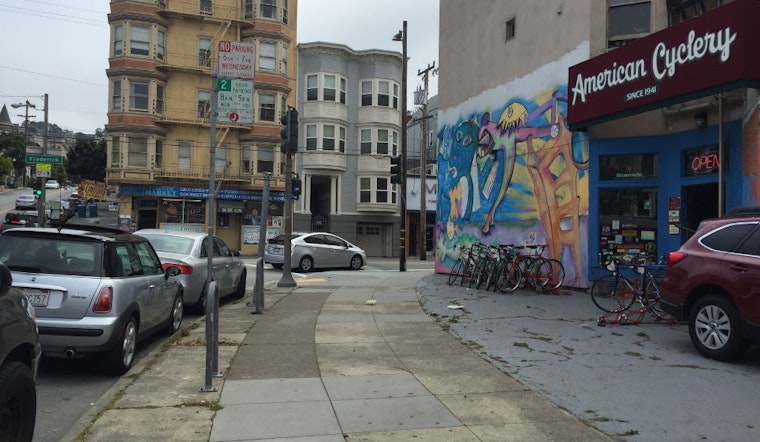 Published on May 05, 2016
Since the Inner Sunset's first parklet debuted in front of Arizmendi Bakery in 2011, several new proposals have entered the pipeline, but none have yet broken ground, partly due to neighbors' concerns and a lengthy approval process involving three City departments.
We checked in with three Inner Sunset and Cole Valley businesses about how — or whether — their proposed parklets are moving along.
At American Cyclery, owner Bradley Woehl is rounding the home stretch of a four-year process, ramping up a fundraising effort to bring the parklet and adjacent plaza outside the bike shop to life.
When we last checked in during January of 2015, Woehl was awaiting a final sign-off from the City after encountering a number of delays — changing rules, a tricky corner location, and a quirky issue regarding the triangular slab of concrete outside the shop, which was deeded to, but not accepted by, the City in 1929.
With the help of London Breed's office, Woehl obtained the necessary approvals, and says the project is now "shovel ready." The only thing he still needs? Funding.
After struggling to raise the $50,000 needed to build the parklet and plaza, Woehl approached with the 501 (c) Cole Valley Improvement Association, which agreed to underwrite the project, allowing contributors to qualify for tax-exempt status. American Cyclery will cover 20 percent of the cost, and Woehl is seeking the remaining funds from neighborhood donors.
Unlike many other parklet hosts, like food service establishments, who arguably benefit from the additional seating, Woehl called his parklet and plaza unique, saying it will be a space primarily "for the community." "But," he added, "I need the community's help." (Scroll to the end to see how you can contribute.)
The velodrome-inspired design nods not only to American Cyclery, but to the long history of bike shops lining the entrance to Golden Gate Park. Its metal rim will be lit from beneath in the evenings, Woehl said, to help "brighten up" the dark corner. The end closest to Frederick St. will house a bike rack, and benches, trees and other greenery will fill the plaza.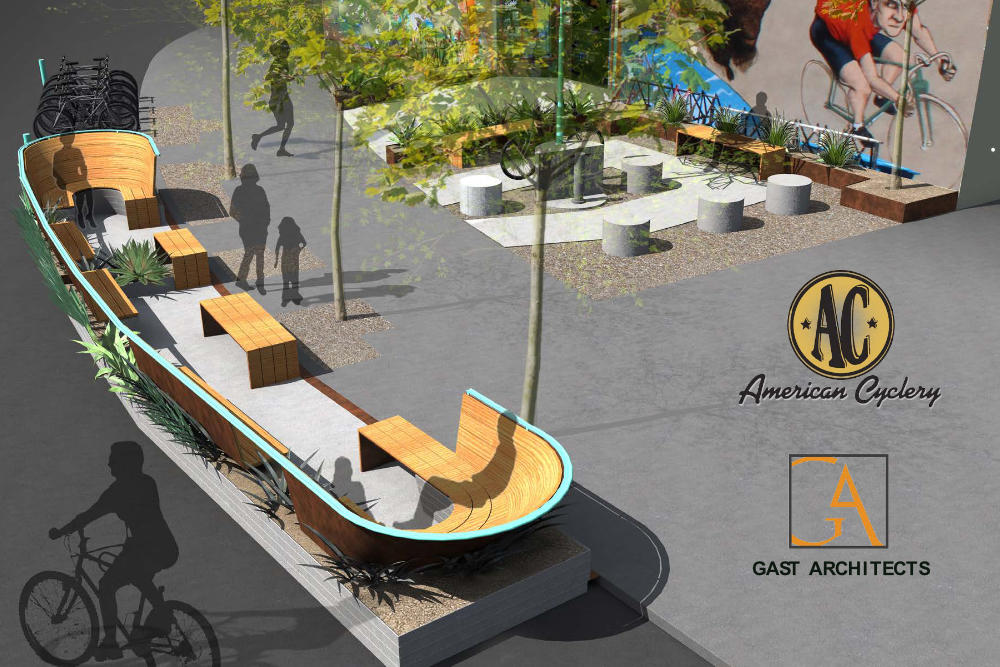 Approved parklet design by Gast Architects. Photo: Courtesy of Bradley Woehl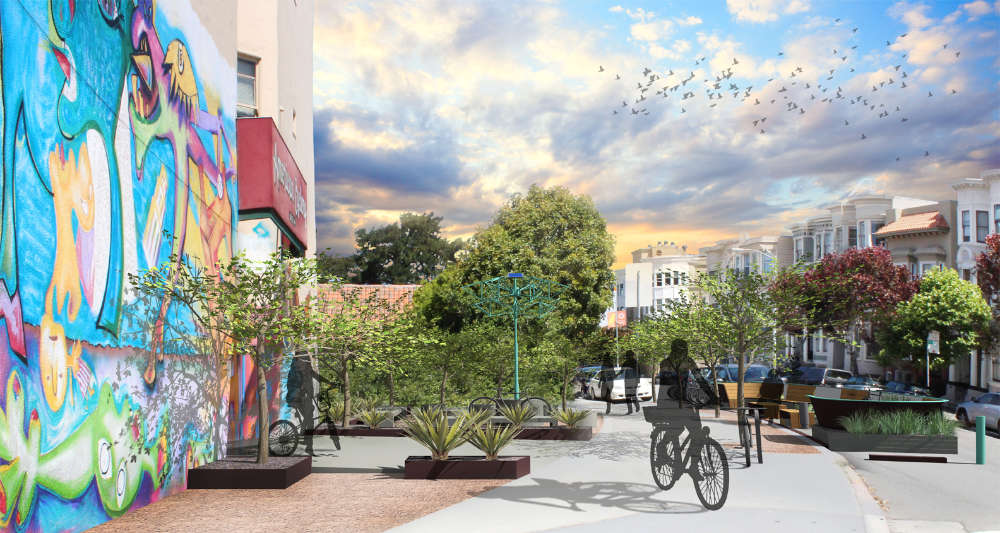 Approved plaza design. Photo: Courtesy of Bradley Woehl

Over on 9th Avenue, Snowbird Coffee is also moving ahead with its parklet. After holding a public hearing last September, the Department of Public Works approved Snowbird's proposal and sent it to the design development and permitting stage. On March 28th, Snowbird posted a model parklet on its Facebook page, which owner Dave Feng said was still in preliminary draft stage.
The model, created by designer and friend-to-the-cafe Will Reuther (they've yet to hire an architect), incorporates tiered seating, a long communal table, a bike rack and a living wall. The Planning Department, SFMTA and DPW will weigh in on issues like safety, ADA accessibility and bike parking. If the price tag proves affordable, Feng tentatively hopes to complete installation by late summer.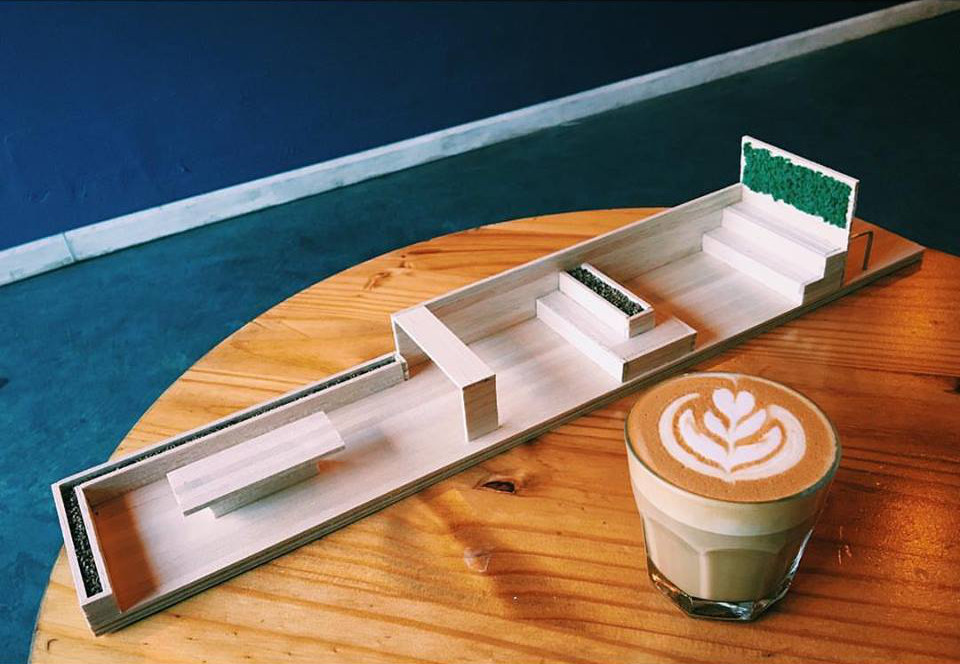 Photo: Snowbird Coffee/Facebook

Feng said he hopes Snowbird's parklet will offer a resting spot, particularly for older pedestrians who he often sees stopping to sit on 9th Avenue's benches. Like the opposing parklet outside Arizmendi Bakery — which some neighbors cited as an argument against Snowbird's — Feng hopes it will help interrupt the flow of foot traffic on the street's east side, which he said can be "like a river."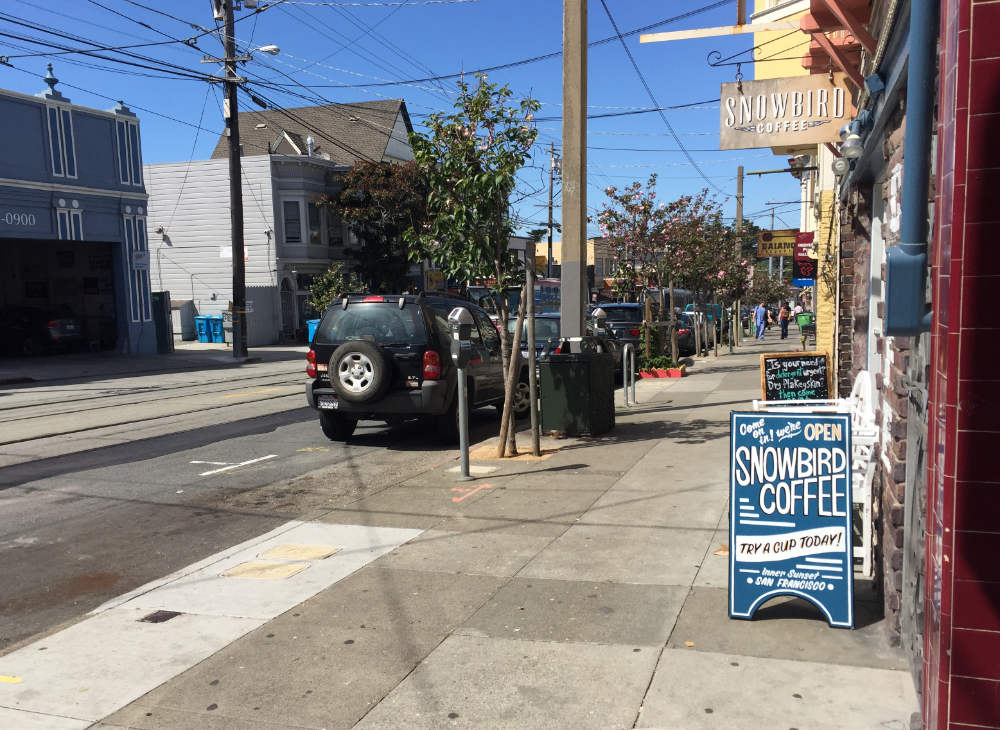 Site of proposed parklet. Photo: Caitlin Harrington/Hoodline

Another parklet proposal we told you about last summer, outside Patxi's Pizza, has been laid to rest in light of neighborhood pushback. Neighbors' main concern, according to Marketing VP Annie Winship, was the loss of parking spaces.
"After studying the proposal more, we agreed that parking is limited in the area and did not want to remove any additional spaces," Winship said in an email. She noted that the Bay Area pizza chain wants to "make sure we are good neighbors in our communities."
To make a tax-deductible donation to the Cole Valley Neighborhood Public Parklet & Plaza Project outside American Cyclery, you can make a check out to Cole Valley Improvement Association and mail it to CVIA, P.O. Box 170611, San Francisco, CA 94117. You can also send a PayPal donation labeled "parklet" to [email protected], or donate at the store's register.