This is the fourth in a series of history posts from local historian, author and professor Art Peterson, who's given Hoodline permission to reprint some of his writing about North Beach and nearby neighborhoods. They appear in his local history book Why Is That Bridge Orange? and other previously published works.
Few American companies are as iconic as Levi Strauss and Company. While selling tents in the Sierras, Strauss found a more lucrative use for the material of which those shelters were made: sturdy trousers with rivets to keep miners' pockets intact. The rest is history—however apocryphal.

The company has been a part of San Francisco life since the 1870s, but it's only since 1981 that it's been in our neighborhood. The privately-owned firm hired HOK and Gensler Architects to create a building that fits into the neighborhood, rather than dominates it. The set-back layers of Levi's headquarters don't scream "corporate monolith," and the building makes a point of not intruding on the Coit Tower/Telegraph Hill cityscape. Its surfaces echo the texture of the historic Italian Swiss colony building to the north.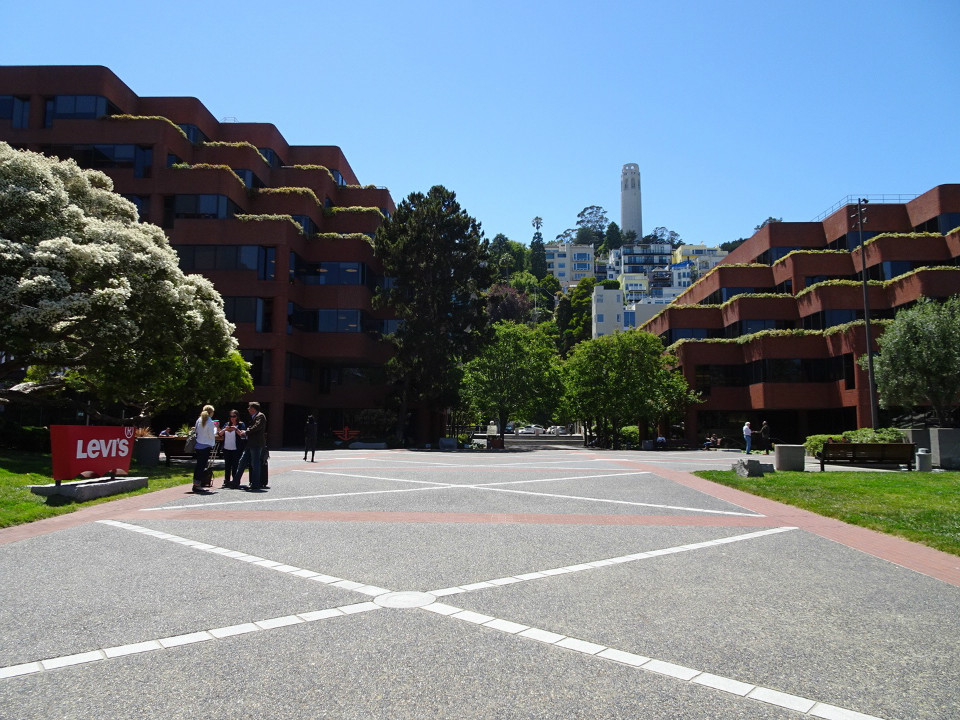 From what one hears, the interior of the Levi's building is equally cool. Decades before the South Bay tech firms were creating their "democratic "campuses," the company developed a complex that mixed all classes of employees. There were no corner offices, and a large atrium provided a mixing area for employees of all ranks. And Levi's Plaza seems like a great place to eat lunch.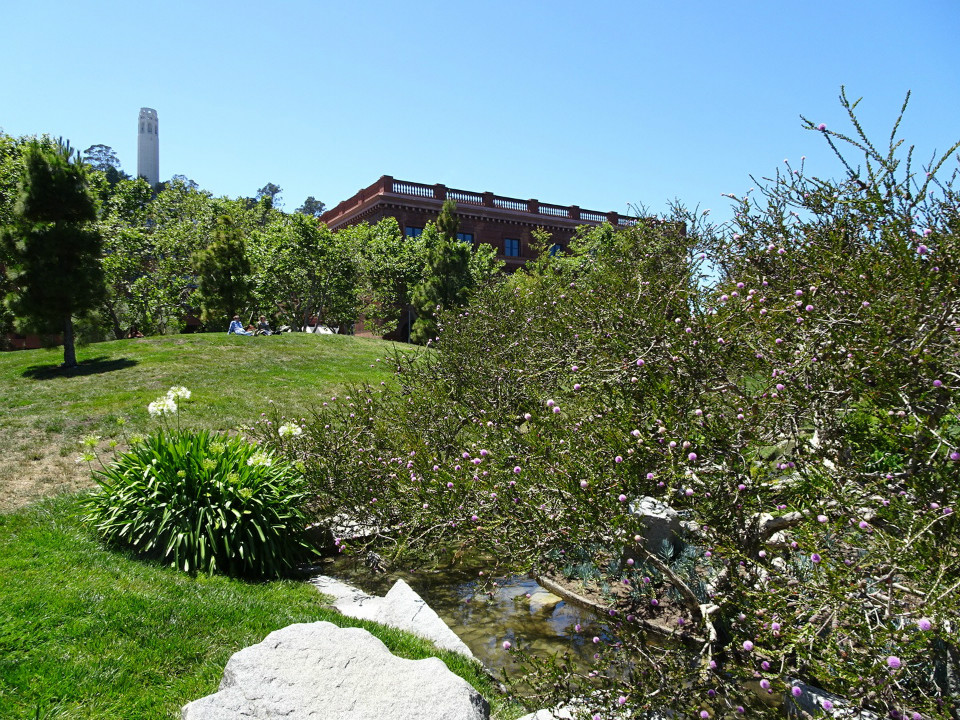 The plaza is the handiwork of Lawrence Halprin, the tribal leader of American landscape architects, who died in 2009 at age 93. Halprin is responsible for a number of San Francisco public spaces: Ghirardelli Square, United Nations Plaza, Justin Herman Plaza, the grounds of the Lucas Digital Arts Center at the Presidio, and the renovated Stern Grove. In the 1950s, he even had a hand in the redesign of Washington Square Park, proposing the elimination of the historic crisscross pattern—an idea adapted by the architects that took over the job.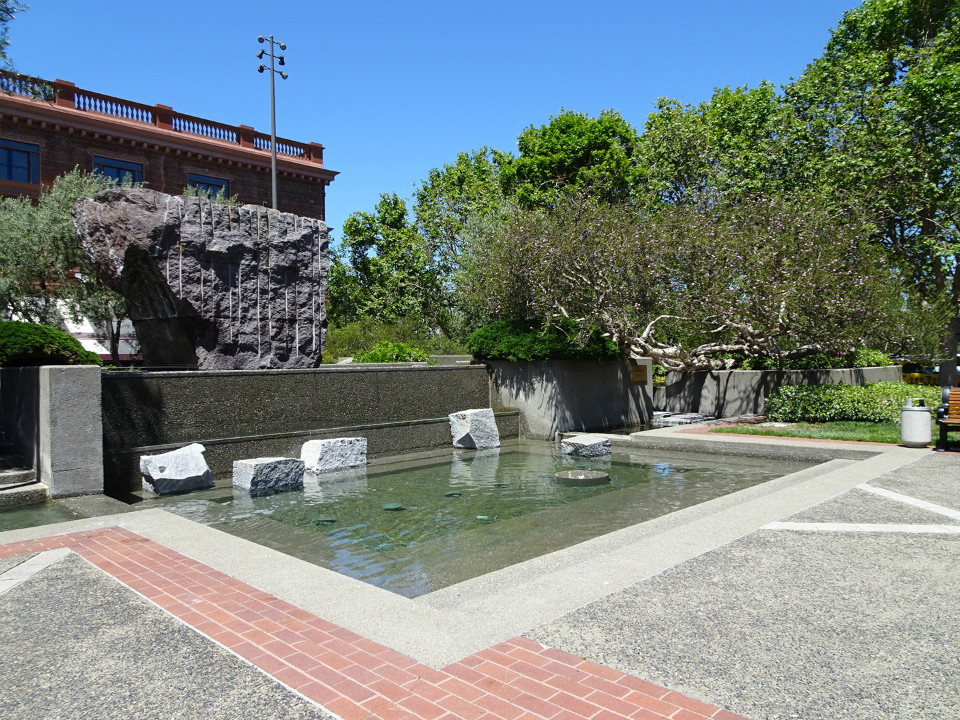 When Halprin went to work on the Levi's project in 1982, he was told by the Hass family—heirs to Levi Strauss' brand— that "monumental is not our style." Halprin had no problem with that dictum. 

Yes, the plaza west of Battery Street, with its inlaid red, gray, and white granite blocks divided into 35-foot square diamonds, shares characteristics with the grand plazas of Europe.

But it's also a canvas for the square's dramatic punctuations, from the wide spreading trees to the heroically sized granite stones—many chosen by Halprin from the same quarry he used to pick rocks for his Franklin D. Roosevelt Monument in Washington, D.C. A fountain incorporates these craggy rocks into its structure, providing tranquil white noise for those wishing to escape the harsh sounds of the city.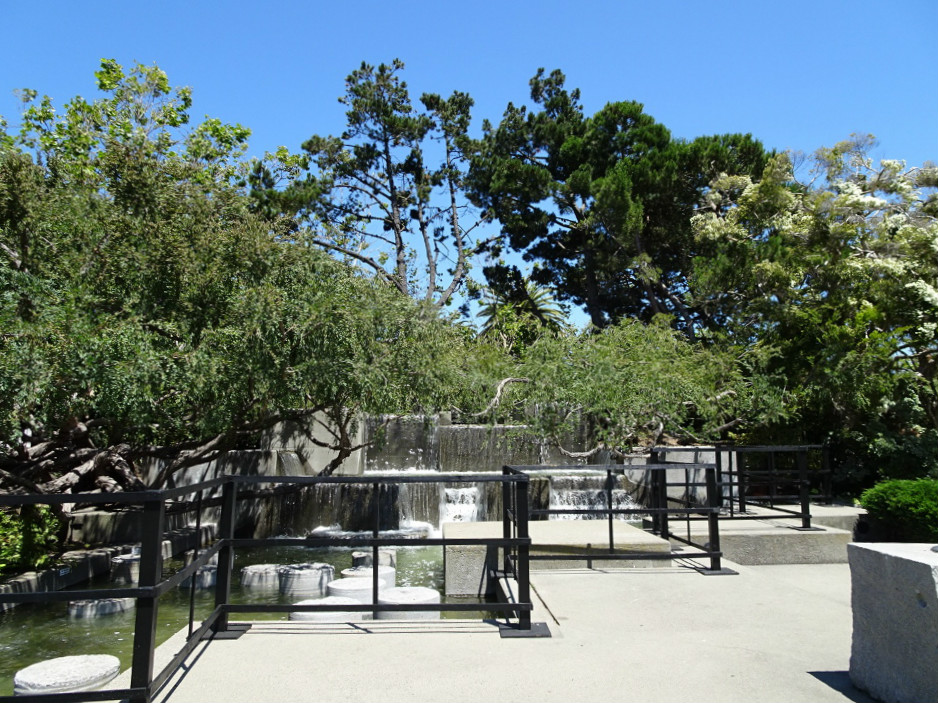 East of Battery, the park loses its hard edge and turns soft. Halprin said this area was a homage to Levi Strauss' beginnings in the Sierra Foothills, with soft, rolling green hills, pine and willow trees, and more water and granite. A stream suggests California's mountain terrain, before taking a whimsical turn toward a Japanese garden, complete with a bridge.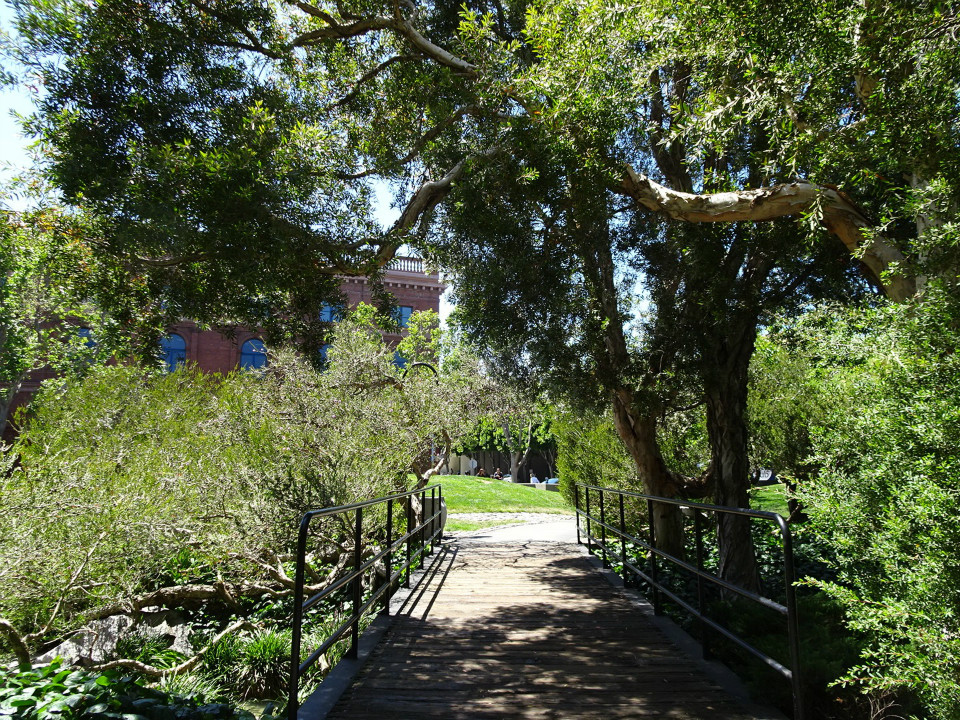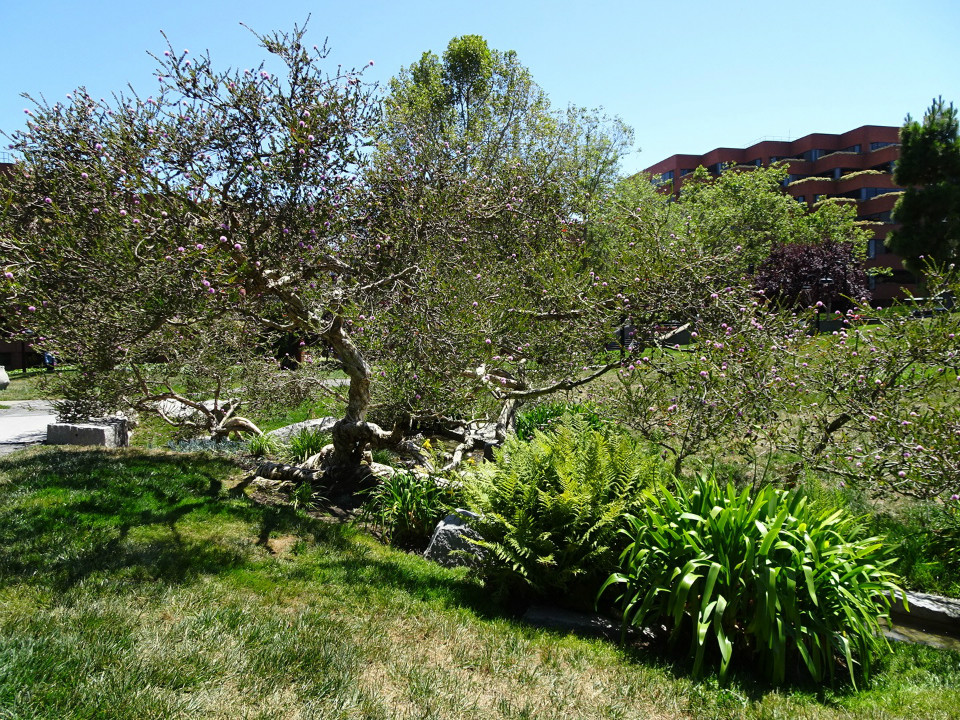 It's worth noting that some of these features provide "attractive nuisances" that would never be allowed in a city-owned park. But the Levi Strauss corporation doesn't have to answer to bureaucratic strictures—and provides 24-hour security to guard against mishaps.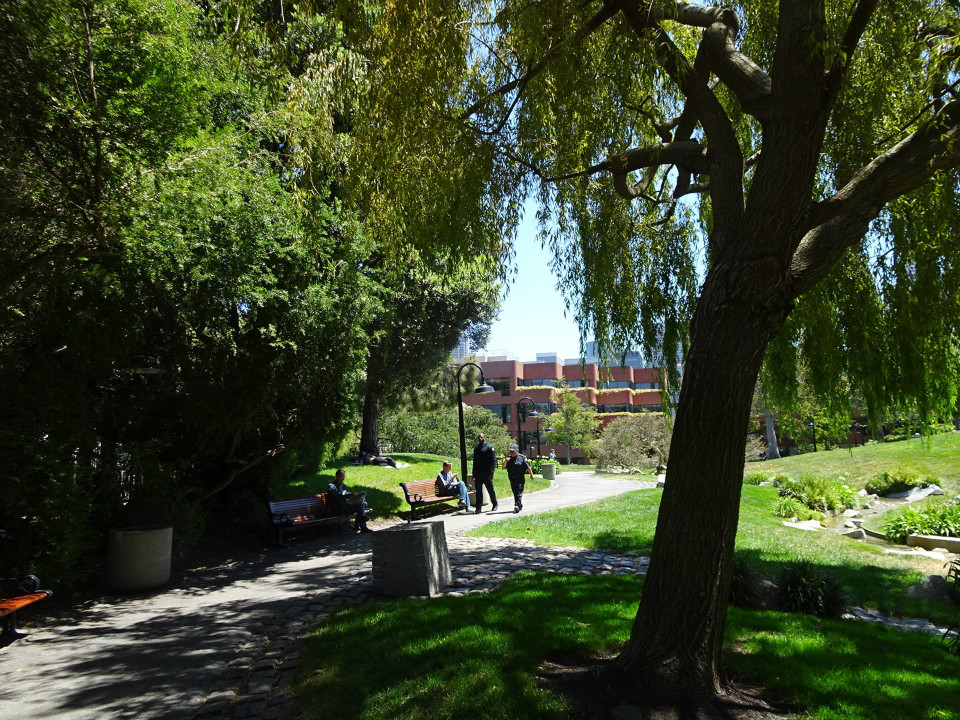 The company did not quibble when Halprin's plans went $4 million over budget, and it's made provisions to maintain the park in perpetuity. In an era when examples of corporate greed and malfeasance scream daily from the headlines, it's appropriate that we pause in appreciation of Levi's, and the great landscaper who have given us this most beautiful of public-private city spaces.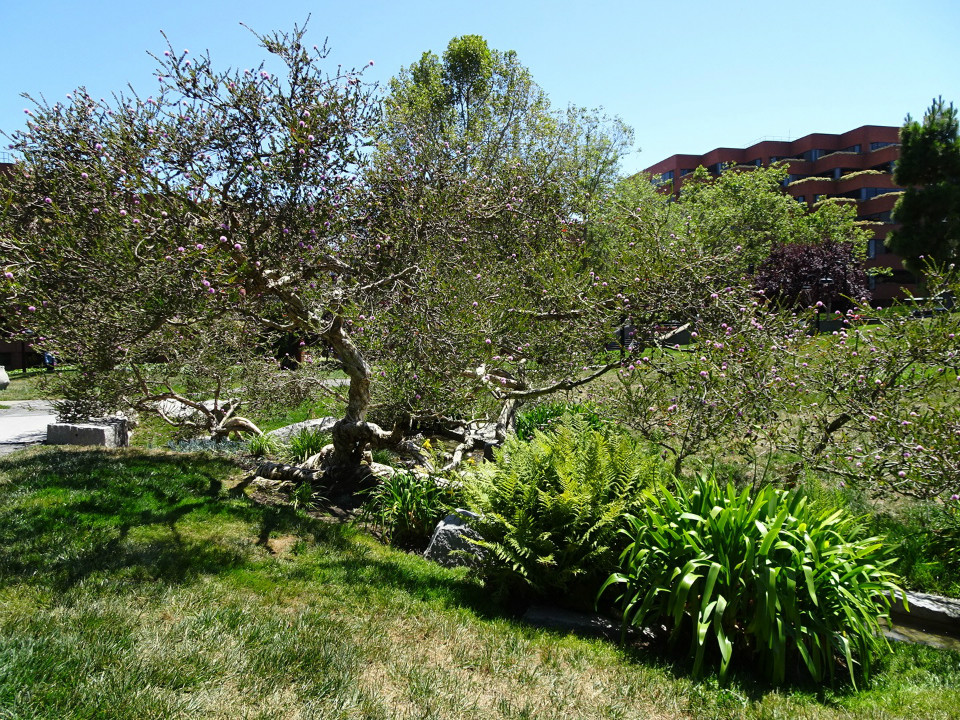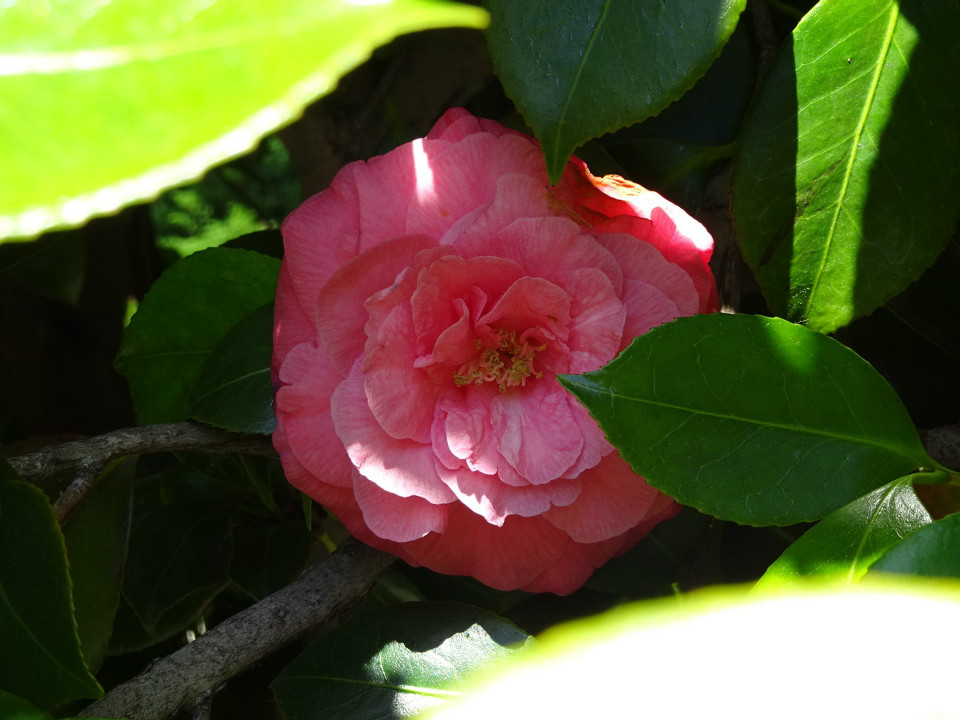 Art Peterson is the author of Why Is That Bridge Orange?: San Francisco for the Curious.