San Francisco commuters, beware: By the end of August, private vehicles traveling on Fifth Street will no longer be allowed to turn right onto Market.
With hopes of reducing traffic along Market Street by 30-50 percent to improve safety for pedestrians and cyclists as well as drivers, the SFMTA board of directors approved the Safer Market Street plan—which restricts private vehicles from turning right onto the corridor from Third through Eighth streets. The agency began implementing the turn restrictions last August, but avoided Fifth and Market due to the closure of Ellis Street for Central Subway construction.
With drivers now able to travel southbound from Ellis to Fourth Street, the agency has announced that final turn restrictions at Fifth and Market will be implemented within the next three to four weeks. As with the turn restrictions along the rest of the corridor, public transit vehicles, commercial and emergency vehicles, taxis and bikes will be exempt.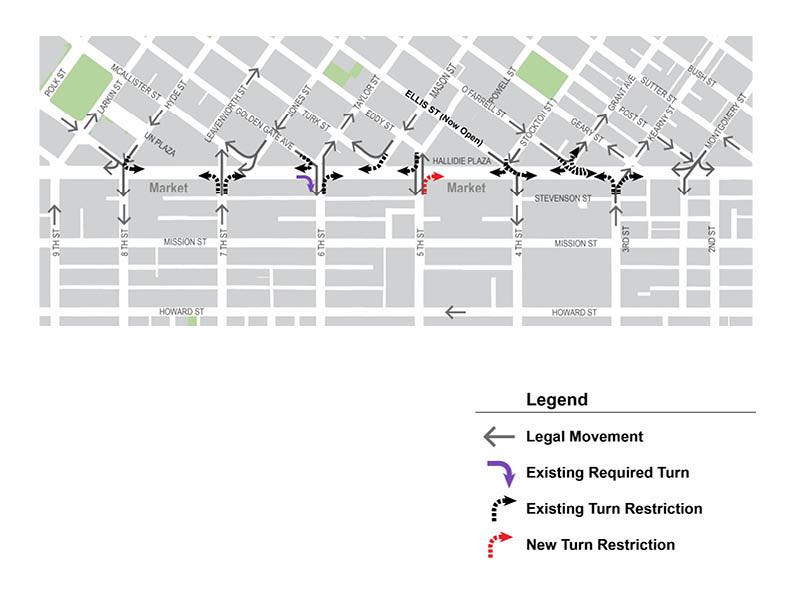 The final piece of the plan comes just a few weeks after transportation technology startup Zendrive released a private study suggesting that the Safer Market Street plan has improved pedestrian safety and lessened risky driving on both Market and Mission streets.

The SFMTA is on track to release the results of its own evaluation this September.