A freshly painted mural on the front of the building may announce its presence on Noriega Street, but the Sunset Neighborhood Beacon Center is by no means a new addition to the Outer Sunset. In fact, SNBC recently had a block party to celebrate its 20 years of after-school programming, family-focused services and community involvement in the Sunset District.
"People have walked past for years and not known we were even in the building," SNBC Director Matt Pemberton explained, "so we just did our mural and put our name on the wall. That's never been there." It may seem like a small thing, but for SNBC it's another step towards greater visibility within the community it strives to serve.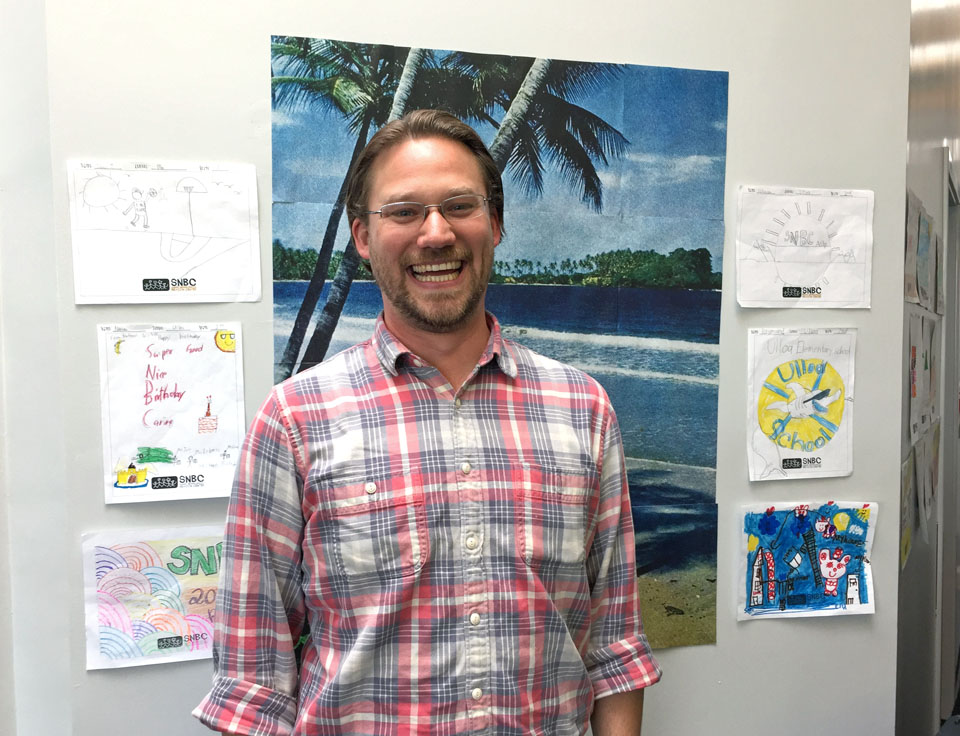 "We have multiple partnerships for various different reasons," Pemberton told us, "but the main goal is that we are a community hub for the Sunset District, for District 4 specifically." Funded by agencies such as SFUSD, the Department of Children, Youth and Families, the California Department of Education and First Five SF, the Sunset Neighborhood Beacon Center is able to offer free services such as its nationally recognized after-school programs, computer technology programs, family support services and skill-building classes for adults.
Last year, in what Pemberton called "a very natural move", they also became a program of Bay Area Community Resources, an organization that provides services at schools and community-based sites throughout the Bay Area.
Formally established in 1996 as part of the San Francisco Beacon Initiative, SNBC is one of nine Beacon Centers in San Francisco. The Beacon Program Model is built on the premise of closing the gap between schools and community needs, focusing on youth and after-school programming, but working within the wider context of families, schools and communities. SNBC founder and former director Michael Funk wanted to create an organization that would be able to fill a void he saw in the availability of community-based services in the Sunset. The goal was to offer support to families by creating partnerships between schools and the community.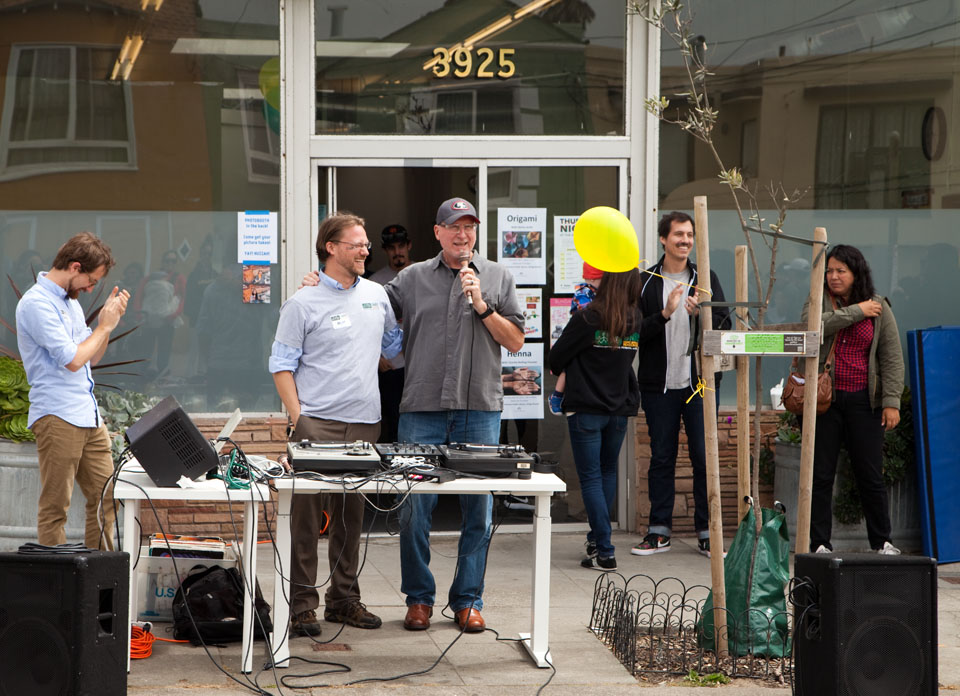 The focus on youth still determines much of the services offered. "Most of what we do is after-school programming for [kindergarten through 8th grade]," Pemberton said of the various programs like sports, gardening, dance and music. The programs take place at four elementary schools, A.P. Giannini Middle School, which is a Beacon Hub, and also at the West Sunset Playground recreation clubhouse.
One thing that really drives the work at SNBC is reflected in their purpose statement— to connect people to their passion, potential and community. "[It's] in everything we try to do," said Pemberton, "You've got passion, you've got potential in there somewhere [and] through community we can help you figure it out. Give you the boost [you need]."
This belief in pursuing passion and nurturing it through expression seems especially reflected in their media arts program for high school youth. Sunset Media Wave is a multimedia blog whose content is created by teens in the program. The program aims to have teens "work collaboratively and develop leadership and teamwork skills while engaging in media arts." Each participant creates and maintains their own blog, which can incorporate art, music, writing and more. Teens apply to the program and choose their blog subject based on what interests them. Topics have ranged from social justice issues to make-up and from Latino culture to the game of chess.
Michael Falsetto-Mapp, one of the program coordinators, told us that the program was created as an opportunity for SNBC to work with students past the 8th grade and maintain those relationships, as well as foster the creativity of the students. "They come to us with their passion," he said, "and then we help them ... curate it and fine-tune it and take it outside the realm of a personal journal." Pemberton thinks the program is a reflection of what SNBC is trying to do as a whole. "When I read those posts I get ecstatic because that's why we're here."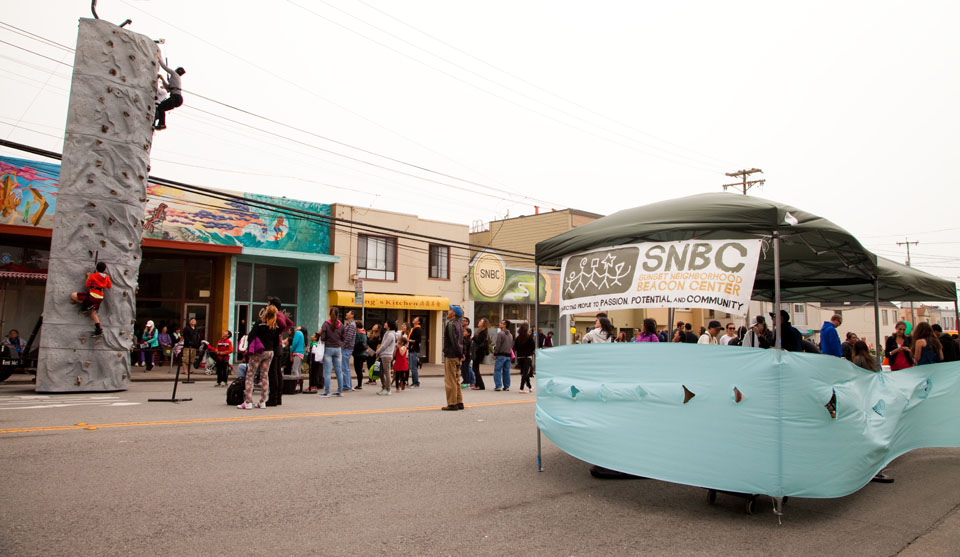 In addition to after-school programs, the SNBC runs a variety of other family support programs, such as parenting classes and educational workshops. They've also partnered with the SF-Marin Food Bank to run a food pantry that serves about 200 families each week. "We have a couple of amazing staff members ... who are there every Friday making sure that families get fed [and] we have volunteers every week," Pemberton explained.  "It's really quite amazing."
SNBC also serves as a polling place for each election and provides space for Tax Aid to assist community members each April.
"We're constantly looking to meet the needs of the community," said Pemberton, "that's really the goal." Meeting that goal means that programs are added or phased to meet the community's need. "We try to always be innovative and change with the needs."
For Pemberton it's all a labor of love and neighborhood loyalty. "I get to brag that I'm from the Sunset, so it's extra important for me to give back here."
If you'd like to get involved, SNBC is always accepting donations, as well as volunteers looking to help out with after-school programs, administrative support, translation services and more.  Find out more here.