A handful of downtown businesses are encouraging locals and tourists alike to take a break from their regularly scheduled Friday routines, and enjoy the the temporary parklets outside their offices.
Since 2005, the third Friday in September has been designated as PARK(ing) Day, an opportunity for individuals and businesses to turn street parking spaces into welcoming spaces for the public to enjoy—for one day only.
The annual grassroots event began with one parklet in San Francisco, and has since spread to cities around the world. Its mission is to "call attention to the need for more urban open space, to generate critical debate around how public space is created and allocated, and to improve the quality of urban human habitat … at least until the meter runs out!" the official website states.
While this year's map looks a little slim, you'll find opportunities to play in the street, sip free coffee and chat about the future of San Francisco in Union Square and South of Market.
Here's a peek at few of the parklets we spotted this morning: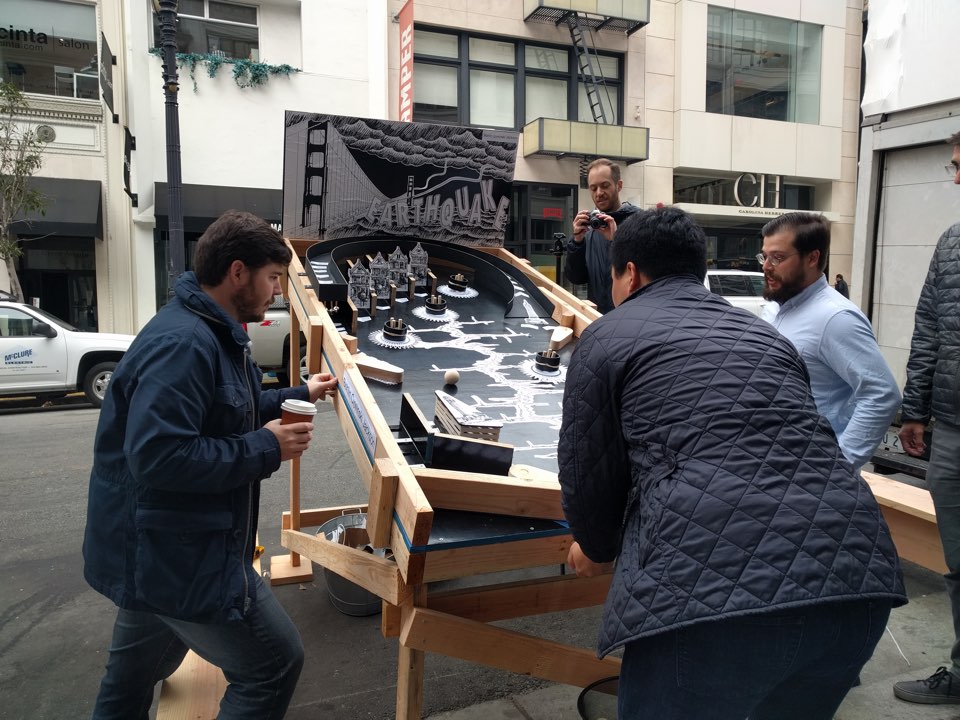 Union Square-based architecture firm Bohlin Cywinski Jackson is out in the street on Grant at Geary until 4pm or 5pm today, letting visitors take a turn at their handmade pinball machine.
In true San Francisco style, the machine offers an earthquake theme—and absolutely no electronics.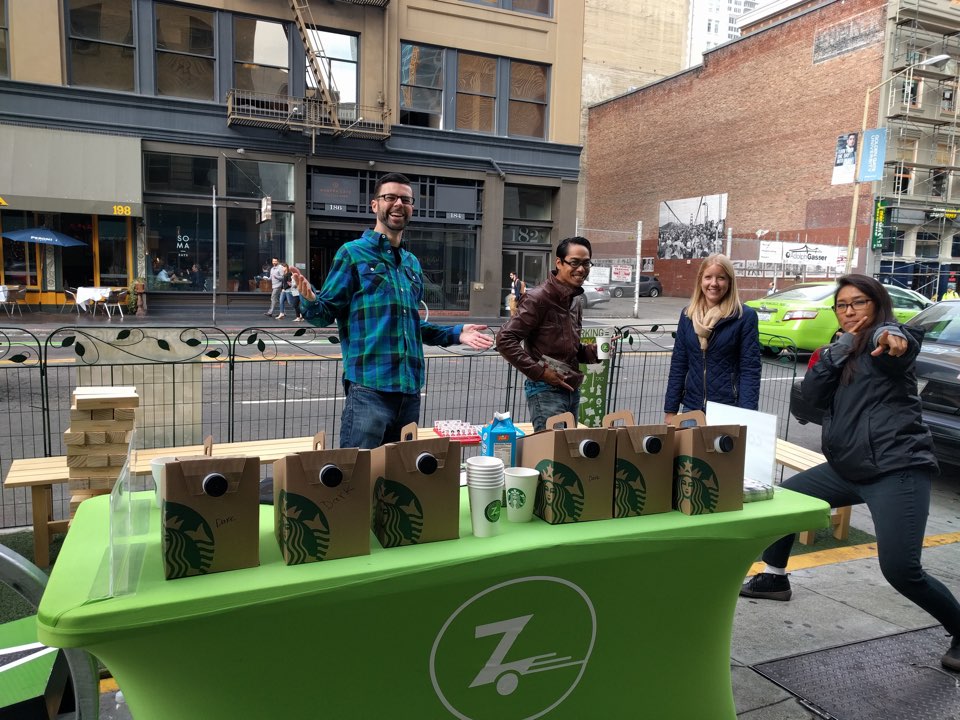 The team at Zipcar is taking over a parking spot outside its Howard & Second office with games of cornhole and giant Jenga, as well as free Starbucks coffee and plenty of room to lounge.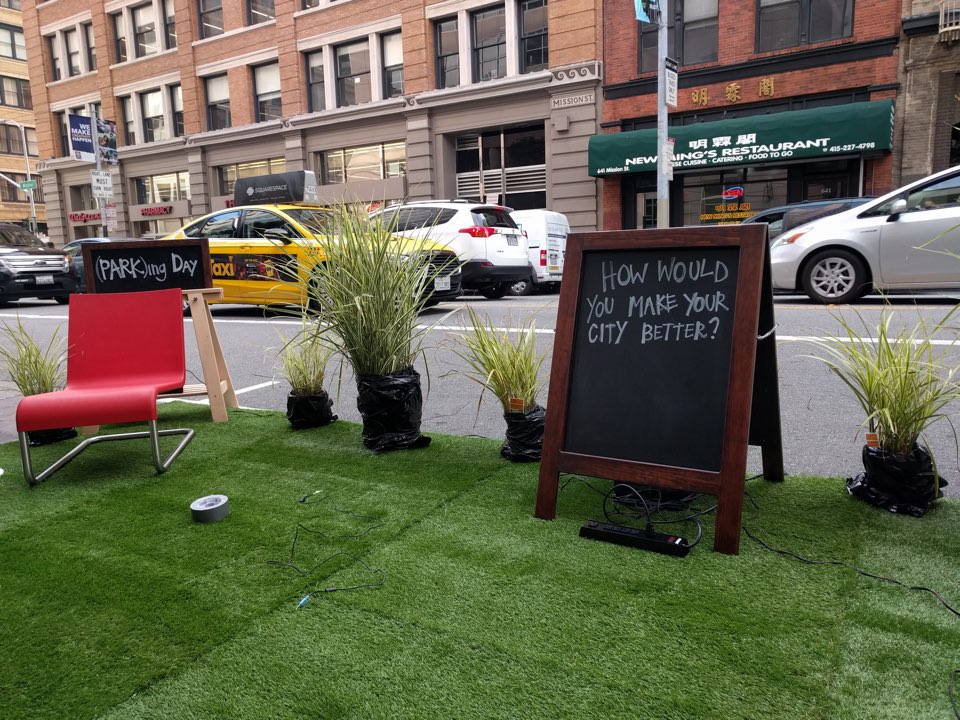 A few steps down from their office on Mission at Third, SPUR is offering a green space to sit and brainstorm about the future of San Francisco—until 3pm, when the parking spot becomes a transit-only lane.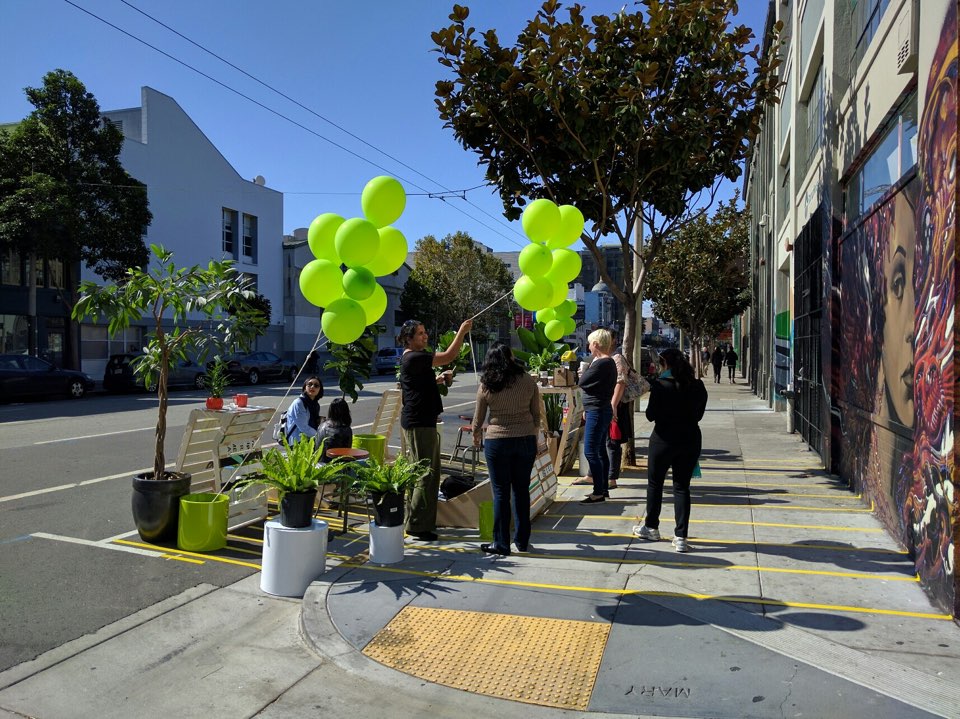 And tipster Mike F. tells us that architecture firm WRT is welcoming pedestrians on Howard at Mary alley (off Fifth Street).
Did we miss a pop-up parklet near you? Let us know what PARK(ing) Day festivities you've found in the comments, or send photos to [email protected]