After just shy of three years of vacancy, the former Homeless Youth Alliance space at the corner of Haight & Cole has finally been filled up. Last month, Tibetan goods shop Haight Street Bazar opened in one half of the space, and last week, new window lettering and signage appeared, declaring that San Francisco Mercantile plans to debut in the other half in mid-to-late September.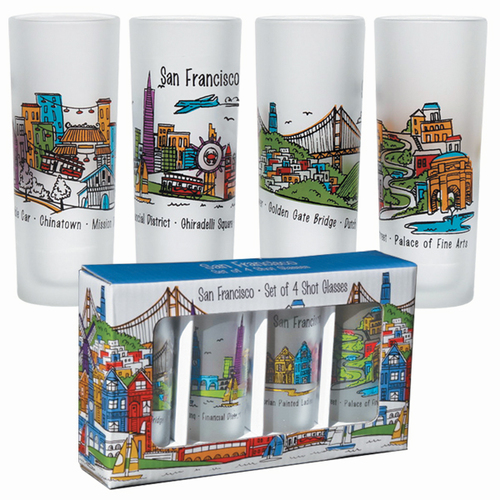 San Francisco Mercantile sells San Francisco-themed mugs, shot glasses, ornaments, totes, and other gift items. Robert Emmons, the company's founder, felt that gift shops at various locations in the city were run-down and sad, and that the trinkets they offered were cheap and low-end. So, in 2008, he quit his job and started a company that partners with local artists to design "high-quality San Francisco gifts and keepsakes." According to the company's website, Emmons has been running the show out of his garage ever since.
San Francisco Mercantile's wares are sold at the Cliff House gift shop, the Alcatraz Ferry gift shop, shops around Fisherman's Wharf, and several hotels in the city, to name a few. The Haight Street shop will be their first retail storefront. 
They're also hiring for retail positions, so if you're interested, email remmons [at] sfmercantile [dot] com.